I don't think people went around saying to themselves, "I need to have a 10,000 square foot house." We weren't exposed to things we didn't have in the same way kids these days are. There was not that window into the lifestyles of the rich and famous. Kids weren't monitoring every day what Kim Kardashian was wearing, or where Kanye West was going on vacation, and thinking that somehow that was the mark of success.—President Barack Obama, July 31, 2013
I don't care if somebody the President or not. I care about thoughts, and how you helping people, and what you bring to the world. My music brings joy to people. What I create brings joy to people, and I'm about people. Me, I'm not about me. I'm about, "I got an idea that people gonna like." … I think he shouldn't mention my baby mama's name.—Kanye West, November 19, 2013
Me and my wife met with President Obama two weeks ago

— KANYE WEST (@kanyewest) November 4, 2014
I could end this right now. President Obama's turnaround from low-key ethering Kimye in 2013 to begging them to help keep Democrats in Congress in 2014 is enough. But, just for fun, let's pretend Kim Kardashian and Kanye West didn't make the president head back to the Oval Office with his tail between his legs.
There's a picture from the 2012 BET Awards that's pretty famous at this point. Kim and Kanye, who at the time had only been dating for a few months, were seated next to the biggest couple in music, Beyoncé and Jay Z (Solange was there too, a sentence that has been uttered many times before). The humor in the photo was evident, even without mentioning Solange's get-me-outta-here face. Kim and Kanye, in their matching white outfits, looked like a starter-pack version of Beyoncé and Jay. It looked like Kanye was trying to model his life and image after his "big brother," but there was one huge, glaring issue: Ye accidentally cast a girl with a reality show/sex tape/72-day-long failed marriage in the role of the industry-leading queen/symbol of female empowerment and sexuality. 
Looks can be deceiving, though.
Certain people still complain that Kim Kardashian doesn't have any "talent" or that she's never actually had to "work for anything" (imagine those air quotes as the most aggressive air quotes possible), but they're missing the point. They're not understanding what it means to live in the year 2014. To quote Kanye West himself, "The concept of Kimye has more cultural significance than what Page Six could write." Celebrity doesn't have anything to do with critical acclaim—and it never has, actually. It's measured by exposure and cultural conversation market share, and ensuring those two things is Kim's talent. She became the Kanye West of that shit this year.
No couple was talked about more in 2014. Kim and Kanye had a big 2013—it featured the birth of their daughter and future world empress, North West, and the most elaborate proposal ever—and built on it this year, expanding their impact and cultural reach. Their wedding—a two-day extravaganza split between a rehearsal dinner at the Palace of Versailles and a ceremony at a historic fortress in Florence—at once established them as the most important couple in the modern celebrity world as well as the most important force in determining the future of popular culture. 
Numbers don't lie, and the record-setting 2.4 million likes that Kim and Kanye's wedding picture racked up is proof of their supreme relevance. And yes, in 2014, likes and retweets are the only stats that matter for celebs. Besides dollar signs, to which I'd like to direct you to the millions Kim made from an iPhone app.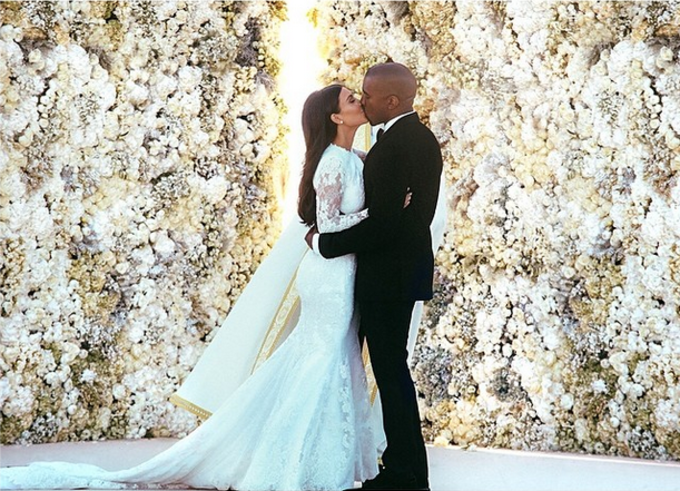 But what's more important than the wedding photo's social reception is the fact that, in it, Kim's wearing a Givenchy gown; she's standing in front of a flower-wall (if we were doing a year-end list on luxury accessories, the flower-wall would be number one) made by a creative from Lanvin. Just off camera is Italian tenor Andrea Bocelli, who sang "Ave Maria" as Kim walked down the aisle; in attendance were Carine Roitfeld and Andre Leon Talley next to Q-Tip and Jaden Smith; Annie Leibowitz would have been the one snapping the picture if not for a scheduling conflict.
If 2014 was about anything, it was about the melding of cultures and the blurring of high and low: Kendall Jenner walked in a Marc Jacobs Runway Show, Kim Kardashian was on the cover of Vogue. Kimye is the First Couple of Cultural Cross-Pollination. They're leading us, by example, into a future where the worlds of hip-hop, high fashion, lowbrow pop culture, and tech all meld seamlessly.
Doors are no longer slamming in Kim's face (right, Anna Wintour?), Kanye isn't being boxed in as just a rapper, and anyone who doubts that together they're the real deal—really in love and really on top—is dead wrong. Kimye has more cultural significance than what Page Six could write. 
 
In 2014, Bey and Jay might be the only people (well, besides trolls, of course) who don't recognize this. Believe me, they don't—their no-show at the Kimye wedding is 2014's version of Jay not hugging Kim at the 2012 BET Awards. But it seems pretty obvious why their noses remain turned up: They've been eclipsed. No matter how many "impromptu" and "fun-loving" (I'm aggressively air-quoting again) videos Beyoncé produces, and no matter how many deals Jay Z strikes with Samsung, they'll never be able to get that moment in 2012 back—that moment when Kimye could be ignored.
Andrew Gruttadaro is the Pop Culture news editor. He tweets here.