Saint Laurent
Starring:
Gaspard Ulliel
,
Jérémie Renier
,
Louis Garrel
,
Helmut Berger
,
Brady Corbet
,
Aymeline Valade
,
and Lea Seydoux
Screenwriter(s):
Bertrand Bonello and Thomas Bidegain
Release Date:
Unannounced; submitted as France's nomination for the Best Foreign Language Academy Award
"I like empty bodies," designer Yves Saint Laurent (Gaspard Ulliel) tells his mustached lover (Louis Garrel). "I believe that the soul lives elsewhere." If you're looking for the soul of the designer, his clothes will give more answers than Bertrand Bonello's hollow Saint Laurent.
Bonello was interesting choice to paint a portrait of the iconic man who changed women's clothing forever in the '60s. His last film, House of Pleasures, concerned various prostitutes and johns at a posh Parisian brothel at the end of the 19th century. Bonello implemented occasional four-quadrant split screens to show the different desires engaged in different rooms. But Pleasures was never leering. It was more anthropological. There were many scenes depicting how women cleaned themselves, protected themselves against syphilis, and added up their commissions against their debts to the house, while a jaguar lounged about. House of Pleasures created an opiate atmosphere and it worked magnificently.  
Such a tone: opulent lounging with pleasure-seekers and jaguars, would've worked wonders for Saint Laurent. Instead there's a confused structure, incredibly sterile and boring orgies, and the highlight is a wobbly French bulldog who's overdosing on Saint Laurent's pill stash. At two-and-a-half hours it's surprising that no tone is ever established. Saint Laurent is a push-and-pull between Bonello's artier desires, and a standard biopic. But the pushing and pulling just makes for a mess.
It's no surprise that the moments that work best are the more avant-garde. Bonello juxtaposes Saint Laurent's new swingin' fashion line with newsreel footage of military coups, student protests, and other atrocities happening at the time of his applauded debuts. As if to say, we've nostalgically built a pillar to the worldwide expanse of personal freedoms of the '60s, but it was a privileged freedom.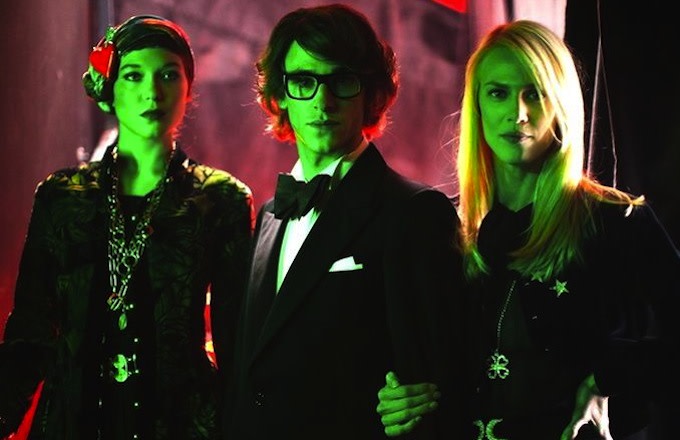 Bonello also breaks the fourth wall during a fashion shoot, where the models (one a naked woman walking through an empty alley, the other a woman in YSL's trademark femme-tuxedo suit) discuss the gender politics that they're engaged in. The nude model is sexually subservient to the woman who's playing with manly power, with her hair pulled back, and her wide shoulders. The powerful woman calls it "boring." The nude model says she's cold. And, in another scene, though it's hard to understand, Bonello drops us into some tense business meetings between YSL's partner (and longtime lover) Pierre Berge (Jérémie Rennier), and their American business partner (Brady Corbet, who's also Clouds of Sils Maria) whilst both speakers are being translated. They don't understand each other, they just understand the bottom line: what's profitable.
Where Bonello falters is mixing some of these ethereal moments with meaningful moments in his subject's life, which is a much larger and empty chunk of the film. Saint Laurent is always distant.
Saint Laurent opens with Yves checking into a hotel in 1974 to conduct a phone interview, and promising to bare all. But this isn't a framing device. The interview is never revisited, and it's cut short before it approaches any depth. A device that is briefly used are some narrated letters exchanged between Saint Laurent and pop iconoclast Andy Warhol, but that seems to be more of an excuse to name-drop for showing how respected YSL was by artists. (And those letters give an excuse to play Velvet Underground's "Venus in Furs," but while that's a welcome and fitting song to the soundtrack, the letter gives an empty nod to Warhol discovering them.) We rarely see Yves work, we don't see him pleasured; we mostly just see him stand. With pursed lips. Or laying about. Pushing pills into those lips.
Seeking extra definitions from those that are closest to him is also impossible. Berge didn't sign off on this film being made, so their decades long business, and on-and-off sexual partnership, isn't fully explored. Loulou de la Falaise (Lea Seydoux) is a bohemian inspiration for YSL's divergent 1976-comeback fashion line, but as a character in this film, she has more syllables in her name than revealing lines of dialogue. She does vet and pet a potential replacement pug, though.
Bonello remains an interesting filmmaker, one who favors visual storytelling. But he fails to create an interesting portrait of an interesting man. You'd think that working with fashion, sex, drugs, and a young gay designer who was hazed as an enlistee during the Algerian War (in a change for the director, this is told not shown; and this is an occasion where showing would actually tell us more) that a penetrating visual story could be made. But with a bloated run-time, and a perfumed whiff of ego, Saint Laurent is just as empty as the boys he prefers, and as flat as the models who accentuated his designs.
Brian Formo prefers cats to pugs, and he tweets here.