We all know that Nicolas Cage is a knight on a neverending quest to appear in every movie ever, but now it seems he's making so many of them that he doesn't even want you to see them all. Well, sort of. 
Dying of the Light, in which Cage plays a CIA agent stricken with dementia and out for revenge against an adversary that may or may not have died decades ago, is at the center of a silent protest by its director and stars. 
Paul Schrader, who wrote the screenplays for Taxi Driver and Raging Bull, and more recently directed The Canyons, came up with a creative way to avoid being sued while protesting Dying of the Light, which he claims the studio has ripped away from him.
He posted this photo to Facebook this week showing Cage, costars Anton Yelchin, Nic Refn and himself wearing non-disparagement clauses on t-shirts. A non-disparagement clause in a movie contract prevents the artists who work on a movie from talking shit about that movie (and possibly hurting the box office take).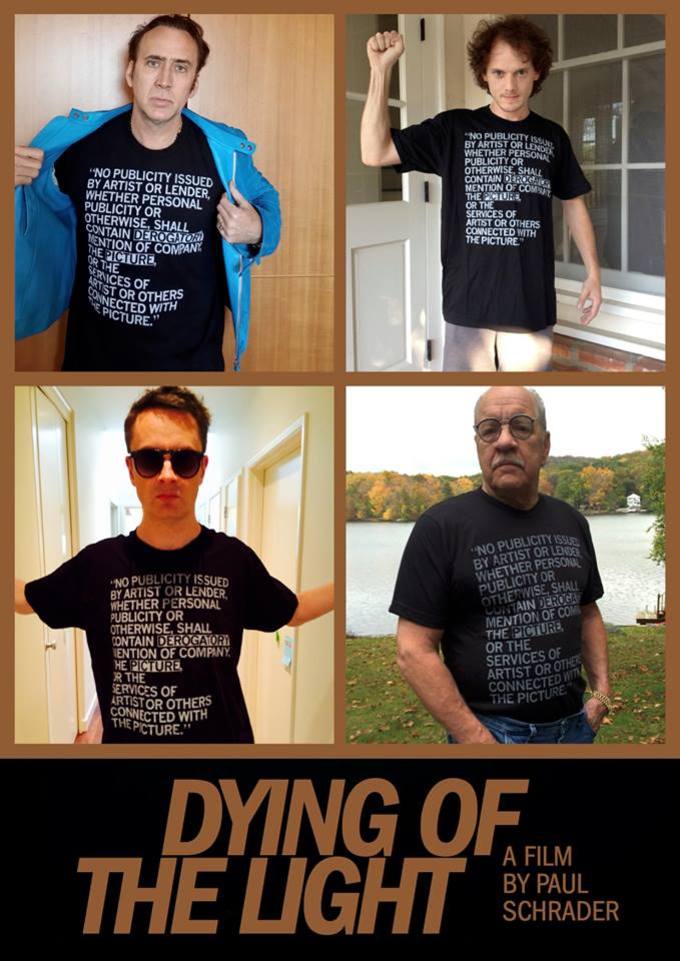 The post came with this statement:
"We lost the battle. Dying of the Light, a film I wrote and directed, was taken away from me, re-edited, scored and mixed without my imput (sic). Yesterday Grindstone (a division of Lionsgate) released the poster and the trailer. They are available on line. Here we are, Nick Cage, Anton Yelchin, Nic Refn and myself, wearing our "non-disparagement" T shirts. The non-disparagement clause in an artist's contract gives the owners of the film the right to sue the artist should the owner deem anything the artist has said about the film to be "derogatory." I have no comment on the film or others connected with the picture."
Dying of the Light comes out Dec. 5.
[Via Deadline]