Justin Simien is hours away from the craziest moment of his life.
Since the Sundance Film Festival world premiere of his debut film, Dear White People, in January, Simien has been on a whirlwind tour throughout the country, doing Q&As for the satirical comedy's numerous festival screenings, as well as pop-up events at college campuses. The collegiate promotional angle makes sense—in the spirit of films like Spike Lee's School Daze and Alexander Payne's Election, Dear White People is an ensemble piece set at the fictional Winchester University, where four black students with opposing points-of-view struggle to find their identities on a mostly white campus. But outside of its grassroots momentum and the already-in-the-know film community's post-Sundance awareness, the film's reach has been humble.
Two days before the film's October 17 theatrical opening, that's about to change. Simien, 31, is in New York City doing the usual press rounds, knocking out multiple interviews alongside his star, actress Tessa Thompson, but this particular day is special. After a few more Q&A's with online film outlets, Simien will sit down with Stephen Colbert to discuss Dear White People on the late-night host's Comedy Central show, The Colbert Report. It's easily the film's biggest look to date, the kind of mainstream exposure that's rarely afforded to Little Indie Movies That Could, especially ones from black filmmakers. 
Not bad for a small Indiegogo-supported film, shot over 20 days last summer at the University of Minnesota, that's only opening on 11 screens in New York and Los Angeles (before expanding to more nationwide this Friday, October 24). The importance and uniqueness of his Colbert Report appearance isn't lost on Simien, nor is he unprepared to gamely trade quips with Colbert's put-on, faux-Bill-O'Reilly TV persona. "I still haven't processed it yet, and the show tapes tonight," says Simien, with a nervous laugh. "It's always weird talking earnestly about the movie to interviewers but now couple that with talking earnestly to a character about the movie. It's going to be an interesting mind-fuck."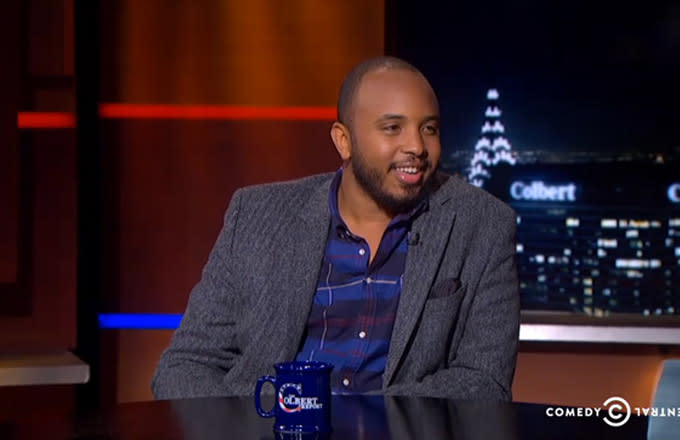 By calling his Colbert Report sit-down a "mind-fuck," Simien might as well be speaking for every other black person working in Hollywood who isn't named Denzel, Halle, Oprah, or Tyler. Big-deal press opportunities of its kind don't come around often, if ever, for the majority of working black filmmakers and actors. "I've seen it firsthand," says Tessa Thompson. "Everybody watches the Best Man Holiday movies, but someone was telling me recently how, in the PR side, it was really hard to get any publications to be interested in The Best Man Holiday's actors when they were doing its press run. It's weird, because those movies are so successful. She literally had to say, 'So none of your readers at Marie Claire are black women?' Or, 'Even if they're not black women, none of them would be interested to read about a black woman of note who stars in a movie that's pretty demographically right up your alley, being that it's about, you know, romance and love?' It doesn't make any sense."
Simien has a handle on the issue. "In the press there's this desire for the black audience to be this monolithic thing that always responds to the same stars," he says. "That's a really reductive way of looking at the black audience. You don't look at the white audience that way—you sort of understand that the 'white' audience, which the industry just plainly calls 'the audience,' responds to different genres and stars. But there seems to be no nuance when it comes to analysts and black moviegoers."
Before he made Dear White People, Simien spent seven years working in the PR side of the game—specifically, the digital publicity departments of indie prestige company Focus Features (2005-2009) and the big-studio conglomerate Paramount Pictures (2009-2011). The baffling, maddening practices applied to black audiences today weren't any different back then. "There were a couple of black movies that would come up and they had their own press lists," he recalls. "The question always seemed to be, 'OK, what do black people want to see?'"
"With [Dear White People]," he continues, "whenever we have an organic screening, when everybody comes and buys tickets, there's always a mixed crowd, but when we screen for specific instances, it's a totally black crowd. It's this sort of double-sided work that a black movie does at this stage. Part of it is necessary, and I actually feel like Roadside [Attractions, Dear White People's distributor] gets the movie and understands the different angles they need to work on it. But I've worked on some movies where it's like, 'OK, let's roll out the black Rolodex for all of our 'black' press.' It's strange."
"Even if you go on Netflix," adds Thompson, "any time you watch a 'black' movie, regardless of what genre the movie you're watching falls into, suddenly there's a whole wealth of films I've never even heard of, but they're all quote-unquote 'black films.' There's no genre connection between any of them." Simien agrees: "You watch Malcolm X and then Netflix recommends B.A.P.S., and you're like, 'What? Those movies have absolutely nothing to do with each other, but OK.' They don't recommend other historical biopics—it's B.A.P.S. and Ghost Dad."
So can Dear White People, with its Stephen Colbert cosign and steadily growing crossover buzz, do anything to change that?
"If this movie does well, I think it does open the door for unconventional stories that are from a point-of-view other than a white male, across the board, to get through," says Simien, who is also openly gay. "It's like Lena Dunham with Girls—she's a white woman, but it's a very specific point-of-view, and that opened up a whole new genre on television. It's the same with Bridesmaids, and how when that became a huge success, it was like, 'Oh, wow—women go to the movies? People like seeing women be funny?' And now there's a Ghostbusters reboot with all women in the cast. So if our movie works, they'll be looking for the next voice of color who has a unique point-of-view. They'll say, 'What's the next Dear White People?'"
Not unlike those Colbert Report viewers asking, "Who's Justin Simien?"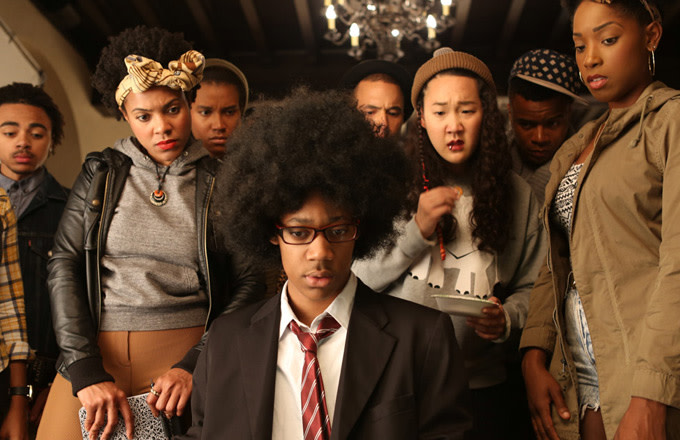 Hailing from Houston, Tex., Justin Simien was raised by a single mother who worked as a college-level guidance counselor. (Simien's father—a carpenter, radio DJ, and a college professor, or "a jack of all trades"—passed away when he was little.) His mother is Creole, meaning Simien's family has "every shade of black. Really, truly you couldn't identify the race of certain people in my family just by looking at them. When somebody said I couldn't do something or couldn't go to a certain party because I was black, it made me stop and say, 'Wait, what?' It never even dawned on me that because we look different, we can't be friends. Everybody in my family looks different."
Whereas his classmates were listening to Dirty South hip-hop and "gangsta rap," Simien, true to odd-duck form, was heavy into grunge rock. "Everybody else was quoting 2Pac, and I was running around with Green Day in my Walkman. Racially speaking, I wasn't cool or appropriate for any group." The first time Simien noticed outright resistance because of his skin color was in the second grade. "Someone who I thought was my friend had a birthday party," he recalls, "In school the next day, all the kids were talking about how fun it was. But I didn't even know about it. I asked him, 'Why didn't you invite me to your party?' And he said, 'Oh, I wanted to but you would have been the only black kid there.' That sucked. It was such a big moment in little Justin's upbringing. At that age, my brain couldn't process it."
His teenage years were much more inclusive. Simien attended the High School for the Performing and Visual Arts (HSPVA), where his strangeness was embraced. "Everyone at a performing arts schools is weird," he jokes. "The weirder you were, the better. If you weren't weird in some way, they'd look at you and be like, 'Who's that square?'"
It was at HSPVA where Simien was first exposed to the filmmakers who'd influence him the most and whose movies convinced him that he wanted to become a director. He fell in love with the films of Ingmar Bergman and Federico Fellini. German silent-film master Fritz Lang's ahead-of-its-time science fiction classic Metropolis was a personal favorite. But the biggest eye-opener came from Stanley Kubrick. "Eyes Wide Shut was the first Stanley Kubrick movie I saw, and it was like taking acid—not that I've actually ever taken acid," says Simien. "My mind was altered after that film. It was the first time I realized that a movie could operate in a non-traditional way and achieve a more potent effect than if it were more paint-by-numbers and did the things movies are supposed to do in order to be successful."
[IN COLLEGE] People would always ask me if I played sports. I was so often walking into other people's assumptions of me, and I think that's kind of a unique experience. I wanted to get into that in a film, at least from my point-of-view and perspective on it.
After college that awareness grew tenfold. During his senior year at the Orange, Calif.-located Chapman University, where he was a film major, Simien landed an internship with Focus Features, which eventually led to a publicity coordinator position, setting up press interviews for movies like Brokeback Mountain and Focus' genre boutique label, Rogue Pictures (The Strangers, the Sean Bean-led remake of The Hitcher).
The Focus side especially resonated with him. "I got to see the [Focus Features co-founder] James Schamus machine at its best, working on these important movies, like Brokeback Mountain and The Constant Gardener, and helping them find their audiences," says Simien. "It exposed me to really great films and filmmakers and gave me an insiders' perspective on what they were meant to be about, how they got made, and how they got made specifically in that industry. Now the specialty market doesn't really exist, but at that time Focus and Fox Searchlight were the two big companies for that. It was exciting to be on the inside."
In 2012, Simien finally decided to utilize those lessons himself. His Dear White People script, which he began writing in 2006, was complete. It tapped into his time spent at Chapman University, a predominantly white school within which Simien regularly felt like he was under his own microscope. "People would always ask me if I played sports, and that was always off-putting," he says. "I was so often walking into other people's assumptions of me, and I think that's kind of a unique experience. I wanted to get into that in a film, at least from my point-of-view and perspective on it."
The four main characters in Dear White People touch upon various kinds of misidentification. There's Samantha White (Tessa Thompson), a budding revolutionary who's running for the presidential seat at the all-black Armstrong Parker House. She hosts a radio show titled "Dear White People," in which she lambasts Winchester's Caucasian students for their racially minded hypocrisies and faux-pas, despite the fact that she secretly hooks up with the white Gabe (Justin Dobies). Sam's competition is current president Troy Fairbanks (Brendan Bell), the go-getting Big Man on Campus whose father (Dennis Haysbert), the school's dean of students, makes him date Winchester's president's (white) daughter and pushes him away from his dreams of becoming a comedy writer. Troy reluctantly lives with Lionel Higgins (former Everybody Hates Chris star Tyler James Williams), an aspiring journalist who's gay, has a massive afro, and loves sci-fi and Mumford & Sons. And, lastly, there's Colandrea "Coco" Conners (Teyonah Parris, a.k.a. Mad Men's "Dawn"), a Southside Chicago native with reality-star dreams who goes out of her way to downplay any "hood" perceptions.
Dear White People's diverse array of characters all find themselves at the same place in the end—an abhorrent "hip-hop party" thrown by an all-white student house, where white kids show up in blackface makeup and dressed like President Barack Obama, Michelle Obama, Nicki Minaj, 2 Chainz, and other popular black celebrities.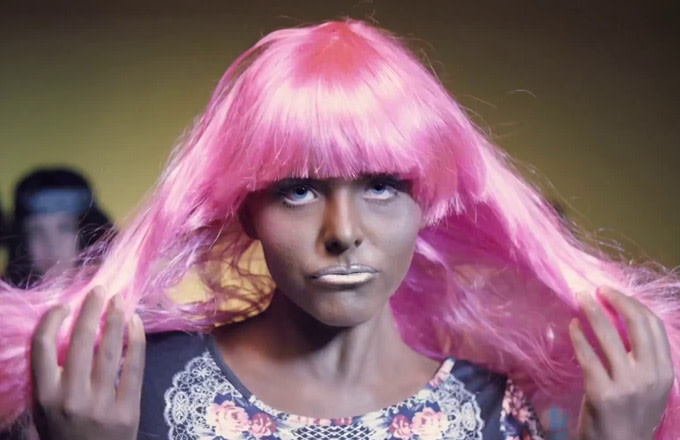 Although there fortunately weren't any blackface parties at Chapman, Simien's own personal experiences fuel Dear White People. "There are definitely autobiographical threads in the film," he says. "The anecdotal stuff in the movie, all of that is my experiences, but the plot points aren't as much based on my own experiences. Those evolved into composites and non-autobiographical plots in order for me to tell the story better as the writing process went along."
With its multi-character aesthetic and nonstop, quirky, and often confrontational sense of humor, Dear White People plays like a fusion of Wes Anderson and early Spike Lee, but, to Simien's credit, it never devolves into pastiche. Its of-the-moment hipness and sharp yet playful wit are all Simien. "Justin pointed out to me recently that, at a certain point, I would prod him to make jokes on set," says Thompson. "I was trying to find the way he would say something, because I see so much of Justin in the character of Sam White. He ended up becoming one of my biggest reference points for Sam. At first, it'd been people like Angela Davis, but eventually it became more about Justin Simien himself. It's that balance between being able to use his wit to cut through something or cut at something but doing so with a wink, smile, and a knowing look. Justin, as a person, has that in spades. That's why the movie does, too."
Many of the film's biggest laughs come from Sam's on-air "Dear White People" statements: "Dear white people, stop dancing."; "Dear white people, stop touching my hair—does this look like a petting zoo to you?"; "Dear white people, knowing Lil Wayne lyrics doesn't give you an honorary black card—it just reminds me how much you say the N-word in a way you think it socially acceptable."
The common threads between those lines? They all originate from Simien's @DearWhitePeople Twitter account, started back in March 2010. It's the direct result of Simien's Paramount Pictures gig, where he was part of the team responsible for the first Paranormal Activity's hugely influential "Demand It" campaign. "Online campaigns, at that time, were mainly just fluff," says Simien. "You had traditional press and then you had bloggers; the power of online was still coming into focus at that time. It was exciting to be there shaping these campaigns that would become the standard for how online marketing and publicity campaigns work today." Simien applied the lessons learned through the Paranormal Activity strategy directly to Dear White People, but with a comedic twist. "The [@DearWhitePeople] Twitter account started off as a way to see which of Sam's jokes would land and which would offend, and, if so, how they would offend. It was a research tool for me long before it became a promotional tool for the film."
Today, @DearWhitePeople has 19.3K followers. It's also the film's most reliable platform. The distributor, Roadside Attractions, has been reluctant to spend millions of dollars to spread the word, and logically so. These days, movies of Dear White People's size live or die by word-of-mouth and ground-level support.
Any [Movie] that's not 'internationally viable' and doesn't have a mid-level white star in it, or it's not based on a preexisting genre of franchise, won't get made.
Having worked inside the studio system, Simien understands how the business works. He knows that any small film has it tough in today's cookie-cutter, franchise-heavy market, but one with a mostly black cast, a socially conscious edge, and a title as polarizing as Dear White People? Go ahead and triple the usual difficulty.
Simien cites indie black filmmaker Barry Jenkins' lo-fi 2008 drama Medicine for Melancholy as a like-minded movie that failed to rattle the system's cage. "Especially since it's effectively the only black 'mumblecore' movie, you would've thought that, after [Medicine for Melancholy], every black filmmaker working in that space would've been like, 'Look, we're here now.' But a lot of people still don't know that movie ever came out, and that's not any fault of the filmmaker or the film itself. The people who make the marketing decisions won't allow the awareness to happen. You're not going to see a Dear White People commercial on television because the marketplace doesn't allow for that. This movie gets the kind of marketing that a movie of this size would get if it were white only if we perform well."
Simien continues, "It's a reality that has squeezed a whole generation of voices out of the conversation. Studio projects are so beholden to the business affairs departments that it's all based on what made money the year before. Independent financing is based so much on the foreign sales market, which doesn't even account for black actors or black stories. Anything that's not 'internationally viable' and doesn't have—and this is going to sound so shady—a mid-level white star in it, or it's not based on a preexisting genre of franchise, won't get made, or it gets made at the micro-budget level, which influences all kinds of things. Unless it's a Paranormal Activity or something very specific, micro-budget movies never get a chance to pop. Ours is a unique moment, and that isn't lost on me."
In all of the film's pre-release interviews, Simien and his cast have been quick to point out that Dear White People is for everyone, that it's not an attack against whites or a rallying cry for blacks. The fact remains, though, that Simien's film represents a major, and potentially pivotal, moment for black cinema. In his own sly manner, Simien acknowledges this in the movie. There's a scene where Sam and her fellow pro-black peers bumrush a local multiplex and spazz out over its lack of any black voices other than Tyler Perry's, whose characters are, as they put it, "stereotypes wrapped in Christian dogma."
Simien doesn't fear the potential wrath of Madea's fan base. "People are so scared to say that stuff about Tyler Perry's movies out loud," he says. "That's a common conversation amongst black people. I felt it would be disingenuous to not include it if this is a movie that's meant to have people saying what people would really say in these situations. The film's characters are walking around dodging other people's perceptions of them just like, I think, filmgoers are. They presume that Tyler Perry's kind of movies are the only ones we want to see. For me it's not even argument that's aimed at Tyler Perry—it's aimed at the people who say, 'This is the only kind of movie you people can have this year.' It's a complaint about not seeing yourself in the mainstream."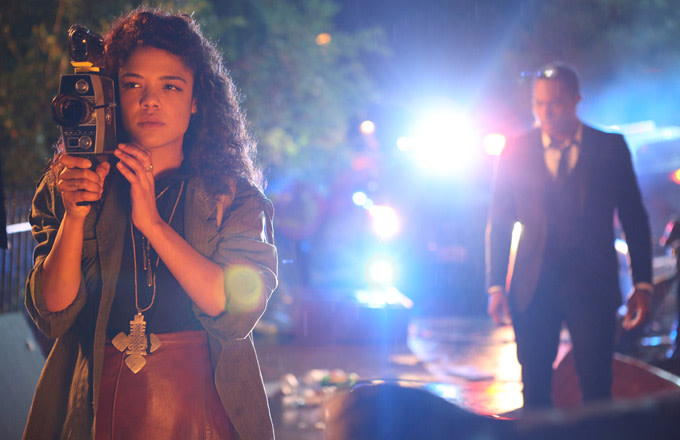 That is, unless you're Justin Simien catching a Colbert Report re-run. His segment, for all intents and purposes, is a success. As a formal, six-minute introduction for Dear White People's rookie director, it's both informative and quick-witted. Quick tidbits of the Simien's multi-faceted personality and biography are interspersed within Colbert's deadpan jokes. Colbert's best one-liners:
"Dear White People's earned you spot in Variety's 10 Directors to Watch... How does it feel to know that Variety magazine has said, 'I'll keep an eye on that black guy'?"
"Why make a comedy about racism? I don't think racism is funny. That's where you and I differ."
"You self-identify as 'nerd'? I understand you also self-identify as 'gay.' Is there any chance you might end up gentrifying yourself out of your own neighborhood?"
Their strongest exchange centers around Colbert's ongoing Report shtick where he goes out of his way to remind everyone that, yes, does have some black friends. A big drop-down screen shows pictures of Colbert posing alongside Lupe Fiasco, Dr. Cornel West, and Snoop Dogg. 
Colbert: "Besides putting my hand in your fro, are there any other micro-aggressions I should avoid? Because I want to be friendly with black people."
Simien: "You have more black friends than I do. Good job, man… It's great that you have black friends, but I don't think that absolves you from racism or lets you put your head in the sand."
Twenty-four hours later, the ratings numbers show that 1.2 million viewers were tuned in to see Simien's Colbert Report visit. That's over one million people reached, most of whom aren't part of the monolithic "black audience." A mind-fuck, indeed.
Matt Barone is a Complex senior staff writer who, in reference to The Little Rascals' token black kid, was nicknamed "Buckwhite" at St. John's University (he was the only white guy in his group of friends). He tweets here.