Rejoice, for it wouldn't be an honest-to-goodness TV season without a new #basic murder mystery to shrug at.
In the small, NorCal town of Gracepoint, a pre-teen boy's body is discovered on the beach. The tight-knit community is rocked by the discovery, but they'll be even more unsettled by the investigation. Because of course.
There's nothing egregiously bad about Fox's Gracepoint (premiering tonight at 9 p.m. EST), but, even if by some miracle your DVR isn't already overstuffed, there's nothing about Gracepoint that really warrants your time, either. Not only is the 10-episode "event" series yet another small-town murder mystery, it's yet another Americanized photocopy (read: remake) of a popular series from across the pond, in this case the UK's Broadchurch. (But it's made by the same creative team and stars the same actor, so it's OK!) You'd be forgiven for mistaking Gracepoint as a remake of AMC's The Killing, itself another Europe-to-America conversion—both stateside reboots' pilots share the same tone, West Coast setting, and similar plot points. That's, unfortunately, by design. Gracepoint plays like a veritable checklist for everything its genre requires and its predecessors did so well.
The cast of characters is more or less a troupe of archetypes there to ensure the typical beats play out:
-Dead Kid: But, as one cynical news editor remarks, he's the wrong age and the wrong gender. Twist!
-Detective Seen It All: His name says it all.
-Overwhelmed Townie Detective: Technically, she was due for a promotion, which just makes her behavior all the more embarrassing.
-The Thirsty Reporter (With a Soul?): There are two of 'em!
-Sad Mom: A supermarket meltdown? Check.
-Probably Definitely Hiding Something Dad: Yep, he's hiding something!
-Priest: Spiritual advice on deck.
-Kooky, Grizzled Old People: Once again, there are two of 'em! (What up, Nick Nolte!)
-Troubled Surviving Sibling: She uses drugs and has an already mercilessly boring boyfriend? Check and check.
-Dead Kid's Lying Friend: This kid has a blatantly untrustworthy face similar to that of the great fuckboy King Joffrey, and there's a hilarious scene where upon learning that the cops will want to talk to him, he assumes his title and proceeds to delete every single text on his [flip]phone (because he's only 12, or because small towns are slow to update?) and dump mad files on his computer.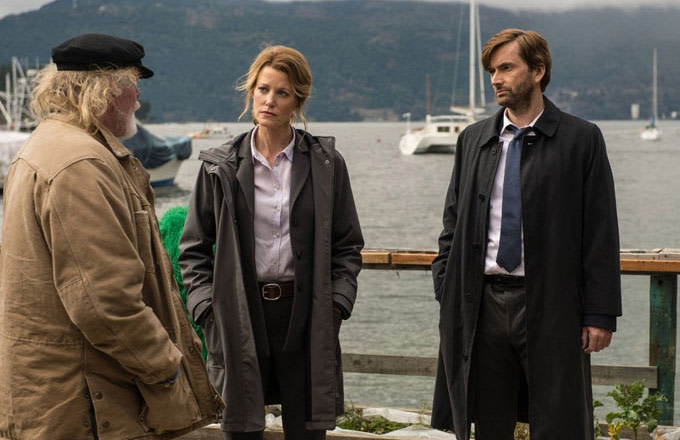 Dead Kid's life was not everything it seemed. His Modern Family isn't everything it seemed—which family member's been lying about their whereabouts? Familiarity is the town of Gracepoint's mayor. But at least the impossibly quaint and polite small-town setting (just outside of San Francisco) feels inviting and lived-in, in part thanks to a nice tracking shot following PDHS Dad's (played by Michael Peña) "Howdy neighbor!" morning jaunt through town before The Body is discovered. And the performances from our two Determined Detectives, played by David Tennant and Anna Gunn (formerly the bane of every DudeBro fan's existence as Skyler White on Breaking Bad) are quite good, even if their characters are ridiculous.
As the newbie hailing from the Big City, Tennant's Detective Carver is, naturally, worldly, weary, and serious. Relishing the weight of the case, he's so laughably intense that it almost feels like he's on another show entirely. When Carver discovers The Body he desperately whisper-pleads "Don't do this to me" to no one in particular. You get the sense that if a 12-year-old didn't die, he'd have nothing to do with himself while growing old within the dreadfully boring Gracepoint community. The detective who knows no other life than soul-crushing crime is a well-worn character (see: Simon Pegg in Hot Fuzz, whose character is a brilliant spoof of the cliché); thinking about the types of daily crime Carver would be combating otherwise in Gracepoint, if not for Dead Kid, conjures images of parking tickets and missing pets. He'd probably die of boredom. Meanwhile, when we meet Gunn's Det. Ellie Miller, she's pissed to learn Carver has taken the promotion that was earmarked for her. But over two episodes she seems so out of sorts, overwhelmed, and unable to think objectively—Lying Friend is also her son—that no viewer is going to feel sympathetic towards her.
What's the point of making The Killing for broadcast TV, let alone watching it? Granted, there's a chance Gracepoint won't spend an entire season flopping from one red herring to the next only to brick the ending. (The less said about a mysterious man who claims to have messages from Dead Kid Danny, the better.) So, there's that—faint praise, indeed. If you're the type who can't quit a TV mystery you're meh towards or even hate after watching its first hour, here's your next mediocre fix. 
Frazier Tharpe is a staff writer at Complex. He tweets here.