In what could be one of the most stark representations of gentrification yet in San Francisco, a group of men—with some members who wore shirts emblazoned with the Dropbox logo—tried to kick off a group of kids in the middle of a pick-up game, claiming that they had reserved the field by using an app.
The confrontation took place about two weeks ago at Mission Playground. The video shows the men wearing Dropbox shirts (we don't know if they were employees of the cloud storage company, only that some of their shirts have the logo) walking onto the field in an attempt to forcefully stop the game in play. One of the older men along with the boys tries to explain that for as long as he's lived there, the field has been open for pick-up games and not reservations. But the man associated with the men in Dropbox jerseys (he isn't wearing one) insists that he did reserve the field through a new app, and that appears to be true. According to Connie Chan, deputy policy director for the SF parks department, the park is taking part in an app experiment that's meant to "encourage the community to get involved and play soccer" by letting people reserve the field on Tuesday and Thursday nights for a price.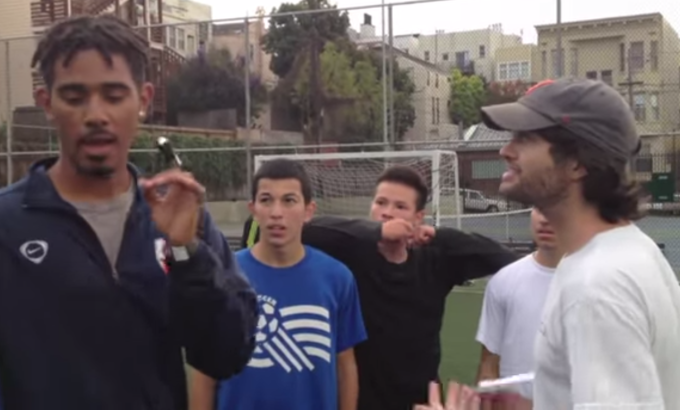 Yet, the sheer rudeness displayed here is hard to ignore. Instead of immediately trying to compromise, the men are determined to completely rid the field of the children. Just check out the interaction starting at 1:30. Here, the 20-year-old speaking for the kids says, "You don't understand— this field has never been booked. How long have you been in the neighborhood?"
The man responds, "Over a year!" and then, faintly in the background, you can make out another member of the Dropbox team say, "Who gives a shit? Who cares about the neighborhood?"
The kids weren't going to be moved easily before they reached an agreement at the end of the video. At one point (3:20), the man threatens to call the cops, to which a kid responds, "Go ahead call the cops I don't care."