Citizenfour
Starring:
Edward Snowden
,
Glenn Greenwald
,
Julian Assange
Release Date:
October 24, 2014
How did Edward Snowden become one of the most wanted men in the world? Chances are you know some of the details already, but maybe you know nothing and have shied away from the surge of controversy surrounding the thousands of classified NSA documents that he leaked to the press. Regardless of what side you fall on, director Laura Poitras' documentary, Citizenfour, is a learning experience.
In the film, Snowden summarizes much of the technical details behind mass surveillance into pieces that laymen can digest. And those who've closely followed the leaks over the last year will finally get the intimate perspective of the evasive whistleblower that they've longed to see.
In January 2013, Snowden—then a contractor with the NSA—left his home in Hawaii for Hong Kong. Using the codename "Citizenfour," Snowden reached filmmaker Laura Poitras, who was two years into working on a documentary about mass surveillance. (Poitras had previously filmed a documentary about the Iraq War, titled My Country, My Country, and Guantanamo Bay, called The Oath, and was placed on a government watch list.) From there, Poitras contacted political reporter Glenn Greenwald, and they both flew to Hong Kong to meet with the then faceless source who would share confidential information about the U.S. government's illegal use of mass surveillance, which included a complicated network of telephone, email, and credit card data from ordinary Americans. Greenwald relayed this information in articles for The Guardian, and the Obama administration found itself in the middle of a public-relations firestorm watched around the globe. The articles kept coming. The film spans from Snowden's initial contact with Poitras to the near present day. 
There's a sense of awe that comes while watching Citizenfour. Though we're now acquainted with Snowden's face—the slight chin stubble, narrow nose, squared glasses—when he finally appears on-screen, it's exhilarating. You're watching history being made. The world's about to shake. It's as if a cameraman had been there when Bob Woodward and Carl Bernstein met with Deep Throat during the Watergate Scandal that ended the Nixon Administration. It's humanizing to see Snowden, just minutes after meeting Greenwald and Poitras for the first time, go on camera and appear anxious. At one point he even laughs at his nerves.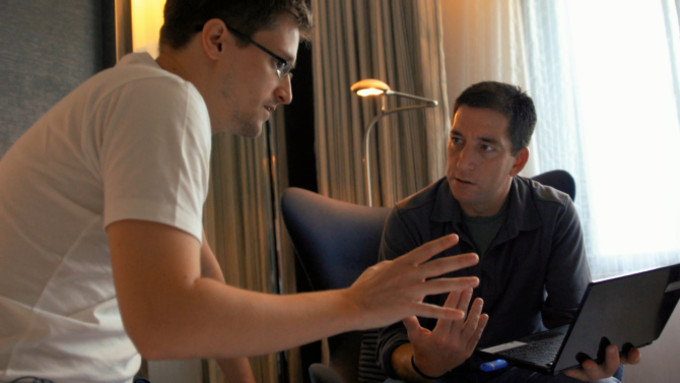 Poitras, if she wanted, could have cut more of the film to make it tighter, but she doesn't. In fact, the film is sprinkled with scenes that show Snowden lounging, or doing everyday activities, some of which include long moments without much dialogue. She recognizes that this is the side of him the public wants to see: the Snowden that's understandably borderline paranoid—he uses a blanket to cover himself when entering his password on a laptop—and sometimes self-conscious, like everyone else.
In a scene in the middle of the film, Glenn Greenwald reveals Snowden as the NSA leaker after he publishes articles defending whistleblowers. The film cuts to Snowden standing in front of his mirror wearing a black blazer and blue jeans—the sharpest he's looked since arriving in Hong Kong. He pours a slab of mousse in one hand and rubs it through his hair, but the strands in his part aren't staying in place. He becomes visibly frustrated, throwing curse words around here and there. He bats his fingers through his hair, trying to straighten it out. Snowden—whose face is on every news channel and just reserved his place in future editions of history books around the world—is having a bad hair day. 
Citizenfour doesn't include colorful sidebars nor graphics that explain the technical side of the leaks. Snowden does a good enough job of explaining the government surveillance programs and their affects that Poitras uses his descriptions and explanations throughout the film. If you're intimidated by the jargon associated with the leaks, you'll leave with a better grasp of it after hearing it from the man himself. Much of the story is driven by the conversations that Snowden and Greenwald have with each other. Poitras doesn't appear in the film, but she does read the texts that were exchanged from her to Snowden and Greenwald.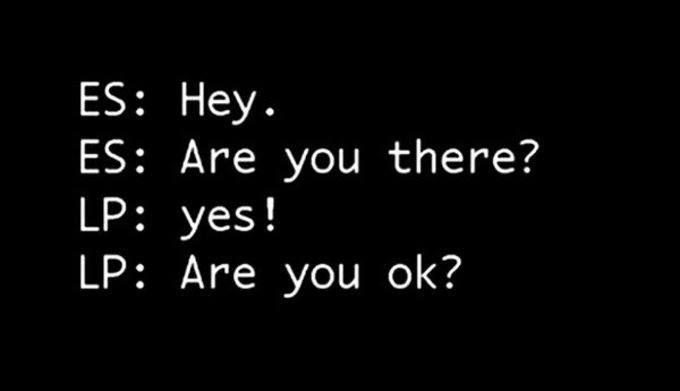 The film is as much a thriller as it is a documentary. If Citizenfour was a fictional movie with a cast of actors, Snowden fits the hero's archetype. He's intelligent, articulate, even charming. And many of Poitras' shots are cinematic—when Snowden peers out of his hotel room into a fog-covered Hong Kong, the camera cuts from behind him to a first-person shot and then back, letting us see, though his eyes, the uncertain path ahead. When Greenwald drives off into the night, we get a dashboard angle of him behind the wheel while the city lights pass above.
Thrillers don't typically reveal an ending, and this is true of Citizenfour. This story is still ongoing. Snowden is living in Russia and hasn't been extradited to the United States. Still, Poitras manages to have a surprising twist for her finale (it's already been reported by many news outlets, if you want the spoiler). 
Poitras' documentary isn't going to change stubborn minds. If you believe he's a patriot, you'll likely leave the theater with your opinion intact. If you think he betrayed his country, you'll feel that the film keeps Snowden at its center and doesn't give those who criticize his actions much weight. Yes, there are news clips from CNN and various outlet interviews with officials or pundits who believe he should face punishment, but they're at a minimum. If the shocking ending lands right, the last person you'll have on your mind won't be Snowden, but the top man in the White House.
This is the most important documentary you can see about post-9/11 America. So, how did Edward Snowden become the most wanted man in the world? That answer is easy: He leaked documents that the U.S. would have rather kept secret. If you want to understand why, Poitras' Citizenfour is the closest we'll get for a long while. That is, if the government doesn't have its way. 

Jason Duaine Hahn is a News Editor at Complex. He tweets here.