Miss Robichaux's Academy for Exceptional Young Ladies had an open house last weekend, and you completely missed your chance to enroll. Just kidding. Rather, in celebration of American Horror Story: Coven's Blu-ray and DVD release (available now), the gates of Buckner Mansion were open to press and a select group of curious fans, all of whom wanted to visit the storied spook house where the series was shot. The house, as cold and as towering as it appears on screen, was filled with displayed Coven memorabilia, from Cordelia's medical bag to Zoe's multitudes of custom hats that could make the cast of Gossip Girl jealous.
In addition to a tour of the haunted mansion, which an actual family lives in (the photos that cover the upstairs side tables are off-putting when a tour guide from the New Orleans Black Hat Society tells you the place is crawling with friendly ghosts), actress Jamie Brewer (Nan) and Emmy-winning costume designer Lou Eyrich sat down for a fan Q&A. If you got a glimpse of the two on the tiny stage, which was set up in the mansion's living room, you were lucky. The audience was filled with women in cosplay, with pointy hats capping off their custom-designed outfits. 
But perhaps more fascinating than the prestigious property were the costumes set up in every downstairs room. From Myrtle Snow's infamous red Carolina Herrera dress in "Seven Wonders" to Misty Day's Slash-like sequined outfit from "Go to Hell," the outfits, in all their detail, looked stunning, especially when they're not being burned at the stake. Lou Eyrich sat down for a more intimate conversation with the press to discuss her greatest costuming challenges, dressing Steve Nicks for Coven, and the biggest inspirations for her latest project, American Horror Story: Freak Show.
On her biggest challenges in costuming:
[For Coven] we did a ton of multiples because of all the stabbing, slicing, landing on a fence through the heart. All that. Every time we do that we have to have three to five of the same thing. We'll find the perfect outfit, and then we'll need five. It's a lot of phoning in favors, and then you find out that you can't use it because you could only find two instead of three. Once you've landed on an outfit, it's finding those multiples, and after you've searched so hard to find them you are slicing and dicing them, and throwing dirt on them. And you're like, "I just spent 200 dollars on that dress."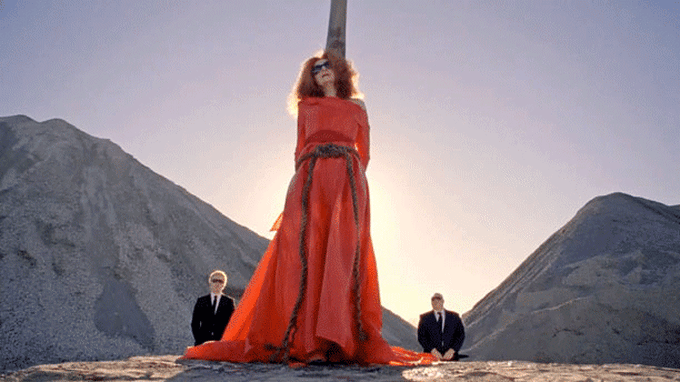 On dressing Stevie Nicks for Coven: 
She was amazing. At first, anyone who comes by with an entourage, I'm like, "Oh no!" [Laughs.] But they were all delightful, and I used to tour on the road so I had toured with a couple of [Stevie's] people in the past. Stevie brought suitcases of stuff, relics of the past that were amazing. She tried stuff on, and we talked about her character and what she'd be doing in each scene. She was so into it. But she did end up wearing all of her own clothes.
On must-haves for anyone planning to dress as a witch for Halloween: 
Well, of course, it's all about the hat. And every outfit starts with the shoes. So, I think a witch shoe or a boot, and then the hat. Then again, Coven proves you can have so many different kinds of witches—Nan in her Pilgrim chic with her little straw hats, Queenie and her badass jeans and fedora, Zoe in her Comme des Garçons look, with her big hats that we had custom-made in L.A. for her. It's fun. People will show me their costume and have their different version of what is a witch. But I like the long dress and big witch hat.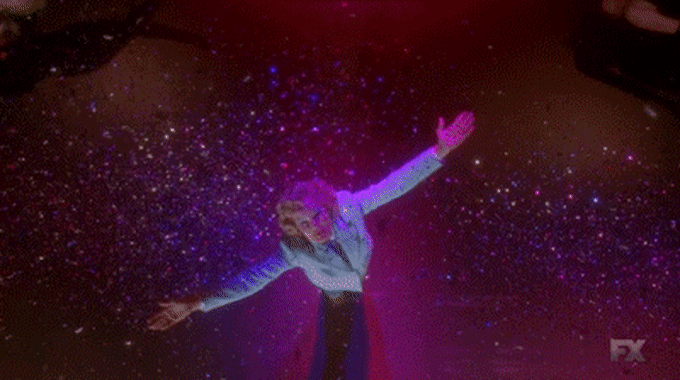 <span></span>
On her inspiration for Freak Show:
Faded glamor. At one time, Elsa Mars had this great carnival, but it's a dying art, they're out of money, they're broke, they're being thrown off the land, so we were gonna do very Dust Bowl, sad, neutral tones. All beige and rose. But then we started doing the fittings and we found out we were shooting it in [New Orleans], and a lot of it would be outside in the green grass. All of the colorful buildings and character down here, we decided to shift it into Technicolor, like the old movies of the 1950s, like The Greatest Show on Earth. We started watching those movies and it was so much more interesting to watch with these splashes of polka dots and stripes, and shiny golds and greens. I'm really glad we've changed it because it's much more interesting on the screen, in my opinion.
On dressing Jessica Lange for Freak Show's "Life on Mars" cover:
That's one of those things where it was going to be one thing and then I had to shift it. We had a different outfit designed for [Lange], and one day we were on set and Ryan [Murphy] just turns to me and says, "Lou Lou, we need a blue suit for Elsa. She's going to sing 'Life on Mars'!" It was supposed to be a different song as well. It was the dressing room scene, and it's the first time you meet Paul, and he says, "Five minutes, Elsa," and he puts his hat on. She turns and she's got that big, blue eyeshadow. And I'm like, "What's the blue eye shadow? What is that?" and Ryan was like, "You need to design a suit to match that."
We took the Bowie suit, which was from the early '70s, and we made it '40s and more feminine for her. We gave it the big shoulders and the big lapel, and did a little Marlene Dietrich twist to it, and put her in a tie, the whole androgynous thing. It wasn't her favorite outfit, but she wore it. I think she got used to it—but now it's become quite the sensation, I hear.
plcnk2cDqcFdJvNYrCUKSKH1eQzBq-yx