The Judge
Starring:
Robert Downey
,
Jr.
,
Robert Duvall
,
Vera Farmiga
,
Vincent D'Onofrio
,
Dax Shepard
,
Jeremy Strong
,
Sarah Lancaster
,
Billy Bob Thornton
Screenwriter(s):
Nick Schenk, Bill Dubuque
Release Date:
Octobr 10, 2014
In David Dobkin's The Judge, which premiered at the Toronto International Film Festival, Robert Downey Jr. is Hank Palmer, just your regular big city attorney archetype: sharp tongue, crumbling marriage, strained father-son relationship.
After his mother passes, Hank makes the journey to his small-town Indiana childhood home—could he hail from anywhere else?—where his aging father reigns as beloved Judge Joseph Palmer (Robert Duvall). Clearly, there's no love lost between the two men and Hank can't wait to make his quick escape. "This family's a fucking Picasso painting," Hank remarks at the wake. With one foot out of the door, he learns that his father has been arrested on hit and run charges—quite possibly even premeditated murder. He has no choice but to defend his father, because, well, the inexperienced young attorney on the case can't stop throwing up. Besides, Hank is a little light on his pro-bono work this year. (That's a quip he makes; his character has plenty of them.)
Anyone with a less than ideal family situation—so, everyone—will find something familiar in the movie, premeditated murder being the remarkable exemption (probably). The grudges we hold on to, the fears that plague us, and the sense of being unloved by individuals whose love should be unconditional—those are all very human subjects and worthy of exploration. And this is certainly the cast to deliver on it.
Unfortunately, the strong performances are held back by a by-the-numbers storytelling approach that feels stale and predictable. You've seen this before, especially the heavy dose of sentiment via emotional manipulation.
The Judge wants to tackle too many things at once, and won't let go of its many distracting sub-plots. Had it focused on the father-son relationship, the necessary tension and mystery of the trial would have been enough to fill the film. As it plays now, most of the strongest, most honest scenes come when the two men connect over the indignities of old age, as Joseph's body and mind begin to give out.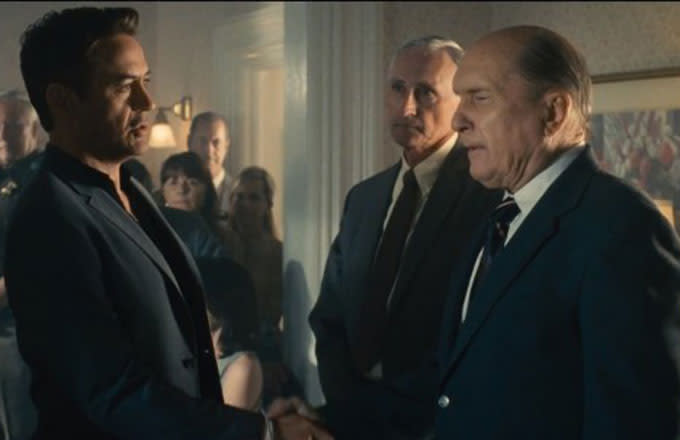 Downey and Duvall are backed up by a supporting cast that includes Vincent D'Onofrio, Jeremy Stronger, and Leighton Meester, but none of these characters really get to do much—they're insignificant pawns in service of the story.
Ultimately, despite a fantastic cast who does their best, some powerful moments, solid cinematography, and a premise that could have gone somewhere interesting by blending the procedural with the human, The Judge crumbles because of its weak script and uninventive, conventional direction. The verdict is in, wish the ruling was better.
The Judge is set for an October 10 theatrical release.
For more of Complex Pop Culture's coverage of the 2014 Toronto International Film Festival, click here.