ComplexCon returns to Long Beach Nov. 6 - 7 with hosts J. Balvin and Kristen Noel Crawley, performances by A$AP Rocky and Turnstile, and more shopping and drops.
Secure your spot while tickets last!
Considering in the first full minute of season four of Scandal, Olivia Pope was being fingered by her boyfriend, Jake Ballard, and then minutes later, realized that her longtime homeboy had been murdered, #Gladiators will be treated to another over-the-top season of the popular Shonda Rhimes-helmed drama. So while I won't be recapping week to week, I do have predictions for the season based on last night's premiere. What are the chances of any of these things actually happening? The hell if I know, but most of them should. Dammit.
Fitz and Olivia Will Bone: This is sort of like saying it will rain tonight and tomorrow the sun will shine and the skies will return to the color blue, but we know this is going to happen. It's just a matter of when. I give it two to four episodes before they are doing it to some Motown classic like "Let's Get It On." And we will be annoyed by the both of them, especially Olivia Pope, for refusing to honor the mantra, "Close yo' legs to married men."
Jake Will Have An Epiphany: Jake loves Olivia Pope, which is totally understandable given she is a beautiful, accomplished woman who loves her wine. However, Jake wants a Myx Moscato girl—​you know, someone more casual, who doesn't want to continue the hectic life Olivia lives in D.C.—​but that's just not who Olivia is. Plus, she wants to smash the homie (Fitz) and sooner than later he's going to accept that. He probably will this season. Or he'll be murdered. Either or will settle the issue.
By the way, Jake: While I appreciate you boasting of your sex game, more often than note, it never ends well for the dude playing the role of Discount Don Juan.
Y'all Will Hate Quinn Less: I have never understood why so many Scandal watchers hate the shit out of Quinn. I mean, Olivia Pope ruined her life and what did Quinn do? Work for her. Granted, she didn't have many options, but she was bound to crack soon. Now she's a sensible cold-blooded killer like Huck, only with better communication skills. She found Olivia and got her back, so everyone should be a little nice to her. No? Well, that's not fair.
Cyrus Will Get A Haircut: Yo. What is that shit on the top of his head? It's not cool. It's not hot. It's not even a little bit right. In my mind, Cyrus meets a new bae who says, "Baby, let me be the clippers to your scalp."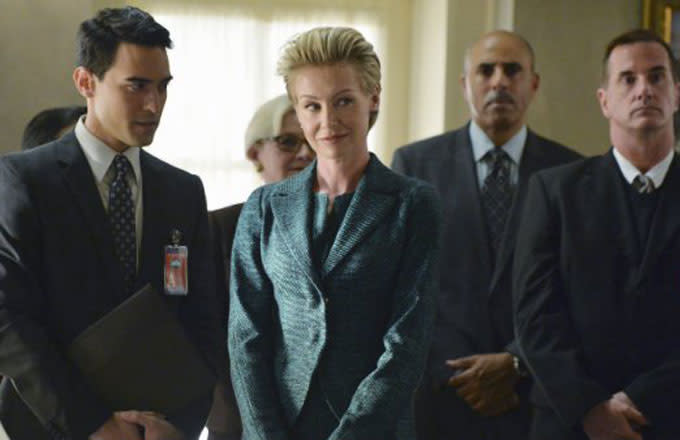 Portia de Rossi Will Get A Haircut: At least I hope. That said, welcome back to another crazy legal TV show, Portia!
Abby Will Continue To Be A Boss: According to Shonda Rhimes, we will get to see more of and learn more about Abby Whelan. Good, because "Red" deserves more shine. I'm looking forward to her playing the role of White House Press Secretary. I hope she doesn't go back to Olivia Pope & Associates.
Mellie Will Be Mellie Again: I know Mellie is going through the heartache of losing a child, but laying on the grave in a bathrobe ain't it. Thankfully, by the end of the episode, she showed signs of Mellie Mel of yore. As in, she stopped her husband from pretending he wasn't going to eventually go see Olivia. Also, she had the glorious line about her non-waxed vagina, quipping, "It's 1976 down there." That mouth will be back in full force by the third episode. Come back to me, Queen Mellie, and shade these fools right for the 99-2000.
Harrison Won't Be Missed: While I'm sad he's dead or something, he was always underutilized. Needless to say, there isn't much to miss sans a pep talk delivered in the key of Speedy Gonzalez. I don't really need a whole episode themed around a funeral about the man. Olivia could've just taken a bottle of bougie red to the head and played Bone Thugs N' Harmony's "Crossroads." But you know, I get it. Even so, don't bring him up no more. It's Columbus Short's own fault he's now trying to make the rent hosting Scandal viewing parties.
Papa Pope Is Going to Get Beat: Olivia is going to find out that her mama is alive, and hopefully, that comes by way of Mama Pope slapping the dog shit out of her manipulative ass husband. Both of those fools are crazy so as far as I'm concerned, they can beat each other down to the white meat. Good riddance.
The Others Will Go On With Business as Usual: Huck will still kill at will, but be dumbfounded by the basic concepts of communication. David Rosen will continue to be less of an idealist and more of an opportunist in the name of the come up (respect). Sure, he may go back and forth with it a bit, but ultimately my man realizes this game is rigged so why not play the role.
Michael Arceneaux hails from Houston, lives in Harlem, and praises Beyoncé's name wherever he goes. Follow him @youngsinick.