Here's just one word to drive the fanboys crazy: Gotham. Anyone who can't get enough of all-things superhero probably already has this show DVR'd on September 22, when it debuts on FOX.
An origin story inspired by the original DC comic, Gotham sees Batman as a tween Bruce Wayne (here, played by David Mazouz), impacted by the loss of his murdered parents and traces the development of the property's most iconic villains, including Catwoman (Camren Bicondova), The Joker, The Riddler (Cory Michael Smith), The Penguin (Robin Taylor), Poison Ivy (Claire Foley) and Two-Face. However, rather than experience the series through Wayne's angsty point of view, the story is seen through the eyes of James Gordon (Ben McKenzie), a rookie detective who pairs with his superior Harvey Bullock (Donal Logue) to fight crime in the corrupt city.
While the timeless city of Gotham is Batman-less, for now, showrunner Bruno Heller (creator of Rome and The Mentalist) still keeps the premise intriguing. "How do you deal with crime of this level when there are no superheroes, when there's just ordinary, mortal men and women trying to solve these issues? It's as much about the hope and the struggle that they're engaged in as waiting for a savior," says Heller. "If there is a superhero in this show, it's Gotham. Heroes are more interesting than superheroes because the difference is superheroes do the impossible, and drama is really about the possible, the physically possible."
And even though uber Batman fans won't see the Batmobile, Heller thinks the origin story will be enough to draw in viewers. "Certainly for me, the really interesting parts are the origin stories. As soon as you're into the capes and costumes, it's less interesting than seeing how they got there. And this is about how all these people got there," he says.
But to satiate Batman fans nonetheless, expect many super-villains to appear in the first episode. "You kind of have to front-load the pilot with the best that you've got, because that's the way you have to open big," Heller continues. "As the show rolls on, we'll be far more, not parsimonious, but careful with how we roll out the villains in what way."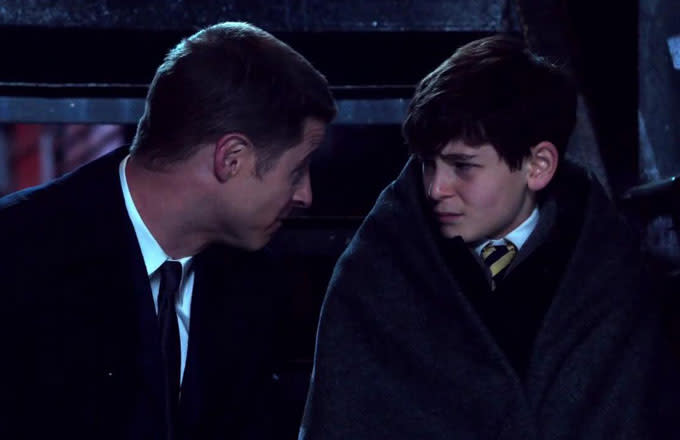 Visually, Gotham City has a gritty look, reminiscent of old-school New York. "Me and [executive producer/director] Danny Cannon talked a lot about New York in the '70s as a kind of tone poem for what Gotham is, and that was at a time when the city was falling apart," says Heller. "But I remember going there and it was precisely the decay and the decadence and the anarchy that was, at the same time, joyous and thrilling and exciting and scary and sexy...There is something about a great city as it falls apart that you are compelled to watch. So, it's a story of downfall, but it's also a story of sort of explosive growth and excitement."
What's more, Cannon, whose previous credits include CSI, Nikita, and The Lottery, was tonally inspired by the classic hard-edged movies he's watched and the music he's listened to over the years. "I rewatched a bunch of films that were top 10 movies for me, [William] Friedkin's films, and Sidney Lumet, and even The Warriors," he says. "Punk rock came into mind. And I looked at a photograph book of the Bowery in New York when CBGB's club was out.  I looked at pictures of Blondie and The Ramones and Iggy Pop and a lot of the costumes [on that show] came from that. The de-saturated look and the dense contrast came from that research."
Adding star power to Gotham is Jada Pinkett Smith, who plays an evil crime boss specifically created for the show, Fish Mooney. She credits the show's writers and producers for developing a strong and layered female character, which drew her to the show. "I think women make very interesting villains because, oftentimes, what drives a woman in all our stories is very different than what we're used to seeing. [It's different from] how stories are created for men and what drives a man to do what he does," says Smith. "It's always very interesting when you can find someone who can really penetrate the internal life of a woman and get the truth of what makes a woman tick and makes her do what she does...There are corners of a woman's darkness that are not seen very often and can be terrifying."
Get ready to tap into that darkness, and everything else Gotham has to offer, when it premieres on Monday at 8 p.m.
Susan Hornik is a contributing writer. She tweets here.