ComplexCon returns to Long Beach Nov. 6 - 7 with hosts J. Balvin and Kristen Noel Crawley, performances by A$AP Rocky and Turnstile, and more shopping and drops.
Secure your spot while tickets last!
Having never met Charlie Fisher, it's impossible to say whether he is slow-witted or lacks common sense. This performance, however, is not promising.
The aforementioned Fisher is a 20-year-old British "supermarket assistant" (whatever the hell that means), and he very poorly and lazily attempted to juggle three different "girlfriends" at once. The typical ruse of meeting friends and family kept them strung along for a while, but as happens with seemingly all of these things, Charlie's inability to protect his cell phone 100 percent of the time meant some incriminating texts were discovered: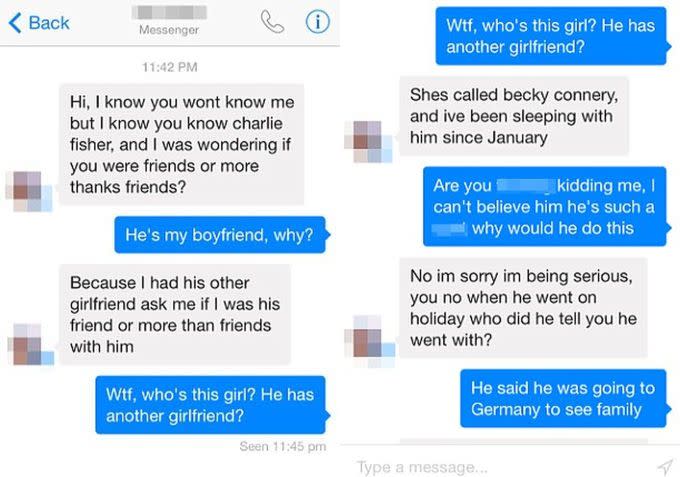 This is where the plot thickens. While ol' Charlie jetted off for a vacation in Germany (visiting a fourth girlfriend, perhaps?), one of his girlfriends went to work on tracking down the person she thought was "the other woman." They soon discovered there was a third lady involved as well, and over beers the trio decided to confront him at the airport when he returned.
Poor Charlie got quite the arrival when he cleared customs as the three women greeted him together, yelling "liar, liar" at him and even reading off Charlie's misdeeds to his grandmother. Charlie and grandma hastily retreated, never to be heard from again.
The ladies, meanwhile, are apparently now BFFs.
Does this all sound familiar? Well, it also happens to be the exact plot of this cinematic classic:
czYnBtbTpgKa5579_ofab0QrQToeKCps
The real question is, why were they all going out with this guy? Was it the lip ring? The weird earring? He looks like a bizarro version of former Bachelorette winner Jef Holm.
Come on ladies. You can (hopefully) do better.
[via Daily Mail]