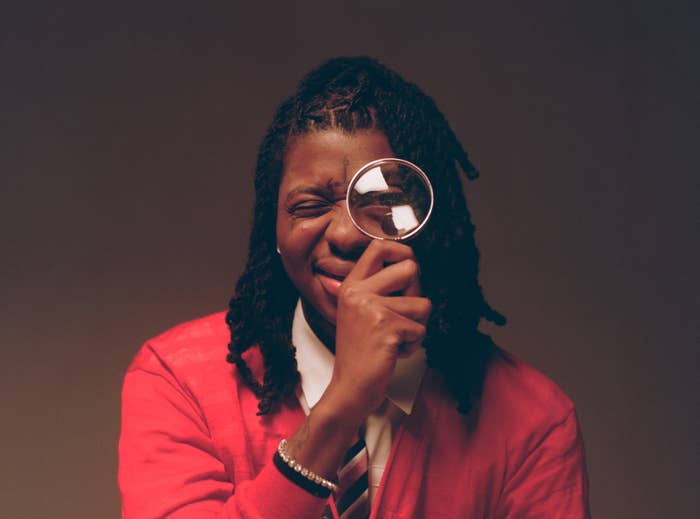 What a difference a year makes. Much has changed since the last time I spoke with SahBabii not quite twelve months ago—back when people were still allowed to go outside and Purell was cheaper than kush. At the time the soft-spoken trap surrealist was considering retirement at age 22. "I'm working on Wolverine right now," he said in April of 2019. "That might be my last project." Squidiculous as it may sound, that was how he really felt. But much to the delight of his dedicated fans, the artist born Saaheem Malik Valdery caught a second wind late last year. Evidence of fresh inspiration appeared via Twitter on October 11. "I'm still dropping this month," he tweeted out of nowhere, followed a month or so later by this: "Bitch We Go Mufuckin BarNacles."
Aquatic imagery is a staple of the watery ecosystem inhabited by SahBabii and his squids. Scientifically speaking, barnacles are filter-feeding crustaceans, akin to lobsters and crabs, that thrive everywhere from tidal pools to undersea volcanoes, chilling inside tiny shells that protect them from predators and prevent them from drying out. SahBabii's definition of the term is roughly equivalent to "bonkers." It's an apt description, judging by "Double Dick," the first song Sah shared from BarNacles last month. "One in the draws," Sah specifies over a gauzy Teezr beat, "one in the Glizzy."
"It's raw SahBabii," says his father Sup (short for "Super"), who runs the 100% family-owned Atlanta-based label Casting Bait Music Group. "He's going back to the essence of himself." The proud dad says Sah has been "staying motivated and creative, focusing on his craft, tuning in with himself, just gettin' a peace of mind, gettin' back to his true artistry." This is good news for the family business of course, and great news for all the fans who've been patiently waiting. "Got to keep the people hopeful."
Sup describes the new project as "#QuarantineVibes for the culture." Since most of his hits started in the bedroom studio where he and his brother T3 work, corona mode suits SahBabii just fine. He did venture out to L.A. to shoot the "Double Dick" video, directed by Aidan Cullen, which channels a Mister Rogers' Neighborhood–meets–Magic City type vibe. While out west Sah connected with Trippie Redd to record a rare collab called "Faith In The Glock" produced by T3. 
The tracklist you might have seen floating around on social media has been switched up, but one thing Sah and his father promise: BarNacles is coming soon. "The Squids and the culture gonna be shocked," says Sup. Sah took a break from putting the finishing touches on the music to chop it up by telephone from his home in ATL. He says he's been losing weight, he feels great, and he still plans to retire—but right now it's BarNacles season.

What up, Sah, how's it going, man?
I been all good bro. Just chilling, working on music.
I see that! What kind of feedback are you getting so far from "Double Dick"?
It's all good. The fans love it. As long as my fans messin' with it, it's all good. I like how the fans vibe to it. It's all positive things.
Your fans have definitely stayed positive. Last time we spoke you were thinking about retirement. But the fans never gave up on you.
Mm-hmm. Yeah, that's why I just kept doing music, because of the fans. I couldn't just turn my back on them. I'ma still retire, though. But I just wanted to make sure I give my fans the most music I can give them before I stop.
At some point you have to rest and rejuvenate, but what made you decide this was the time to release BarNacles?
I like hot weather in the summer, like warm weather. And I like nature. So when I make my music, I picture my music in warm weather. So I really just wanted to give my fans some for-the-summer-type stuff.
You dropped "Double Dick" in the first week of spring, right?
I told my fans I was gonna drop in October, but that music don't sound right in the cold. So I just sat on the music. When I'm just sitting around the studio I just keep making music. I just kept making changes, and that's how I kept getting pushed back.
The video for that is crazy, by the way. It looked like the neighbors got a little mad at you, though.
Oh yeah, you know how that goes. You in people's neighborhood, females twerkin' up under your eyes, and she just called the police. You know how that goes. I shot that in L.A.
I'ma still retire, though. But I just wanted to make sure I give my fans the most music I can give them before I stop.
So you went out to Los Angeles for that Mister Rogers' Neighborhood feel. You really went through with the Fred Rogers wardrobe.
Yeah, I bought some of these clothes online, but they had a stylist in L.A. named Dev. He did a good job with the cardigans and stuff for the video.
So that was LAPD that pulled up on your shoot?
Yeah, I guess so. I think it was the LAPD or something like that.
And you told them it was a student film?
Yeah, that's what Aidan, the director, told them. He said it was a student film and they went for it.
So you must have shot that just before all the madness with the virus and everything.
Yeah, I shot that before all that stuff. Matter of fact I wasn't even hearing about it yet. I shot it way before all that stuff.
So how has that been for you? Are you quarantined at home now?
Yeah we just playin' it safe. You know what I'm saying? But it's cool because I got my studio at home. I'm always working on music so it's all good. Once it clears up, I'm going to start back doing shows or whatever.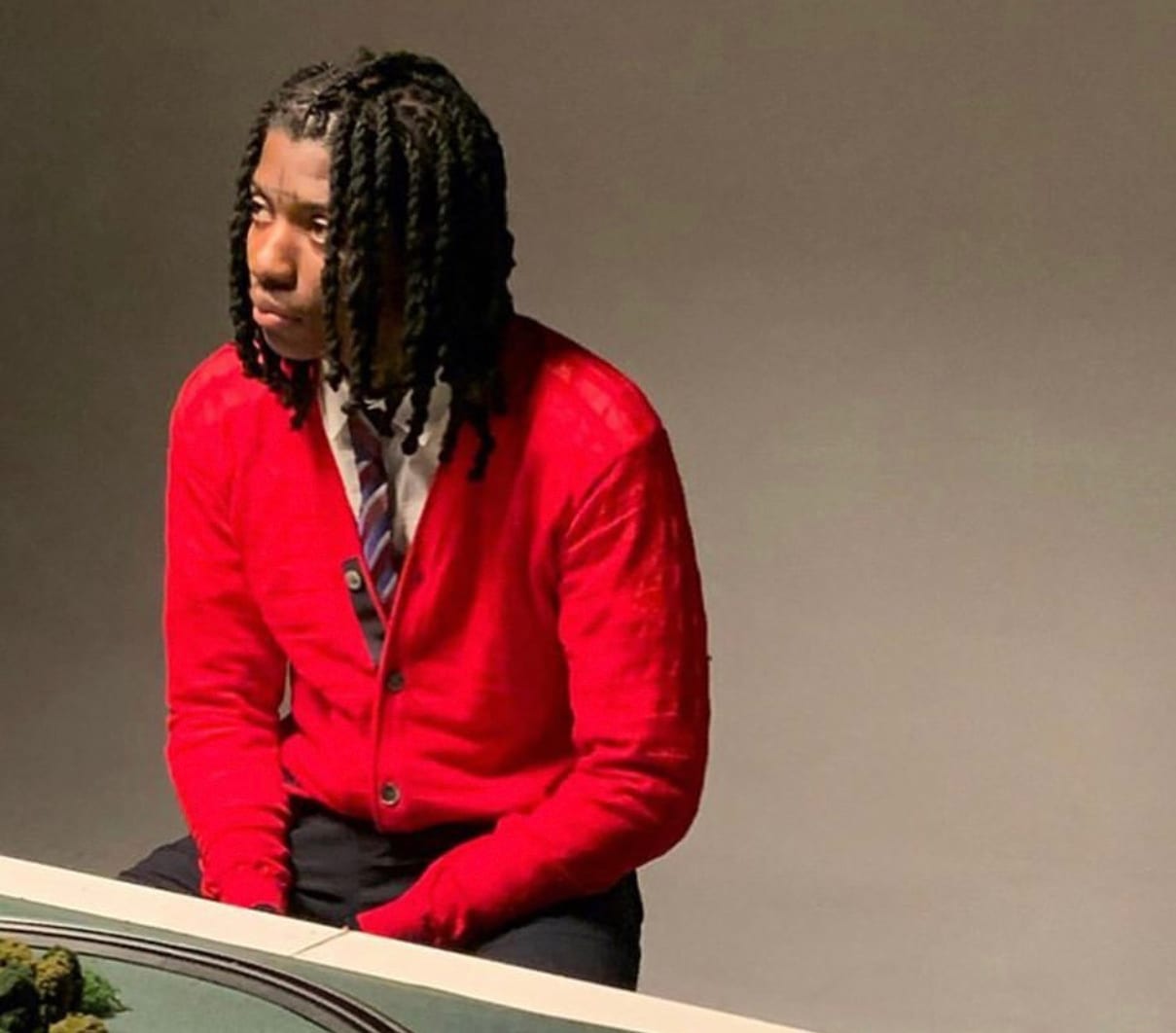 Tell me about Teezr, the producer for "Double Dick." Is he from Atlanta too?
Oh shit, I don't even know. I'm still doing YouTube beats.
Didn't Teezr work on Squidtastic too?
Yeah, "Tonight." Teezr just go hard, that's all I know.
So did you used to watch Mister Rogers back in the day? Are you a Mister Rogers fan?
Yeah I used to check Mister Rogers out on PBS Kids all the time when it was on in the morning. I just like to go back to my childhood days, things I remember from my childhood. And when I made the song I thought about Mister Rogers.
What do you think brought him to mind?
When I be in the room I just be smoking and I listen to my music. I keep playing my music over, and I just come up with a lot of ideas. Man, it just came to my mind, you know what I'm saying? I just be going crazy in the room.
I just ain't want to disappoint my fans. It ain't always about money. I ain't saying that it ain't about money, but at the same time when it comes to music and how my music sounds I'm not thinking about no money.
Last time we were talking about Wolverine, and now it's BarNacles. What's the concept behind BarNacles?
Barnacles mean just going crazy. Wolverine, I pictured that more like cold weather type stuff, but I don't really be feeling the cold, so I might drop Wolverine a little bit later. I really just switched it up because of the weather. I was supposed to been dropped BarNacles—like a long time ago. But I'm always on the dark side, like wearing black and stuff. Like Wolverine, that's kind of on the darker side. But for the summer I wanted to have something light so I went with BarNacles. It really just be up to the weather. I still got all my songs for Wolverine. It's just BarNacles time now.
I saw you put up a video with a bunch of people in a playground dancing to "Watery" and you wrote "We goin' Barnacles."
Oh yeah. Them boys that was dancing? I don't know who they was. They just go off.
I also heard the track with you and Trippie. Was that the first time y'all clicked up before?
Yeah, that's the first time I ever linked with bruh.
So how did that connection come about? 
I know we was talking over Instagram. But I was in L.A. one time and the director [Aidan Cullen] of "Double Dick" said he wanted to link us together and we just linked. And we did those songs. They went crazy.
How did you like working with him? What was that like?
Bro all good. It's all chill. Just up in there, smoke and record. We get it done fast. You know what I'm saying? It was a good experience.
Apart from Trippie and your brother you don't do a lot of collaborations, do you?
Yeah for sure. That's gonna come in time. I'm just doing me, working on my music. There's a lot of little in-between stuff, you know what I'm saying?

You mean in terms of peoples' personalities and business shit?
People be busy. People just doing what they doing. I really don't look at it like that. I feel like I'm just doing my music and I'm trying to feed my family. That's just how I'm doing it. If somebody want to work, I'll work. I like making music, so I focus on that. I just be in my room making music, do a video, drop a project. It's that simple with me. If features do come, yeah of course—if it makes sense, for sure. That's going to come in time. I'm just trying to make some money and live a good life, really.
After talking to your dad about all the sacrifices that went into this, and all the work that was put in to reach where you're at right now, I have to congratulate you. 
I appreciate that, bro. It's been a long journey. Still going. We still got a long way to go. I still got to get more fans. It don't stop. 
Last time we talked about your experience being signed to a major label. You've been doing the independent thing for a while now. Are you still feeling good about that decision? 
Yeah, I still think it was the right move to make because if I got somebody else controlling who produce my tracks and where I record at, my music probably ain't gonna sound the same. I feel like people wouldn't probably give me a chance if I come with some old left-field stuff. I know the recipe to my music. Like, this is how I record. I like to record in a room by myself. I know the real recipe, I know how I made my "Marsupial Superstars." I know how I made these songs, and it just expands. You gotta keep going. It is what it is.
There's a magic that happens, and you don't want to mess with that
Mm-hmm. I just ain't want to disappoint my fans. It ain't always about money. I ain't saying that it ain't about money, but at the same time when it comes to music and how my music sounds I'm not thinking about no money.
The whole world is worried about the corona virus right now. Are they getting sick? Are their loved ones getting sick? Is it safe to go outside? And they've gotta stay locked up in the house and spend time with whoever they live with. At a time like this I think people need some good music to get them through this shit right now.
Yeah, that's why I'm working on my music. This is a scary time right now. All this stuff really is crazy. I don't even know what to think about this stuff. I just try to play it safe, you know what I'm saying? You don't know what's coming.
So are all your family and loved ones all good?
Yeah, everybody all good.
A lot of people just be mad at themself, always trying to judge somebody else. Like, bro, you probably ain't even wash your ass. You just mad at yourself.
I saw you tweeted something the other day about positivity and how if people affect your happiness they shouldn't be around you.
Yeah, I feel like some people just be into negative situations too much, but it don't even gotta be like that. You can always just stay positive. I don't know why everybody always got to be on some negative stuff like that. To me that's just not cool. It's just as simple as that—really just shut the fuck up and make some money, bruh. Stop bringing negative vibes around and messing up people moods. I don't like when people tell me what someone commented on, what somebody said about me. I don't like all of that. Like bruh... I'm just trying to make music, you know what I'm saying?
A lot of people just be mad at themself, always trying to judge somebody else. Like, bro, you probably ain't even wash your ass. You just mad at yourself. You gotta look in the mirror, you know what I'm saying? You gotta fix yourself. People always trying to bring down somebody else, like all that talking about people, I feel like that shit just lame.
If you don't have anything else to talk about, you're going to gossip on people.  
Yeah, that's just unnecessary. A lot of people can survive and exclude theyself out of situations if they don't respond. When you respond to stuff, that just puts you in it. Puts you in that whole situation. If you just ignore something, the negative energy can't touch you, cause they don't know if you've seen it or if you're even paying attention.
Has that been happening to you? Are people bringing drama to you? For the most part it seems like you've been laying low.
Yeah, you always going to have people that's just trying to destroy your peace, you know what I'm saying? I don't answer my phone. I got my phone number changed up. I just be chilling, making music. Real simple. I'm trying to make music, drop my project, do some fire videos... I wanna make cartoons. I'm trying to do big shit. All that little shit I don't be paying attention to.
We're still waiting on that "Anime World" video, man!
Yeah I gotta get that right. I had put it all together, but I was kind of fat at the time, so I ain't want to be on camera. That's one of the reasons I laid low, because I gained a lot of weight. I kinda went vegan a little bit for a couple of months, and just cut out juice and all that fatty-type food. I got up to 197. That's just from being on the road and stuff, and eating all this fast food. But I lost like 40 pounds, so I'm like 154 now. So I wanted to lose some weight, you know what I'm saying?
So was that your normal weight when you first came out with S.A.N.D.A.S.?
Yeah, when that first came out I was like 135. But when I got to doing shows and being on the road I got up to 197. And I just looked myself in the mirror and I said, "Hell no."
You didn't feel right.
Yeah, I didn't feel right with that.
So what's your favorite vegan food?
I'm not vegan now, but I still eat vegan stuff. Like all my three of my brothers vegan. I'ma go vegan, but I just like fried chicken too much. And I really like watching cooking shows. I want to open up a restaurant.
Oh shit. What kind of restaurant?
I'ma sell like burgers, hot dogs. I know how to make good recipes. I made burgers yesterday. I made these Shake Shack type of burgers, with the thin patties.
You got a song called "Fried Chicken" on BarNacles, right?
Yeah, I got a song called "Fried Chicken." I love fried chicken.
That one jumped out at me when I saw the track list online. I have a feeling you took the concept to another level.
Oh yeah, for sure, man. You already know it. That track list that I put on Instagram, I switched that up. I got a whole bunch of songs. Like I just found some more songs I forgot I had. So I be switching it up. If I sit around with music that ain't released, I be switching it up a lot. I gotta stop doing that.
So what's the plan? You gonna do any more singles, or are you just gonna drop the BarNacles next?
I think I'ma just drop BarNacles. I really don't even like givin' out music like that, I like giving out projects, so I'ma drop BarNacles.
Well, I think everybody is paying attention. They're focused right now.
Yeah, for sure. That's why I'ma just go ahead with BarNacles. 
Are there any other favorite songs for you on BarNacles that's definitely going to make it off the track list? Like what about "Ready To Eat," "Cocoa Puffs," and "Tongue Demon"? 
Man, yeah I got my track list already done. The songs are already done, so shit... I should be turning it in in the next two, three days. I got videos done. I'm going to shoot some more videos, and I'll take some more pictures.
So this is about to happen real soon.
Yeah, for sure.
Don't let me slow you down! Before we go, is there anything else you want to say to all your fans who have been patiently waiting on this project?
Man, I just want to say I appreciate my fans. Once I drop, we goin' barnacles, man. I'ma just keep giving my fans more and more. I ain't gonna over-saturate it, but I know my fans, this is what they want type shit.