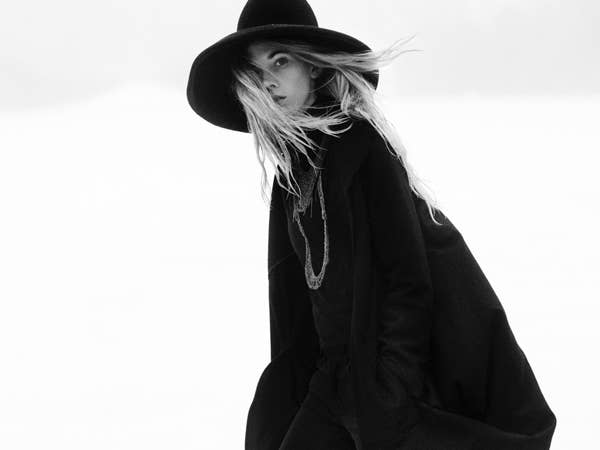 ---
Woodes only has two solo songs out on SoundCloud, but unlike so many other newcomers releasing music online, she's already sounding polished and professional. Instead of half-finished ideas and raw potential, her two songs—"The Thaw" and "Daggers & Knives"—are beautifully produced and deftly executed. There's a whimsical, folksy essence to her voice and lyrics, but a moody electronic edge in the production brings her traditional songwriting skills into the modern world.
Can you introduce yourself? Where are you from, when did you start making music?

My name is Elle Graham/Woodes. I'm a singer-songwriter, producer, and artist based in Melbourne.
I grew up in Townsville, North Queensland and moved here to study music composition. I started on piano then classical singing, followed by orchestral percussion—mallet percussion in particular. I loved being in school choirs and singing group harmonies. Orchestral percussion opened a lot of doors and allowed for me to travel a bit interstate and do some great ensemble work.
Throughout high school I began writing my own music on the piano as an outlet. I started to record these ideas with friends that were getting into production and then began performing for my peers. I found that rather than rehearsing for my music exams or writing my essays for school I would sit at the piano and create my own things. My friends and teachers were really supportive of me pursuing this. In my final year I got my first Macbook with Logic 8 and began to dabble with recording and sound engineering. I had done a bit of recording in Pro Tools and loved the shift into a program with so many inbuilt sounds to play with. It felt so easy to express myself using it. I moved to Melbourne and began producing and writing.
Woodes was something that evolved out of everything. To me it's a multimedia project with music at the core.
I see that you're involved in the production, but you also work with other producers, right? What's the process behind making a Woodes song?

It differs from song to song. Most of my own songs start at the piano; I love those songs that just tumble out in a moment. I have countless voice memos and notes on my computer with lists of inspiration and concepts and phrases. I like collecting. Sometimes a song of mine will start within Logic. I've been doing that more this last few years. I'm getting into Ableton now, too. If I'm doing a soundtrack or instrumental I like starting that way.
When I collaborate however, it could be starting from nothing or I could bring in a concept that I've been working on, or if I'm working as a writer, the process will differ again. Depends on the collaborator too—if they are an instrumentalist or producer we might start with guitar loops or a riff on the piano rather than starting with a beat or chords.
For the most recent track "The Thaw," Lanks and I wrote it at his studio one day. It was very back-and-forth with melodies and concepts. I think we met in the middle with a lot of influences. One thing I really loved about that session is how many organic moments we pulled into the track. There are reversed mallet percussion samples I'd collected previously of glockenspiels/vibraphone/marimbas that were conveniently in the same key, along with synths and his old piano.
I've worked with other writers where we map everything out ahead of time with specific structure, but sometimes it can be quite fluid and experimental. Both work. For my Woodes tracks the collaborators on the EP have been writers and producers I know well and trust.
It's interesting at the moment that I feel I am constantly having to justify my involvement within my own music. For a while I was fearful that by bringing in collaborators to my music I would find myself in a position of losing ownership.
I had no idea when I first started producing music that there were so few female producers. I simply pursued it because I was curious and I wanted to be able to acquire the skill to make the music I heard in my head.
Who or what are you inspired by?

Films, books, people, music, visual art, family, fables, beauty, pain. Travel… dreams…
What music did you grow up listening to?

My dad has almost every single Bob Dylan record. It's an impressive collection. Lots of Bob.
Since you started making music, how has it evolved? Have you always known the sound you wanted to go for?

When I started writing I was drawn to storytellers such as Sufjan Stevens, Regina Spektor, and Imogen Heap. I just loved sitting at the piano and writing songs to play… it wasn't anything to do with the recording process but slowly this changed.
I bought my first pair of studio headphones so that I could track things I was making. I used these to listen to all my favorites songs, rediscovering all of the parts I'd missed. Slowly I began to discover the other elements in my favorite songs that lived within the atmospheres. The beauty in the details. I liked hearing the piano creak when the pedals moved, I liked the timbre of the trumpet when it was recorded a certain way. I remember first getting into James Blake, Bjork, and Jon Hopkins and being blown away by electronic music. For James in particular I was drawn to the way his voice was so haunting but the beats could be so jarring. I'd never really thought about creating beats prior.
I'm not sure I'll ever know the definite sound I'm going for. One of the most exciting things as an artist is being able to shift and experiment. You wouldn't want to always paint with the same colors. I look at artists/producers like Bjork or Imogen Heap and I'm drawn to their versatility and the way they are constantly evolving. Each track is connected by their distinct vocal approach.
---
What effect do you want your music to have on people?

I would love for it to trigger the imagination.
What's the scene in Melbourne like right now?

Melbourne is incredible. Such a unique city. When I first moved here I was so overwhelmed with how many of my favorite artists tour through here after living in regional Queensland for 19 years. There's a great live music scene. I think I'll be here for a while.
What's your live show like? What do you like better, performing or creating?

My live show up until this point has been a one-woman show. I play keys, trigger things and do live vocal effects. For some shows I bring out a vibraphone, too. I love performing with it, but it's ridiculous for touring. So heavy!
I'm adding another member now on guitar/aux. It's been great alleviating some of the pressure and thinking about arrangements in a fresh way.
Both performing and creating are such different parts of what I do. I would say I like creating more, as I'm quite a shy person and I love being in the studio. What I do love about performing and releasing music is that it connects you with like-minded people. I like that there are new parameters to work with creatively too; the lighting, the styling & the different gear used to build the tracks.
What's your favorite animal?

I think dogs are perfect companions, if my lifestyle wasn't so intertwined with travel at the moment I would love to have a dog. The local hot-spot for Pokemon in my neighborhood is the dog park and I'm pretty stoked! I'm also a big fan of red pandas, pangolins, owls, seals, tapirs, elephants, and whales.
Anything else you want people to know about Woodes?

I've been working on an EP for about a year now and it'll be out really soon!