1.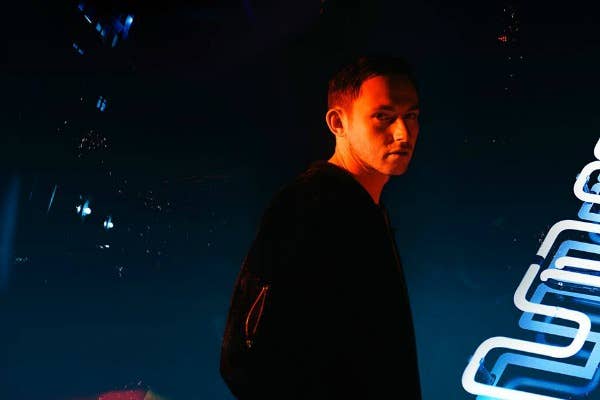 While the jury is still out on the overall benefits of Apple Music, it's quite clear that Beats 1—Apple's 24-hour streaming radio station—is the best facet of the Apple Music package. There aren't too many radio stations that you could find Run The Jewels debuting the first track from their Meow The Jewels project, only to be followed up hours later by the masterful mixing of Hudson Mohawke, who took over Beats 1 for an hour of dynamic, future-focused material from himself and his bredren.
Needless to say, we need more HudMo on Beats 1.
Not only did he debut some of his own bangers—his impressive, weighty edit of Steve Poindexter's "Computer Madness" is a perfect compliment to the original he ended on, "Falling on the Roof"—but he dropped "Umami," an unreleased collaboration between LE1F and HudMo's TNGHT partner Lunice. It's the kind of 2035 turn up that today's beat freaks need. Speaking of TNGHT, an anthemic edit of "Amo Bishop Roden" by Boards of Canada also makes it into the mix.
That's not to mention the tracks he slips in from A.G, Cook, Salva, Boys Noize, and others. The freshest 59 minutes you can spend this weekend will be jamming to this mix, trust.
---
Tracklist:
LiL JaBBa – SooTh

Koreless – TT

S-X – Voodoo

LiL JaBBa – BraSS TaX

Elijah Blake & Dej Loaf – I Just Wanna (Salva edit)

Dorian Concept – Clap Track 4 (Redinho Remix)

Boys Noize – The Fix

Hudson Mohawke – Steve Poindexter Edit

LE1F prod. Lunice – Umami – unreleased

TNGHT – Amo Bishop edit – unreleased

Mike Will Made It ft The Weeknd & Rae Sremmurd – Drinks On US (Salva Edit)

Hudson Mohawke – Sex – Bonus Track to Lantern

Hudson Mohawke – Ryderz

Kid Kamillion – Somewhere (Jesse Slayter Remix)

A.G. Cook – Razor Spin

Hudson Mohawke – Very First Breath (Gammer remix

Mark Breeze – Trying to Reach You

Hudson Mohawke – Shadows

Hudson Mohawke – OOOps

Lil Baby Angel – @ Cartier

Gammer – Melancholy

Hudson Mohawke – Falling From The Roof
---
And for those of you who want to hear it live today (Saturday, July 18), here are the times it is replaying:



ICYMI – my @AppleMusic @Beats1 mix airs again today at these times globallyyyy • LA Sat 6pm • NY Sat 9pm • UK Sun 2am • JP Sun 10am




— Hudson Mohawke (@HudMo) July 18, 2015
---
---
---
---