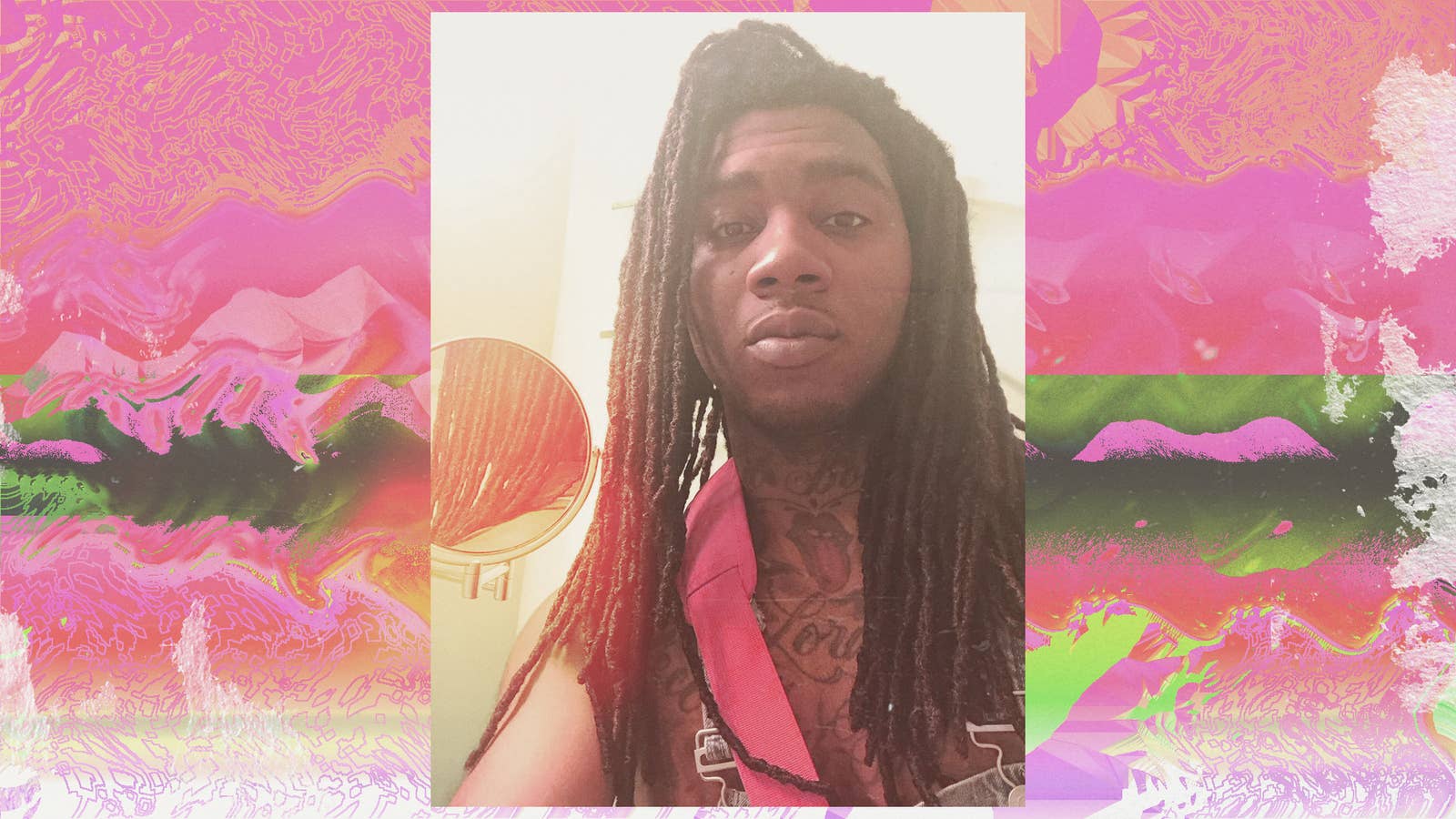 Brandon McCartney is just 31 years old, but jokes that he's nearing his 40s. When I ask the Bay Area icon what his longtime moniker means, he simply says "love." He seems to mean it. No other artist I've ever interviewed has texted me to call me "hun," or ended an interview with an "I love you." And though many assume the B in Lil B stands for based—hence his relationship with the Based God—surveying the music industry today it might as well stand for blueprint. 
Lil B's influence on modern hip-hop may not be obvious to casual rap fans, but it's become impossible to neglect, whether his 61 mixtapes are in their rotation or not. When McCartney was dodging the beat during his verses in the early 2010s, many of his peers were more concerned with technicality. Before most knew what developing an online brand meant, Lil B was creating what he calls the "first music meme" and building a presence beyond his "pretty bitch music." And when Lil B was putting out an abnormal amount of material—occasionally opting for 100 songs on a single project—others hadn't yet realized the potential of a seemingly never-ending release schedule.
But the game has changed. Lyricists rapping around the beat are now harder to avoid than the beat itself. Humor and memes have sparked some of the most successful songs of all time, including the 14-time Platinum "Old Town Road." Even the most mainstream projects, for better or worse, have gotten very, very bloated. We have Lil B, and of course the Based God, to thank for all of this. 
"That's why I can be happy and cool in my career right now, because I'm living through so many artists, seeing them rise and do great things," Lil B says during our years-in-the-making interview. "I'm just soaking everything in. That's what I've always done—create a new wave. This is going to be even more interesting being in my 30s. I'm actually excited to see what I'm going to do and what Lil B is going to do with the Based God because I really don't know."
Speaking graciously and making sure to shout out the legends who continue to help him pave the way, the forefather of cloud rap and based music called us up last month from his home in Alameda, CA as we celebrate the 10th anniversary of his historic mixtape run of 2010 and 2011, when he dropped 25 projects in just two years—including the critically acclaimmed I'm Gay (I'm Happy). On the phone, Lil B sounds just as friendly as you'd expect from a man who follows 1.4 million people on Twitter, at one point thanking me for getting to the last song on his latest 100-track mixtape. Nothing about Lil B's demeanor feels calculated. It really is all about love. 
As a token of his love, Lil B opened up for this incredibly rare and based discussion on the gravity of his impact on pop culture, how it feels to see others emulate a sound he was once criticized for and—in proper Lil B fashion—why he aspires to help low-income families take out their trash and recycle. Thank you, Based God.
How did it feel to see Lil Uzi Vert shout you out this past week?
It always feels great to see a legend and icon show love. I love him and I'm inspired by his work ethic, so it's great that a legend shouts out another legend.
How much of yourself and the things that you've stood for throughout your career can you hear in what's happening today?
Honestly, I hear the Based God everywhere. That's why I can never be upset. This is what I wanted. I wanted to give a way so everybody could make money. I always push music and hip-hop, and if I could do it, that means you can do it. I never took that as an insult or anything like that. I wanted people to be included and understand how powerful music is and understand what music means to people. When I hear myself, from the lyrics or the ad-libs, from the artists that are making it to everything, from all the different levels... It's so many levels of influence that I've had within music and just everything, YouTube, the world. Being the first artist to meme. TYBG, "Thank You Based God," is the first meme of music. You know what I'm saying? We see now how popular it is. It's just historical.
There are so many levels of influence that you have. To start, people credit you as the originator of what you called cloud rap and based music, and I'm curious as to when based music first came to you and how you define it?
Based music has been here since the early 2000s, 2002 to 2003 or even earlier. Really with The Pack, Young L, that's like my early, early based work. That tape was called Based Boys and one of our major-label debuts. Also, The Pack has never broken up, as Lil B is doing his thing and finding the Based God.
Cloud rap was a genre that was created out of based music. Cloud rap is based music, but some of the supporters and the people in the world created that subgenre within based music called cloud rap. Besides myself who created that, Clams Casino was also a component of creating cloud music. Without him, it wouldn't be there, as well as Keyboard Kid, who's a huge component of cloud rap. Also, like ASAP Rocky, a huge component of cloud rap. I mean, there's a lot of specific artists, like Main Attrakionz, Squadda B… Man, there's people that I have not even mentioned that I need to. I can give credit to Soulja Boy too also for pushing cloud rap forward because I was around him during that time and feeding him artistically, as well as him inspiring me and feeding me artistically. 
When artists create something so unique, it often takes years for that influence to really shine in everybody around them. Around 2010 or when the solo Lil B stuff started picking up steam, do you feel like you got that love that based music and cloud rap deserved at that time?
If I didn't give love, I wouldn't be making music. That's half of it, besides me absolutely loving the music. I never really paid attention to if I got love or if I didn't get love because I always see love. I've always gotten love. Like I said, it was so many levels of inspiration, whether it was looks, the music as well, everything that went into being based and really just giving people my viewpoint.
People were upset about me calling myself a pretty bitch or what I was wearing or the style of music that I was pushing forward, just the rebellious style of music. And that's why you can have a legend now like Playboi Carti or so many other people that I'm inspired by. I mean, having a legend like Lil Yachty. It's so many people. I'll let them say that for themselves, but there's just so many legends. I mean, like ASAP Rocky, Odd Future. So many from Lil Peep to an XXXTentacion, or Ski Mask the Slump God. There are so many legends that I know Lil B has inspired, and they've inspired me as well. And that's what it's about. It's about everybody inspiring each other to take it farther.

Did it matter to you if you ever had radio play or anything like that, or is it more about this level of influence that you can feel today?
Coming into the game, I signed my first record deal with The Pack, Sony, BMG, Jive Records. Shout-out to Too $hort, who we signed with. We was on the radio back in the day with the "Vans" song and whatever other songs that we had on the radio during that time. I come from a mainstream music background because I can make big records. I can make hits. I can make records that are for the radio. I can make pop records, pretty much. For me, I was more focused on inspiring the culture and inspiring people and shifting the culture and going down in history. That was my main focus and still is, to shift the culture, make history, and everything will fall into place, right?
Looking back on those early solo days, an early criticism was about the flow. I think NPR back then said it wasn't very technical. There were criticisms, but how did you respond to that type of feedback?
For me and my flows, I've always understood that I'm a real emcee, so that's what always kept me grounded and in my mind because there's a lot of songs that people might have thought I freestyled but I actually wrote. And that's great writing to me. I know I'm an emcee at heart so there's nothing people could say because I can hang in there with them best of them. Like I said, I make records too.
I'm really just here to inspire, man. That's what it is. I know my purpose is here to inspire the culture, inspire the world, make history and make more people want to get up and do it because there's a lot of people that matter. It's all about time. It's definitely my time, and it's going to stay my time, but I'm not the only person in the room. There's a lot of different people that deserve it right now, deserved it back then, and deserve it in the future.
There are so many legends that I know Lil B has inspired, and they've inspired me as well. And that's what it's about. It's about everybody inspiring each other to take it farther.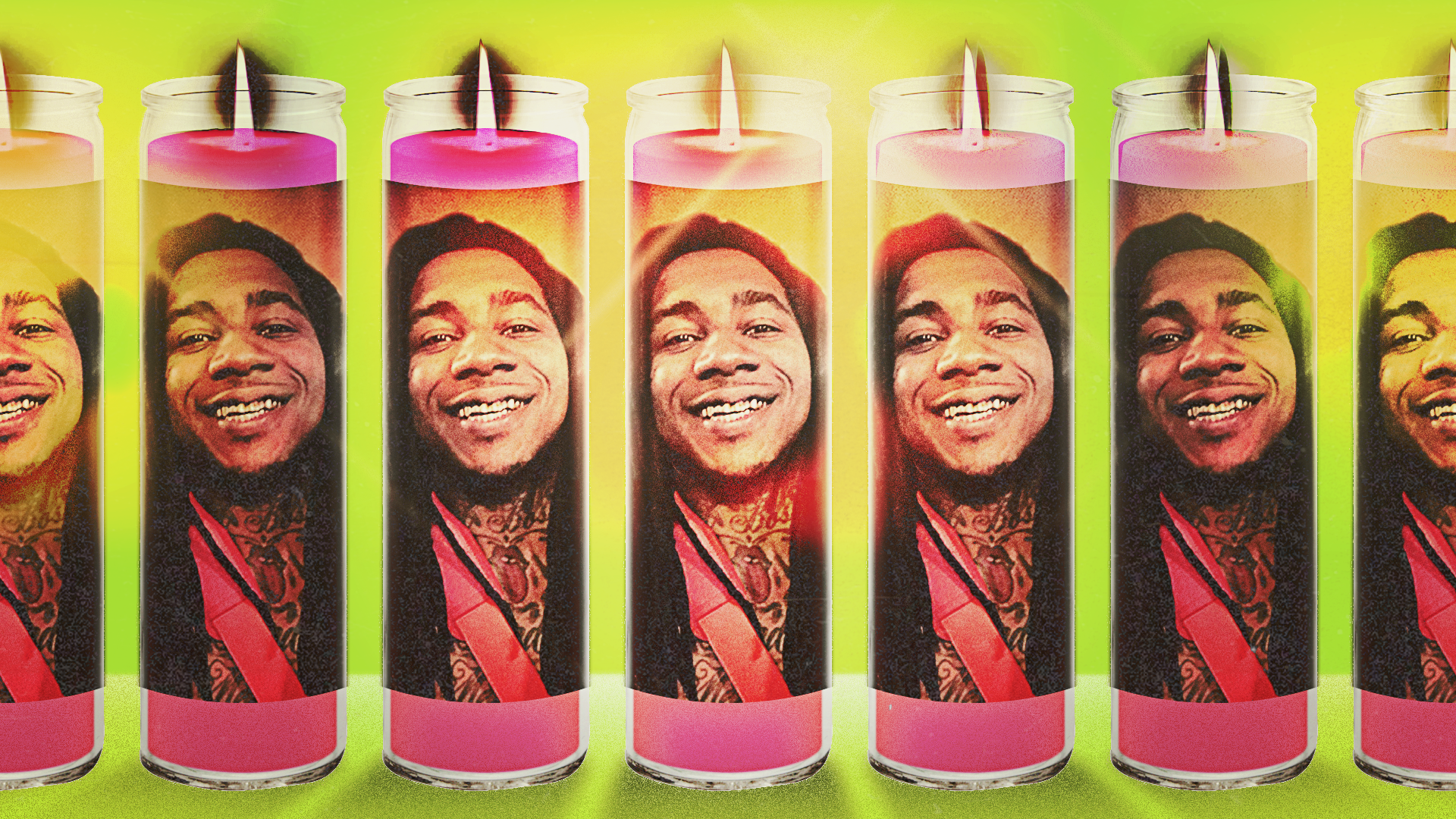 I'm going to go through some of these different aspects of your career. When I say them, feel free to share what you think about them and where they stemmed from. I want to start with the cooking dance in particular. Where did that dance start and how have you seen it impact hip-hop as a whole?
Yeah, the cooking dance is for celebration, and it transcended music. I mean, now it's a part of pop culture within sports. That's what I really wanted. For me, it was a fun type of thing. I'm really serious in a lot of things, but the cooking dance was something for me to have fun and bring everybody in—like, hey, you might be paralyzed, but you can still do that dance. You might be overweight, or you might have low confidence, and you might be happy, and everybody can do that dance. I just wanted to make something that everybody could be included in. Once again, that stems from love on my part. That's why it traveled so far because the root of me creating, Lil B creating, that cooking dance for sports celebration was from love and bringing people together.
Moving forward, another thing we already spoke about, but this idea of rapping around the beat and the flow of dodging the beat. We see people today, maybe like a Blueface, do this. For you, where did that style originate?
Shout out to Blueface. Major respect to him. For me, it was just being natural. There's many different parts of hip-hop. For me, it was just about coming authentic and honest because the real can understand. It's for the people that can feel it. You know what I'm saying? A lot of times, I'm deeper than music. I'm more like an emotion. It's based, man, and that's all I can really say. That's Lil B. That's the Based God. It's based.
That kind of leads me to the next one: the Based God and "Thank You Based God," which you called the originator of music memes as a whole. Can you explain, in simplest terms, who the Based God is and how the Based God has propelled you as an emcee?
I found the Based God through based freestyling, and I think one day we'll understand who the Based God is on a major level, even more than what it is now. It's just about separating yourself and understanding. The only reason why I found the Based God was through the love of music and putting in the work, so I'm lucky for that.
As for the saying, it transcended music. I mean, I can list out pop culture references. Mac Miller shouted out the Based God during The Today Show in like 2013. But for you, what has that saying meant?
I love Mac Miller forever. Long live Mac Miller. Hats off, my brother. His spirit is from love. He's from love. He is the real emcee. He's a legend. But with TYBG being the first meme within music, it was just something that was just authentic. Like everything comes from my mind and how I'm thinking about music and how I'm thinking about things. It's from the mind. It's from the spirit. Brandon McCartney. I do know the Based God.

Another thing I want to jump on here is this idea of incorporating humor into your music. There are some one-liners in your music that are silly. Seeing guys today, like Zack Fox, who explore humor in their work, what does that mean for you to see people push this positivity to another level? 
Shout out to Zack Fox. Major love to him. This goes to another level of the influence, music that can make people laugh. I never really tried to do that. It was something that came naturally. I just love people, so if people smile and laugh and they feel that it's funny, that makes me happy because people should be laughing. Folks should be smiling, so I'm not against that. I'm actually honored if people can feel that way from music. It's just about giving people a range of my perspective. Hopefully I can live my life out there so people can understand the full facets. I'm living a kind of life like Steve Jobs but in music. It's already planned out, but now I've just got to make it happen and live it. I've got to live it. 
Another thing here that I thought was interesting is your ability to make these super long projects. Obviously, your discography is stacked. You've got 61 mixtapes, but this has been something that has now become a bit more common in terms of people with these longer albums, longer tapes that are coming out. There's nobody doing 100 songs like Lil B, but you have people today trying 30 here and there. Why was that important for you to deliver that much music, and how do you feel that has impacted music?
I definitely feel like it's impacted music on a large scale. Thank you for asking that. For me and why I've been doing the larger projects recently, is because that's what my spirit's been telling me. That's what I've used to get the word across. Those projects have to be that long because people have to understand truth and understand how I'm feeling. I won't be dropping 100-song tapes forever, but right now, it's in my heart. I'm working on a new tape right now, and it's about 40-some tracks, and that's from the heart.
I never really tried to [make people laugh]. I just love people, so if people smile and laugh and they feel that it's funny, that makes me happy because people should be laughing.
Steve Jobs is somebody who got to see his impact on the world as he was living. A lot of people don't get that opportunity, but do you feel like you've had the opportunity to see first-hand what these movements have done for the world?
I'm seeing it in real time and I have seen it. There's a lot I forgot too because, like I said, I'm not holding score, checking points, but that's where the historians of hip-hop, of based world, and Lil B music, they come in. Like yourself, and also the journalists.
Compared to those early years, how has your process changed, especially for a tape like Hoop Life 2 where you've got 100 tracks? How has your process of creating progressed over the last 10 or 15 years?
I'm writing a lot more, depending on what my spirit tells me. When the tape is finished, I let my spirit tell me that. I've been spending a lot more time in nature, going to cool places to write and be inspired. I was just writing outdoors yesterday on a beautiful, wooden bench in Alameda, California. So, I mean, it's been an inspiration, man. Just kind of taking my time to write. Hoop Life, that took me about two or three months to write that, just with soaking in the world, letting life happen, and kind of chronicling that, detailing that, and putting that in my lyrics. I'm working on a tape called Santa, even though Christmas happened and it's late. I said something in the mixtape like Santa caught COVID. That's why this tape is coming late. You know what I'm saying? So it is what it is, but it's coming. That's next up.
When I listened to Hoop Life 2, the last track was the hour-long lecture that you had at the University of Florida. I thought that was super unique. For something like that, how important is this dose of inspiration at the end of a project?
I do it for people like yourself. I really appreciate you for getting to the last song. I mean, if you get to the last song on the tape, that means you actually do care. I appreciate you and I honor you for that. I hope you can understand the level of love that I have for you. It's just chronicling history and putting it out there for people to understand the magnitude of what we're doing and what's going on that is deeper than rap. Man, it's deeper than music. People are listening and understanding it. It's about who's listening, and the quality of person that's listening. Think about the quality of human being you are, and you're one of many beautiful human beings. If you're listening, there's no telling what other legend is listening. 
Looking at your 61 tapes, seven albums, what do you think, if you could narrow it down, the overall message of your music and your platform are as Lil B?
So I do have 61 mixtapes, but I've never come out with an album. You know what I'm saying? I have yet to make my first album.
Then we've got to talk to Wikipedia. I'll make this known.
What I want people to get, what I want people to understand is that I love them. I do this for love. I appreciate them. I don't have to know you to love you. You know what I'm saying? I love you. I still love you. There's people that I forgive. I don't need to forgive them because I still love them. It's always been that way, and it will remain that way. I don't like violence. I'm ashamed of violence. There is no room for violence, but we're human, which means we're not perfect. And the music comes from love, man. 
It doesn't matter. You could be low-income, middle-class, or one of the most wealthy in the world, I would still love you. I'm going to still be there for you. If you're wealthy and you inherited everything, I'm going to still hug you because I love you. If you're middle-class and your family's working hard and they put you through school, I still love you. I'm going to be there for you. I might even take out your trash because I love you and I care about you. If you're low-income, I still love you more than anything. You might be on food stamps, staying in a place where it costs $25 for rent, whatever. You might have made mistakes. I love you still. I'm going to hug you. I'm going to take out your trash. I'm going to help you recycle because I love you and I love the world. Man, I love everybody. We're all one. That's what people got to understand: Lil B loves you, man. The Based God loves you. That's what it's coming from.
I've got one more question for you: When all is said and done, what do you hope your impact will be, not only on hip-hop music, but on this earth?
I want people to just love, man. Love unconditionally. Lil B means love, man. Unfiltered love with nothing else in return. I want to give a shout out to everybody that's real. You know what I'm saying? I love you. You know what I'm saying? Like, Jack, I love you. I'm talking about Joe Rogan. I love you. So many people, man. Thundercat, I love you. You know what I'm saying? Ty Dolla $ign, I love you. I mean, come on, man. It's so real. So what's Lil B's impact? What Lil B is going to do for the world is love, man. Love unconditionally. It brings tears to my eyes because I love the world so much. I love you all. You all got to understand that.