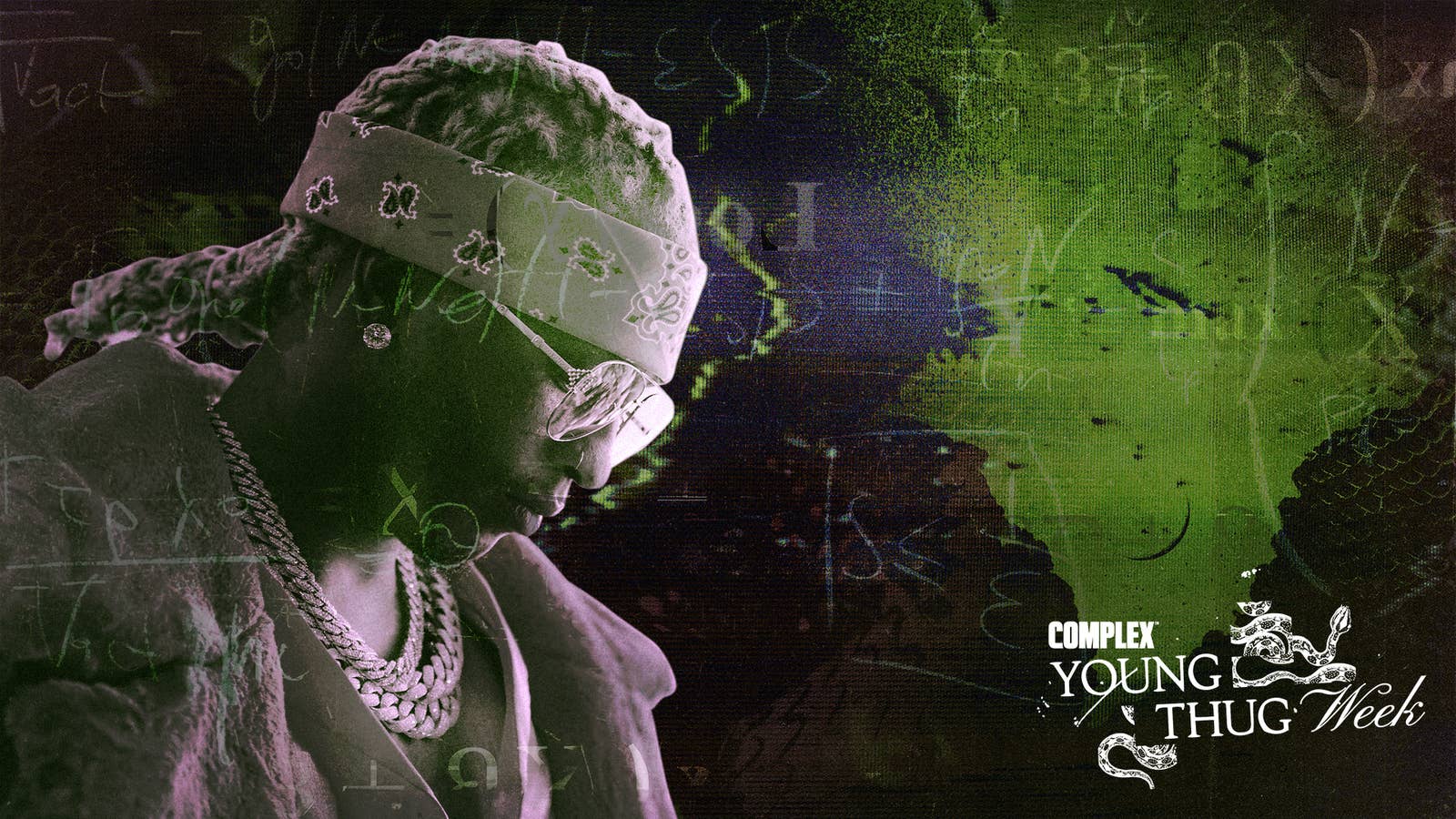 It's Young Thug Week! Leading up to the release of his new album 'Punk' on Friday, Complex is diving deep on the influential rapper's career, publishing new interviews, essays, and lists each day of the week. Follow along here.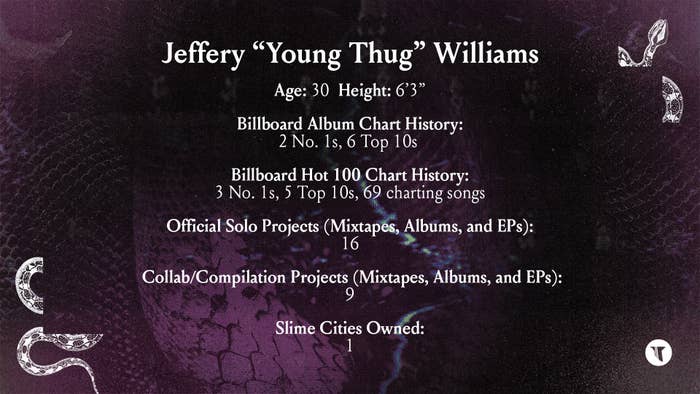 Some call him Thugger. Some call him Jeffery. Some call him SEX. Most of the world, however, knows him as Young Thug, a creative who has spent the last near-decade skiing across the boundaries between hip-hop, fashion, and, as of recently, punk.
Thugger's resumé speaks for itself. And truthfully, he probably couldn't fit the whole thing on LinkedIn even if he purchased a premium account. While stats are only the tip of the slope when it comes to Thug's influence on music, we've decided to wipe off the slime and dig a little deeper. To celebrate Young Thug week and the release of his new album Punk, we uncovered some numbers behind the enigmatic artist. And by the looks of it, every season might be slime season.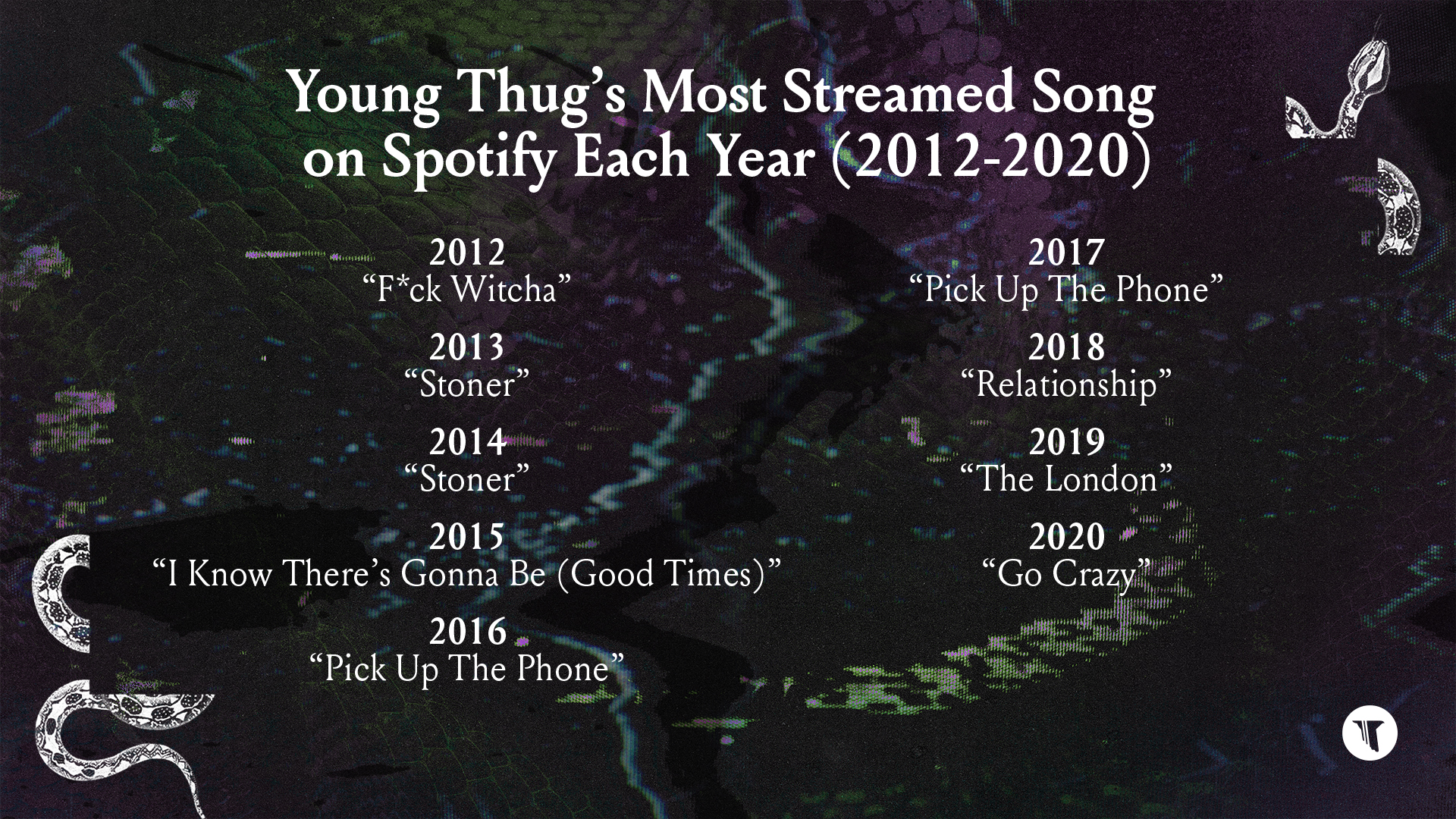 Young Thug came straight from the bottom to the top at the start of the last decade, dropping his I Came from Nothing tape trilogy throughout 2011 and 2012, before winning over Gucci Mane and turning even more heads with 2013's fourth tape 1017 Thug. Thug's most streamed track in 2012 was, interestingly, "Fuck Witcha," but things took a turn the second he dropped his first commercial single, "Stoner," which placed as his most-streamed effort in both 2013 and 2014. 
As the decade slimed on, so did the tapes, and so did Thugger fans' admiration for collaborations. Jamie xx collab "I Know There's Gonna Be (Good Times)" reigned supreme in 2015, Travis Scott linkup "Pick Up The Phone" did the same in both 2016 and 2017, and Future-featuring "Relationship" was Thug's most-adored song of 2018. A year later, fans turned straight back to Thugger and Scott in the J. Cole-featuring "The London," off 2019 debut studio album So Much Fun. And in 2020, as the world temporarily paused, Thug and Chris Brown's "Go Crazy" was Thug's most-streamed song of the year.
With a special ability to sound good alongside just about any of his contemporaries, it seems the YSL boss knows how to create a song for any occasion, and consistently have that occasion end in massive success. Whether he's going diamond alongside pop stars like Camila Cabello or holding his ground alongside lyrical giants like J. Cole, Thugger can make anything work, and can seemingly create hits with whoever he desires. With his versatility and constant exploration of new sounds and approaches, it seems likely that the next decade will yield more success and surprises from this truly groundbreaking artist.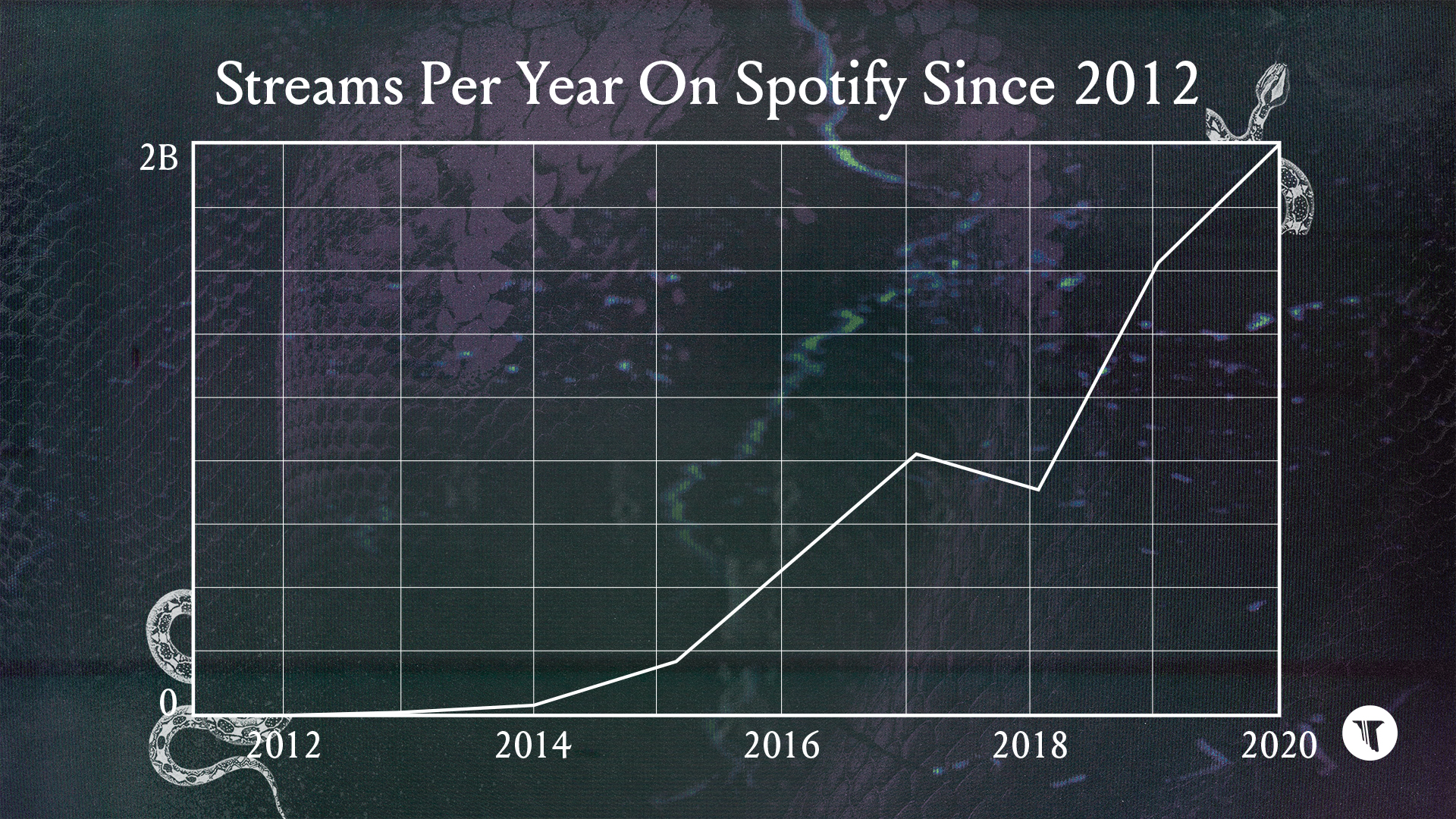 Thugger has celebrated some of the biggest and most impactful years in modern hip-hop, but breaking them down shows us just how impressive his upward trajectory really is. 
His Spotify streaming numbers have risen dramatically in all but one year since he first released music, and Thug's growth with each passing project is clear to see. Things started slowly, of course. His first tapes in 2012 set the stage (I Came From Nothing 2 is the only of the trilogy on Spotify currently), but streams jumped nearly 200% in 2013, before a breakout 2014. In that year, Thug's streams increased a whopping 7,257%, thanks to his Gucci collab project Young Thugga Mane La Flare, Rich Gang's "Lifestyle" taking over summer 2014, the push of three other tapes, and "2 Bitches" taking on single status. 
A year later, Thug's streams increased by 734% compared to the previous year, and in 2016 and 2017, things only grew more, with Thugger being featured on major releases like Kanye West's "Highlights" and Travis Scott's "Pick Up The Phone." That year, he also broke a billion streams on Spotify for the first time. Although his release schedule slowed in 2018, 2019 and the So Much Fun album gave Thugger another monumental year, while 2020—featuring more pairings with Chris Brown and Travis Scott—landed Thug with his biggest 12-month streaming span on Spotify yet. 
All in all, Jeffrey's streams have grown on average 1,077% each year since his first official release on Spotify, a wild stat that highlights the commercial success that has come alongside Young Thug's idiosyncratic approach to his art.
Young Thug's new album 'Punk' is out Friday, October 15.