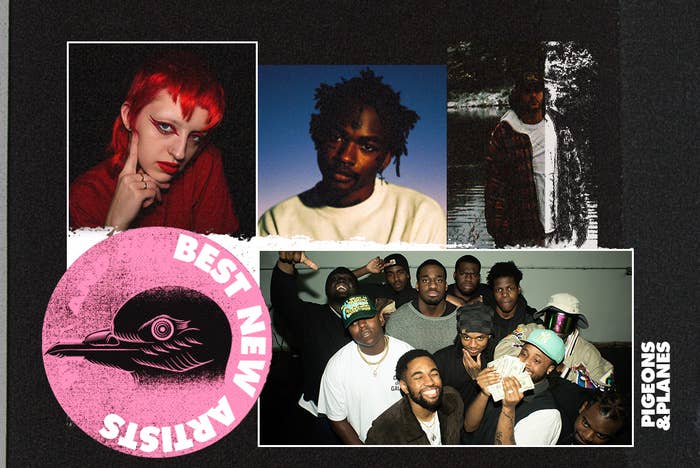 Terry Presume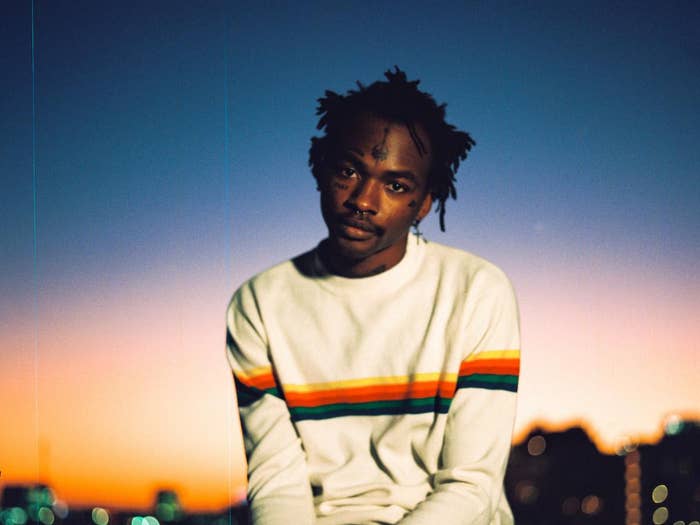 Terry Presume is a 26-year-old artist who grew up in Naples, FL and is now based in Nashville. In the interim, his journey has taken him to Los Angeles in search of success, and through various trials and tribulations that you can hear in his voice and lyrics. There's a spiritual weight and emotional resonance to "Did Me Wrong" and the rest of Terry's upcoming music that makes it stand out from so many of the disposable, artificial-feeling sounds that climb viral charts and soundtrack social media trends.
"'Did Me Wrong', like many, if not all, of my other songs, was purely an in-the-moment, burst of emotions," Terry tells us. "I never approach music with a preconceived idea. In fact, I'm not sure if I know how to. This song was undoubtedly inspired by past relationships that left me feeling burdened because I couldn't quite come to an understanding as to why we may have ended. You see, I believe one of the worst things you can possibly do to someone—in terms of love—is to leave them without any closure. And if you're anything like me, a fabricated closure gets scented out quickly, and that makes things much worse… especially for a person who lives in their headspace as much as I do."
He adds, "When I was recording this song, I quickly realized why it needed to happen. Music has always been, not only an escape, but a form of release. And what I was releasing, through every quirky note sung in this song, was pent up resentment, confusion, and longing for answers. Singing 'but I'll keep on going' has freed me from any and all mental, emotional, and spiritual baggage. Who knew that five words could have such an impact, but they did. This song, inevitably, was the closure I was looking for."
Although he's released music before, "Did Me Wrong" will be a powerful introduction to Terry Presume for many people, and it's just a hint at his versatility. We've heard some of the music he's been working on, and it pulls strands from folk, soul, rock, rap, and funk to weave a sound that feels timeless and totally unique. "These past few months, I've been engaging with and meeting a lot of new creatives in my field who've allowed me to splat paint all over their canvases," Terry adds. "So as far as upcoming releases go, let's just say I've been inventing, and nothing short of the word."—Alex Gardner
PinkPantheress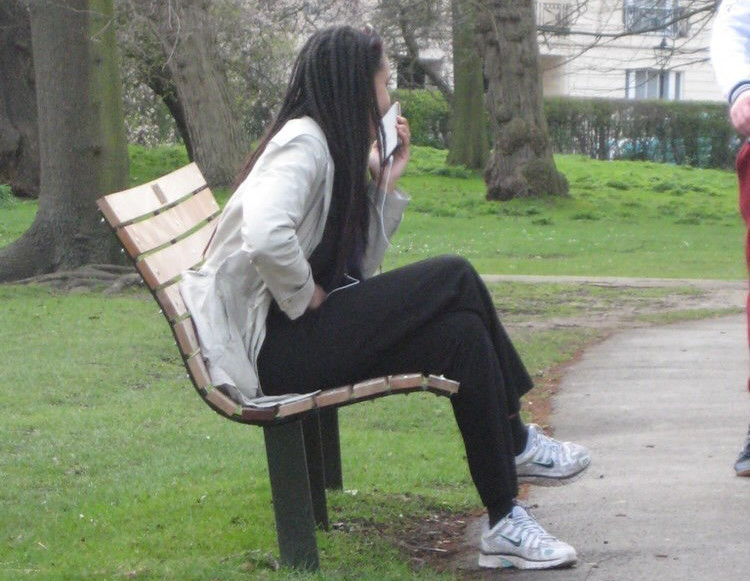 The power of TikTok to generate overnight virality has been proven time and time again. At first, the platform's explosion felt like a gold rush for independent artists, allowing them an algorithm-based opportunity to cut through the noise and beat out major label artists for attention, fueled by the power of interesting music and engaging content. But as time went on, the corporations caught on, and today, a large majority of TikTok feels like a marketing ploy, carefully orchestrated and without the spontaneity that made so many early viral trends fun.
But as much as marketing departments put their heads together to plan their next viral trick, there's still a place for authenticity to stand out on TikTok, best shown in the form of London artist PinkPantheress. Garnering her first bout of attention around the song "Pain," PinkPantheress' style of TikTok "marketing" is hard to consider marketing at all. To date, the London talent's most popular release is "Break It Off"—a fast-paced, oddball single which samples Adam F's drum & bass track "Circles" and has generated over five million Spotify streams to date; a massively successful release for an independent artist, and one that was propelled by this TikTok video, in which PinkPantheress says the song makes her want to walk fast.
Fueled by a taste for experimental, dance-worthy drum patterns and earworm songwriting, PinkPantheress' rapid rise reflects the power of organic listeners responding to truly unique music. She's a refreshing new name making exactly the sounds she wants to make, especially if that means pairing a South Korean rap sample with a Fat Joe vocal chop and some pop vocals on "Time With Me." TikTok loves it, and the corporations are sent back to the drawing table. Authenticity wins.—Seamus Fay
GODBY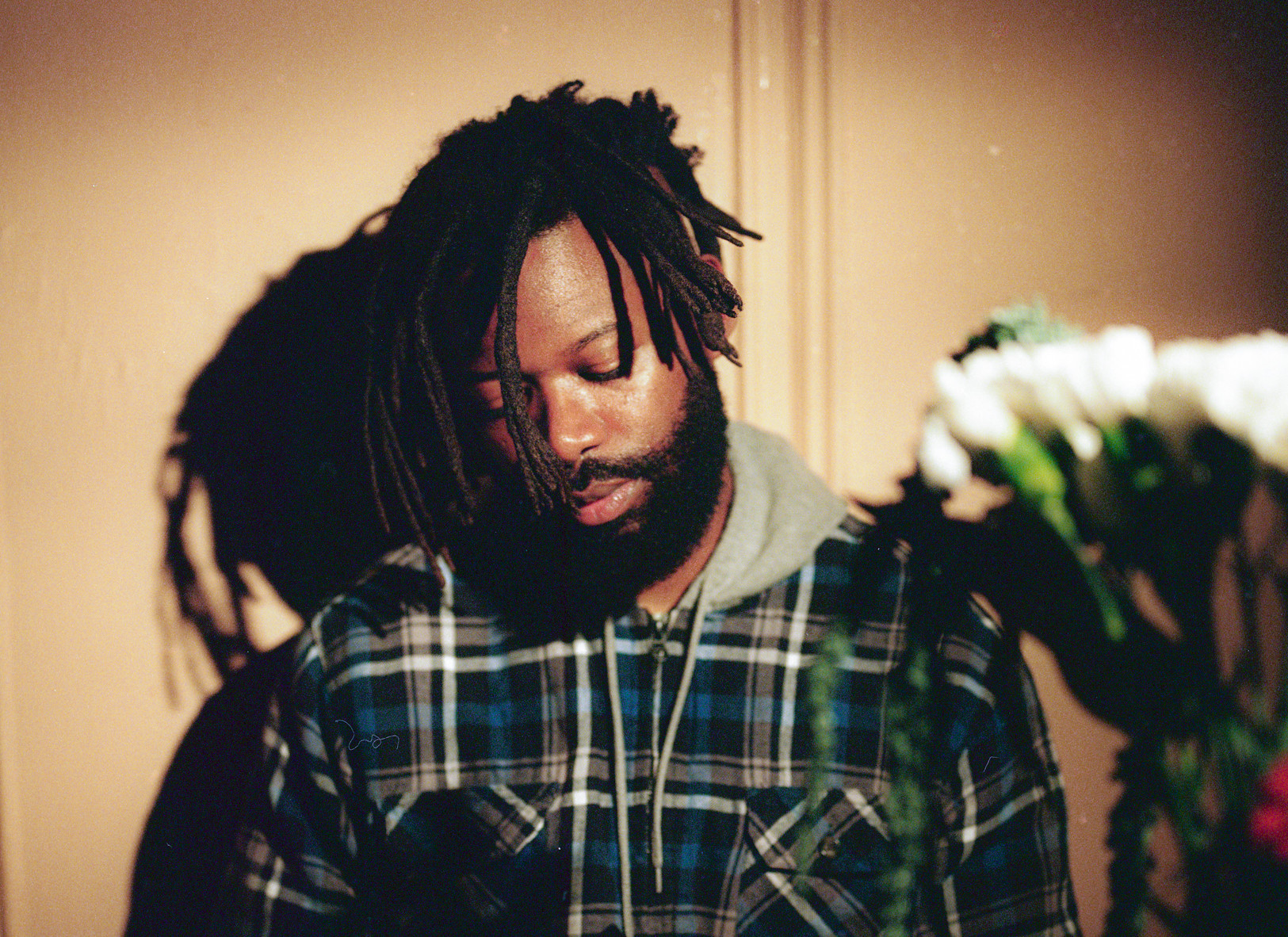 There is plenty of music that exists to act as a distraction—an escape from your day-to-day reality or a soundtrack to moments of pleasure, pain, or insufferable boredom. And then there's music that pulls you in so intensely that listening to it becomes the main event. GODBY is making the latter, but rather than relying on brute force to capture attention, he's doing it with a hypnotizing touch.
As a producer, singer, and multi-instrumentalist, GODBY cut his teeth live-looping at house shows across Washington, DC, and he's now beginning to roll out his first official releases. So far he's got two singles out: "cassiopeia" and "ysbcmn." Both induce a dream-like state of mind with a constantly morphing soundscape, subtle layering of details barely noticeable on first listen, plus more obvious switch-ups that keep things interesting.
"I regard my music as, like, a daily journal—a record of our lives," GODBY tells us. "We're on the verge of society-wide automation. People are going to have hella free time on their hands, and I guarantee they'll be using that time to mine their lives for deeper meaning. So I think we can look forward to music getting even more honest and introspective than it already is. I'm pouring a lot of vulnerability in these tracks in anticipation of the day when the machines force all of us to turn inward, smoke a doob or whatever and just let it pour out."
GODBY has more singles on the way before a debut album out later this year, and the "ysbcmn" music video is around the corner.—Jacob Moore
Van Buren Records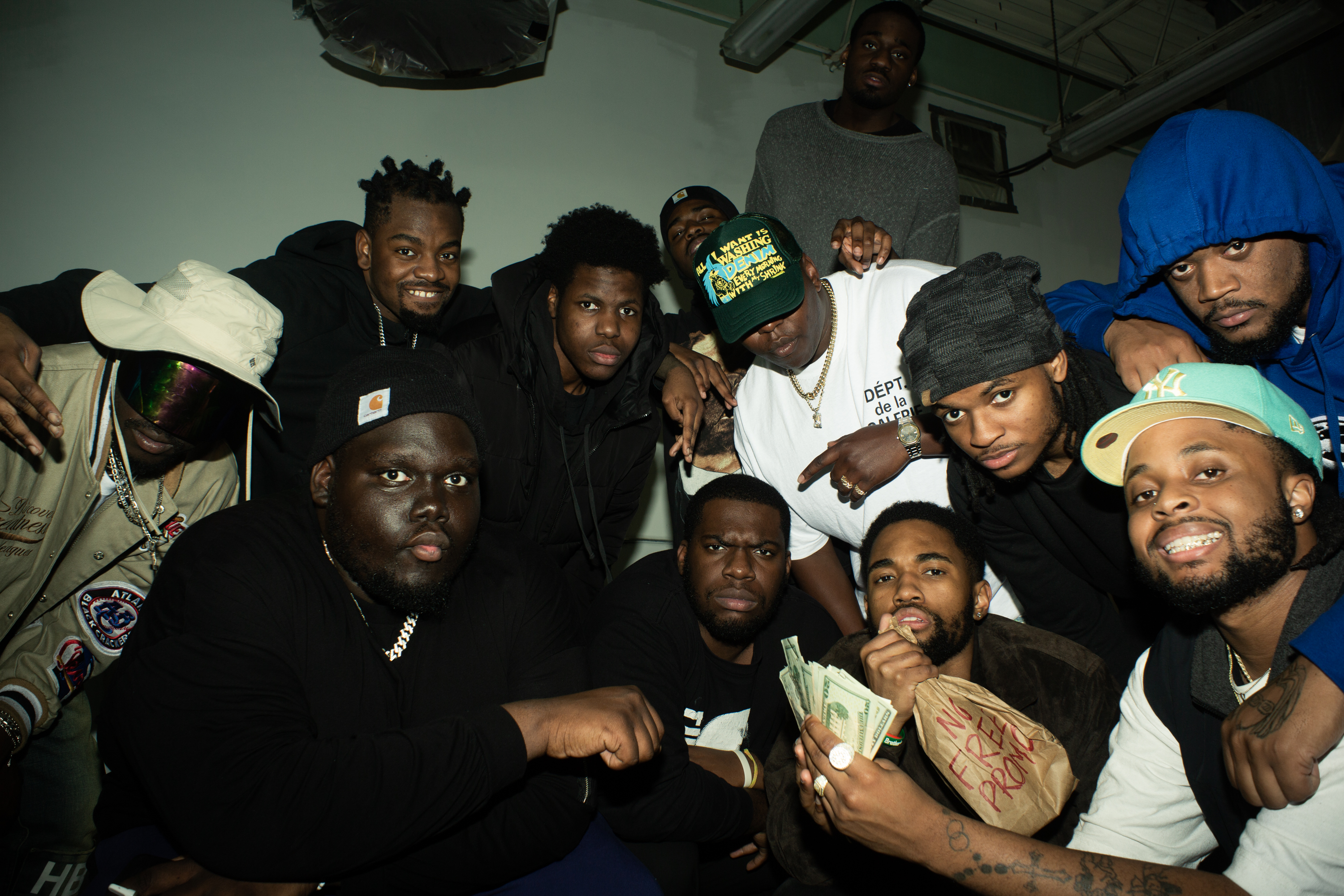 Community is all about creating a feeling of togetherness that fosters a sense of belonging—elevating each other's value and leaving a bigger impact than any one individual ever could. Van Buren Records is a community, but also so much more. Stemming from childhood friendships formed in Brockton, Massachusetts, Van Buren Records is an artist collective composed of rappers, producers, engineers, visual creatives, fashion designers, and more. The last few years has solidified them as one of the strongest forces in Massachusetts, but their authenticity and intention has elevated the group to national visibility. Best of all, if you ask them, is that this is all going exactly as planned, with chess moves masked as music releases building momentum into their first group album Bad For Press, out now.
Van Buren as a concept has been around for nearly 10 years, but the Van Buren Records seen now is the summation of approximately three years of timed individual music releases. Nearly all of the recording artists in the group have taken turns releasing solo projects under the Van Buren Records banner, allowing each to step into the limelight while the remainder of the group plays their parts as hypemen and genuine fans. They promote each other's music as if it was their own, and this effectively allowed Van Buren to always have fresh releases to promote, leading into the big play of their group album.
On Bad For Press, the Van Buren Records crew paints the picture of their city and their lives, retelling some unsavory moments from the past, but always being proud of the people and artists they are becoming. The mastery of Van Buren is they are able to pack context into replay-worthy music, and the group's charisma and synergy bleed through the speakers, operating like an Olympic level relay team through rap verses. Maybe the best example of this is the album single "Gangbanger (Remix)", a dead sprint of colorful rap verses between Luke Bar$, Lord Felix, SAINT LYOR, Jiles, and Meech.
The togetherness and community aspect is hyper-apparent throughout the album, with the cascade of different production and verses introducing you to new members of the clique. However, Bad For Press isn't your typical group album, because Van Buren Records isn't your typical group of artists. Individuality is seen and celebrated throughout, allowing all the artists to maintain their personal styles while also working on something bigger than themselves. If Van Buren is a community, then Bad For Press is a gift to the city—most importantly for Brockton.—Greg Gaffney
Cody Frost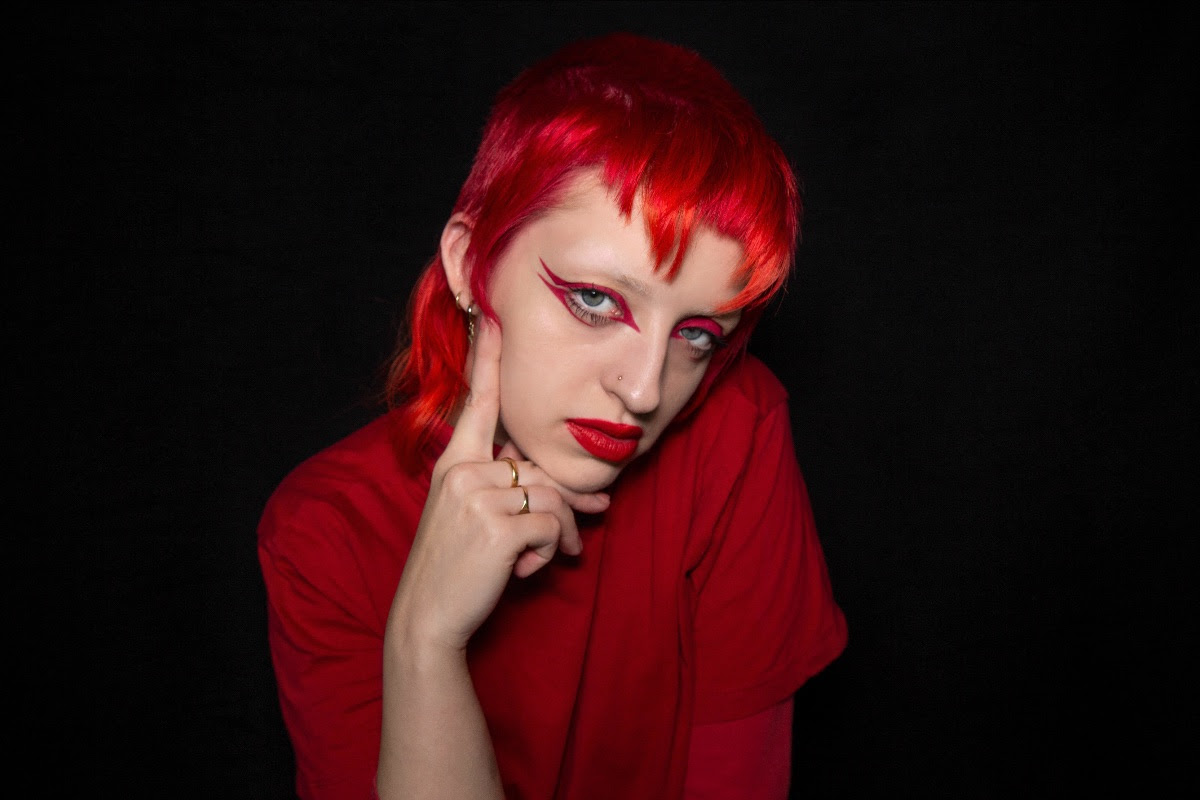 Cody Frost is a 23-year-old tattoo artist who got her unofficial start in music by busking on Manchester streets and sharing Frank Ocean, Nirvana, and Slipknot covers on YouTube (see her "Swim Good" performance here). She didn't realize her skills in music could lead to a career until recently, but in 2021 she released her first two singles, "verbal warnings" and "HIGH/BYE." Her debut is a jolt of electricity, but more recent "HIGH/BYE" is the one that has us hooked. It's as catchy as any pop song on the radio, but Cody's voice and perspective give it an edge of authentic personality.
"'HIGH/BYE' is essentially a song about growing up and moving on from friends that you don't really see anymore or need anymore," Cody says. "I'm 23 so I feel like I've been doing a lot of finding out who I am and this song basically illustrates me kind of asking my old friends if they've done the same. I had a long break away from performing live and spent a lot of the time writing, so it's good to show everyone what I've been doing. I'm super excited about the next thing I have coming out—can't really say much yet, but its my favorite so far!"—Jacob Moore
Baird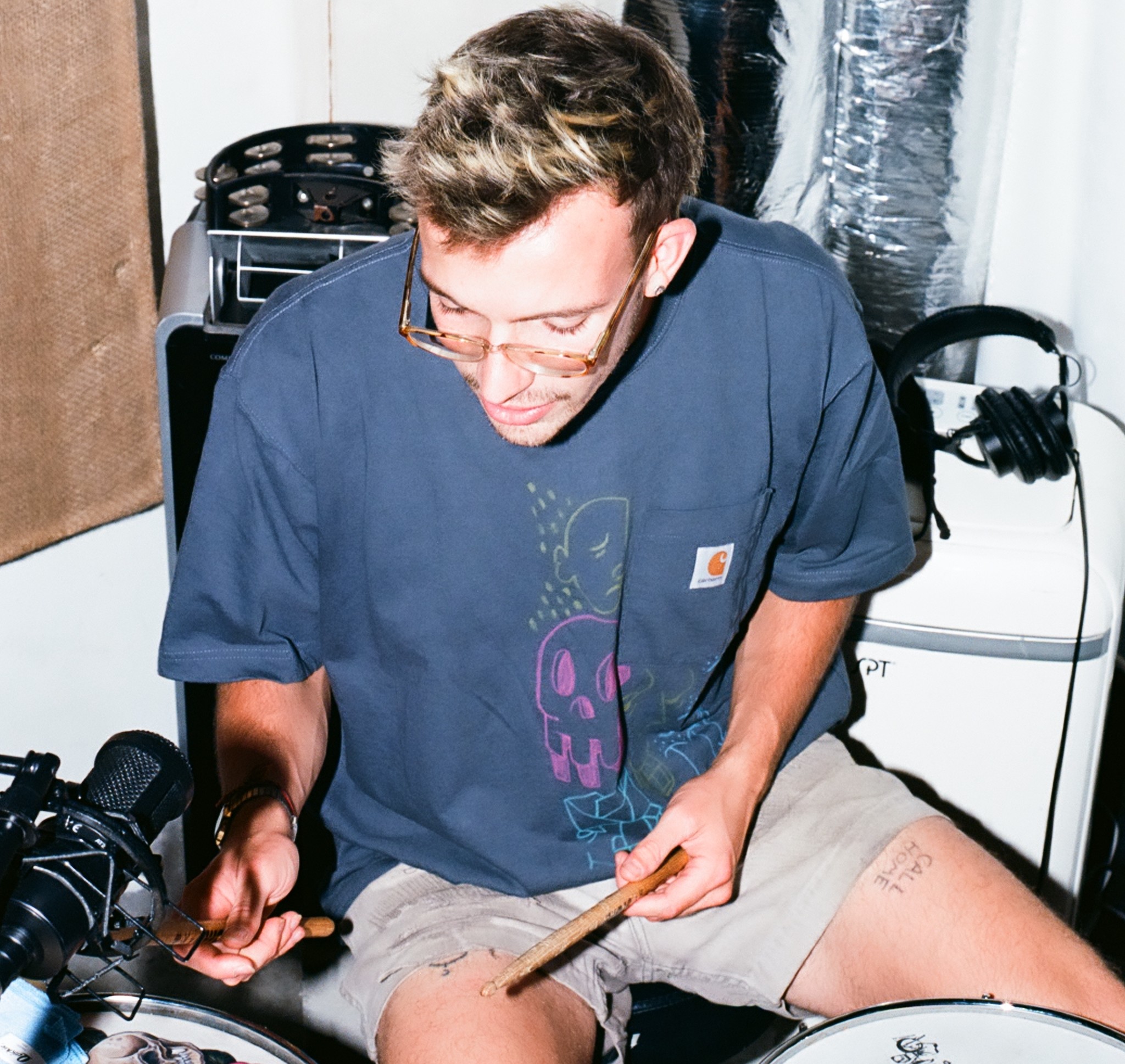 Baird first caught our attention with 2020's mixtape BIRDSONGS, Vol. 2, and he popped up again on BROCKHAMPTON's new album ROADRUNNER (read more about his involvement here). He's been making music his whole life, and although it's still early days in terms of official releases, Baird has already proven himself as a force to be reckoned with. One look through his Instagram gives a glimpse into his skillset, from multi-instrumentalist to producer to vocalist.
"I'm trying to blur the boundaries between artist and producer, between genres," Baird tells us. "All these arbitrary lines made up by the music industry. Make whatever you want to and believe in yourself in the short term. I think there's something fun about trying things for the first time, so I just try a bunch of shit. I might write a rap in the morning, learn some Roy Orbison in the afternoon, and make a disco track that night. I'm really not an expert at anything."
Baird is looking forward to finishing up his mixtape trilolgy with BIRDSONGS, Vol. 3 scheduled to come out on EQT Recordings this summer. "So far I think it's the best one yet," he says, "and then after that playing shows! Getting people to sing, maybe inviting audience members on stage. I wanna slow down time."—Jacob Moore
Mother Nature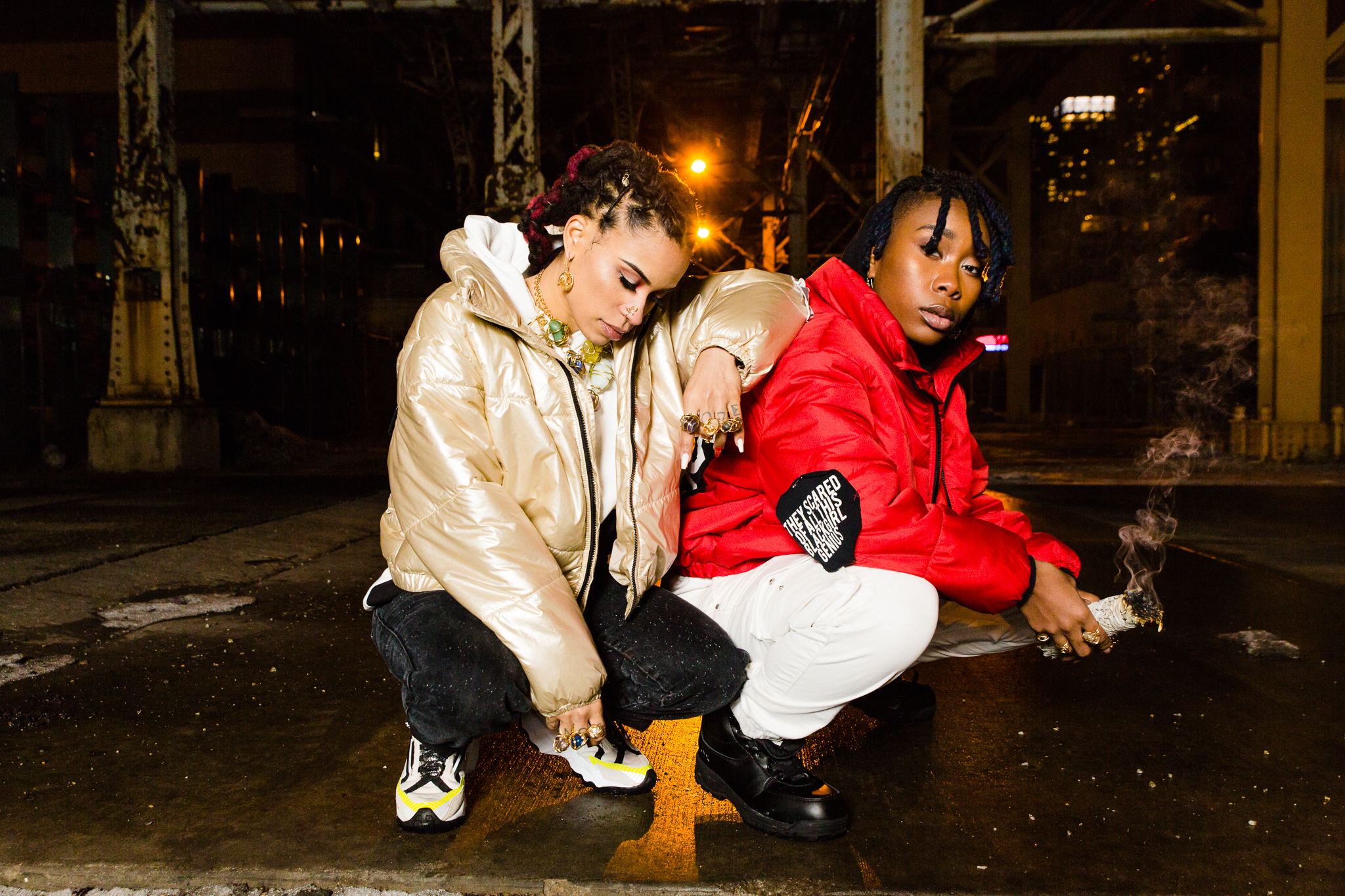 A lot of artists make music with the goal of appealing to others, fitting in with whatever's popular at the moment, or simply to make money. For Chicago duo Mother Nature, it's deeper than that. The duo met in 2011 at the University of Illinois and founded a nonprofit that runs a music-based youth development program that has helped hundreds of kids, and their connection to hip-hop drives the creative process.
On their new mixtape SZNZ, out now on Closed Sessions and produced entirely by labelmate BoatHouse, Mother Nature's ethos and energy is in full effect. Speaking on the project, Mother Nature issued a statement: "We seek to awaken our communities to acknowledge and replace the consumption of death and low vibr8tional frequencies that cause ills and confusion, particularly within our youth. Through SZNZ, Mother Nature brings a balance to the mainstream airways and platforms, cutting thru clones and rebuilding the foundation of true hip-hop culture."
The intention is laser-focused, but it doesn't limit the sonic world that Mother Nature is creating. From the euphoric "CLOUDZ" with Sir Michael Rocks to the ominous "GOOFIEZ" featuring Valee to the knocking "GEMZ," this project is forward-thinking and consistently left of center, a far cry from anything reminiscent of a throwback. It's proof that a solid foundation offers endless potential for building and rebuilding.—Jacob Moore
Cheb Rabi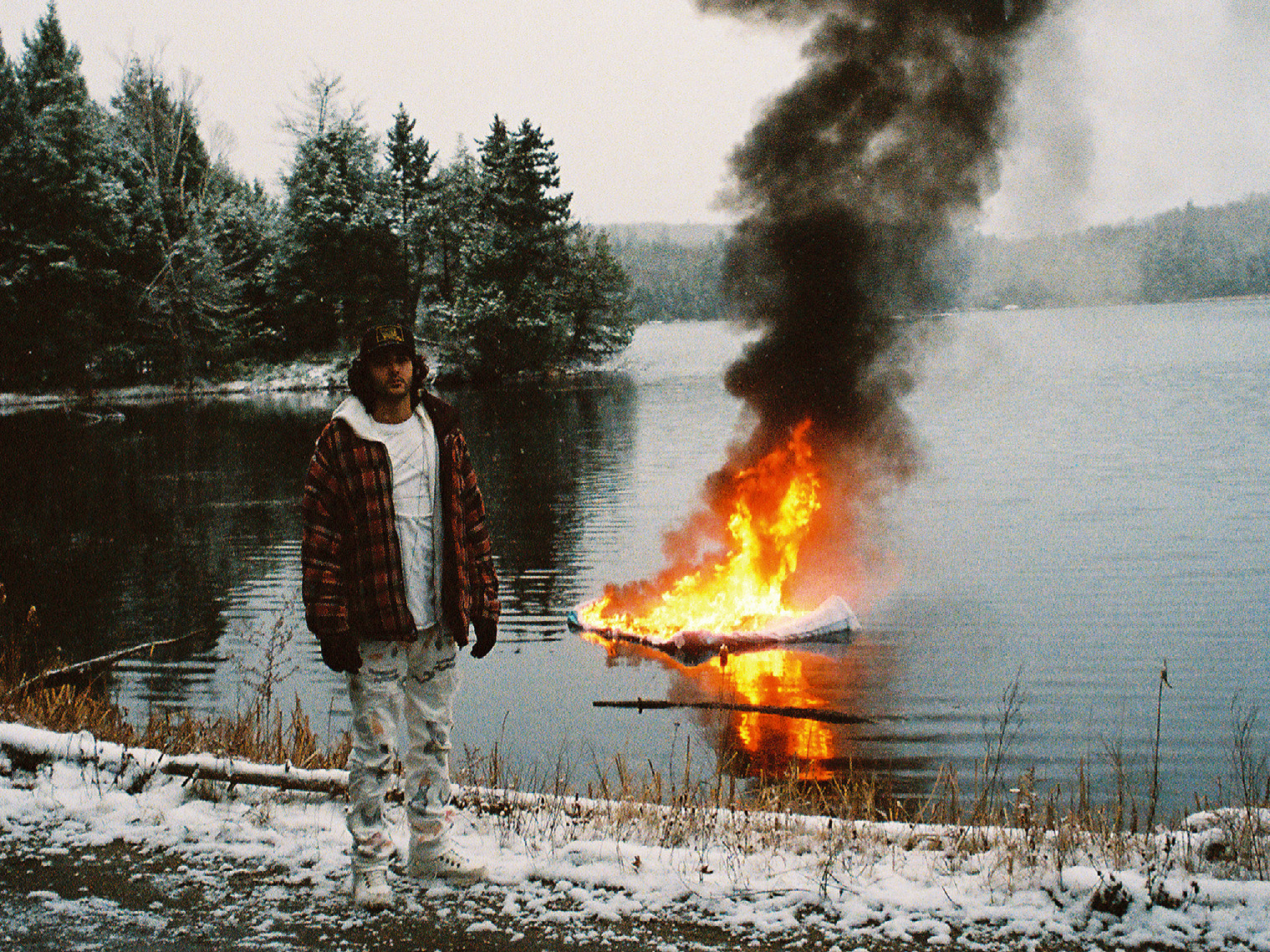 Cheb Rabi's circle of friends and creative peers includes some of the most exciting rising and established artists out, and he's set to release music with a few of them this year. For now, his introduction to the world comes through "Void," a snarling, punkish song powered by chugging guitar and Cheb's raw vocal performance. Premiered by Zane Lowe on Apple Music and released with an excellent video directed by Aidan Cullen (Omar Apollo, Trippie Redd, Dominic Fike), the sound and style of "Void" might come as a surprise to fans who recognize Cheb Rabi from his feature on Skepta's "Love Me Not," but the New York-based artist is nothing if not versatile.
Cheb Rabi has a lot of music in the vault spanning different sounds, but when it comes to his his motivations he keeps it simple and clear: "I want the music to speak for me, a glimpse into my life. Just trying to heal myself and anyone else going through it." Watch the "Void" video below and look out for lots more from Cheb Rabi this year.—Alex Gardner