"I'm a big space nerd," enthuses Sione Teumohenga, explaining how their better-known musical alias, Lonelyspeck, came about. It's a reference to a photograph taken of the Earth from the edge of the solar system, in which the planet is reduced to a tiny pixel amongst overwhelming darkness—in Carl Sagan's words, a lonely speck.
This vivid imagery isn't misplaced in Lonelyspeck's work. The Adelaide-raised artist released their third EP Abyssal Body toward the end of 2019, depicting a voyeuristic emotional journey behind blurred genre lines. Combining bright pop with nu-metal and electronica influences, the 27-year-old creative is joining the wave of hybrid musicians heading in a new, more open direction.
For years, Lonelyspeck was afraid of their voice being heard. Growing up in the quiet suburbs of Adelaide, Australia, Sione was initially driven by visual art and producing before tentatively approaching vocals. "I used to believe I'd never sing in front of anyone," Sione said. Now, Lonelyspeck has become a recurring name at countless events across Australia, their voice at the forefront of a new era of foward-thinking young creatives.
While Australia's political climate may be temperamental, Lonelyspeck occupies a non-conforming space, a sanctuary for both themself and fans. "If I'm living here and I'm not indigenous, I'm benefiting from the colonial system. I feel a responsibility to pay it back in any way I can," Sione explains.
Since 2014's debut Presence, Lonelyspeck has steadily been making a name for themself. Between supporting Dillinger Escape Plan and performing across Australia, the self-confessed outsider has become a prominent figure, solidifying their experimental position within Australia's music scene. Despite this potentially ego-inducing trajectory, Sione remains soft-spoken as they explain the hyperbole of Lonelyspeck, an exaggerated projection of very personal thoughts and feelings. 
Taking digressions into the medieval cosmology, identity politics, internet's impact on artists, and the influence of childhood heroes Linkin Park, we caught up with Lonelyspeck earlier this year.
Lately, you've been on the road playing various events across Australia, such as Adelaide's Girls Rock! How's this been?
That was really cool. Such a cool community, a local thing. I'm really happy and grateful to have them involve me. Girls Rock! do a yearly program for young girls and gender non-conforming youth, and the gig I played recently was a fundraiser for that. 
Your current sound is very distinct. How did you find the transition from producing alone to incorporating vocals and finding your style?
I started with playing guitar and ended up starting to record my songs—they were rock songs back in the day. I fell in love with the process of recording and producing music, and I slowly began to incorporate more electronic influences and just getting into different kinds of music. It's grown with me in that respect.
Linkin Park was my first favorite favorite band, back when I was like 10. Especially with the last EP, I decided to just unapologetically go into those influences. The EP revolved around reflections on my upbringing, so it felt right to do it in that context.
The reflections in Abyssal Body feel very intimate. Is it difficult to share something so personal?
Yeah, it is a little bit. I worry about what my family might think of it because a lot of it relates to how I grew up. I think in some ways it also opens a dialogue in that sense. I've had conversations with my mum since she read what I'm singing about. It's definitely nerve-racking, especially with some of the specific references. But I feel like I need to get it out. I can't progress with that part of my life unless I properly verbalize it.
[Sharing Music] Is definitely nerve-racking, especially with some of the specific references. But I feel like I need to get it out. I can't progress with that part of my life unless I properly verbalize it.
What's your relationship with your family like, and has the dynamic changed post-release of your latest EP?
I have a good relationship with my family. My parents separated when I was really little, but I have a good relationship with them now. I think a lot of the stuff I was thinking about with the EP related to looking back at things. I guess for anyone growing up, you just take for granted what that was like. You don't think about what makes your experiences and what makes you the way you are. I was thinking about that, and things relating to identity and my background, and the kind of effect they've had on me. Trying to piece that together was important because I don't think I've done that before in my life until the last few years.
Between each of your EPs, several years passed. Has your creative process differed as time progressed, or has that been a constant?
I approach music-making in a very intuitive way. I don't put emphasis on making a specific type of song, I just make the music I hear in my head to some extent. I can create things fast, but there's a long process of editing and fine-tuning everything and I enjoy doing that. I think with each EP I've gotten more into the process of developing it. I went really into developing the themes and concepts for Abyssal Body, and I wanted it to be its own world.
The cover art is very unique and feels like a part of this world. How did that come about?
In some ways, it's a reference to medieval cosmologies and the diagrams they have of the Earth in the center of the universe. I was imagining my own version of that, where the abyss is in the center. This signifies the bottom of the ocean because the EP represents a sort of journey from the bottom of the ocean to land. 
It's a metaphor for finding yourself, I guess—that sounds really corny when I put it like that, but making sense of who you are. It's specific to me, where I come from, and my experiences with navigating that. If people can take away a feeling of, "Oh that makes sense for my experience," that's really cool as well. 
How would you depict the storyline throughout Abyssal Body?
It's not a literal storyline, it's a pretty symbolic and vague thing. I wanted it to be like a mythology almost; mythologizing my own journey to understanding myself, while portraying it as something that's ongoing. It's a symbolic journey from dark to light. A lot of it is things I felt like I needed to admit and affirm to myself. For example on "Drown," it's partially about me dealing with my own anxieties about living my truth, but it's all about certain old friends who weren't receptive of me being more myself if that makes sense, when you don't feel encouraged by people you thought were your friends. Saying; 'I'm going to continue on my journey and not let you hold me back from that.' 
Each of the visuals represent the part of the journey that the song is about in the storyline of the EP. With "Drown," I imagine it as breaking out of a cocoon.
How have you found navigating your own experiences within Australia and it's fairly conservative politics?
I grew up in Adelaide, and in the East Coast cities they have big Pacific Islander communities and stuff like that for example, but there's not much of that in Adelaide. It's like this very Anglo kind of city, so I think that definitely played into me growing up not having a reference point for understanding that part of me. 
I never got to travel much growing up, and so I never saw much of the country. It's been really crazy meeting so many other people and artists and queer people, everyone who identifies with these things, and it's played a big role in me making sense of my identity as well.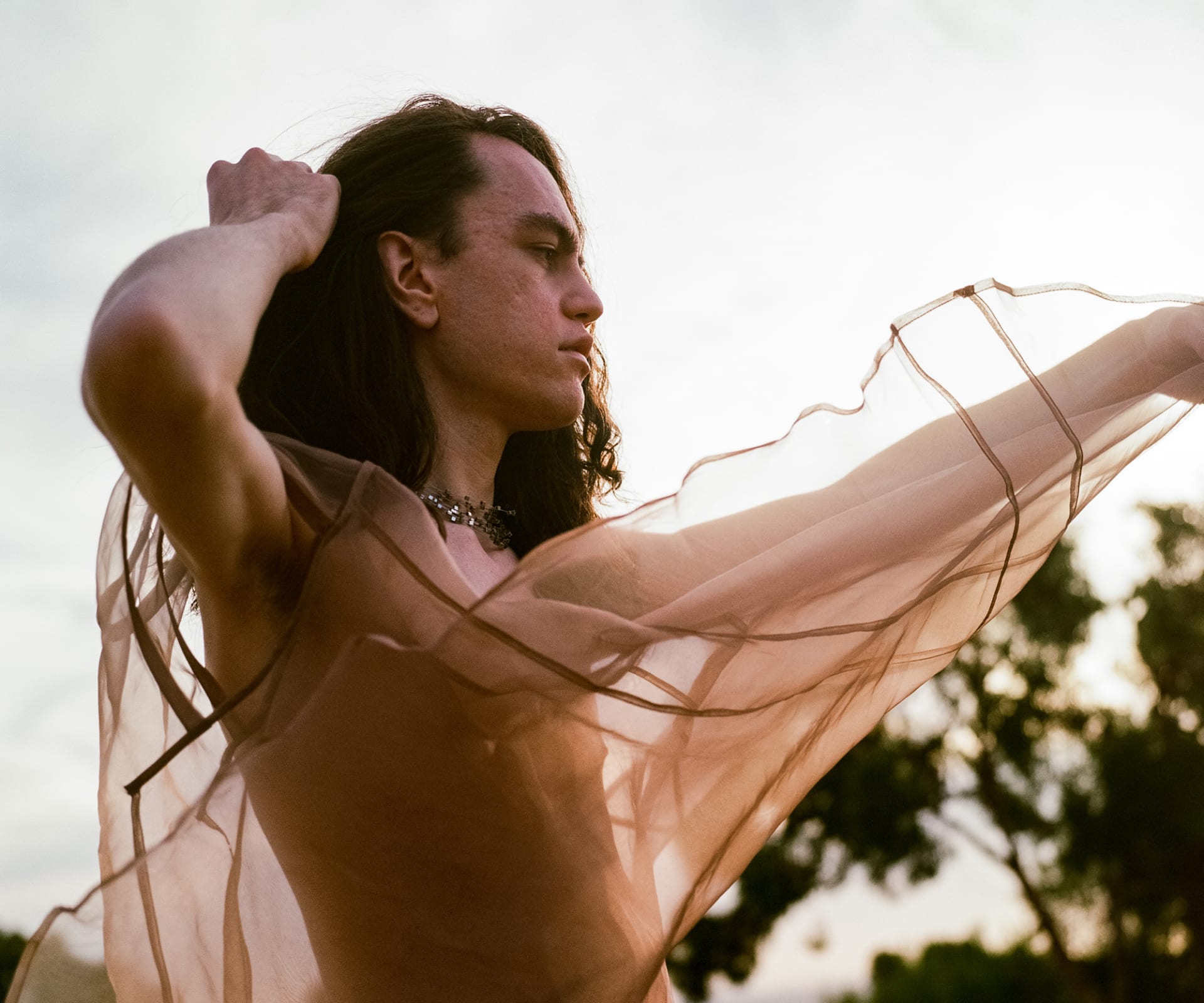 On your social media, you speak out on socio-political affairs, such as the colonialism of Aboriginal land in Australia. Is this something that you feel a responsibility to speak out on as a member of the community and as an artist?
I don't really think of myself as that influential, but I have to remind myself that even having 2,000 followers or whatever is a lot more reach than a lot of people. Even just a voice and showing up to rallies is better than nothing. I've never seen myself as an activist, but I do feel a responsibility to show up for things when I can.
What's Australia's music community like?
Australia has a cool music community. There's a lot of really talented artists here. I'm not really sure how I fit into it, because when I look at the more mainstream indie community it's a lot of summery pop and psychedelic rock. But, I don't really mind. I'm just going to keep doing my thing.
I like stuff that's unapologetically over the top and bold—strange, but also pop at the same time. For a long time, that's been my favorite kind of thing: stuff that pushes weirdness and catchiness as far as it can go at the same time.
Your sound tends to defy typical genre expectations. Do you have plans to further experiment, and how do genre stereotypes impact your work?
I do want to push it further. I'm not really sure what direction it's going to go in next, but I was thinking about how now that I've established this sound, I can incorporate more stuff into it. It's like its own genre that I can mesh with other genres now, a never-ending mashup of mashups. A lot of people hate the concept of genre, but I think it's interesting. There are different styles of music and there are different communities of music and it does evolve and change; I think it's interesting how we group those things and how they can cross over.
I really like PC Music and I was definitely influenced by that in Abyssal Body. I like stuff that's unapologetically over the top and bold—strange, but also pop at the same time. For a long time that's been my favorite kind of thing: stuff that pushes weirdness and catchiness as far as it can go at the same time.
I went through a phase of listening to weirder and weirder stuff. Starting from experimental rock, going through so many different things and phases. I came around to pop at the end because it was like the last frontier of appreciation for music.

Having transitioned from producer to vocalist, how would you depict your relationship with live performances nowadays?
I definitely wasn't comfortable performing live for a long time. I used to believe I'd never sing in front of anyone, but I guess the desire to sing outweighed that eventually. It still doesn't feel natural to perform and I'm still trying to work out a way to do that. I'm totally in my head, and I really want to get out of that. I was so scared of public speaking throughout school. I think the first time anyone heard me sing was when I started recording stuff with me singing on it, and even that was scary for me. Maybe a year or two after that I started to perform live. I used to be in a band, but singing live was a different thing for me. It was so scary for me in my first several gigs that I couldn't sing properly for the first few songs. I still feel like I'm not a real singer.
How do you feel about the internet in the music business and its influence on Lonelyspeck?
I feel like it's reduced the amount of regional things going on because everyone's connecting online. If you're doing something different, you can find people anywhere in the world identifying with that as opposed to maybe feeling alienated in your hometown. I wouldn't have gotten anywhere if it wasn't for the internet, because it's how I met all the people from the labels I've worked with. I don't know what I'd be doing if I didn't have the internet, probably just playing really tiny gigs in pubs in Adelaide. It's cool how it levels the playing field a bit. To an extent, anyone can just get in touch with anyone.
Outside of creating music, can you offer an insight into your day-to-day life and how you rejuvenate your creativity?
I'm interested in space and I'm really into linguistics—I love reading about that. I feel like those science-y kinds of topics activate a different part of my brain and let the creative side rest. If I feel like I'm not getting anywhere with music, I let myself focus on that and be a nerd for a while. 
After I left high school, I studied visual art because I was always into drawing. I studied writing for a little bit, but after that I got fully into music. Visual arts had a big effect on the way I came to approach music, because I learnt how to not be precious about what I was creating and not afraid to make a mess. That's definitely something I took to music. That was a big starting point for me in making electronic music because I didn't have really good synths and all that kind of stuff. I couldn't make really polished-sounding stuff to start with, so I'd use samples and lean into the lo-fi kind of sound, and just not be afraid to get messy.
Do you see Lonelyspeck and Sione as different people to an extent, or are they wholly integrated?
It's almost a fantastical version of me. I think even if I did other solo projects, Lonelyspeck is the core one that represents me the most. It's a place where I don't have to feel like I'm being too much if I turn my feelings about something into a big story or metaphor. With Lonelyspeck, I take my feelings and let them be over the top.