Last month, artist Ekene Ijeoma set up an experiential light installation within a music festival—Day for Night in Houston, Texas—using mass incarceration data to inform live and automated jazz compositions of the "Star-Spangled Banner." The piece, titled "Deconstructed Algorithms," included performances that took place three times a day, and the reduction of notes with each repeated play.
Staged in a mirrored, lit up cube, the installation resembled a jail cell but also a place to reflect. When performers were not playing, a lone piano played these crumbling renditions of a familiar song, one that has been the backdrop to protests by numerous athletes and individuals over the last year. "Deconstructed Anthems" brought the tradition of jazz, the power of data, and the exchange with an audience over topics of social justice and human rights to a potent intersection.
Ijeoma's past work, using digital websites, apps, and sculptures, has continually examined issues of social behavior and social justice, including his ongoing Refugee Project, a website that follows the diasporas and decisions of refugees around the world, from 1975 until now. His work often requires collaboration from expert partners. For Deconstructed Algorithms, he worked with the Vera Institute of Justice's data, and the following performers for the three days of installation viewing: Kris Bowers (Emmy winner and Dear White People composer), Ambrose Akinmusire (winner of the Doris Duke Artist Award, Paul Acket Award, and Thelonious Monk Trumpet), and Burniss Earl Travis (Grammy–nominated).
Here, Ijeoma explains how he worked to turn the "Star–Spangled Banner" into a social barometer responding to the state of the mass incarceration, racial inequality, and The American Dream.
How did you develop the light and structural aspects of the installation—as a box around the performers and piano?
Throughout this process, I was inspired by the Miles Davis quote, "It's not the notes you play, it's the notes you don't play." The architectural light installation came from the music composition, and the music composition was designed around silence. We repeated "The Star-Spangled Banner" 15 times, and each time added or replaced notes at the rate of mass incarceration. The composition became more silent.
In those moments of silence, the audience and the performers are, in their own way, participating in playing those notes of silence. Silence can be the feeling of not doing anything about these issues. Silence can be about the incarcerated people missing from society and missing from their families. The idea was to create moments of reflection in those moments of silence, which is why the structure itself is reflective. The structure is also in the form of a prison cell. So with each one of those diagonal-angled panels, and the four entrances around it, we get these moments where you think you can see through, but you can't really.
I was inspired by the Miles Davis quote, "It's not the notes you play, it's the notes you don't play."
What about the music? How long did it take to create?
We spent nearly eight weeks creating the music. It took a while, because I developed custom music composition software to specifically deconstruct "The Star-Spangled Banner" using a rule-based system. I had never done that before. I don't write music or read music, so within two months, I had to learn, so that I could develop the software to do it. The software also generated the compositions that were playing on the self-playing piano.
The software could select different notes, and then you could say what you wanted to do with those notes. Then you can see what you want it to be replaced by, whether it's a rest, which is a silent note, or whether you want to change the pitch of the notes that were selected. The composition software was able to deconstruct the full arrangement, meaning it's able to deconstruct a multi-part composition, so the trumpet, the piano, and the bass, all on the same sheet music driven by the same data. Kris Bowers arranged that music both for the trio and the traditional jazz arrangement of the music.
We created 15 rules based on this system and named them according to slavery and mass incarceration. We gave them different names, such as "the Trump Era" or the "assassination of leaders." One of the examples of one of the rules was that we would take the first note of every measure, and we removed it to create the same instability in the composition as is created in a family when a member is incarcerated. It's not like we're just making random rules like, "Oh, we just want to pick this." It always has to do with the context of the content that we're talking about and the causes and effects of mass incarceration.
When you think about system-based music or rule-based composition, a lot of people think about the idea of chance, employed in previous works by John Cage or Brian Eno. There's nothing chance-based about mass incarceration. There's nothing abstract about mass incarceration. It's a system, so I wanted to do the composition in the same way.
Did they admit to having any trouble playing a song that's so familiar but has these parts missing?
The self-playing piano was like the invisible hands. You don't see them, but they're part of a system at work. Jazz is about freedom and restraint, so when you ask if it was difficult for them to play, it was making them perform something with a lot of restraint but still finding freedom in that restraint.
Did you ever feel like the result of "Deconstructed Anthems" was a new song in itself, or was that not really the point?
It is a new song, but it's the same song, if that makes sense. Yes, we composed a new song. But it's really how each person hears it. Some people hear it one way, other people hear it in another way.
What were other challenges throughout the project for you?
In learning the music, I didn't think I could do it when I first started. I just couldn't find anyone who understood what I was trying to do conceptually, compositionally, and musically with jazz, nor anyone who understood the sensitivity of the data or doing this with "The Star-Spangled Banner" composition and mixing it all with mass incarceration.
It was just a lot of research. For me, technology really is a tool. Data is a material. We've always had technology. Paint can be seen as technology. I'm using the code to manipulate data as a material, with music as a system. Music is also data. This song has a lot of information in it that's both qualitative and quantitative. I'm just revealing that.
America is 9% of the world's population but has 25% of the world's incarcerated population rate, and it's predominantly people of color, African Americans.
I try to do it with the same integrity and the same responsibility that a scientist would. That's why I partnered with the Vera Institute of Justice, to do the data and research, and that's why I try to partner with other researchers and institutions for my other projects.
America is 9% of the world's population but has 25% of the world's incarcerated population rate, and it's predominantly people of color, African Americans. So if we were to think of "The Star-Spangled Banner" as a social barometer for how America's doing, then maybe we would think, "Oh, if you could listen to the anthem and hear how well America's doing, then I think we'd be able to come to some social agreement that it's not doing too well, and it can't do well until we change a few things about the system itself."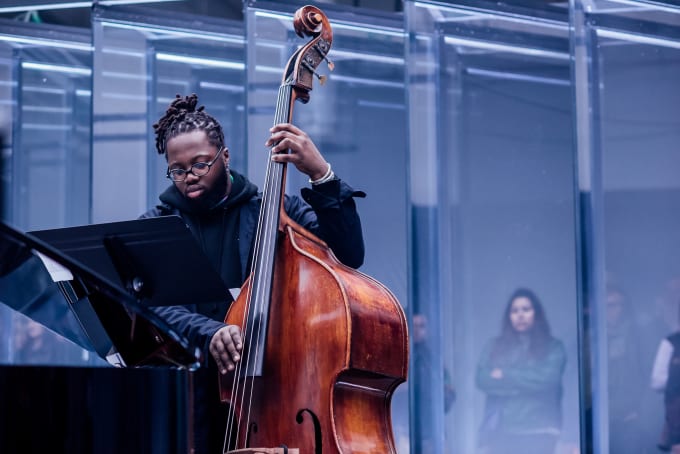 Credit: Theo Civitello