Migos had a huge year in 2017. 
The numbers back this up. Their studio album Culture went platinum, entering the charts at number 1, and spending 29 weeks in the top 20. The album's lead single "Bad and Boujee" became the group's first ever number 1 single—remaining there for 3 weeks. In North America, they sold 12.5 million singles and albums, and charted in the top 10 in 17 countries.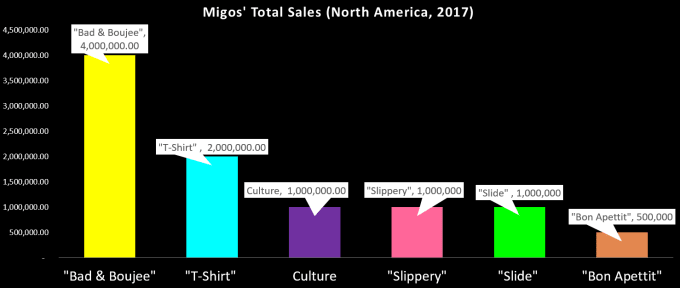 They also impacted internet culture in a big way. Takeoff's "Do I look like I was left off Bad & Boujee?" became a meme, spawning hundreds of images and videos, and the impression that Takeoff was the least likely to pursue a solo career. Just as that meme began to lose steam, a petition to add Quavo to the national anthem surfaced, propelling the group into the headlines again. 
These jokes touched on a deeper question regarding the group: "Who should go solo?" Migos undoubtedly dominated 2017 in a number of ways, but which member transcended the group and showed the most promise as a solo artist? Everyone has an opinion on this, but let's see which direction data points us.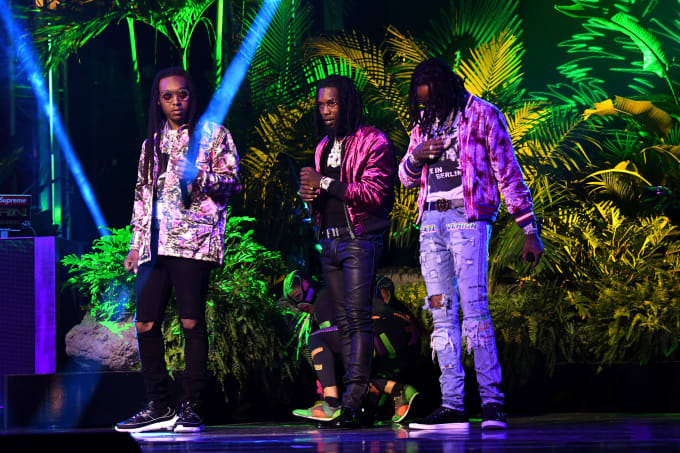 First, let's find out which Migos member contributed the most to Culture.
Let's start with the basics. Sure, Takeoff was left of "Bad & Boujee" (or at least he didn't contribute a verse), but how was the workload split up throughout the rest of the album?
Here is a count of the total words rapped and sung on Culture, per artist: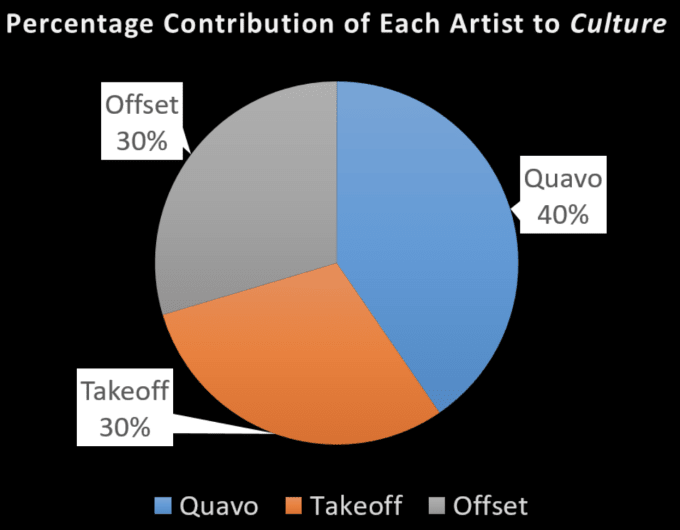 Note: Culture guests not included in above analysis
Quavo provided almost 1000 words more than Takeoff, who actually performed more on this record than Offset. Quavo's influence and sound drives the album, and he dominated tracks like "Slippery" (424 words), "Deadz" (610 words), "All Ass" (496 words) and "Kelly Price" (532 words). 
Who provided the most hooks on Culture?
A lot of Migos' tracks are hook-driven. The flow on "Bad & Boujee," the mantra-like "T-Shirt," and the vibe of "Kelly Price" turn regular club tracks into anthems.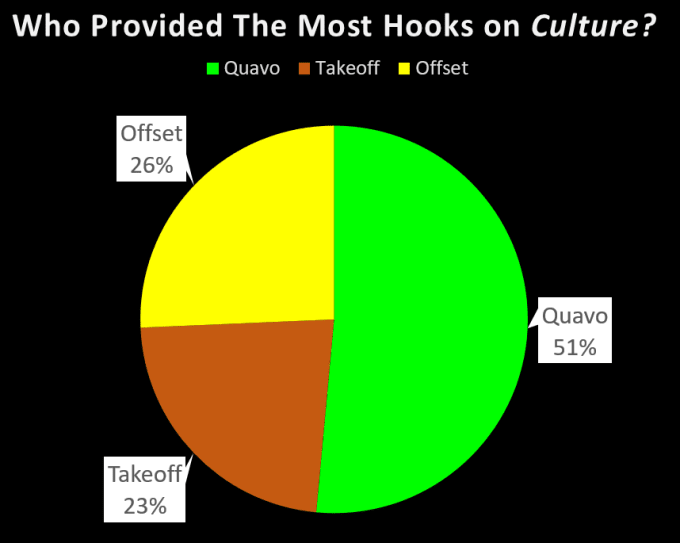 Quavo provided 51% of the hooks (by total words) on Culture, although it was Offset who delivered the most pivotal on the album with "Bad & Boujee". 
Total hooks:
Quavo: 8 (1,678 words) Takeoff: 4 (745 words) Offset: 2 (837 words)
Note: Takeoff and Quavo shared duties on "What The Price." Offset also had 9 words during the hook on that track, but those words could also be attributed to his verse. 
These numbers show that it was Quavo who did the majority of the work on Culture—which is thus far the defining project for the group. 
Non-Culture tracks and guest spots:
Migos were in high demand in 2017 due to the success of Culture and the number 1 single "Bad & Boujee." Here is a comparison of how much each member contributed to each of these guest spots and non-Culture Migos tracks: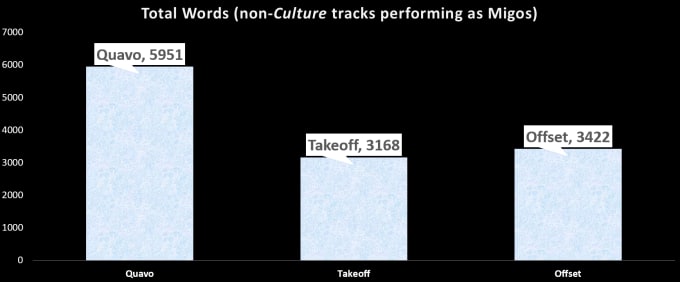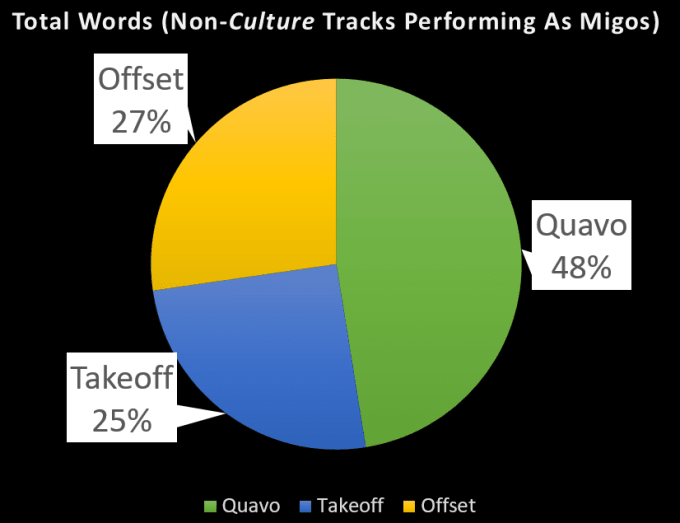 Quavo is even more dominant, providing 2,529 more words than Offset, and 2,783 more than Takeoff. 48% of the words on Migos' guest spots and solo non-Culture releases have been handled by Quavo.   
Quavo is the master of hooks.
The demand for Quavo as a solo artist has can be traced to the amount of hooks he provides the group. On non-Culture tracks in 2017 where the group have performed under the Migos name, Quavo has delivered 82% of the hooks (by words). 16 of the 28 tracks have featured a Quavo hook, compared to one Takeoff hook and two from Offset.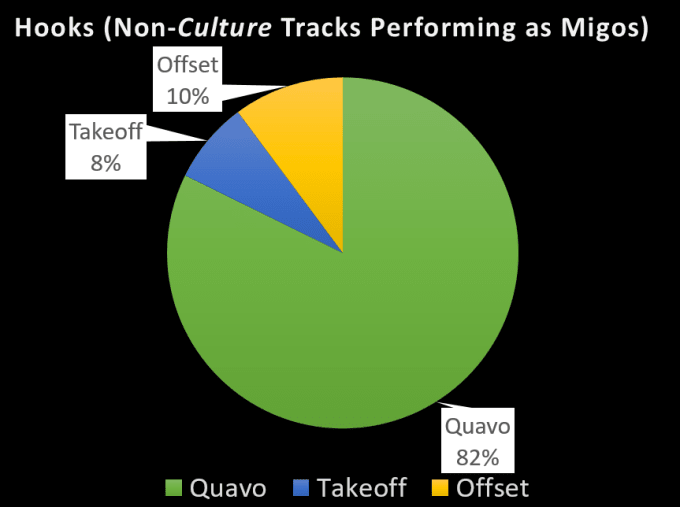 By the numbers, Quavo is better suited for a career as a solo artist than his group members.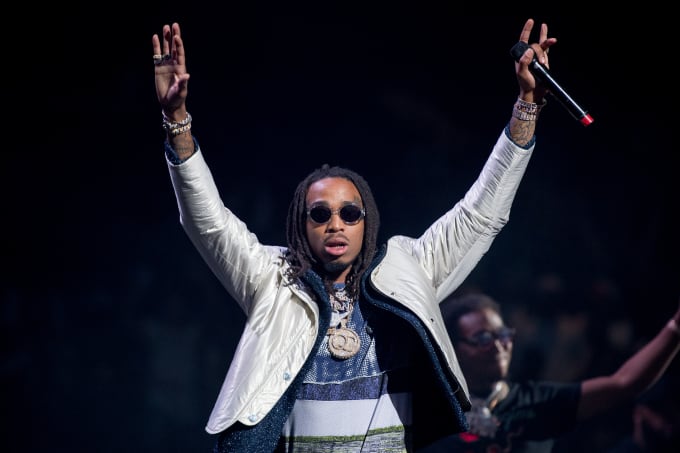 Individual artist's commercial performance in 2017:
The artist most suited to a solo career is likely the one who can transcend the group, and achieve success separate from their fellow group members. To that end, here are the sales figures for each Migos in 2017 when they've branched out from the group and performed under their own name on guest spots and solo tracks, not the Migos moniker.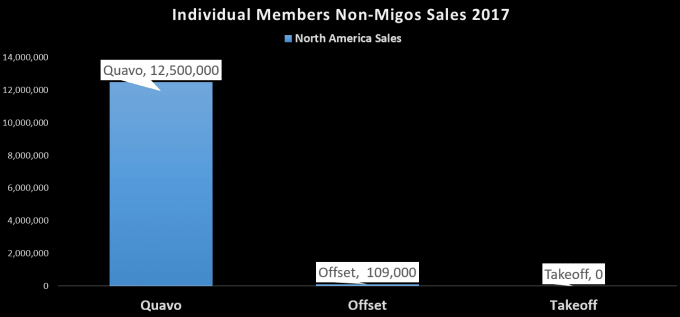 Quavo has sold 12.5 million singles in 2017, making Offset's 109,000 album sales (via his Without Warning project with 21 Savage and Metro Boomin) look small in comparison. 
Here is a breakdown of where Quavo accumulated these numbers: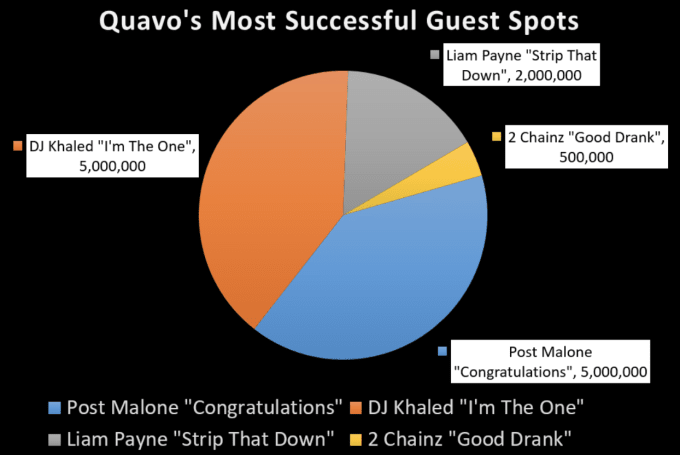 His fellow Migos members haven't been nearly as successful. Offset released a joint album with 21 Savage and Metro Boomin, which sold 109,000 copies in its first two weeks, but hasn't landed a certification from any of his guest spots in 2017. Takeoff hasn't sold anything of note outside of Migos. 
Did Quavo just release more music than Offset and Takeoff?
Part of the argument that Quavo is the most suited to a solo career centers around the amount of guest spots and projects he contributes to outside of Migos. During the first half of the year his work ethic was relentless, but have Offset and Takeoff caught up to him? 

Quavo was the most prolific of the group as a solo artist, appearing on 35 tracks as a guest artist and releasing two solo songs. 
Offset had his joint record with 21 Savage and Metro Boomin, Without Warning, as well as appearances on a further 20 songs as a guest.
Takeoff was the least busy of the 3 in 2017, appearing on just two songs as a guest ("100" by Kid Red and "Holiday" by Calvin Harris) and releasing a single solo track, "Intruder". 
Despite Quavo having 8 more non-Migos tracks in 2017, Offset is the Migos that has rapped the most outside of the group this year:

And despite Quavo being known for some of the biggest hooks this year ("Ball Player", "Portland", "Good Drank"), it's actually Offset who has provided more solo hooks in 2017. He provided the hook for 18 out of his 29 tracks released outside of Migos, compared to Quavo's 12 (from 37) and Takeoff's 1 (from 3).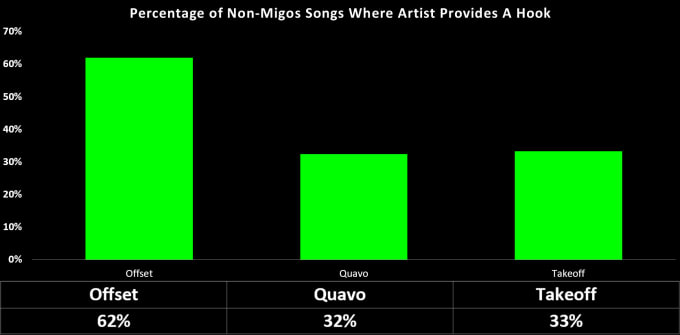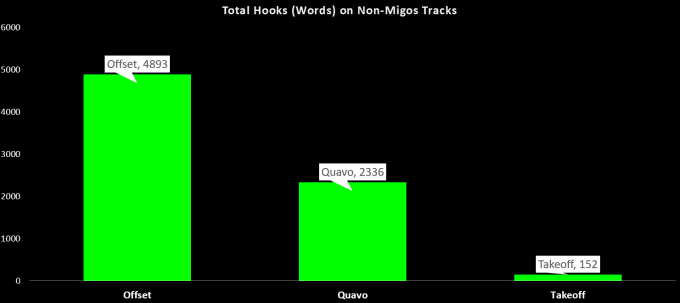 Overall, who was the most prolific Migos member in 2017 (by words)?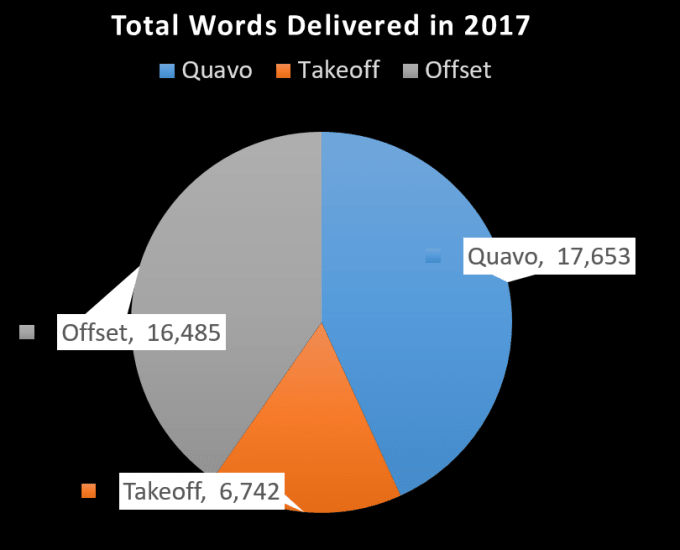 Despite Offset's more prolific (by words) solo career in 2017, it's Quavo who has provided the most lyrics across all releases (Migos and non-Migos) of all the members in 2017.
Quavo has enjoyed the bulk of the success (12.5 million singles sold as a solo artist), and he contributed the most to Migos projects in 2017. Offset may have the closest thing to a solo career thus far (via his joint project with 21 Savage and Metro Boomin), but judging purely off numbers, it's Quavo who had the most successful 2017—and might have the most promise as a solo artist. 
Note: Sales figures are based on RIAA certifications and SPS (sales plus streaming) figures released by Billboard and Nielsen SoundScan. Ben Carter digs into the data behind your favorite artists. You can see more of his work at Ben's Big Blog.​