Jai Paul continues to surprise us at every turn. Just earlier this week, he and his brother, A.K. Paul, appeared in a post on a property website about their venture The Paul Institute. The Institute was originally revealed in March 2016 as a website, shortly followed by the release of an A.K. Paul song called "Landcruisin'," but the latest update explains that the brothers have land for a physical iteration, which will stretch over 3,000 square feet in West London.
That news is followed by two new songs today, including a song which Jai Paul produced, played on, and provides backing vocals for. This is the first official release of music that he's been part of since 2012's "Jasmine."
Fabiana Palladino's "Mystery" is the song Jai Paul worked on, and it's released on The Paul Institute website (you have to go through a free sign up process to enter the website, or reuse your credentials if you signed up in 2016) alongside an exceptionally funky track from Ruthven called "Evil," which A.K. Paul worked on.
The songs are available to stream on The Paul Institute website now and can be purchased for a limited time only. The online shop closes tomorrow, November 17 at 6 p.m. GMT / 1 p.m. EST. Visit The Paul Institute here.
Find out more about Fabiana Palladino and Ruthven, who is a firefighter,  below.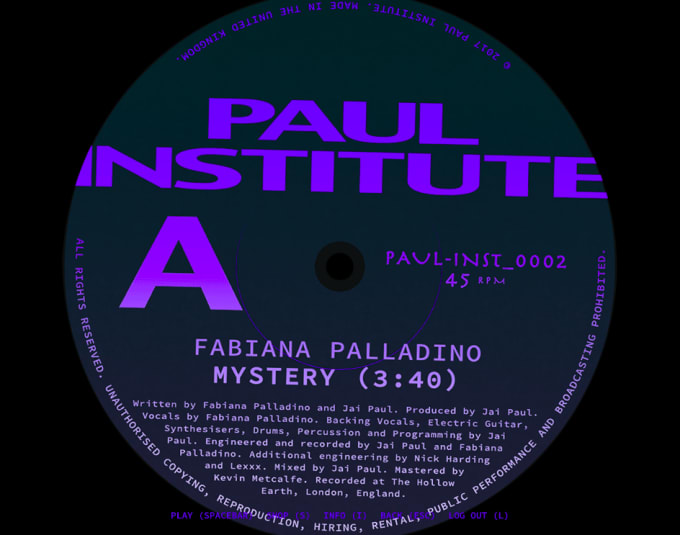 From The Paul Institute wesbite:
"Londoner Fabiana Palladino returns to take an exciting new direction following two acclaimed singles and her work alongside artists such as Sampha, Jessie Ware and SBTRKT. A singer, songwriter and producer, Fabiana was influenced early on by classic artists like Stevie Wonder, Kate Bush, Todd Rundgren and Joni Mitchell. Her work with Mystery co-writer and producer Jai Paul explores a mystical new sound, while remaining grounded in her own deep-rooted musicality and influences.
"Ruthven is a professional firefighter from Lewisham with a previously unheard talent for songwriting and production. When he isn't out fighting it, he's bringing the fire himself from the unused equipment rooms of fire stations across South East London, often writing in his spare time during nightshifts. Influenced by the likes of Prince, D'Angelo and Peter Gabriel, he shares the Paul brothers' penchant for experimentation and an appreciation for classic pop, while bringing his own playful and infectious groove."