ComplexCon returns to Long Beach Nov. 6 - 7 with hosts J. Balvin and Kristen Noel Crawley, performances by A$AP Rocky and Turnstile, and more shopping and drops.
Secure your spot while tickets last!
For all the problems faced by SoundCloud, it remains a fantastic platform for music discovery. I can't remember if I first found pinkcaravan! in an algorithmically generated playlist based on a song I was listening to or reposted on my feed, but "Candy Land" captivated me in less than a minute.
The vocals on St. Louis rapper pinkcaravan!'s debut ep a very sad happy birthday rarely break above a murmur and I keep catching myself subconsciously leaning towards my speakers to make sure I don't miss a word of her precise, internal-rhyme filled rapping. Her mind seems to be jumping all over the place and the lyrics might be hard to follow at first, but the more you listen the more vivid phrases jump out, referencing everything from Sade to Xanax, from coffins to candy.
With her subtle delivery style, pinkcaravan! voice becomes part of the production rather than riding on top of a beat, and she is starting to build a signature sound with Namesake., who produced the a very sad happy birthday EP. The colorful melodies and bubbly beats build a sense of childlike wonder, which, pinkcaravan! explains, is all part of the plan.
"I'd like to think of the EP as a dark children's book," she says. "It's innocent, dark, and heavy hearted. Getting older is weird. I hate it. Every birthday I would feel down because I haven't accomplished what I wanted to. The happy part about the birthday is you have another day. You have another chance to turn it all around." 
With one EP and a handful of other songs on her SoundCloud, plus a couple of creative videos on YouTube, pinkcaravan! is still building her world and growing as an artist, but the potential is clear. While we wait for new music from this talented young artist, listen to her EP and learn more with a short interview below.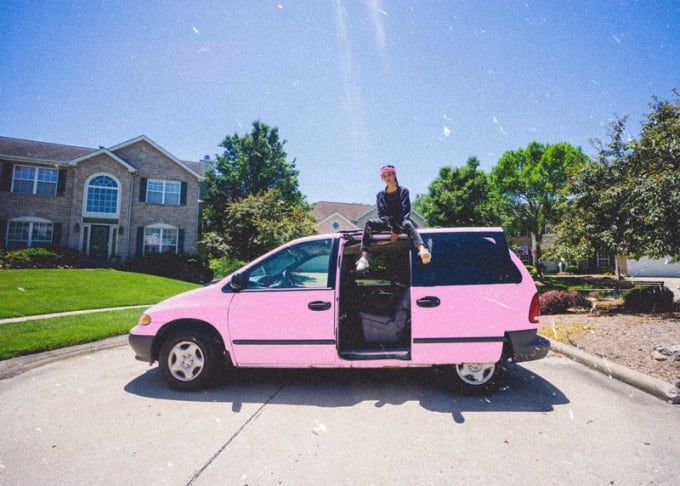 How long have you been making music and what inspired you to start?
Music videos from the early 2000s inspired me at an early age. I've been making music seriously for about two years. I didn't think I ever would but my close friends really pushed me to keep creating content. Now I can't even go a day without thinking about making music and perfecting my craft.
What's St. Louis like? Is there a good music scene right now? 
St. Louis is full of talent and people that are creating great content. We have a good music scene in St. Louis, but there needs to be more investment. I think as more people have on eyes on St. Louis it could become a big market in the Midwest.
How do you know Namesake. and how did you link up?
Namesake. and I met through word of mouth. I was looking for someone to produce my first EP and he was the first one a friend of mine recommended. When I reached out to him we started working that day. It took a little over a month to complete the project.
What artists inspire you?
Missy Elliott, Kanye West, M.I.A, and Nelly were early inspirations. Being from St. Louis, everyone is inspired by Nelly! Smino is a huge inspiration. He's crazy talented. 
Some people compared your music to Noname's. Do you listen to her? How do you feel about that comparison? 
Telefone was one of my favorite projects last year. Being compared to her is crazy but I'm still developing my sound. Let artists be artists.
Do you have longer team aims or goals with your music? What are they?
I want Namesake. and I to be like Missy Elliott and Timbaland.  I definitely want to reach and touch as many souls as possible in the next few years through music. I get super excited thinking about my first headlining tour.