Brockhampton are one of the most exciting young groups in rap right now, but they've been careful to avoid labeling themselves as a hip-hop collective. They prefer to be called a boyband.
On paper, they share more similarities with rap collectives like Odd Future than traditional boybands like the Backstreet Boys and One Direction. So, why do they keep calling themselves that?
The simplest explanation is that it allows them to make genre-defying music without boxing themselves in as hip-hop artists. Since the beginning, they've been blending rock and pop sounds into their music and releasing songs like "Summer" that stray far away from rap.
"You can only get so far as a rap collective," Brockhampton's Ameer Vann told Yours Truly in a recently aired Beats 1 Radio episode. "Just by putting the name 'rap' on yourself, you've set a limit—but a pop star can do anything."
That's only scratching the surface of their ambitions as a boyband, however. Kevin Abstract and the rest of the group have been very intentional about their goals of breaking down barriers and stereotypes.
"We studied boybands," they explained to Yours Truly. "We picked apart the dynamic of a boyband. We found out there had to be a uniform. We found out, okay, we're not the best looking, but whatever. What it comes down to is, how can we put our twist on what people think a boyband is? How can we show them what it is to us or what we think it should mean?"
Kevin Abstract hopes that as Brockhampton grows, the traditional idea of what a boyband should look like will grow and change as well.
"If we were to be all over MTV in the early 2000s and on every magazine, tabloid, press, billboard, and all that... Then we would change the standard," he says. "Then we would be considered perfect—these kids from a bunch of different nationalities and backgrounds that go by a boyband."
Abstract continues, "Then there would be a ton of kids out there that identify with us and be like, 'I'm like that. I'm okay with being like that.' Because we didn't look like Harry Styles in high school. But I definitely identified with Tyler, The Creator and Frank Ocean. That was a boyband to me, even though they were a rap collective to everyone else. That's where the standard was for me. That was my perfect."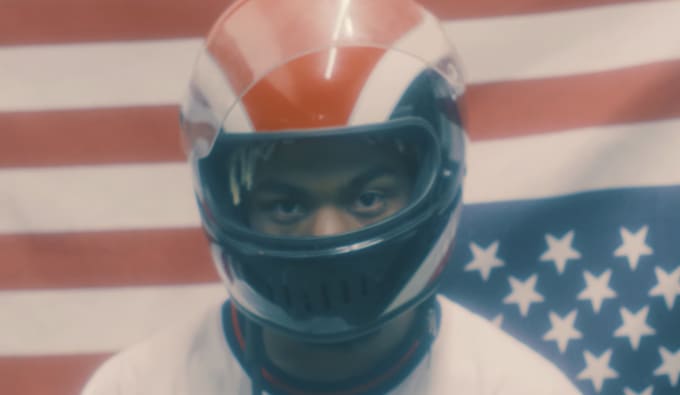 The group also have a habit of describing everything they do as "all-American." That includes being an all-American boyband, releasing a mixtape called All-American Trash, and making a TV show called American Boyband.
Abstract's manager Christian Clancy explains that this is another way the group is challenging stereotypes and preconceptions.
"The timing of who they are and what they represent could not be better," he says. "With all that's happening in the world, and this kind of strange marketed form of patriotism about what America is and what it was and what it should be [...] It doesn't include them. But they're actually America way more than that is."
They can become the champions for all those kids who feel like they're not a part of that America. They get to have a champion in the process and they get to be proud to be American.
The first thing that comes to mind when most people hear about an "all-American boyband" isn't a culturally diverse group of kids making rap music about homosexuality, racial inequalities, and self-acceptance. But Clancy, Abstract, and the rest of the group can't think of anything more American than that.
"These guys represent, to me, actual America," Clancy explains. "They represent the point of it all. Kevin is a black gay kid from Texas who has been ostracized his whole life by people who are 'patriotic.' Right? The timing becomes important because so many people need that champion, who feels the same way."
The original appeal of boybands like the Backstreet Boys and NSYNC was that they could resonate with as many people in America as possible. By focusing on the majority, however, they left out large parts of the country who didn't fit their carefully manicured mold. Brockhampton hope to challenge that way of thinking.
"They can become the champions for all those kids who feel like they're not a part of that America," Clancy says. "They get to have a champion in the process and they get to be proud to be American. That's tight."
Continue for a guide to every member in the group and read our interview with them here.