Twelve'Len and Skott both wear items from The Gap's fall collection, including their crewneck pocket tee, Oxford garment-dye slim fit shirt, iconic denim jacket, fitted crewneck tee, slim fit jeans, and mid rise Sculpt true skinny jeans.
In a world as divided as it is now, it is perhaps more important than ever to recognize the beauty and necessity of collaboration. Whether within art, politics, or even casual conversation, there exists a power for change and growth through the exchange of perspectives.
We recently teamed up with the Gap for their "Meet Me in the Gap" initiative, bringing together two disparate yet complimentary artists to create an original work. We were able to tap Scandinavian pop singer Skott and Miami-born, self-dubbed "rock & soul" artist Twelve'Len to meet up, get to know one another, and produce a collaborative track all in one afternoon. The results could have been catastrophic, but the track, "Test Our Luck," is an ethereal and beautiful blend of their distinct styles.
It took about six hours that fateful Monday for Twelve'Len and Skott to create the lush "Test Our Luck." From searching through different tracks to find the sounds that resonated the most within the both of them to cutting up and reordering the parts of the track, writing lyrics on their phones and passing ideas back and forth across the studio, the process brought them together as they both gave equal parts to arrive at a greater whole. While the process may have seemed in sharp contrast to the ways in which they both normally operate, with a track as beautiful as "Test Our Luck," one can truly see how rewarding collaborating can be.
Before the session, we caught up with the two musicians to talk about their different upbringings, their current perspectives, and the fruitful beauty of meeting one another in the middle.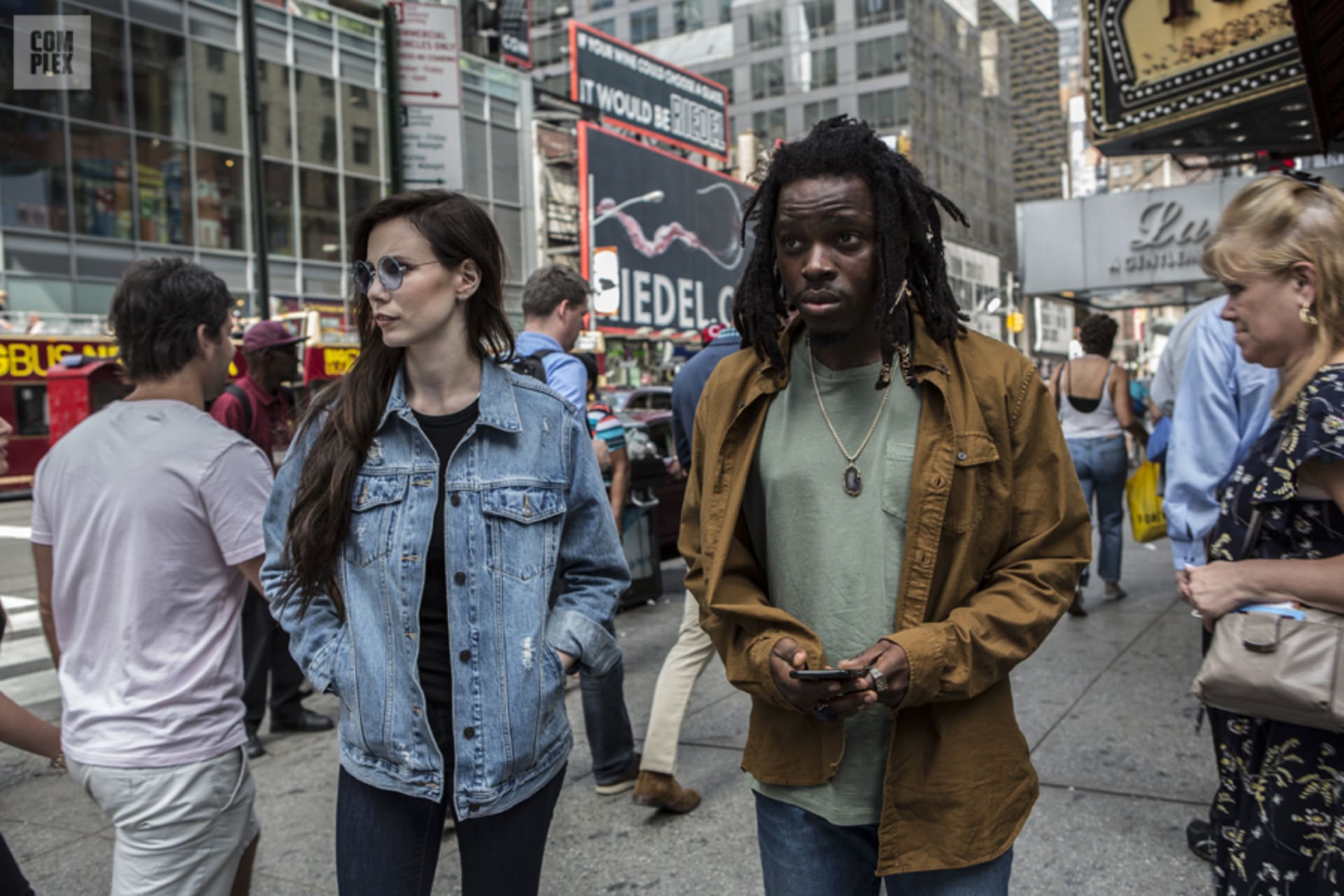 Can you tell me about the community you grew up in?
Skott: I grew up in Darlana, [Sweden]. It's unique in a few ways. One thing that is special about this village is that every second person plays the violin basically—it's a long tradition with folk music. The village is very traditional; we often wore folk costumes and kept traditional ties.
Twelve'Len: The community I grew up in, the [Carol City] area of Miami, was unique, gritty, dark, and airy, from a music and cultural standpoint.
How did your upbringing inform the way in which you create today?
Skott: More and more I'm realizing how much my childhood and my upbringing affected my expression. It's a lot of folk influences, especially in the melodies. When you write songs on a violin, which was the only instrument I played when I was young, but [you] don't have any chords, so the melody needs to be strong on its own. I think that trained me, in a way, to focus on melodies. They need to be able to carry [a song] without chords or anything.
Twelve'Len: My grandmother forced all of her grandkids to be in the choir because she was the choir director. But as I got older and I lost my father for a few years, who was incarcerated, I looked up to other artists who came from my area, like Flo Rida and Rick Ross—these are artists who grew up blocks away from me. I looked up to them as male figures. They encouraged me to get into rap. Then Raider Klan became a community in my area, which I became a part of to an extent. I just knew once the internet popped off, and it became easier for people to put out music, rap [would become] oversaturated. So I knew I had to do something different from that, so I went back to my roots and started singing again.
At what point in your life did you begin to see yourself as an artist?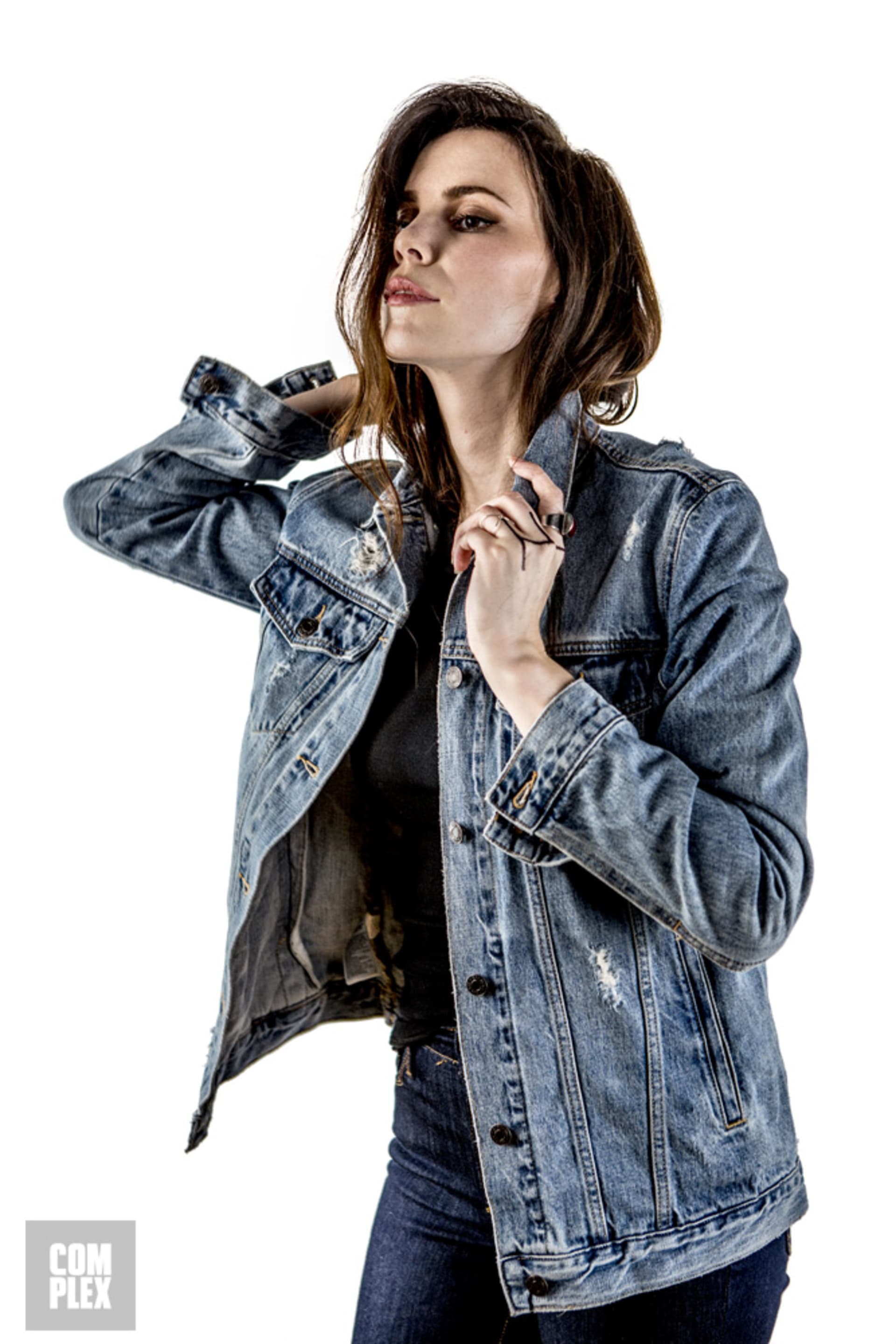 Skott: I've always seen myself as creative. I enjoy drawing and other things, but I especially enjoy creating songs. I thought I was going to become just a songwriter [for other people] until three years ago maybe. But then I realized I wasn't really okay with letting go of [my] songs, which you have to do as a songwriter. I just realized when I did that for a while that I didn't like taking a step back—I wanted to have the last word.
Twelve'Len: I feel like I was always an artist, even before [I started making music]. I was always the guy in the back of the class drawing or writing poems, going to different magnet schools as well.
How would you describe your current relationship with your music?
Skott: The whole community [I grew up in] is very playful. The noobs play with the experts, and everybody is allowed and welcome to join. If you don't know how to play, you just play together until you learn. Maybe that affected my relationship with music in a way. It should be playful and allowing and not pretentious.
Twelve'Len: My relationship with my music is like a real relationship. It's up and down. Sometimes I get writer's block or different forms of resistance, but I never give up on it, like I know it never gives up on me. Right now, I'm at a place where I'm trying to get past this new tier. Every level, you hit a ceiling and have to figure out how to break it to get to the next barrier.
What's a grounding perspective you hope to express through your music?
Skott: People should allow themselves to feel things. It's beautiful to get affected. It's the most magical thing when you get teary from a song, isn't it? It's so special what music can do. I think it can open rooms that you've locked and can trigger things in people that they try to deny or escape from. I want to open those boxes. I want to help people get to know themselves.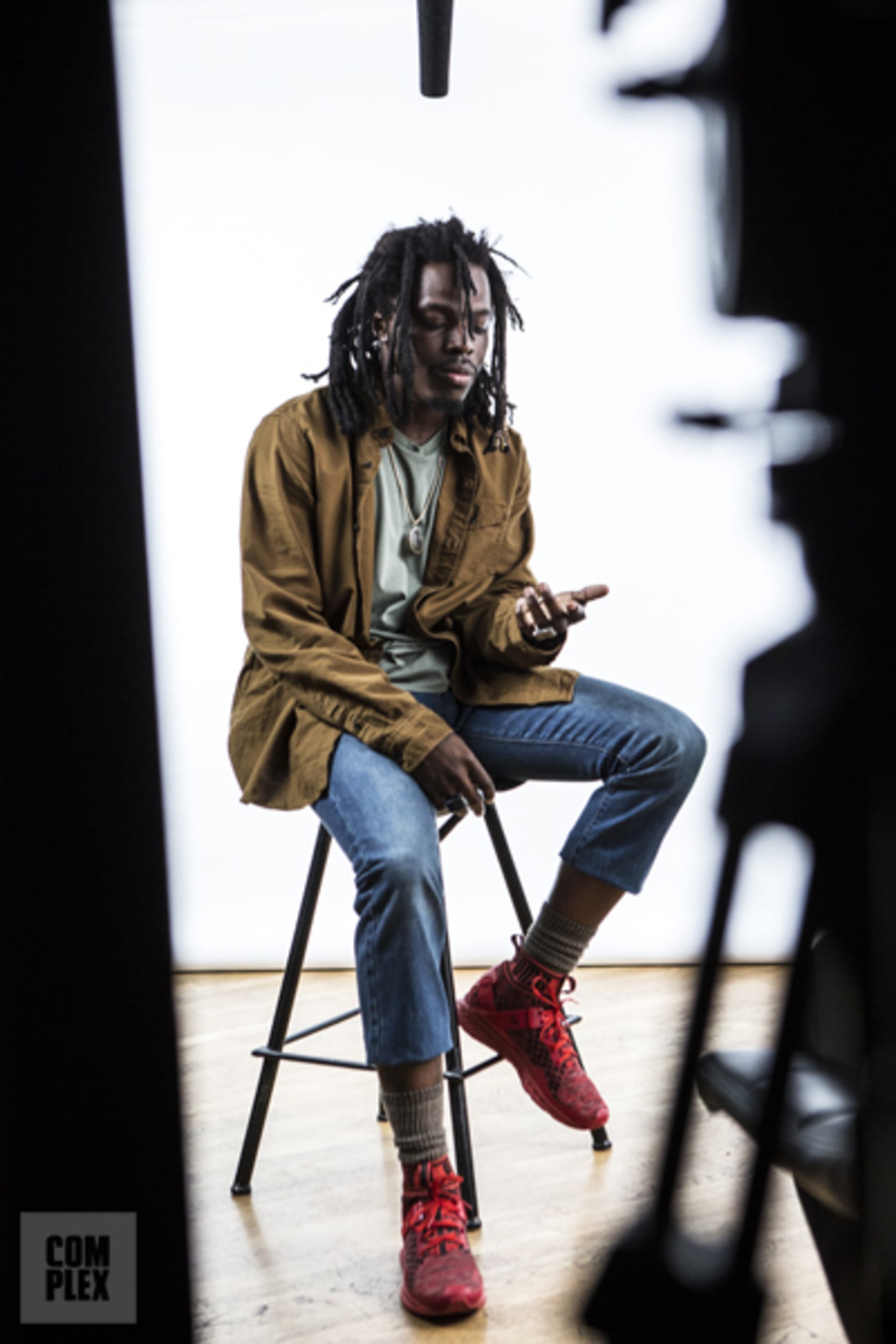 Twelve'Len: Music doesn't have a face. I get a lot of people judging me before they hear my music thinking I'm some type of rapper. I have gold teeth and tattoos. They try to categorize me based on my appearance. But I grew up in an environment that was majority hip-hop-influenced, but also you have music like Frankie Beverly and Mason Al Green who also came from those types of communities. I just want to convey that music doesn't have a face. You can be who you want and project what you want, no matter where you're from.
How do you seek out inspiration?
Skott: I think when musicians get caught up in work, and are in the studio or traveling or performing all the time, that's when the danger of losing your real inspiration comes. I've found that this year, one of the biggest challenges is to keep doing the things that inspire you to make music—just live normal life. Take time for your friends and your family, go on that hike.
Twelve'Len: I try to disconnect myself from music and just live regular. Just go to the movies, go to football games, do regular things. Everything inspires me so I just try to get out of the actual studio itself, and that inspires me just enough.
What are your expectations for the collaborative session today?
I just want to convey that music doesn't have a face. 
Skott: Expectations can be dangerous sometimes. So I've been learning to not expect things. I just want to go with the flow and see what happens. You can't really force music, so you just have to let it come.
Twelve'Len: [Skott's] music is amazing, so I hope to create something beautiful. We both come from completely different worlds, even with the style of music to a certain extent, so I'm anxious to see what comes from it.
What's your typical songwriting process, and how does that change when you're working with another artist?
Skott: When you're working with another artist, you need to make sure you're both happy and both of you need to have the last word. So you need to compromise and be open to that. Sometimes when I collaborate with a songwriter, I can be a bit bossy. That doesn't sound good, but it's like that. It can be a challenge when you're working with another artist to compromise in that way.
Twelve'Len: I like to work hands on with the producer, mainly. So I do a lot of executive producing and production for myself. But when it's just me, it's just me doing my thing. I like to light my candles and sit inside a studio and just write and record. But working with another artist, I like to leave room and [to] let them lead as well, because I have to learn [too].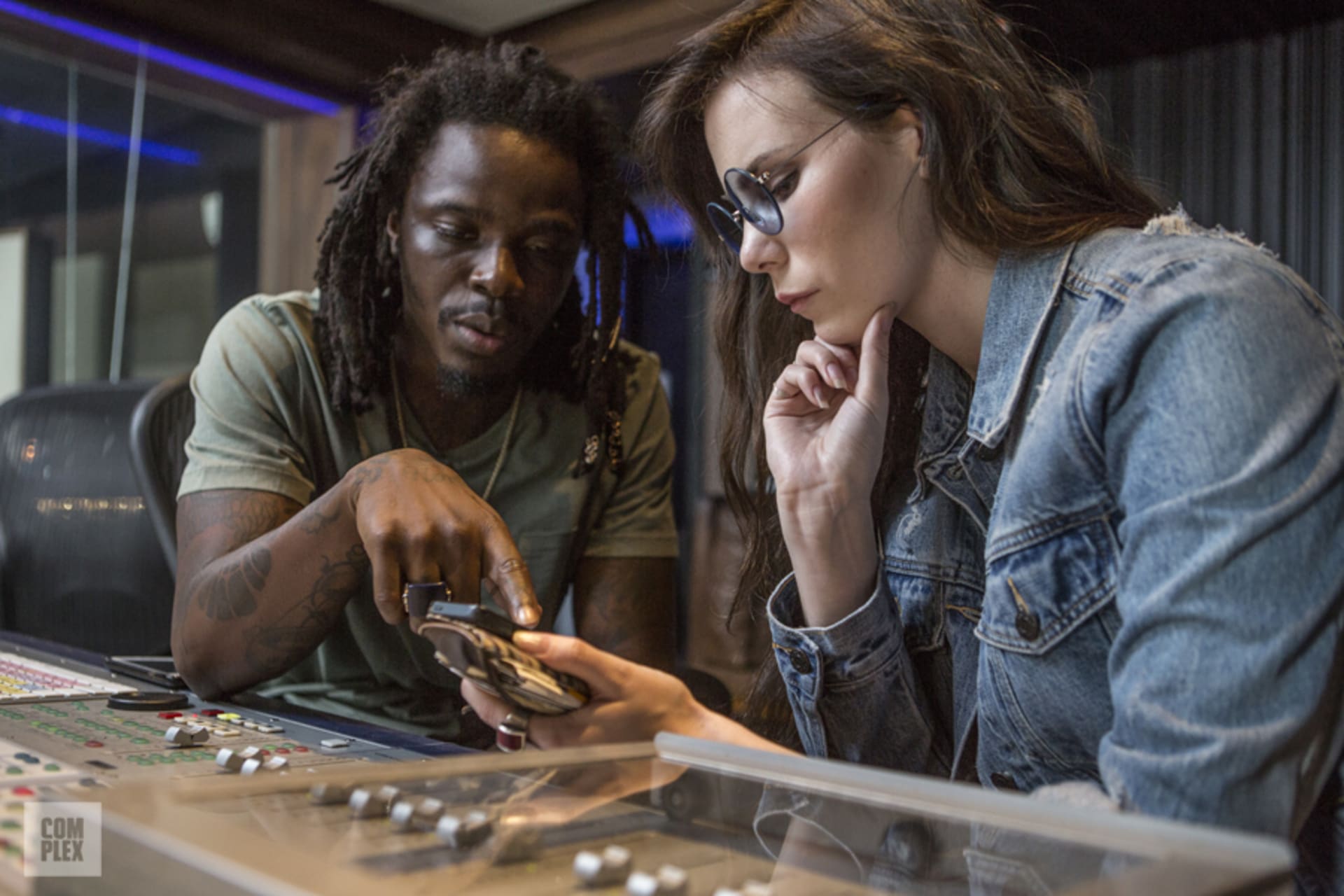 What's the most rewarding part of collaborating with other artists and meeting them in the middle?
Skott: With anything in life, when you've done something together with someone, you get to share it together, too. It's so much more fun to be happy about something together. That's the best part.
I want to open those boxes. I want to help people get to know themselves.
Twelve'Len: The biggest gain from collaborating is being able to work with someone and learn from someone. I started off rapping, so it's fast-paced, all about syllables and different flows. But when it's singing, you can take your time to get the message across more clearly.
I'm always trying to learn different ways to go about writing.
How important is it to collaborate—within music, and also in the world at large?
Skott: It's really important to collaborate in the world in general. You can learn so much from each other. You challenge each other, which can be very scary or painful even sometimes, but that's how we grow.
Twelve'Len: If all you know is yourself, then that's all you're gonna know. If all you know is the people around you, you're only gonna know as much as those people know. You always have to try to expand and be open to learn and grow, whatever your craft is.