"I don't really identify with any particular place or culture and I don't think I'll ever be able to," Gabe 'Nandez says over the phone from Brooklyn. "I feel sort of culturally ambiguous."​
The son of globe-trotting parents who worked in the UN, 'Nandez and his family never stayed in one place for long, making stops in places like Jerusalem, Haiti, Tanzania, and Montreal.
Taking advantage of a background in journalism, 'Nandez funnels his life experiences into a raw, poetic brand of hip-hop—unafraid of sharing his story with the world (even when it gets a little dark). When he got out of rehab last year following a battle with drugs that began in adolescence, 'Nandez didn't hesitate heading straight to the studio to record a remarkably honest project called Disconnected.
Stirring east coast rap influences like MF DOOM and Wu-Tang Clan into his sound, 'Nandez is known for a gritty hip-hop style, but he tells us he has plans of throwing a hidden talent for guitar into the mix as time progresses. In the meantime, he's getting ready to drop a compilation project called Plaques via P.O.W Recordings on September 29.
Watch the premiere of the video for the title track below and continue for our full conversation with Gabe 'Nandez.
I heard you just recently finished studying journalism. What made you want to do that?
Yeah, I studied journalism at Concordia in Montreal. Writing has always been a passion of mine and we live in the information age. So I thought having some kind of knowledge of how information is disseminated to the masses would give me some good life skills. I figured it would help me with media training, too, because I was definitely still trying to pursue a career as a rapper. I also want to get into documentary filmmaking or reporting or something like that in the future. 
You specifically mention being a journalist in your new song "Plaques." Do you think your journalistic background changed how you approach rap at all?
I've always thought of rap as having journalistic qualities. I always saw it going hand in hand. I think it's affected my music in the sense that I try to talk about things that have a political angle or shit that's happening in the world now. And structurally, journalism teaches you how to approach a story with an angle, and I feel like now when I write a song, I think, "Okay, what's the angle here? What am I trying to say? How should I say it?"
I know you did a lot of moving growing up. Where all have you been and where do you spend your time now?
Yeah, I was born in New York, then moved to Jerusalem. Then Port-au-Prince, the capitol of Haiti. Then back to New York. Then to Tanzania. Then back to New York. Then Montreal. Then back to New York again. Right now I live in Bed-Stuy, Brooklyn. Those are the places I've actually lived, but there has been a lot of traveling in between, too.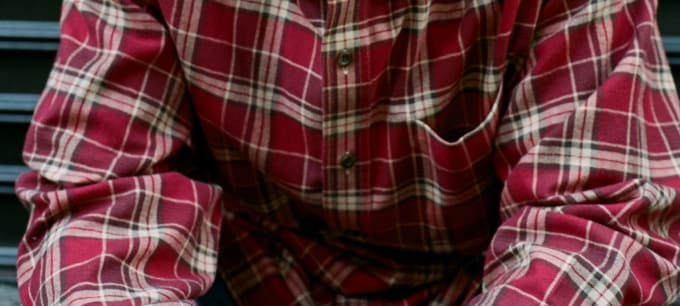 What impact do you think all that travel has had on you as a person and as an artist?
It's completely defined who I am. There's this thing called "third culture kids" where you live in a place that's outside of your parents' culture. And I spent the defining adolescent years of my life, half in Tanzania and the second half in New York. Being from different cultural backgrounds, I've come to understand that I don't really identify with any particular place or culture and I don't think I'll ever be able to. I feel sort of culturally ambiguous.
We could be having this interview in English with this kind of vernacular and slang, then I could talk to someone in Paris with a different kind of vernacular and slang, and feel just as comfortable with both. It's a double-edged sword, though. That kind of chameleon nature makes it so I can move around a lot. But sometimes I'm like, "Damn, where do I fit in?" But like everything in life, it's a blessing and a curse. It's defined who I am on a lot of levels.
 I was caught in a vicious cycle of relapse and shit. It was a lot of pain. A lot of near death experiences.
It sounds like New York has been a point of consistency. How has NYC shaped you?
Just to be clear, I was born in New York, but outside of the city in White Plains. I grew up in Westchester, mostly. But I spent mad time in the city. Most of the hip-hop that I gravitate to is stuff from the east coast. So, that vein of hip-hop has influenced me a lot. And just being in the city and taking in all the things you see here. It's like Nas said, the New York State of mind... It's a real thing [laughs] I take that everywhere with me.
New York is definitely a big influence, sonically, too. Just listening to other people and also feeling it—the claustrophobia and the big open spaces sometimes. Being right outside of NYC, I talked about how being from all of these places kind of made me feel like an outsider with no steady place... I kind of felt the isolation, being further away from everything. But now I'm in Brooklyn. I've experienced a lot of different sides of New York.
Your last project, Disconnected, touched on drug abuse, depression, and time spent in rehab. Can you describe what that time in your life was like?
I started using drugs when I was like 13. It kind of spiraled out of control pretty quickly. It was a huge part of my life. But I've been sober for about a year now. As far as that process, it happened really quickly. I banged those songs out in like a week after getting out of rehab. I'm the same person now, but I'm very different in a lot of ways, too. It's kind of night and day.
Towards the end of my drug addiction—the last three years—especially 2016, I spent the whole year trying to get sober. I was caught in a vicious cycle of relapse and shit. It was a lot of pain. A lot of near death experiences. I'm extremely blessed to still be alive. It was a time full of a lot of pain, a lot of shame, a lot of guilt, a lot of destruction, a lot of chaos.
The program sounds intense. I heard you couldn't use computers or contact people via phones the whole time?
Yeah, it was 21 days and you couldn't use the internet or your phone. I always wondered how the fuck rehab worked. I spent a whole year hearing people saying I should go, but I didn't even understand how it would work.
Why it helped for me, and why it worked for some other people I was in there with, was like: You're giving yourself a break from the real world. You get to step aside. When I was in that fast lane and living and doing drugs, I was trying to be sober on the outside. But I needed to be completely separate to really look at my life from an outside perspective. Just being away from anyone I knew and the pressures of social media and all this shit, I was able to look at it and be like, "Oh, my life's fucked up and I'm going to die or end up in jail if I don't stop."
So, it was dope. There were a bunch of different people from all walks of life. I was one of the youngest people there and they were like, "Yo, dog, you remind me of myself and I wish at your age I would have stopped. Because it doesn't get better. You're going to totally fuck up. You don't have this." You know, addicts tend to think they can handle it and they "got this" and shit. But I've been sober ever since, so it definitely put me in the right direction.
I want people to know Gabe 'Nandez as this kid who gets busy on the mic and shreds on guitar, too.
I saw you dabble in guitar a little bit and watched your "Little Wing" cover. Do you plan on taking guitar more seriously in addition to rap? Or is that just a hobby for now?
Yeah, I definitely see that as being the anchor to my sound in the future. I've actually been playing guitar longer than I've been rapping. I've been playing guitar since I was eleven years old. And I started fucking around with rap when I was around fifteen. I'm really excited to actually show some of the crossover elements.
I have this very clear vision in my head, and I want people to know Gabe 'Nandez as this kid who gets busy on the mic and shreds on guitar, too. I'm really excited to share that with people after Diplomacy, the album I'm working on, and this other mixtape I'm working on right now. After that, I'm going to delve into more of the guitar stuff. 
Do you ever mess around with production? Could you see yourself making your own beats some day?
Yeah, for sure. I've actually made beats before. I was making a ton of beats two or three years ago, but I was at University. Trying to rap, go to class, and produce—I couldn't do all three. I wanted to get really nice at rapping and also had a really fucked up drug problem [laughs] so my time management was really off. But yeah, I'm definitely trying to produce more. I'm trying to do everything. 
Tell me more about "Plaques." What kind of head space were you in when you were making that?
I was chilling at my parents' crib and I found that sample that was saved as some date from years ago when I was messing around, trying to make beats. I played it and hadn't heard it in awhile and thought it was dope, so I just looped it. It was one of those songs that just wrote itself. Sometimes when I'm making music, there's this force out there that just writes the fuckin' song for you. You know what I mean? There's no agonizing over it. It's the best feeling. That's when you know you have something dope. So it just happened like that and I recorded it a couple days after. 
I called the track "Plaques," because it was kind of a glorious. I was back in New York and feeling good. Then, we decided to do the compilation with P.O.W and I decided to add that. That's the only new track on there. It ties the knot on my journey so far. I've experimented with a couple sounds since I started, but being back in New York, I kind of went back to my roots with the dusty kind of boom bap sound. I felt like it tied the know really nicely thematically for the compilation. It just felt right.
I've made trap music, I've made boom-bap shit, and I've made very alternative rap shit.
I looked back at some of your earlier stuff like "Shuga Plum" from 2012. What do you think the biggest differences about yourself are from then to now? How do you approach music and life differently now than you did back then?
As a human, I've definitely matured. I've been through a lot of shit that's made me grow into a man. I was also finding my voice back then. It's funny because if you literally listen to the sound of my voice, it's changed a lot. Some of it's because of things like the drug abuse, but also finding my voice in a literal and symbolic sense. I was trying to find out how to write. A lot of my stuff was removed from me as a person. Some of my favorite emcees, they don't really talk about themselves, necessarily. They just kind of riff and say a lot of fly shit. I'm still always maturing in that sense, but I've definitely gotten better lyrically.
It's interesting, because when I first started rapping, I was a little more clear-headed. Then as my addiction got worse—I still like a lot of the music I made on drugs—but if you listen to H.T specifically, I was on a lot of drugs when I made that. You will hear it's very introspective and esoteric and far-fetched. It's uncompromising in the sense that I went deep and knew that the shit wasn't for everyone. Where a track like "Shuga Plum," I wanted to make something else completely.
I've experimented with a lot of shit. I listen to a lot of music and a lot of hip-hop and I'm impressed with myself by how many pools I've dipped in. I've made trap music, I've made boom-bap shit, and I've made very alternative rap shit. I think that's really commendable—not to toot my own horn—which I'm totally doing [laughs].
What kind of music is interesting you currently?
Right now, I'm working on this mixtape with my homies. Really raw hip-hop. But it's not really on boom bap production. I'm always down to just spit really dope raps, flow wise, on interesting beats. I'm trying to make a classic album with Diplomacy, so I'm really focused on that. Then after that, I'm trying to bend the genre a little. I still want to rap. I always will. But I'm trying to do more live instrumentation and start a band straight up. But I also want to make rap music that appeals to a lot of people that's catchy, but also has a message. That was always my goal. I know I can do that. I know I have the skill to make accessible stuff that's also well thought out.
You know those old films where the character is wandering like a vagabond or like a stray cat? That's kind of what I am.
I hear some DOOM and Ghostface in your music. What kind of music were you listening to when you were growing up? What artists made you want to start rapping in the first place?
Definitely DOOM. And a lot of east coast stuff. But before I wanted to rap, I wanted to be the best guitar player in the world and be a rockstar on some Jimi Hendrix shit.
When I moved back to New York from Tanzania, I was mid-adolescence and that was a huge culture shock for me. Even though I had been in New York, I hadn't been there for a few years, and all this culture was very different. And I got into hip-hop a little later than other shit. But when I moved back to New York, hip-hop really helped me reassimilate into my life. I'll never disrespect hip-hop, because it's done so much for me. It helped me make sense of shit. And the people I could relate to when I was back in cold ass New York were people like Prodigy, DOOM, Wu-Tang, all that classic shit.
I really like the "Plaques" video. The low budget hand-held style makes it feel like a peek into a day in your actual life. Is that what you guys were going for?
Yeah, we were going for a chill, laid back energy. We kind of played on the way the sample has a dusty desperado western kind of vibe to it. You know those old films where the character is wandering like a vagabond or like a stray cat? That's kind of what I am. I just go from place to place and pull up. We tried to play on that whole nomad vibe.