Eric White has been painting LPs since he had a dream that Elton John had assholes for eyes. He has an ongoing series of LP paintings on his website, spanning across all genres and totaling over thirty five completed pieces. The mood of the pieces range from trippy, to desolate, to oddly macabre—right up Tyler, The Creator's alley. 
A fan of Tyler and the entire Odd Future crew since catching a show in 2011, White tells us the opportunity to create the cover for Tyler's new Scum Fuck Flower Boy album is "an honor because I'm really into what he's done visually from the very beginning."
Tyler approached the cover with a specific set of ideas, but ultimately trusted White enough to let him to finish the piece after the final compositions were agreed upon. While they were in the midst of the creative process, Tyler showed White some of his own sketches, and White admits, "I was really impressed with his drawings and especially with his use of color. I think he has a much better innate capacity for working with color than I do."
Outside of the jarring color palette, White points out that the cover is loaded with details, revealing that "there is a tiny Maclaren on the road" even if it's "barely legible on Instagram, and probably not at all on iTunes."
Continue to see more of White's work and read our full interview with the Michigan artist.
How did you and Tyler connect for this project?
He had seen my work in the book Rizzoli published recently and liked my work, and I was a fan of his. I had seen Odd Future at Highline Ballroom in NYC in 2011. I had done a few album covers and other commercial work in the past, but I hadn't done a cover in many years as I'm focused on my own work now. But this was too exciting of an opportunity to pass up. His manager got in touch and soon after that Tyler and I spoke on the phone and we started the process.
What was the process of working with Tyler like? How hands on was he after the initial idea?
He had some very specific ideas in mind for the cover, which evolved a bit during the process, but I was really into it. I think Tyler was initially thinking it would be similar to my series of paintings in which the viewer's perspective is from inside a car. He would send me sketches of what he was thinking and some photos that expressed the tone he was looking for. I would make detailed comps based on his sketches and ideas, and we went back and forth a couple times. After I showed him the final comp, he was on board and basically left me alone until I finished the painting.
Visuals have always been really important to Tyler and he's done a lot of his own artwork himself in the past. Why do you think he reached out to you for this?
Even though our styles differ, I think there is an underlying weirdness in both of our work and maybe he connected to that aspect of my paintings. I think he also appreciates my technique, which is pretty labor intensive. Even though it's surreal, it is usually grounded in a certain visual reality. Maybe Tyler wanted his concept expressed in a more realistic way.
During the process of working together, he showed me some drawings from his sketchbook and he's really talented as a visual artist—let alone everything else. I was really impressed with his drawings and especially with his use of color. I think he has a much better innate capacity for working with color than I do…
What was it like attempting to create something that will live in the visual world he's been creating for years?
Well, it was an honor because I'm really into what he's done visually from the very beginning. That's one of the things that drew me to Odd Future when they were getting all that attention back in 2010. They have such a unique, cohesive, and bizarre visual style that runs through everything they do, and it was so refreshing to see that at the time. That style continues with what Tyler is doing now. I was really excited when I sent him the finished product and he was happy with it.
What was it like to reconcile your own artistic aesthetic with Tyler's, and couple it with the album's motifs? 
I liked where he was going conceptually, and he was saying he liked the way I work, so I'd say there wasn't too much to reconcile. I wouldn't have made an image like this on my own, but there are things about the image that relate to my personal work. I'm really happy with the way it turned out.​
What is the significance of the bee covering Tyler's face?
You'd have to ask him about that! He was specific about the type and angle of the bee, and very clear that he wanted it covering his face, which I really like. I think this is one of the ways this image relates to my personal work, because I often use awkward compositions with figures and faces trailing off the edge or where faces are otherwise obscured. For me, it's a good way to establish tension in an image.
Which smaller details on the cover do you hope fans pick up on?
I worked really hard on it, and at 16x16 inches this piece is much smaller than work I've been making lately, so there's a lot of detail in there. There is a tiny Maclaren on the road. It's barely legible on Instagram, and probably not at all on iTunes. Also, there is a lot of detail in the bumble bees' fur, wings, legs, etc, that I'm really happy with.
I'm also happy with the way his face turned out. I had to make it look like him with most of the likeness obscured by the bee, which was a challenge.
As someone who was raised on vinyl and was highly impacted by album art as a child—and who has done not only commercial work for albums, but a huge series of paintings in honor of the LP cover—it makes me really sad that the art form has dwindled down so much. Most people will only see album artwork slightly bigger than a postage stamp—depressing. Thankfully, there are still some young folks who care. Tyler's record is getting released on CD, and apparently vinyl, so people who are interested will have a chance to see the image in much better resolution.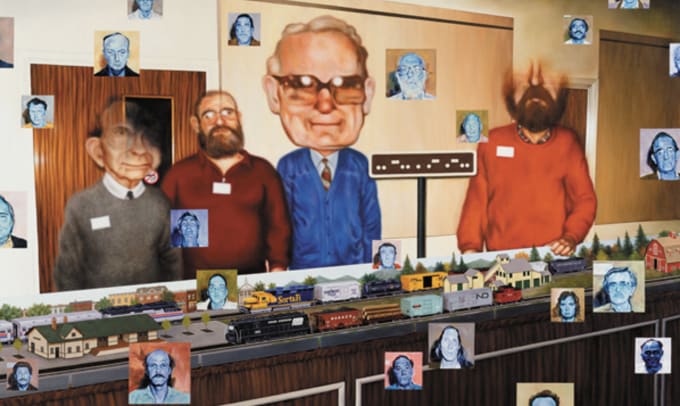 Were there other color palettes you had in mind prior to the final?
I showed him a couple variants when we were still in sketch mode, and I believe there was one that had a more naturalistic sunset palette, with a lot more blue. In the end, he liked the extreme red and orange and I think it works well. It's definitely more striking than it would have been with a more normal sky, and even though it's a pretty happy image, that color gives it a sense of impending doom, which I think is nice. Maybe that's just me…
I know you're very taken with album covers, as per your LP series. Which albums inspired you to do that series?
The genesis of that project was a dream I had where I was browsing in a record store and I picked up an Elton John greatest hits record, and he had assholes for eyes. I woke up laughing. I'd never taken an idea directly from the dream state until I started the LP paintings. I'm not sure if I want to know what that dream means, but it inspired one of my favorite series. Most of the paintings in the series are done actual size at 12x12 inches, but recently I started making them 5x5 feet. I did a version of The Beatles' gatefold White Album. When fully extended, it's 10 feet wide, and I even have a giant black plastic record sticking out of the side. That album remains extremely important to me, and was always in my mind as one I would have to do for the series.
---
You can find more of Eric White's work on Twitter, Instagram, and his website.