Wearing all black everything and a warm smile, Boston hip-hop artist Rams fondly pets a toaster-sized dog named Cannoli, temporarily departing from the shadowy wonderland of woozy drug experimentation and neon noir that so often characterizes his work. The four-pawed sniffer lounges in the makeshift studio space of artist-producer Maka, Rams' close friend and collaborator.
The two young men watch their canine guest investigate the Brighton, MA apartment as a playlist featuring local artists, unreleased singles, and Young Thug songs form a fitting soundtrack. The scene is care-free and loose, making it easy to forget that merriment long eluded one of the city's most quietly pivotal players (more on that later).
Rams first dabbled in music-making after his classmate, another local artist named Reem, recruited him to forego high school lectures for smoky freestyle ciphers. Both went on to start a posse group. About eight people deep, T.G.C., or The Gentlemen's Club, showcased an entrepreneurial spark, creating their own merchandise and throwing parties. The rap unit also opened for the likes of Rockie Fresh and Nipsey Hussle. Rams reflects on those earlier flirtations with success in music as if speaking on a long-ago era, which, in a digital world, it might as well be.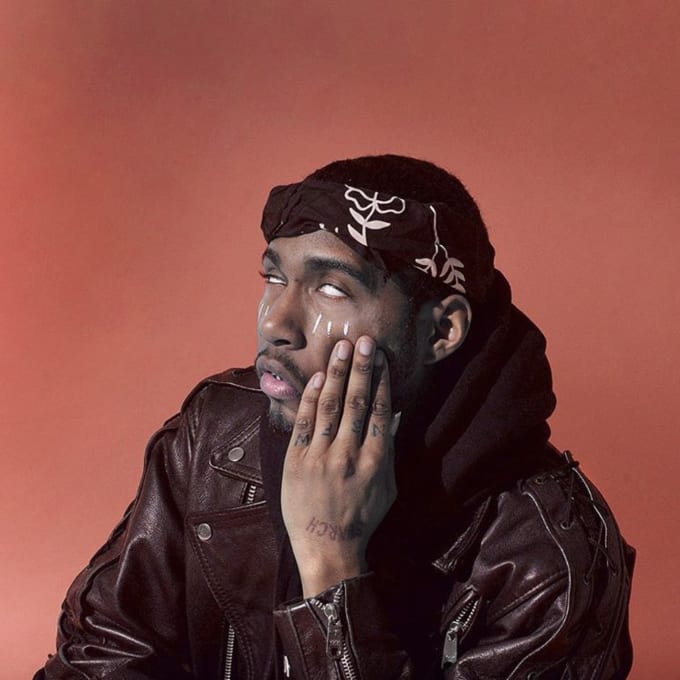 His solo endeavors began as unfortunate as a Tarantino twist would, albeit far more mundane, and with far less bloodshed. Nodding off on the job suddenly left him out of work and momentarily directionless. "I was working at The North Face on Newbury Street [Boston's go-to spot for rare poodle breeds, luxury brands, overpriced boxing lessons, and occasional mischief]," he remembers. "I was jobless for a month. Then I said, 'Fuck it. I'm going to go hard on music.'" Rams started paying visits to other artists and producers in the area, experimenting with Haasan Barclay—a guitarist, singer, and photographer, among other things—before recording his debut single, "Vapors," in 2014 with Stripes iii, whose post-Clams Casino production is droopy enough to slow your breathing. The song amassed over 10,000 plays and encouraged him to double down. His love for recording deepened further after making sessions with Maka a regular habit ("Out of all the songs I have out, that dude Maka made 96 percent of them.") The successes of Cousin Stizz and Michael Christmas only helped "light a fire under [his] ass." 
Two lean projects later, Rams is among a rising crop of artists from the Massachusetts capital. Fear & Loathing (2016) and Diablo (2017) tempt the use of such qualifiers as 'cinematic.' Inspired by Spike Lee and Quentin Tarantino, he thinks of projects conceptually. F&L, partly inspired by the Terry Gilliam-directed movie of the same name, saw Rams toying with a number of different drugs ("The main character was, too") and then making songs to reflect the effects of each substance. He's used artwork fashioned after '80s film posters popularized by Drew Struzan (Indiana Jones; Star Wars) and attempts to make mini-shorts with his visual projects. "Paranoia," his only music video to date (directed by gifted MA native JMP), dives into compelling nighttime drama with a score from friend and artist Samo-D, also known as Cave. Both Rams' thematic devices and his ear for detail run dark.
F&L allowed Rams to showcase the breadth of his taste, informed in part by the musical family that raised him. "I had never sang on a record before that project," Rams tells us. "Jazz, funk, R&B—I've been consuming that my whole life. I was motivated to regurgitate that in a way and do something different, to take those things and then see what I could do with them." Diablo, which houses his most conflicted work to date,  grapples with paranoia, hallucinations, run-ins with demons, and suicidal thoughts, and that's just the first song. It is here that the influence of Tarantino grows particularly clear: unsettling discomfort and violence become tools to tinker with experience and aesthetic, relationship troubles and internal turmoil inspiring memorable hooks. Fortunately, the process proved cathartic and Rams started to heal, leaving the darkness behind by embracing it. 
Now more than ever, this soft-spoken artist is looking beyond himself. Basement shows have fueled the local scene, popping up in makeshift venues most notably in Allston and Mission Hill. The DIY model is in many ways a response to the lack of support from certain concert halls in Boston. Thieves Grotto, which hosted last summer's Boiler Room broadcast and brought together a sizable portion of the local rap community, first hosted a hip-hop show organized by Rams. Years after that seminal moment, he's still moved by its peacefulness: "It was a basement show and there were no fights, it was all love. You've got everyone at these things. Allston hipsters, college students, people from the hood. We've sold out 100-person venues before. We've proven we can draw a crowd, and I want the venues to let us in." 
Rams grows animated as he talks through Boston's ups and downs, which in some ways mirror his own. The upward trajectory of the past five years has him excited about what's to come. Of course, there's work to do, and his ambitions remain measured.
"I just want to improve the city and make good music," he says, determined.
Cheers to that.