London's biggest clubs are closing—Fabric was the latest tragedy, but it's happening all over the city. The war on clubs is real, part and parcel of a rapidly spreading gentrification that is reaching the city's outer limits.
This is not a nascent moment—music is in London's DNA, and the sounds that are reacting to the newly constrained quarters are as exciting as ever. Bonzai, in England by way of Ireland, has already seen her neighborhood of Brixton change drastically in the two years she's lived there.
She's often done so from afar—after being featured on Mura Masa's breakout Soundtrack to a Death mixtape in 2014, Bonzai joined  the producer on an intense touring regimen. Now it's her turn. After three exciting, eclectic EPs, there's an album on the horizon and big plans in store. We caught up with Bonzai in New York, and had the added pleasure of being joined by Mura Masa midway through the interview. 
What was it like moving from a small town like Wicklow to Dublin?
Bonzai: I lived in Wicklow when I was  younger, and then when I could travel by myself I moved up to Dublin which is a bit more of a city. The transition between that and London wasn't too bad. I just prefer living in cities. I didn't know anyone when I came to London, I stayed with my friend's aunt who I'd never met. But she was the only person I knew who has a house there, so she let me stay with her for few weeks until I like got myself together. I got a job, made some friends. 
What was your first job in London?
Bonzai: I was a waitress in this café where I was studying. It was called Manuka Kitchen, something like that.
I think everyone should have to work a service job before they die.
Bonzai: I did a lot of that work. My dad had a restaurant—I cannot cook. [Laughs] I was never doing any of that, just service stuff and trying to keep everyone happy.
I wanted to ask you about having parents that were musicians. How did they play into your decision to pursue this professionally? 
Bonzai: Whenever we get some time to travel, I'll find myself going back to music that's quite old, music that came out when I was really, really young. I wonder how I even know it and it's because both of them really enjoy music, and they both had a really good taste in music. The first concert I went to... my dad brought me to a Jamiroquai concert.
There's been a lot of news about London nightlife dying and gentrification making it more difficult for clubs to thrive. Do you think that's a fair statement?
​Bonzai: I think so. Definitely. I first came to London about three years ago, which is probably when it was already starting, but I do remember within the first week my friend brought me to Brixton Jamm. It was all black people. I come from Ireland so there were like, no black people. It was honestly the most incredible thing for me. I just hadn't seen that many black people in one room before and it just had a good energy.
Then I moved to Brixton a year later, and when we went to Brixton Jamm they had closed one of the rooms and just had this one room, and there were maybe 30 kids, all white, and they were playing house music. It was just such an incredible contrast to the year before.
That's a short amount of time for something so drastic. 
Bonzai: Even living in Brixton—I've lived in Brixton for the last two years, but we've been on quite a few tours. I'll come back, and I'll have missed... there's this one road, Coldharbour Lane, which we walked down the other night and there are five new restaurants and a hotel. It's all just fancy coffee shops. I don't think I've had a proper night out in London in almost a year, and that was in the Bussey Building. That was the last place I went that felt like it had some life. 
Now if someone comes to visit me in London, I honestly wouldn't know where to take them out. Anywhere I used to go is shit.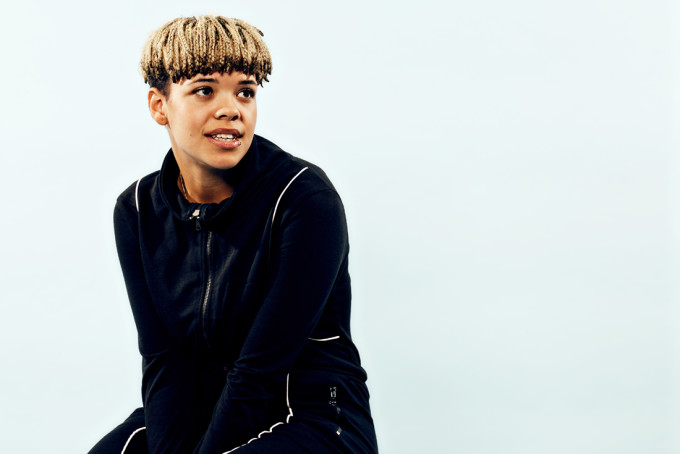 I want to talk to you about your Lunacy EP.
Bonzai: That's the EP that we essentially made on the road, when we came over here in the summer when Alex [Mura Masa] had a few festivals. I had a few good ideas that I had done with a few different people, but we ended up just doing these tracks—we were experimenting, it's always fun doing EPs because you can experiment. But I'm already excited about making new music. 
I'm probably going to do an album next, and solidify the sound I'm going for in this era. I'm getting into the studio with some people I love and who are very inspiring. There are some people I've already worked with like MSSINGNO—we've got some tracks together but they never came out. 
Was there any trepidation about signing with a label and taking this next step? 
Bonzai: It was a bit scary going with the major label, just because Alex [Mura Masa] had already been signed, and I was looking at his experience. I realize that what I do isn't very easy, it's not like I'm going to be putting out hit after hit. I'm going to do what I want to do. I didn't know how a major was going to take that, but the guy who signed me was really cool and has been a fan from the start. But after negotiations it's in the contract that I have full creative control, I just wouldn't do anything that someone else was trying to make me do, and that was the main worry. 
What about you, what's next for you, Alex?
Mura Masa: We just put out the Four Tet remix to "Lovesick," and Zomby's done a remix as well. Only OG remixes! I'd never done official remix stuff before—I'd always said there's a list of five people who could do it, and Four Tet and Zomby are two of those people. 
The Zomby remix is crazy, he basically just plugged his computer into a 303, then put it on a loop and laid the vocal over it. And then I was going to do a cool little white label... I know a lot of people were hoping for new music with the "Lovesick" thing, so I might put out an A/B side, 500 vinyls, do something cool with it. Probably new music before the end of the year. 
Bonzai: We might have a little New Year's Eve eve party in Ireland, it'll be my first live show in Ireland. We're going to have a little party.
What do you like about working with one another?
Bonzai: Honestly, we don't work that well together in a studio. 
Mura Masa: We're just best friends, so it works on a nice, honest level. We have faith in each other.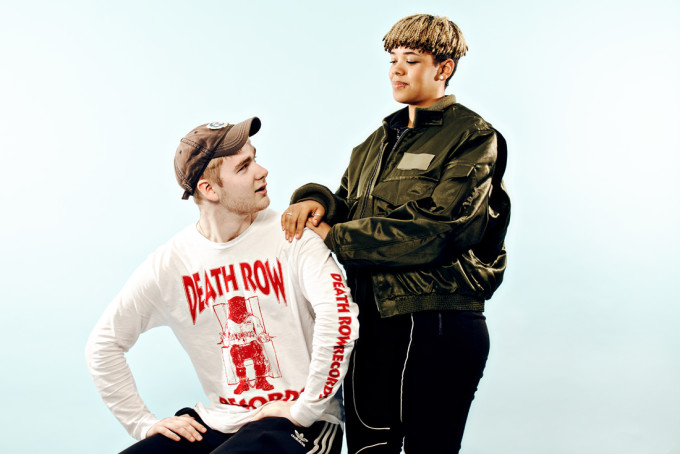 How did you two meet? 
Mura Masa: I had already made a song using your voice before we met. 
Bonzai: Our manager sent me some of Alex's beats, and I wrote verses...  and he put it one of them on Soundtrack to a Death before we met. It was the only feature, so it was quite special.  
Mura Masa: But then after that... we hung out that night and I slept on your couch. 
Bonzai: Yeah, I had just moved into my new house in Brixton so there were no beds or anything. We just had two couches, but we came back and played some guitar.     
 
Mura Masa: I bored her to sleep.
Do you think your respective musical styles are a natural fit for each other?
Bonzai: It's funny, I don't know if I would say our styles of music are the same—they're really not that close to each other at all. Alex is just very versatile, and he's able to make stuff like that that isn't like his own music. I was talking to Alex about this the other day, and he said he's trying to make music that is very interesting, particularly to him.
Especially with the internet, I listen to music and just think, "Well, that sounds exactly like everything else that I've heard." Everyone is just doing the same stuff and for the general public it might seem new, but I've just listened to a quite a bit of music and I'm just trying to do something that I like, that I find interesting. 
How did A$AP Rocky end up on "Lovesick?"
Mura Masa: I think it was just conversations happening behind the scenes. He had the record and really liked it. He just happened to be in London for  a couple of days so we booked Abbey Road, the Beatles room and studio too. We just had to make sure he showed up, and he did.
I was so desperate to actually be there and work with him, and that really doesn't happen very often anymore. Everything is remote these days. I felt like that was special.