Mitchell Williams hadn't seen his girlfriend Brooke Lawyer for two months. After forming a close relationship together in Texas, they had to part ways to South Carolina and Florida to be with family—but they arranged to finally reunite in Dallas on October 21. By chance, they had the perfect way to celebrate: their favorite rapper was coming through town the same night.
"Danny Brown was the first artist we ever bonded over and still our favorite to this day," Williams tells P&P. "We listen to him on a daily basis and will just randomly start rapping his lyrics even when we're not listening to him." He adds, "I think we bonded over him so much at first because of relatable subjects such as past drug use and the hard times that can bring, and Brooke having lived in Detroit for a while."
Neither of them had ever had a chance to sees Brown live before, and hours before the show Williams realized the stars had aligned for something else he'd been planning.
"I honestly got the idea of doing it at the show only several hours before it started," he explains. "I was already planning on proposing to Brooke while she was in Texas. I didn't know how yet, though. Only thing I had planned was having the ring." He adds, "So I was already planning on proposing to her, I hadn't seen her in 2 months, Danny Brown was playing the day she flew in. It just all felt meant to be."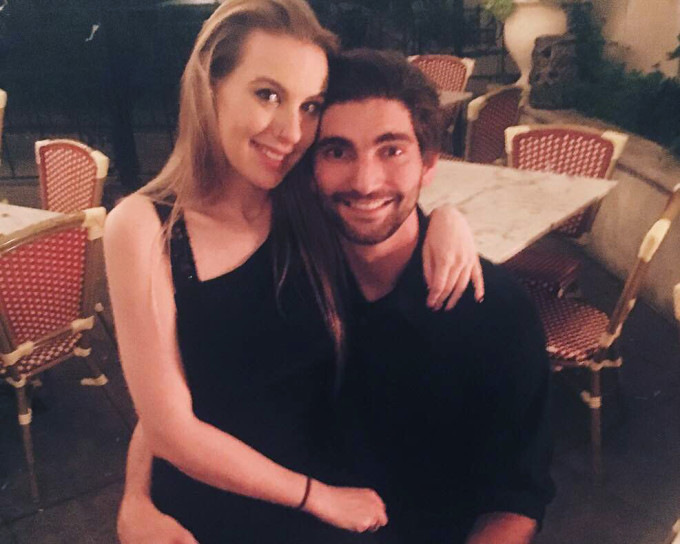 Without a set plan in mind, Williams didn't tell anyone else about his idea, but he did send a quick tweet to Danny before the show on a whim.
"I messaged Danny Brown on Twitter telling him what I was planning to do and asking if there was anyway to work that out," he says. "I honestly wasn't planning on getting a response. But sure enough I got a message back saying 'Hell yea bro' and he gave me his number and his managers number to plan everything out.​"
"Homie hit me on Twitter asking can he propose," Danny Brown tells us. "I'm not a hater, so I said yea." Eventually making it on stage mid-show with Brown's help, Williams' surprise was successful.
"I had no idea!" Lawyer says. "We'd talked about marriage before, but I never expected anything like this, you know? He told me he had to go to the bathroom so I was just standing there with our friend Andy, and the next thing I knew Danny Brown stopped the show and I saw Mitchell on the side of the stage. From that point forward I was just in a state of shock."
While Brown was his usual enthusiastic self on stage and later tweeted that the moment was one of the best things to ever happen to him, Mitchell and Brooke were too caught up in the moment to stick around and meet him after the show.
"Honestly it didn't even cross my mind to stay after the show and try to see him," Williams explains. "I think that I was just so caught up in the high and euphoria of the moment. We did have a long line of congrats though from everyone as we walked to our car. However, I did send Danny a text and tweet afterwards thanking him for that moment.​"
Returning home to a flood of positive responses from friends, family, and social media (rare for Twitter these days) Mitchell's spur-of-the-moment decision was a success—and he had one of his favorite rappers to thank to making it all happen.
"Danny Brown truly showed to be loyal and dedicated to his fans," Williams says. "He gave us the highlight of our life that night and will always have a special part of our relationship. And he should be expecting another Twitter message before the wedding!"