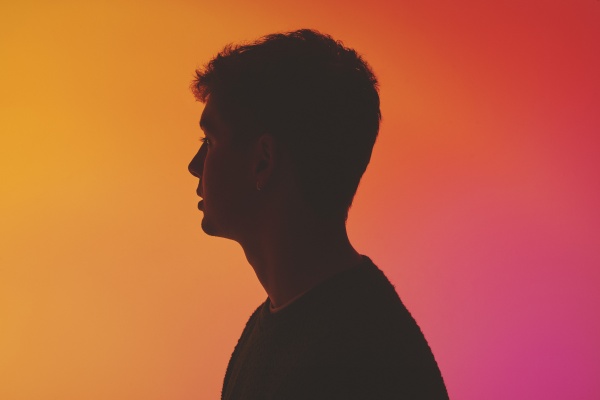 Demo Taped is one of our favorite rising artists, a vocalist and producer creating his own lane of vibrant electronic pop. His latest move is to team up with Manchester, UK producer Karma Kid for "Shapes," which also features mysterious London producer Ten Ven.
Together, they create a sparkling, summer-ready jam, and "Shapes" is just one of four excellent tracks on Karma Kid's Man of the Year EP. What's most impressive is the variety on this release, with Portland rapper Aminé featuring on the bubbly "Tundra" and Karma Kid flexing his vocal sampling skills on the title track. The EP is far from scatterhsot, however, a palpable sense of fun running through Man of the Year and tying everything together.
Listen to "Shapes" and find out how Karma Kid approaches his collaborations below. The Man of the Year EP is out this Friday, July 8, via Greco Roman. Buy here.
How did you choose the vocalists for this EP and what do you look for in vocal collaborators?
I found Aminé on Soundcloud last year along with his album Calling Brio and immediately hit him up with some beats. I couldn't believe how little heat he had on him at the time when I was listening through the music, he's ridiculous. Demo Taped was a really good find from the Greco-Roman guys, they introduced me to his music when I signed with them and I very quickly became a fan of his tunes. They both worked so well on my beats from the first demos they sent over to us, it just clicked. We went back and forth maybe only twice with them and their management which is unheard of to be honest, they killed it.
For me, vocalists have to be interesting, fresh and bringing something relevant to the track. That's the most important thing, there's no point in having a vocal for the sake of having a vocal, it has to step the track up and add 20% and that's exactly what Aminé and Demo Taped did!
You also use your own vocals for the first time on this EP – what was behind that decision? Do you feel as if its given you a lot more creative control/freedom?
This was a bit of a weird one to start off with. In a lot of ways I'm not the most outgoing person so I was very self conscious of my vocals for a while. Over time I've learned how to use them in my own way and most of the time I use my voice as a tool or instrument for achieving sounds that don't necessarily have lyrics. It's lovely having the freedom when I'm writing music to get on the mic and record myself because I feel like I can be as harsh as I like with myself and I can sing in different styles depending on what I'm doing.
To be honest though, the main reason why I started using my own vocals in the first place was because I was never satisfied with vocals I was getting back or there were complications with major labels or with the vocalists I was working with. It's basically ten million times easier to rely on yourself and no one else.
How did you link up with Greco-Roman and what have you learned from Joe Goddard?
I've been a Greco fan for a number of years as they were putting out a some of the major records that inspired my sound in the early days when I was 17 or 18. When I sent them some demos and they were interested in releasing them I was stoked. We've done loads of parties together already and I've worked with TEED, Baio, and Joe Goddard through them.
Joe has taught me a lot in the short time we've known each other. There's too much to list but he is super relaxed in the studio, so he'll just walk around the room setting up drum machines, synths and stuff for me to play with and we'll just jam for ages on the analogue gear. On top of the studio stuff the parties we've done together have all ended up being wicked fun. It's just shit when we don't have more than two hours to play with because we could carry on playing tracks for hours. We are gonna continue to work together in the future and we've got a last B2B set together this year at Bestival in the UK.
What is inspiring you creatively at the moment?
Musically the things that are inspiring me come from all different angles. I don't actually listen to a great deal of electronic music in my spare time, which is a massive influence on my sound and style when it comes to creating it. I'm a huge jazz head, particularly the more psychedelic side of it such as Yusef Lateef, Idris Muhammed, and Alice Coltrane. On top of that, Brazilian and Portuguese music has had a massive influence on my music for years. The sample on "Man of The Year" is from a really well known woman in Brazil, Bebel Gilberto.
The rhythms, grooves, and sounds have been an eye opening experience for me and I just find it so much more interesting than a straight electronic beat with no style or swing. Other than that, when it comes to writing music I do think it's important to have relevant things to write about so I'm always looking to be inspired and interested by the surroundings or situations I'm in when I'm travelling or spending time with family and friends. I keep a little diary of words, feelings, and small poems on my phone for when I sit down to write lyrics.
What are your plans for the rest of 2016?
I'm heading off on my first solo U.S. tour at the end of July for a couple of weeks which I'm really excited for. I had a blast playing all around the States when I was last there with Bondax so it should be a treat. I've got an EP to come out very soon with my other project, Shy Luv, I'm playing Bestival with the Greco crew and I'll be working on my next EP for them as well. A lot to look forward to!
---
Karma Kid U.S. Tour Dates:
July 28th – US – San Francisco, 1015 Folsom
July 29th – US – Bernalillo, The Stage At The Star
July 30th – US – San Diego, Bang Bang
August 3rd – US – Denver, Vinyl
August 4th – CAN – Toronto, The Hoxton
August 5th – US – New York, Webster Hall
August 6th – CAN – Montreal, Ilesoniq Festival
August 10th – US – Seattle, Q Nightclub
August 11th – US – Chicago, East Room