Not too long ago, clipping. shared a surprise EP with Wriggle. Now, as promised, the experimental rap trio are back with their upcoming third album, Splendor & Misery. The forthcoming record will be the follow-up to 2014's CLPPNG, which was the trio's debut on Sub Pop. Splendor & Misery will release September 9 via Sub Pop/Deathbomb Arc.
Following his success as a cast member in the hugely popular Hamilton, Daveed Diggs has returned to his work with clipping. more impassioned than ever. With the release of the first single, "Baby Don't Sleep," the trio have proved they haven't lost any of their edge since CLPPNG. Sharing the video for the obtuse new track ahead of the album's September release, the Cristopher Cichocki-directed video is classic clipping. visuals with layers of static and intense flashing imagery. It might not be easy to watch, but it sure is hypnotic.
Watch the video for "Baby Don't Sleep" above, and check out the cover art and tracklist for Splendor & Misery below.
---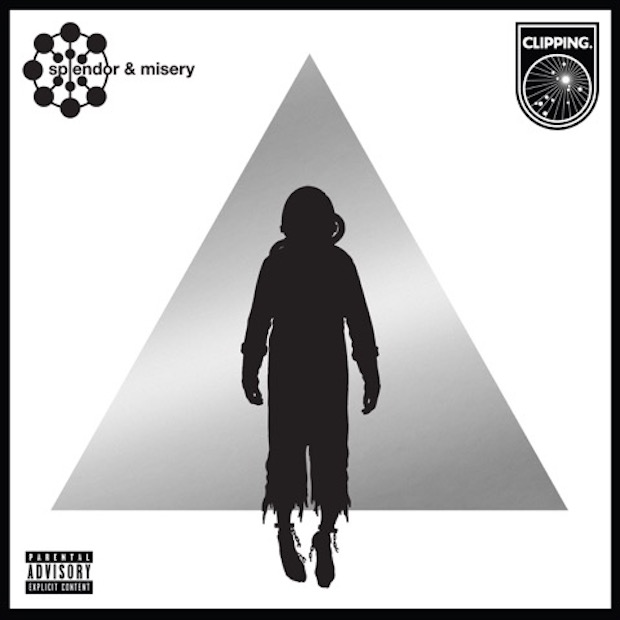 ---
Splendor & Misery Tracklist:
01. Long Way Away (Intro)
02. The Breach
03. All Black
04. Interlude 01 (Freestyle)
05. Wake Up
06. Long Way Away
07. Interlude 02 (Numbers)
08. True Believer
09. Long Way Away (Instrumental)
10. Air 'Em Out
11. Interlude 03 (Freestyle)
12. Break The Glass
13. Story 5
14. Baby Don't Sleep
15. A Better Place