Glassface has been on quite the hot streak with his video direction lately. Last month, he provided the addicting visuals for Lil Yachty's incredibly infectious single "1 Night"—which helped turned people with mixed emotions on Yachty into real fans seemingly overnight.
This month, he teams back up with Tunji Ige to create vibrant visuals for "War." The single, taken from his latest project Missed Calls, is a slow-building track with rather tranquil production from Noah Breakfast. The mesmerizing visuals match the relaxed mood of "War."
Glassface explains that the concept for "War" came about after while creating the cover for Tunji's latest project. "The video is meant to be a piece of moving surrealist art," he tells us. "And kind of an extension of what we started with the Missed Calls cover."
Watch the video above.
---
Tunji Ige is heading out on his Bring Yo Friends tour with Michael Christmas and Tobi Lou this month. We will be presenting Tunji's show in New York City at The Studio at Webster Hall on June 23, and holding an exclusive giveaway. The lucky winner will be given three tickets so they can bring their friends.
Follow @PigsAndPlans on Twitter for more details on how to enter.
Buy tickets for the show here.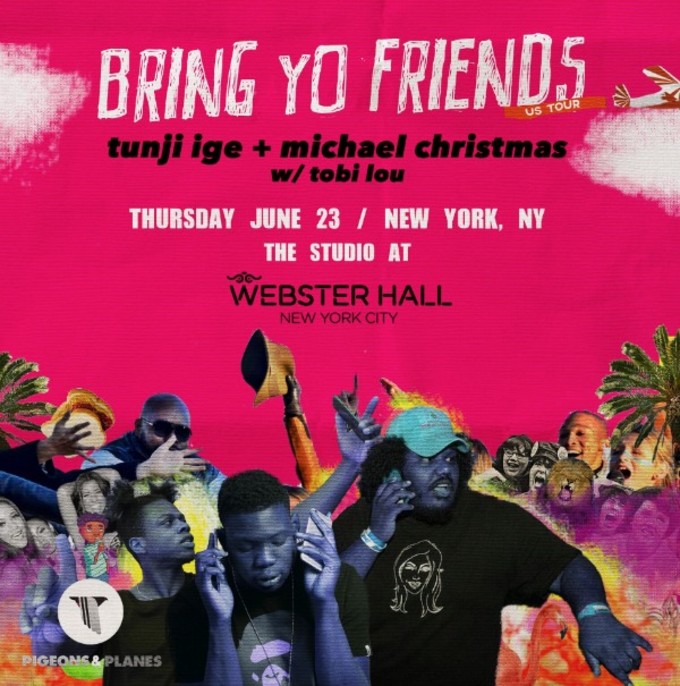 ---
View the full list of tour dates below.