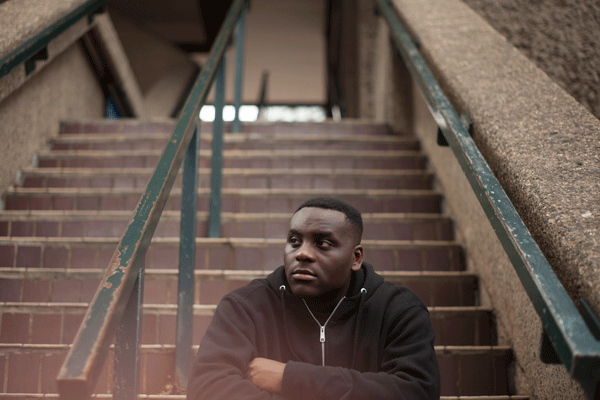 London producer Darkness released a heavy grime instrumental called "Eski Thug" last year, and, naturally, MCs jumped on it on radio and in raves. Now, that energy has been put down on record, with eleven (!) different MCs each spitting eight bars on the beat.
"I wanted to be able to get more than one MC on it because I felt that there's too many sick MCs that I want to work with at the moment," Darkness explains. "Being able to at least have an 8 bar from each of them is cold."
This collection of rising MCs shows how exciting the grime scene is across the board, with AJ Tracey, YGG (PK, Saint P, and Lyrical Strally), Big Zuu, Kwam, Darkos, Nico Lindsay, Elf Kid, Hilts, and Ghostly all going in. "Arrogant Stance" is out May 20 via Triangulum.
Check out the hard track here, and read more about how Darkness chose who to feature below.
---
Darkness says:
The MCs I decided to approach for "Arrogant Stance" were based off of who I want to work with in the future.
I shouted AJ Tracey because I think his a very cold MC. He had asked me for the instrumental long before it came out but at the time I was holding back from any vocals of it. When I was thinking of doing the official vocal version, he was one of the first people I asked if they wanted to be on line up.
I had to get all of YGG (PK, Saint P, Lyrical Strally) on the tune because as a unit and individually they have a lot of chemistry, flair, and character in the way they bar too.
Elf Kid has an energy on tracks that I like, and he brought that energy to this tune.
Big Zuu is a sick MC with a lot of presence and power. You can't miss him on a tune or question if it's him or not, you know it's Zuu when you hear him.
When writing up the list and planning the tune originally, there was no plan to have a chorus. After some thought, I realized the smart option was to have a chorus, in a song writing sense it made sense to tie the whole song together. I wasn't trying to make a forgettable 8 bar tune!
Kwam was originally on the verse but I moved his vocals to the chorus cause it made sense and the lyrics tied the song together.
Darkos has flair and a sick flow. I had to get him on the track.
Nico Lindsay is one of the MCs I wanted on the tune cause he's cold lyrically. His 8 bar on the tune is proof of that. He came super lyrical when it came to laying down his 8 bars his verse.
I had heard Hilts on guest features and a couple of radio sets. I saw his SBTV Warm Up Session and I liked what I heard.
Ghostly is cold. I had a spare 8 bar left and wasn't sure who the final person on the tune would be. I had heard a lot of his music and he was doing work with Cable so he wasn't too far away. I asked him if he wanted to be involved and he was up for it.