5 On It is a feature that looks at five of the best under-the-radar rap findings from the past two weeks, highlighting new or recently discovered artists, or interesting obscurities.
---
Kaleb Mitchell ft. Sam Stan – "SOS"
Now that Kanye West and Chance the Rapper have opened the doors for gospel and classic soul to enter the vernacular of popular hip-hop (and, not coincidentally, as America moves through tumultuous time), it'll be interesting to see how both the sonic and spiritual components trickle down into the music of rappers reading and reacting in real time.
For Kanye and Chance, Christianity, more specifically gospel music as an outward expression of Christianity, seems like an anchor—a frame for faith as much as fuel for surviving each day. Each has pulled from gospel's hopeful core in their own work—the notion that a bright future always lies around the bend, even in the darkest moments. In that way, it's about catharsis and perseverance more than it is about adherence to a book or God. It's the spirit, not the word (as evidenced by the cosmic Christianity and kaleidoscopic contradictions of Kanye's The Life Of Pablo, which is the musical equivalent of a church outfit cobbled together from last night's club clothes).
New Jersey rapper Kaleb Mitchell's "SOS" seems cut from the cloth of Kanye and Chance's current mission. "SOS" combines equal parts self-reflection, self-aggrandizement, and a call for security and guidance from something much larger than any one man. It's personalized gospel, never preaching, rather searching for purpose and using spiritual music as a root for exorcism and daily salvation.
---
Fat Ron – "Plotting On This Money"
Last month, the venerable DJ Quik and entertaining, underutilized L.A. emcee Problem teamed up for Rosecrans, a stellar EP named after "a long ass avenue that goes from the beach to the streets," as Quik puts it on the project's eponymous opener. Through Quik's typically exquisite production, Rosecrans achieves a lightness that one might forget as characteristic of G Funk. This is music for a city simmering in perpetual summer, a place where the darkest days are tempered by sunshine. It's a side of G Funk lost in the clang of the N.W.A. revival, but readily apparent in the subgenres greatest moments (Dr. Dre and Snoop Dogg's "Nuthin' But A G Thang" chief among them).
Inglewood by way of Houston rapper Fat Ron and L.A. producer GDNA (who also records and produces as Gudina) understand this airiness fundamental to music made for sitting in sun-drenched traffic and letting slip all your cares after a long day. There's a humor and lightness to Ron's rapping that recalls E-40 (particularly on lines like "My money is vertical and diagonal/That's why your girl wanna give up the vaginal"), mixing a little Northern Californian style with Gudina's funky production. Music for summer breezes.
---
Denzel Woods – "A.D.H.D. Too"
While five years doesn't seem like a long enough lifespan for a piece of art to be considered a classic, it's worth arguing (and with good reason) that Kendrick Lamar's catalog is loaded with modern classics, songs and albums alike that have influenced up-and-coming rappers hoping to make music that's intelligent, impactful, and adventurous. "A.D.H.D." feels chief among the flagship moments in his early catalog, a song about partying that wraps a reflection on the listlessness of a generation in a seeming ode to getting blacked out (a formula Kendrick would perfect to great popular effect on "Swimming Pools (Drink)."
New York rapper Denzel Woods shows Kendrick's influence in action, "A.D.H.D. Too" paying direct homage to its inspiration while taking a slightly more mournful approach—as if all the drugs and drinks that clouded Kendrick's partygoers have since produced a generation of subdued, forlorn zombies, removing any of the fun that might accompany eight doobies to the face or twelve bottles in the case. Woods sounds at times like a younger Devin The Dude, his unhurried, mellow rapping colored by a slight lisp and rasp that give it all the character of unspoken life experience.
---
Kenny Mason & DvDx – "Super"
The Atlanta petri dish never fails to fascinate. Its hip-hop scene (and the music scenes that exist on the periphery of the hip-hop scene) bubbles with mutations, imitations, and opposite reactions—a perfect setting for young creators who want to ride an existing wave or create something novel.
Atlanta's Kenny Mason and DvDx (pronounced David X) want to take the sounds people are familiar with from their city and put an aspirational twist on them.
"We met 2 years ago and became great friends. We just recently decided to collaborate on a project called The Super Tape," says Mason via email. "We named the tape Super because not only is it fitting for how it sounds, but also to launch a new ideology of going above and beyond. Atlanta is my birth city so I have a lot of pride in it and its legacy. I not only plan to be apart of it, but also to take this city and its legacy to new heights. Taking what's amazing and making it Super amazing."
While their music doesn't feel unprecedented, the duo's skilled rapping and youthful energy carry songs like standout "Super."
"We're pretty much just trying to create a new lane of Atlanta music aside from just trap," continues Kenny. "Something different but still something you can ride to."
In that spirit, "Super" doesn't reinvent the wheel; it does lure in the unsuspecting listener, familiar production paving the way for surprisingly sharp, clever rapping. It's a fun window into a tape from a twosome brimming with talent, still figuring out precisely what to do with it.
---
Plato III – Life Before Death
In an email containing a link to his album, L.A.-based, Texas-bred rapper Plato III told me "Contemplating what it means to simply exist on this planet is how [Life Before Death] all started.
"I wrote to try and find some answers," he continued. "I soon found there were none, and the aim of the project evolved from finding the meaning of life to finding meaning in my life."
He sent an accompanying note that paired similar sentiments with a body of work so personal that it's difficult to approach it with typical critical language (perhaps my own failing as a critic, perhaps the way music of this nature should be approached):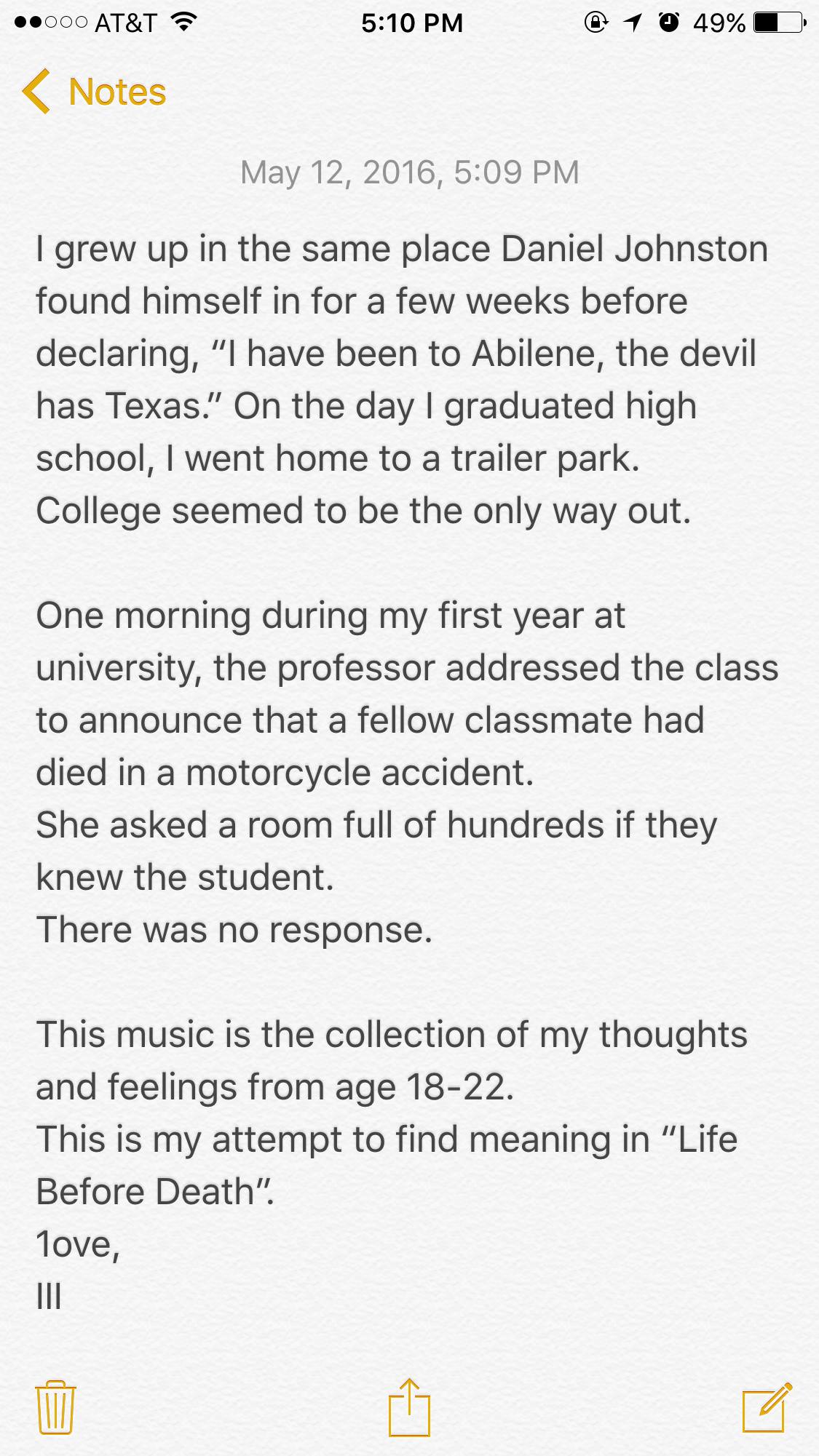 Listen to Life Before Death below and buy the special USB edition here if you like what you hear.