ComplexCon returns to Long Beach Nov. 6 - 7 with hosts J. Balvin and Kristen Noel Crawley, performances by A$AP Rocky and Turnstile, and more shopping and drops.
Secure your spot while tickets last!
Last night, 20-year-old singer Jean Deaux took to tumblr to share her account of being raped by Ian Connor, popular stylist who has worked with artists like Wiz Khalifa, Kanye West, and A$AP Rocky. Deaux starts the letter by saying: "Being a victim is not on my list of publicity stunts to catapult me into fame. Every accomplishment Ive made thus far is my own, and so will every one in the future. If I wanted to fuck a celebrity to get on, I've met much more influential niggas than this piece of shit. Believe that."
She goes on to give details of the allegations, which revolve around her experience with Connor in a New York hotel: "I was so confused I had no clue what to do. He tried kissing me but I told him I had no interest in him. He smelled and I didn't find him attractive. He then allowed me to go to sleep. As soon as i fell asleep i woke up and Ian was going down on me. I was on my back and so I quickly crossed my legs and tried to pull up my shorts. I feel at this point I was in shock, my head was spinning."
She continues: "I turned on my stomach and asked him to stop. He inserted his bare penis in me and pulled my hair. Tears fell down my face as i tried to figure out what to say or do. My tongue weighed 1,000 pounds. He stopped when he heard me crying and asked what was wrong. I said 'i told you i didnt want to do this, i said no.' He asked why, if i had stds, or if i was on birth control. I even told him I was tripping on acid (I've never done acid) and I needed to go home, thinking this might stop him. But it didn't, instead he saw it as the perfect opportunity to rape me, two more times. And he ejaculated inside of me."
Deaux finished the letter with this: "I wrote this for Malika, who's case could have been stronger if I was as brave as she was and come forward. &For all of his potential victims, his past victims, and for myself. I wrote this because sleep cannot find me in this state of mind. I wrote this because I am the oldest of 4 black young women and no amount of words can stop sexual violence from finding them."
The post comes after another woman, Malika Anderson, accused Connor of raping her. In her letter, Malika says that she was raped by Ian Connor in 2014 and pressed charges: "I pursued charges against Ian Connor for raping me. Yes, that's right folks, Ian Connor–the fashion nigga people love to stan for–is a rapist. My detective never said I couldn't talk about my case, but I decided not to because I wanted to get everything taken care of before I spoke about it publicly."
Read Malika's full letter here.
---
This is how Ian Connor has responded, so far: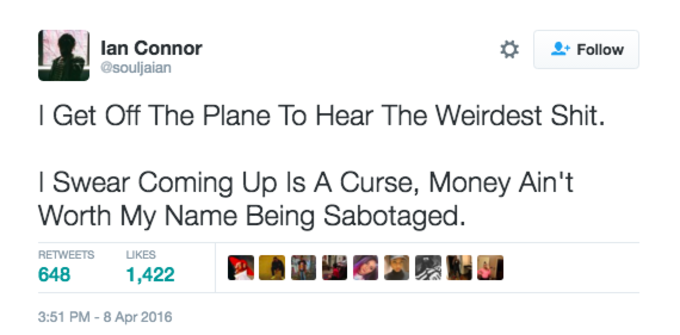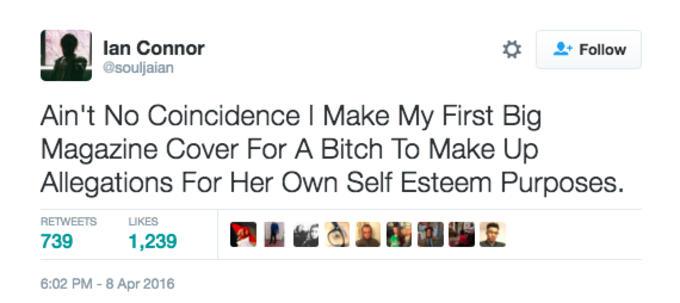 ---