ComplexCon returns to Long Beach Nov. 6 - 7 with hosts J. Balvin and Kristen Noel Crawley, performances by A$AP Rocky and Turnstile, and more shopping and drops.
Secure your spot while tickets last!
By Michael Raya
stan [st-an]:
noun
in music, an enthusiastic fan and admirer of a musician, often one who engages in a complete intake of the musician's life and work. From the song "Stan" by Eminem, where an imbalanced stalker writes to Eminem.
---
In 2016, stanning for an artist is a badge of credibility among the hardcore music community. What began with Beliebers has spread throughout the industry: Huge stars like Beyoncé, Future, and Kanye—along with still-rising artists like Mac Miller and Tinashe—don't just have fans, they have stans. Stanning has spread to nearly every music genre, from all those tweens that try to get the first response on the latest Ariana Grande tweet to Lil B's Task Force.
It's good-natured fun to keep up with and defend your favorite artist at all costs—that is, unless you have the misfortune of becoming a Frank Ocean stan.
How do you follow a ghost, a faded chalk outline of an artist? What keeps you going when all evidence points to Frank Ocean barely existing? The truth is, there have been times where I've come close to giving up. But I can't.
Exactly one year ago yesterday, Frank Ocean announced his third album. It was rumored to be titled Boys Don't Cry. Frank promised a July release date that came and went in silence.
Since then, he's been popping up occasionally—rarely voluntarily—but has yet to release any music. This is one stan's personal collection of information gathered by following a real life disappearing act: Frank Ocean.
---
April 5, 2015
frankocean.com updates to an actual website. The only usable function is a Frank Ocean mailing list you can join with a riddle ("What gets whiter the dirtier it gets?," now updated with, "What's moving faster, the tea or the cup?"). Like everything else that follows, we'll never know these answer to these questions. But we knew something was coming. The excitement started here.
---
April 6, 2015
The big reveal comes out: Frank has a new record on the way. Better than that, he's got "twoooo versions." We don't know if it's an album or a magazine, but Boys Don't Cry is slated to appear, using the hashtag #JULY2015. It's been three years since Channel Orange at this point, and nearly three months since Frank's last official release: "You Are Luhh," his dreamy lo-fi Aaliyah cover.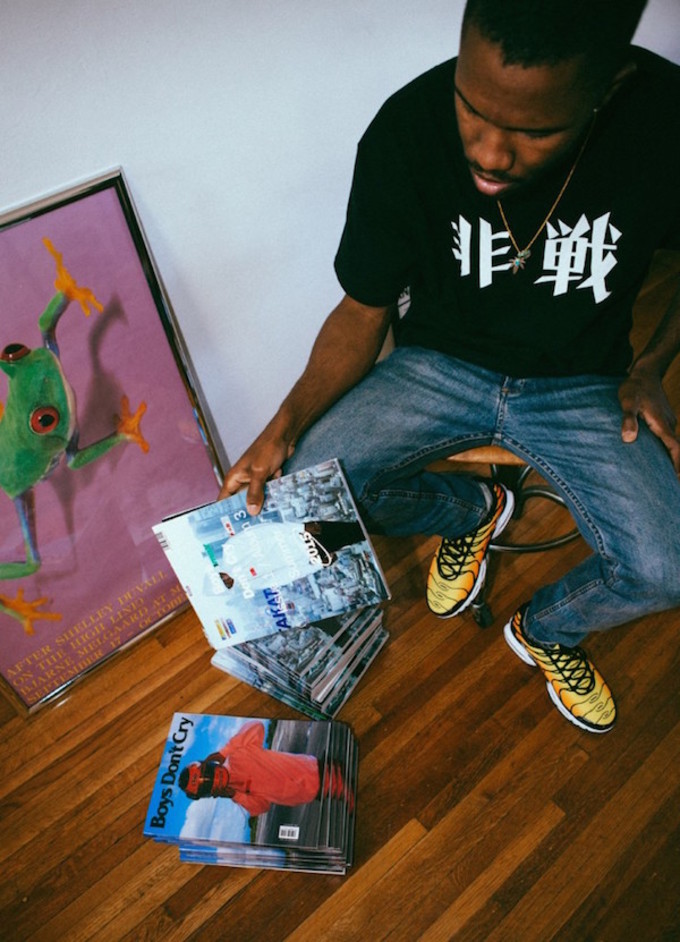 ---
April 8, 2015
Frank Ocean joins James Blake on tour throughout the UK. It's originally understood to be a James Blake tour with Frank Ocean guest starring, but that would be too good to be true. In the first of many unexplained disappointments, it's soon revealed that the two are only "throwing club nights together." Frank Ocean is spotted off-stage at these nights, sometimes with a camera, possibly working on material for his magazine.
---
April 17, 2015
Frank stunts in the ocean with the Apple Watch.
---
April 19, 2015
Frank asks a hilarious, yet poignant physics question. Personally, I think that person will get smashed by everything as the Earth spins forward without them, and they get left behind to float in the cold emptiness. This is the last time Frank will publicly acknowledge his album, 13 days after announcing it.
---
April 23, 2015
Christopher Breaux legally changes his name to… Frank Ocean. He had attempted to do this for a while, but some driving tickets (going 31 MPH over; whip appeal indeed) slowed him up. Frank follows in the footsteps of David Bowie and Miley Cyrus.
---
May 4, 2015
Frank Ocean makes a Snapchat: "arealglitterboy." He never opened up any of my Snapchats. In fact, he only ever posted one story, a month later in June, before apparently getting bored and letting it languish.
In his only Snapchat, Frank dons a jacket of Marquee Moon, a 1977 album by the New York band Television. Like everything else Frank does, we'll never know why.
---
May 5, 2015
Lil B is spotted hanging out with Frank, and the entire occasion was photographed by Nabil. Lil B would go on to confirm that the interview was for Frank's magazine. Previously, Tyler, The Creator had mentioned that he thought the magazine might be related to Frank's love of cars.
---
May 23, 2015
Chassol, a French composer (far right) is interviewed on BBC 6 Radio.
He reveals juicy—and some of the only—details on the album. Frank was listening to contemporary R&B and rap. Frank had been working with Rick Rubin. He identifies the album parts with various natural elements (wind, earth, fire). And he was working with Chassol on an auto-tune harmonizing technique.
---
May 26, 2015
Frank uploads a mysterious playlist to Soundcloud titled "states". There are no songs on the playlist.
---
June 26, 2015
The Supreme Court rules in favor of gay marriage with a 5-4 decision in Obergefell v. Hodges. Frank goes on Tumblr to celebrate the victory.
---
July 2015
I waited every night, expecting the surprise drop to happen any moment. Frank's brother and mother met repeated questioning with either "soon" or "I don't know." In retrospect, it should have been a bit alarming that Frank had his own family in the dark this late in the game. But his fans waited every night, with extra attention paid on Friday album release days and 11 P.M. EST iTunes updates. Nothing.
---
July 31, 2015
Frank Ocean's younger brother Ryan posts the album link on his Instagram bio! The wait is over.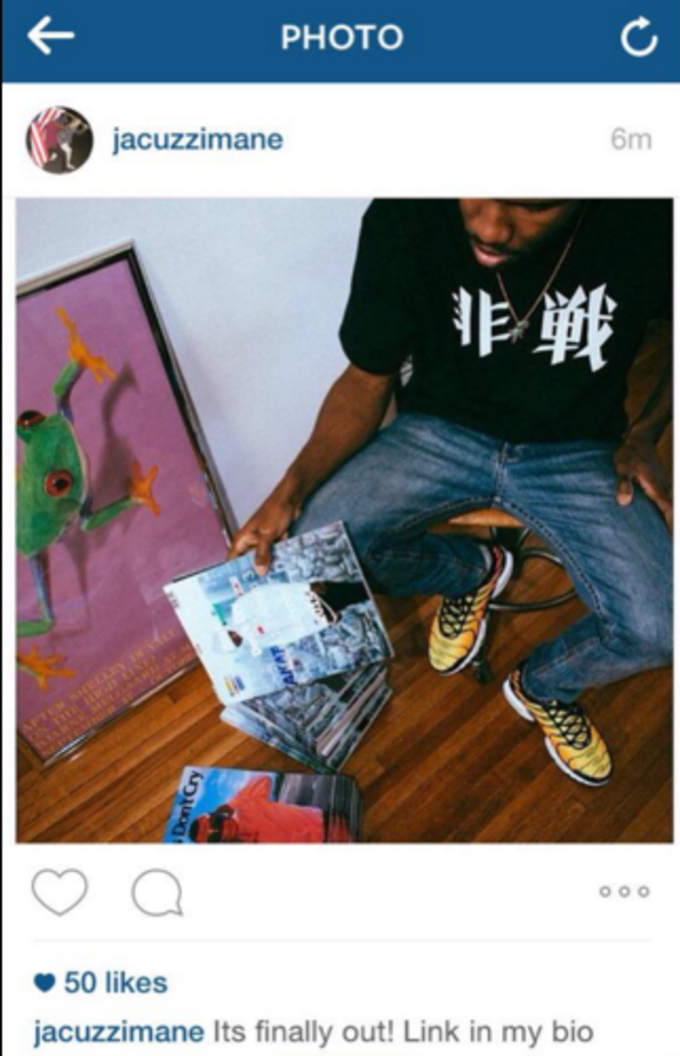 A quick redirect to collect your album…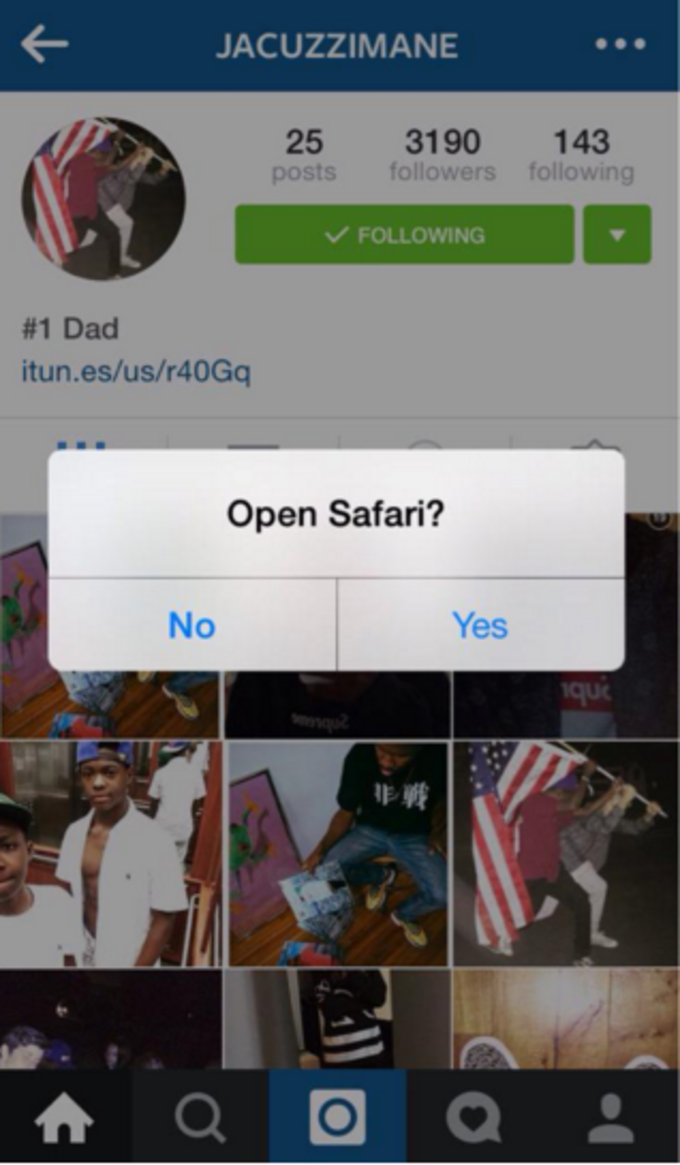 And it turns out to be a link to Rick Astley's "Never Gonna Give You Up." Sick of the fan mobbing him for album info, Ryan has some fun with it and trolls music fans everywhere.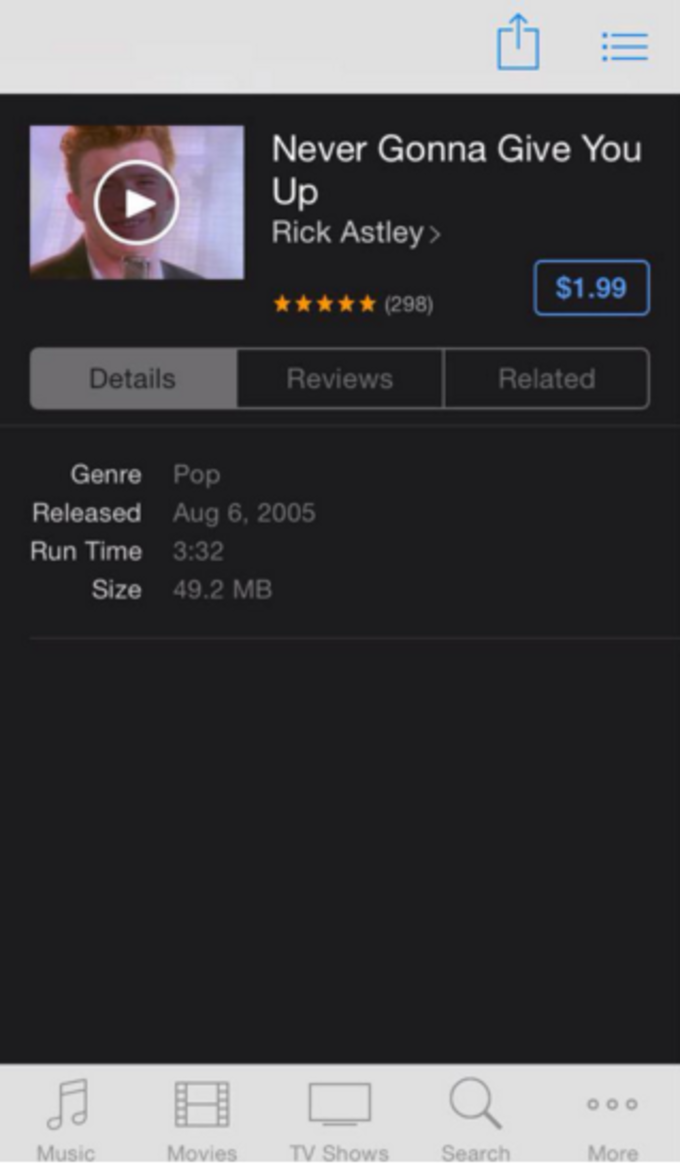 ---
August 3, 2015
Some movement appears on Frank Ocean's website, suggesting that the album is coming, albeit a tad late. A test video appears, suggesting a previously shot "Nikes" music video would appear there eventually. A hidden merch shop appears with a hoodie, t-shirt, and a Japanese designer shoe collab. After fans fiddle with the shop and site's coding, the items and video disappear, suggesting that it was only public due to a web developer's error.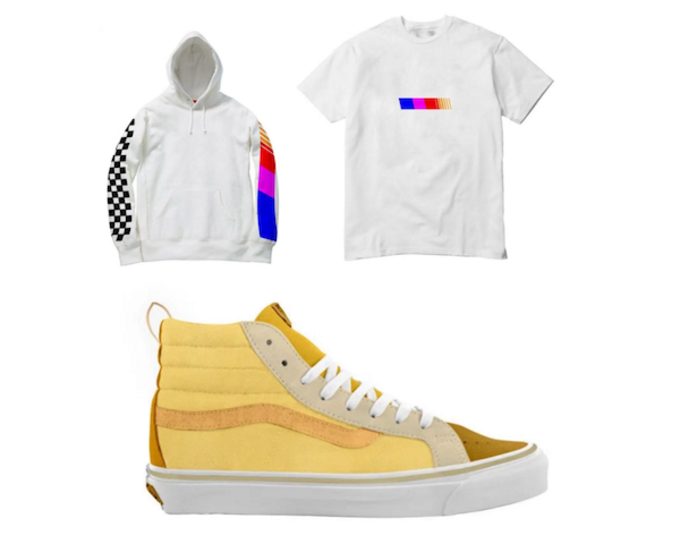 ---
August 22, 2015
Frank drops out of his headlining spot at FYF Festival in Los Angeles, only two days before he was supposed to hit the stage. No explanation is ever given, but Kanye West is enlisted as his replacement.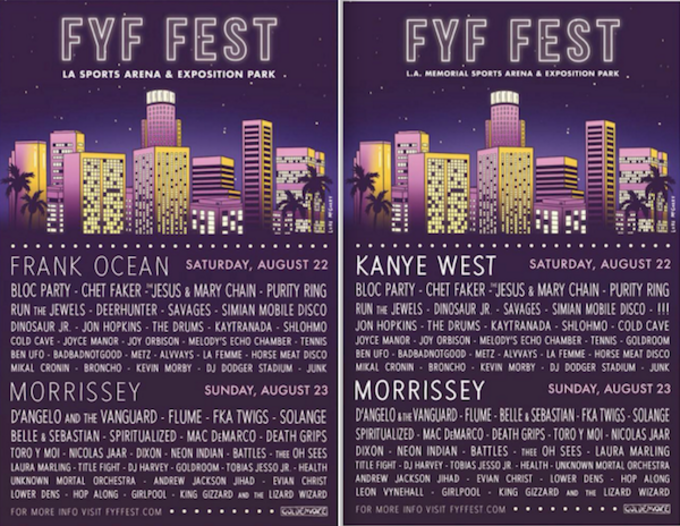 ---
September 4, 2015
Rumblings around the internet continue to praise Frank's work, even if he doesn't himself. A mermaid is going to be in one of Frank's music videos, "Nikes" is a confirmed video, and Tyler freaks out over the greatest Frank Ocean song yet.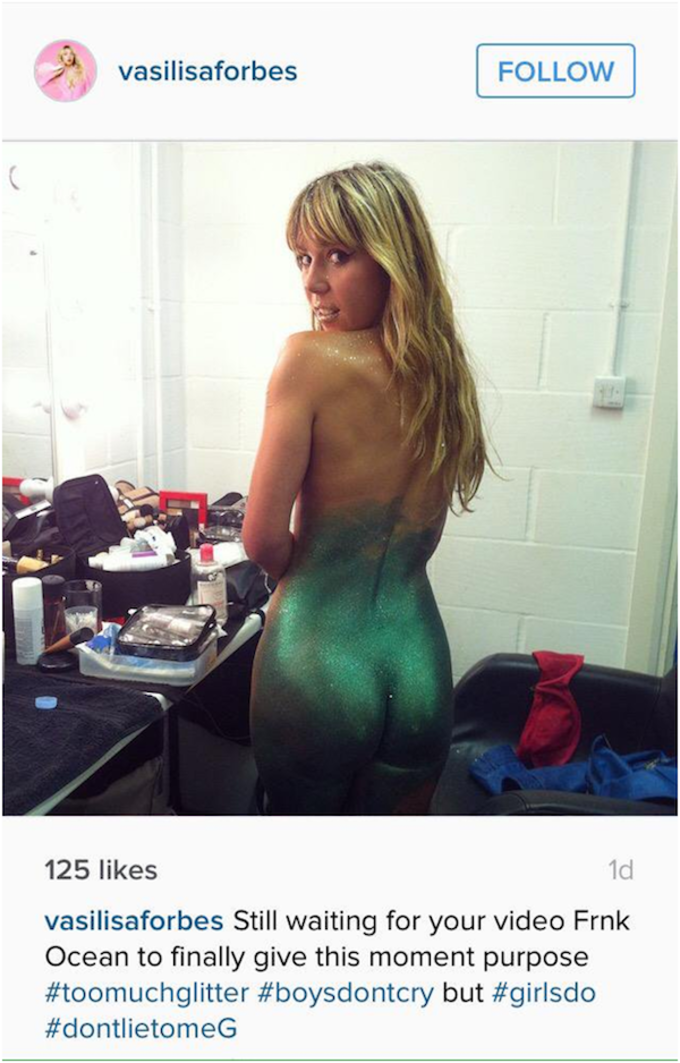 ---
September 11, 2015
Ian Connor confirms that Playboi Carti recorded with Frank Ocean in New York. Their work together has yet to appear anywhere. Frank will fly between London and New York several times over the new few months, likely working between the two.
---
October 28, 2015
Frank Ocean turns 28 on the 28th of October: his golden birthday. Our present is an update from his London barber, Rodney. "Gz ain't supposed to cry droppin very soon."
---
October 30, 2015
Alycia Bellamy—Frank Ocean's ex-girlfriend-posts a Snapchat story in a studio. In the background you can hear a studio quality recording of Frank Ocean covering John Lennon's "Jealous Guy." The recording never appears anywhere but there.
---
November 13, 2015
Paris is attacked by religious extremists, resulting in 130 civilian deaths. The world mourns. An old Donald Trump tweet about the January Paris attacks shows up on Frank's feed, and he mistakes it for the recent attacks. But the point still stands, and Frank scorches Donald with his last Tumblr post. He ends it with a positive note, reminding the world to "chill with the angles" when it comes to tragedies like this. This is Frank's final public message.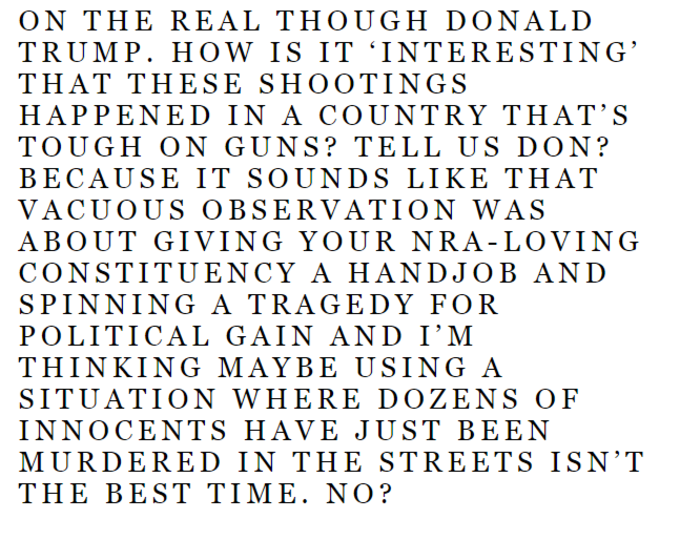 ---
November 23, 2015
DJ A-Trak tweets out about an upcoming track "White Ferrari," a title that has been linked to Frank before. Alycia Bellamy and Rostam Batmanglij of Vampire Weekend support the notion that it's a Frank Ocean track. A-Trak later deletes his tweet, and the track never surfaces.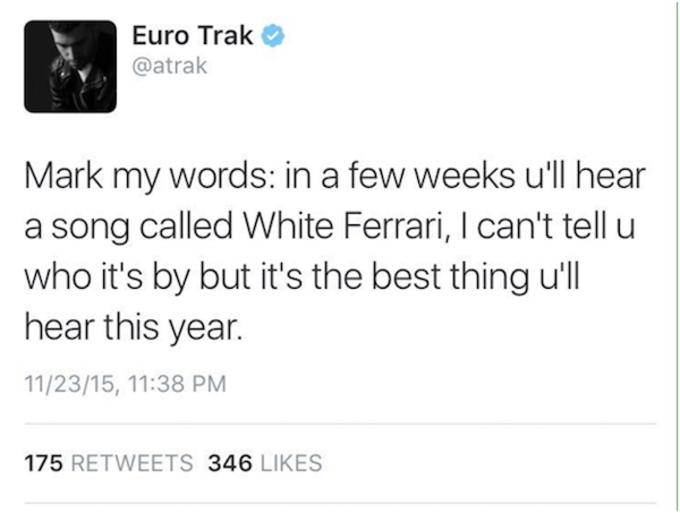 ---
December 22, 2015
Frank Ocean's "Drive In" is listed under a producer's resume. The track/video never surfaces.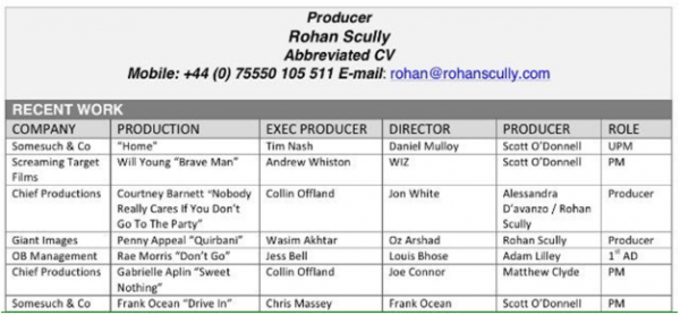 ---
January 6, 2016
A new year begins with newly-lowered expectations for a Frank Ocean record. As a stan, I had no choice but to keep going. Atlanta rapper Rich The Kid posts a Facetime screenshot with a rugged, unshaven Frank. Rich will later confirm that the two worked together in the studio, but couldn't say where their work would end up. Rich later deletes the screenshot, saying that his management informed him that Frank's team is trying to keep him off the internet.
---
January 31, 2016
Hodgy Beats' Snapchat is hacked by a fan, and a short clip featuring unheard Frank music is leaked. Hodgy raises his cup over the dreamy Frank cut.
---
February 8, 2016
Fellow Def Jam artist Alessia Cara says in an interview that she tried to listen to the new Frank record, but Def Jam didn't have any of it. She says that Frank hasn't shared anything with Def Jam, and is waiting on a completed project to turn in.
---
February 11, 2016
Frank Ocean makes his most public appearance in nearly a year, appearing at Kanye West's album/Yeezy Season 3 premiere at Madison Square Garden. Frank Ocean also appears on the album, with a verse at the end of "Wolves." It's later edited into the powerful "Frank's Track." The verse is a haunting lo-fi appearance, as if Frank briefly stepped out of his cave to bless The Life of Pablo before retreating back into the darkness.
---
February 21, 2016
Frank and The Based God are seen hanging out yet again. More magazine work? In the studio? Just hanging out? The world may never know.
---
February 28-29, 2016
Frank Ocean holds a private listening session of new music that is recorded and leaked the next day on Soundcloud and Instagram. A three-minute track involving a mix of Beach Boy-esque harmonies and rapping can be heard. All traces of the snippets are quickly hit with copyright notices and disappear from the internet.
---
March 29, 2016
The producer behind half the tracks on Channel Orange, Malay, gives an update on Frank Ocean during an interview with Pitchfork. "A lot of the stuff on this new album was done with a handheld mic sitting in the control room," he says. "Frank's exploring different vibes completely on this album. I wouldn't say it's vocally looser but just his mentality; it doesn't seem as meticulous at certain times."
He ends the interview with a look into the release date: "I always tell people: When he's ready, the world is gonna get it. It could be tomorrow… well not tomorrow but maybe a month [Laughs]."
---
April 6, 2016
A year has passed since Frank Ocean's album announcement, but it seems as far away as ever. The skeleton of an album exists in these teases and hints, but only Frank can ever give the okay for a release. We're all looking forward to whatever this genius crafts up next, but it's also important to remember our role as fans. Frank doesn't owe us anything, and he may actually never drop music again. It's clear that Frank enjoys his privacy, and his privacy should be respected.
But when it does drop, you can bet that this boy will cry.
Related: Let Frank Ocean Decide When His Album is Done