5 On It is a feature that looks at five of the best under-the-radar rap findings from the past two weeks, highlighting new or recently discovered artists, or interesting obscurities.
---
Tierra Whack – "Toe Jam"
Philadelphia's Tierra Whack raps her ass off. There's little else you need to know before diving into "Toe Jam," a scathing exercise in prodigious, varied rapping that exudes attitude like so many songs that outwardly espouse swagger and excellence their performers might not truly possess. "Toe Jam" is the kid one the blacktop who can dribble circles around everyone, turning a game of basketball into an attempt to one-up herself on every play—it's a challenge to be the best that comes from within, rather than from without.
On "Toe Jam," Whack exhibits the sort of skill that piques interest with its possible applications across wide assortment of ideas. For now, it's more than enough to hear her rap her ass off.
---
Rakim Sirrah – "Be The Change"
A few weeks back, I tweeted something predictably stupid (predictable for anyone making the mistake of following me on Twitter) and got a response that isn't all together uncommon for me and many of P&P's other writers: A link to a song.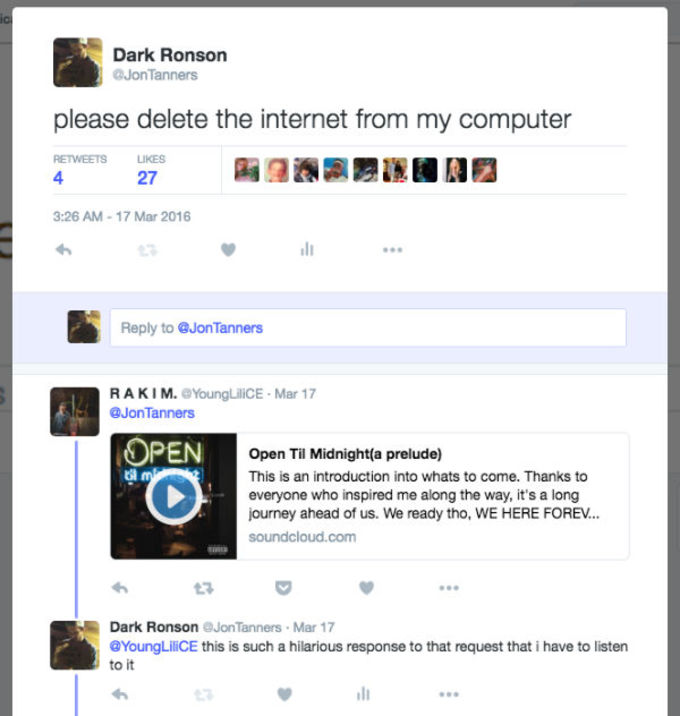 Up late, already listening to music, I decided to give Rakim Sirrah a shot.
To my pleasant surprise, his occasionally messy but ultimately charming project Open Til Midnight contained woozy song "Be The Change," a floating call to do better that examines inner conflicts as much as outer ills. Rooted in autobiography and anchored by Sirrah's rapping—measured, but never mechanical—"Be The Change" is everything that can go write with "conscious" rap. It's personal and small, never losing itself in dogma or delusions of grandeur. As its name suggests, it's a song about realistic transformations that lead to bigger shifts.
---
ANoyd – "It's Different Now"
Rap is one of the few musical genres that lends itself readily to sport in craft (you can throw virtuoso musicians of all stripes into this conversation, but there aren't too many public piano battles or guitarist beefs these days). Rappers like Connecticut's ANoyd seem forged from the crucible of competition, whether direct or by proximity.
"A big part of my style also comes from battle rap," says ANoyd. "The reason I punch so heavy and put so much thought into making a clever line as far as word play and metaphor is highly influenced from battle rap."
On "It's Different Now," he raps with both heart and impressive calculation, at times mirroring J Cole at his most technically prodigious, at times rapping with the passion of a Meek Mill and the technique of a Nas (whose voice kicks off the song in the form of a sample). "It's Different Now" puts ANoyd's considerable control of rhythm and cadence in service of impassioned expression.
"I want people to feel my pain," ANoyd continues. "I want people to know my story and know that anything is possible with hard work and prayer. When people hear my music I want them too hear the hard work I put into every song, cause I treat every one like a new born baby. When you listen to ANoyd I want you too hear and see my perspective of life, cause there's a million rappers rhyming on beats. This is just my way of doing it. My story."
---
Que Heffe ft. Raylond Hamm – "L.A. Nights"
Since roughly 2010, Atlanta has not only set hip-hop's commercial tone, it's also felt like a petri dish for stylistic innovation, the incubator for stylistic mutations that creep into the sounds of other cities and scenes. Tracing the strains from patient zero would be a herculean undertaking requiring more than the scope of a lone 5 On It,. Artists like Que Heffe provide a window into Atlanta at its best: Hook driven, melodic, and steeped in nihilistic pathos.
A title like "L.A. Nights" might conjure visions of lavish parties and gorgeous celebrities. Its visual accompaniment was shot in Los Angeles' Hidden Hills, the exclusive community near Malibu that the ultra rich and famous call home (and that occasionally plays host to some of Drake's more ignominious exploits), so it would be easy to assume that it's yet another aspirational vision of loose women, copious drugs, and overflowing wealth. Instead, "L.A. Nights" (which uses Atlanta resident Raylond Hamm's tortured vocals to excellent effect) presents a vision of luxury and excess fraught with existential dread and the haze of too many drugs and too many drinks—the liminal space inhabited by those who've partied too hard. Heffe isn't precisely trap Camus, but he and Hamm create an atmosphere that makes partying seem like a cage rather than a release.
---
Damu Bang – FucK tha Law
It's difficult to find information about Milwaukee rapper Damu Bang online. I came across Damu Bang's "F The Law" in my late night Soundcloud travels. In my frantic googling and Twitter stalking, I found an account that was tweeting about Damu's music (and coincidentally had tweeted in response to a P&P article about Florida rap).
Damu's representative filled in some of the blanks:
"He's from Milwaukee Wi, were trying to figure out how to get his music reached around this world, because he is telling a true story about his life thru his raps. We have a song on his sound cloud thats called 'f the law' and it explains what he has been thru. He spent 7 years in prison that was a big chunk of his late teens going into his 20s. So wit him being a 5x felon rap is our outlet its his way to try and feed his family and stay out the streets and for him to let the world hear his message and what he has been thru."
Damu doesn't have a Twitter account or much of anything in the way of social media, beyond Soundcloud. For the best, since it puts the focus firmly on his excellent rapping. "FucK tha Law" is the a modern throwback to gangsta rap that once dominated—rooted in experience, brooding, and cold, defiant but never celebratory.