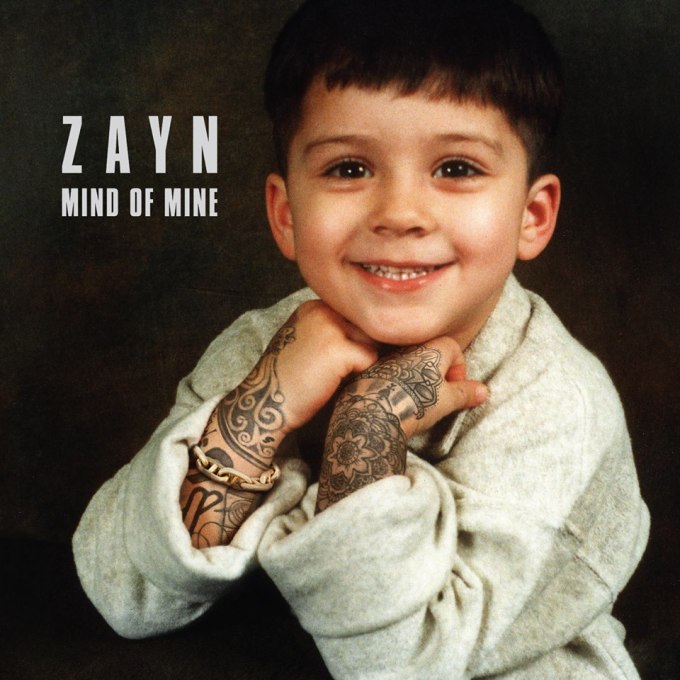 The boy band to solo act transformation. The last time we witnessed it at this level was well over a decade ago, when Justin Timberlake traded in his frosted curls for a fade. Sure, the boy is always different, but the recipe remains the same: good boy gains an edge and redefines himself through sound and look.
Fortunately for One Direction's Zayn Malik, he's always carried himself differently from his counterparts—charming but mischievous, open but mysterious—so it's understandable that Malik, who originally wanted to become a solo R&B artist before joining One Direction, desired something more. He is no longer just a teenage heartthrob, and he's doing more than pandering to casual pop fans who like catchy songs.
That "more" comes in the form of Mind Of Mine, the singer's debut solo album. Edgy and sexy, the project displays a Malik that has always been present, but is finally getting the proper introduction he deserves.
Our first taste of Mind Of Mine came earlier this year through debut solo single "Pillowtalk." Exploring the complexities of intimacy and romance, Malik describes sex as a "paradise" and "war zone," never hesitating to utter a "fuck" to emphasize his point. He addresses such subject matter with a confidence and maturity that lends itself to the production: quiet one moment, powerful the next. The most valuable quality Malik seems to have taken from his time in One Direction is understanding the strength of a good chorus, which "Pillowtalk" and many other songs on this album have.
"Drunk" is another one, a lusciously dark R&B track, that in its haze of late night hedonism, tells a rather melancholic story. "Drunk all summer," Malik sings throughout the chorus, a celebratory mantra that ends predictably: a hangover from hell accompanied by red eyes and some scrapes and bruises.
In this moment, it's clear that this album isn't just Zayn Malik 'trying' to move on from his boy band past. It's more than a rebranding attempt.
---
These songs showcase sides of Malik's personality which we've never seen before. There's bliss, desire, frustration, love, lust, and sadness—and Malik addresses each from a perspective that rarely, if ever, suffers from post-boy band cheesiness.
"Fool For You," a Billy Joel, Elton John-styled piano ballad, puts Malik's vocal abilities on full display. "I know, I know given a chance I'd do it again / 'Cause I can't help myself," Malik croons. That's the complexity of love, and Malik manages to convey it in such a relatable way, without oversimplifying things.
Every listener will have their own favorite songs, but a strong point of the project is that they're all different. Whether they're exploring different soundscapes or subject matter, they serve a purpose: to establish Malik's identity. One of the best parts of Mind Of Mine is the sonic experimentation present throughout. There are the minimal and moody tones of contemporary R&B, reverberated funk guitar, M83-esque electronics, and soft rock drums and piano.
The foundation is R&B, but like Frank Ocean's Channel Orange and Miguel's Kaleidoscope Dream, Malik is pushing into new territory both vocally and sonically. "Rear View" features electronic loops and warbled synths stacked atop of each other, as Malik's echoed "Oh, oh, oh" floats above it all throughout the chorus. "Flower" flaunts lightly strummed acoustic guitar and atmospheric sounds, as Malik sings in Urdu.
"Flower" is also easily Mind Of Mine's most intriguing and interesting moment, because it offers listeners a glimpse into Malik's heritage. Here, we get something that speaks not only to the singer's influences, but his identity as a 23-year-old Muslim man. In its brevity, "Flower" offers so much: a simultaneously beautiful and melancholic moment that you'll wish was longer.
In this moment, it's clear that this album isn't just Zayn Malik "trying" to move on from his boy band past. It's more than a rebranding attempt. This is an artist being true to himself, even when it's not the easiest thing to do, or the most obvious thing to do, or the most accessible thing to do. This is the triumph of Mind Of Mine.
---