Yung Lean was set to play a show in Minneapolis last night at the Fine Line Music Cafe, but before Lean could perform the venue was evacuated. Bring Me the News reports that around 30 people had been admitted into the venue when security began escorting people out of the venue at 6:30 P.M. due to a bomb threat. Police taped off the block surrounding the venue and Lean went back to his tour bus.
Minneapolis police searched the scene and later a bomb team searched more thoroughly, although nothing suspicious was found. The show was canceled, and Yung Lean took to Twitter to address the situation. "I don't know more than you rn. Will let you know when I have the info," he tweeted. "I wanted to play the show but due to the circumstances it won't work. We good tho love to the fans."
This is the second incident on Yung Lean's North American tour so far, after a shooting occurred within the proximity of his tour bus in Pittsburgh on March 19. Yung Lean and his team have been confirmed safe following both incidents.
---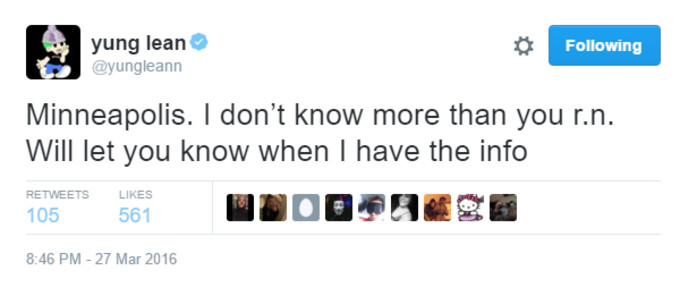 ---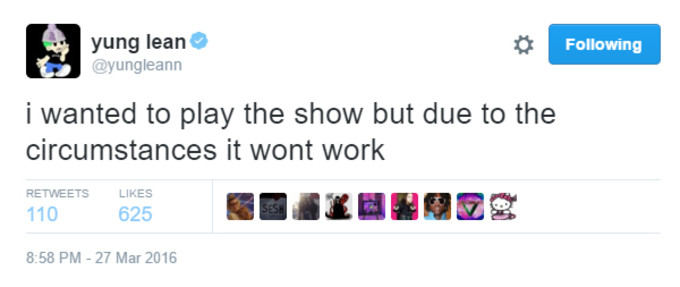 ---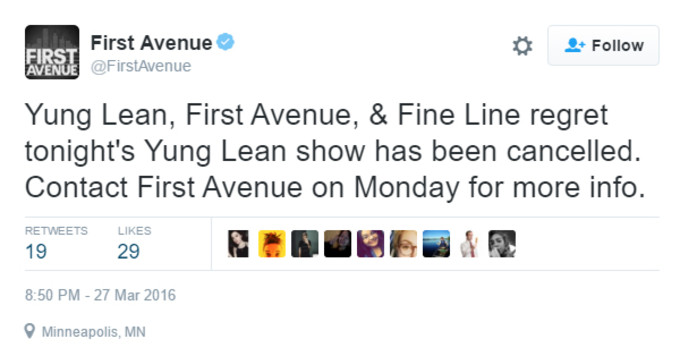 ---

Related: YUNG LEAN INTERVIEW: DIGITAL WARLORD