It's been a long time since we helped introduce Lil Poopy to the world. Truthfully, I'm surprised that Lil Poopy the DON hasn't truly pooped popped yet, although with the last real news about him being child abuse allegations stemming from videos of a 9-year-old Poop (at the time affiliated with French Montana's Coke Boys crew) slapping the asses of grown women in rap videos, that makes sense.
Enter Jermaine Dupri and his new Lifetime reality show, The Rap Game. If you're not up on the show, I'm not surprised–it's on Lifetime. Dupri, who made rap superstars out of kids like Kris Kross and Lil Bow Wow, is trying to find the next young rap superstar. If you ask me, this is Lil Poopy's competition to lose.
The premiere episode debuted this past Friday, and found the five budding rap stars flying to Atlanta to spit for Jermaine (as well as ATL rap vets like Da Brat and producers Bryan-Michael Cox and Polow Da Don), and needless to say, the competition is stiff. Poopy is one of two boys on the show, and the other, 15-year-old Lil' Niqo, actually had a deal when he was 10 years old. He also has a serious work ethic and looks the part of a 2016 rap star.
The three girls on the show aren't bad either; 16-year-old Miss Mulatto feels like the most obvious star, although the charismatic Supa Peach might be the most out-of-the-box ready. Young Lyric has the confidence, but truth be told, she might be too shy.
Of course, anyone going up against Poop is getting demolished. No one else rolled up to the show on a hoverboard.
---
All of the kids on the show had to be accompanied by an adult; most of them are managed by their parents, so you saw a lot of mothers and fathers in the mix early, which will no doubt lead to more drama. What's most interesting is that Poopy's dad, who was arrested back in the summer of 2013 on drug and gun charges, wasn't in the mix at all. Luckily, his godfather was there. That's Papa Luis, Lil Poopy's manager. And for anyone wondering how Poopy got his name, he made sure to mention that as a baby, he used to poop all over his dad's hands. But that's OK, because: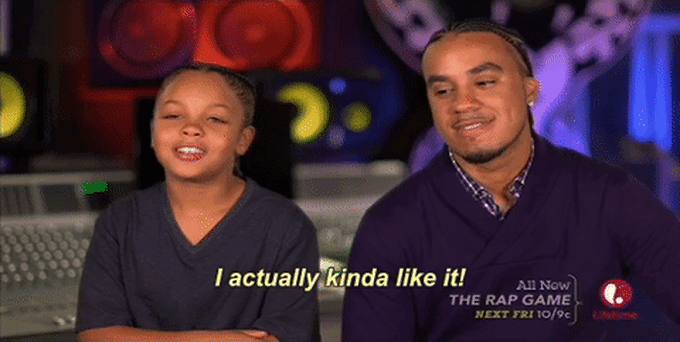 ---
During the actual show, Poopy didn't shine as bright as I had hoped. The first task had all of the kids interning, and Poopy ended up washing cars and rapping about knowing Waka Flocka, which didn't impress Bryan-Michael Cox that much, even if his shoe game was on point.
---
That plus his initial, underwhelming performance had Poopy at the bottom of Jermaine's first "Hit List," but when he kicked a rhyme about "buying chocolate milk for the entire cafeteria," he bounced up to #3 on the hit list.
The best part about Lil Poopy isn't even his rhymes, though; it's his drive. While most of the kids on the show are doing this because their parents have shelled out mad money to turn their kids into the Next Rap Hope, Poopy's trying to get his mom and his family up out of Brockton, Mass. This isn't about flossing (although we know that he knows that that's what real bosses do)–this is about getting his family right.
For that, I hope Poop demolishes his competition like I know he will.