Last night, J. Cole Forest Hills Drive: Homecoming, a documentary about J. Cole's homecoming concert in Fayetteville, North Carolina, premiered on HBO. The documentary tells the story of Cole's life leading up to the August 29, 2015 concert with words from Cole himself, as well as his family and friends. Last night's program was the final installment of the five-part miniseries, J. Cole: Road to Homecoming.
Following the premiere, J. Cole, who doesn't often post on social media, tweeted excitement about the attention his hometown received from the documentary: "The Ville on HBO??? It just hit me for real."
The Crown Coliseum concert was sold out and featured guest appearances from Drake and Jay Z, as well as Big Sean, YG, and Jeremih. Drake performed a new verse a capella between performances of "Know Yourself" and "Back To Back."
Drake also had high praise for J. Cole, saying of the rapper, "This shit that we do, this music business, is tough, man. It's tough to meet good people, real people. I want to let you know something about this guy right here. This is one of the realest, greatest, most genuine [and] talented motherf***ers I ever met in my life. This [is] my brother. I want to be at your wedding one day, you understand what I'm saying? We're family, boy, you know that."
Watch fan-shot footage of Drake and Jay Z's appearances, and find the concert's setlist, below.
---
---
---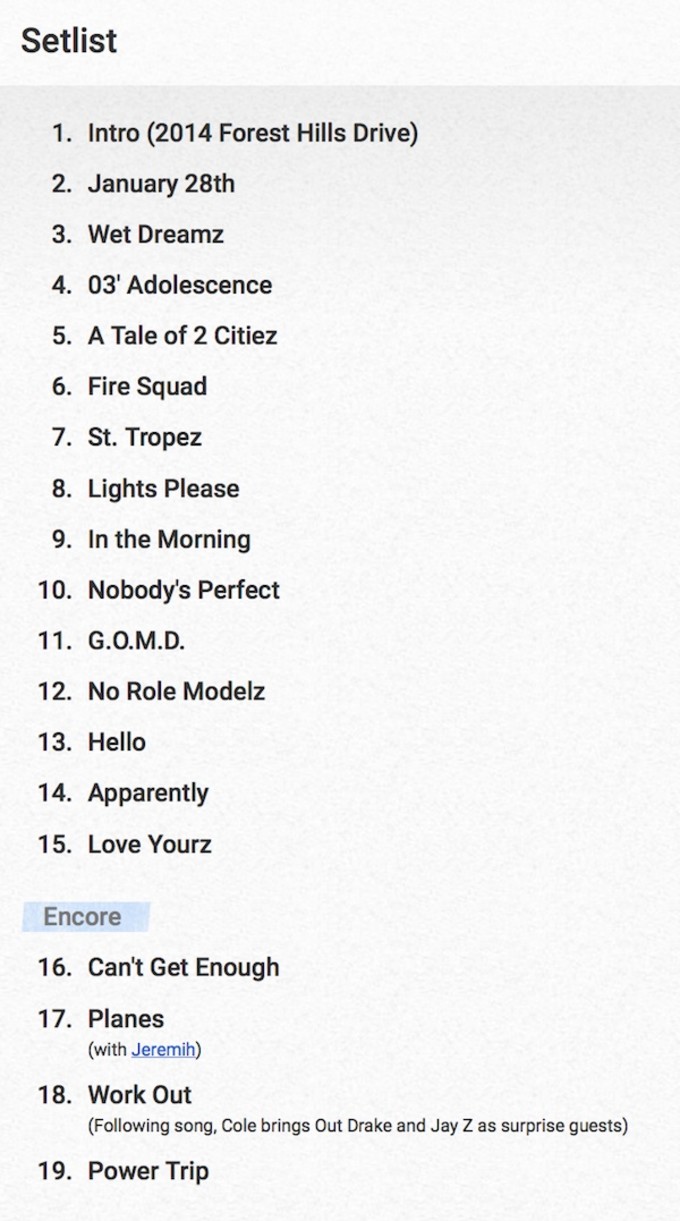 ---