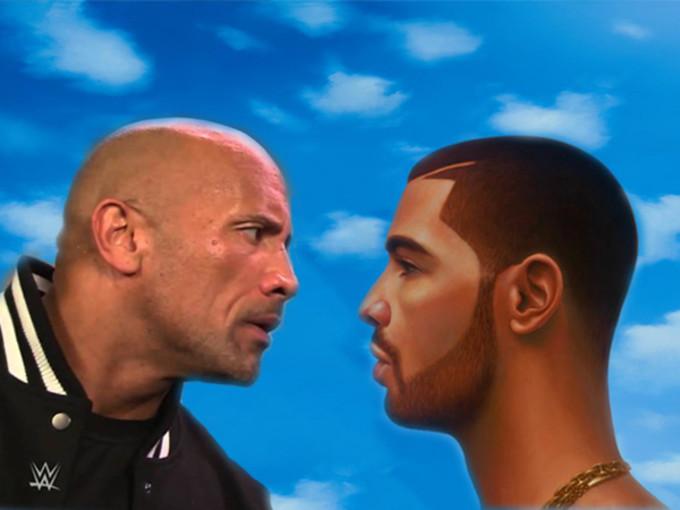 With respect to "my next album is gonna have something for everyone," the most overused phrase in rap music is "rap is like wrestling." Everyone from A$AP Rocky to Raekwon has made the comparison—usually in a negative light—to grumble about the state of rap and an over-reliance on false narratives. It's a blanket statement that covers the tough-talking youngster with zero street cred and the uncreative crew that starts beef with anyone to keep their names in the news.
As a metaphor, the whole thing is fairly uninspired. Everyone knows wrestling is scripted, but to act as if rap—and let's be honest, the music business—isn't rigged is to ignore the reality of the situation. Besides, music wishes it was as interesting as wrestling. Here are a few lessons rap could learn from the ring:
---
Rap beef needs a reboot:
It's telling that the year's most talked about rap feud was a limp and one-sided affair. Drake vs. Meek Mill had a ton of potential, but ultimately came off corny and underwhelming. A solid storyline and some real back-and-forth could have made it absolutely enthralling. Allow me to play fantasy booker for a second, and let's imagine how it all could have gone down:
In an interview with Funkmaster Flex, Meek announces that Drake doesn't write his own rhymes.
Meek: "DRAKE AIN'T WRITING HIS RHYMES!"
*Flex Bomb*
"Y'ALL THINK DUDE IS GREAT"
*Flex Bomb*
"BUT HOW ARE YOU THE HOTTEST WITHOUT WRITING YOUR OWN RHYMES???"
*Four Flex Bombs*
Meek proceeds to debut his new song "You Can't Spell Overdone Without OVO," a scathing diss track that individually addresses every member of OVO Sound. The reaction is absolutely insane, with the hashtag #OVOVERDONE trending for the next 11 days on Twitter.
Drake, who has been silent thus far, drops "Charged Up." The song appears as we know it now.
Meek goes back on Flex. After a cocky "HOLD UP WAIT A MINUTE YALL THOUGHT I WAS FINISHED?" he throws it to Flex, who plays the Quentin Miller reference track and signs off with a simple dig: "Is that your pen or your friends pen?"
Drake drops "Back 2 Back." It's exactly the same.
The beef spills into the MMG camp, where noted wrestling fan Wale sides with his label mate and lobs disses at the entire OVO camp. Meek posts a photo to IG of The Undertaker and Kane with the hashtag #BrothersOfDestruction.
A few days later, Meek drops "Wanna Know" with a new feature from Wale…
It doesn't look like Wale will be leaping to Meek's defense anytime soon, but doesn't that sound WAY more intriguing than what happened? Up the stakes!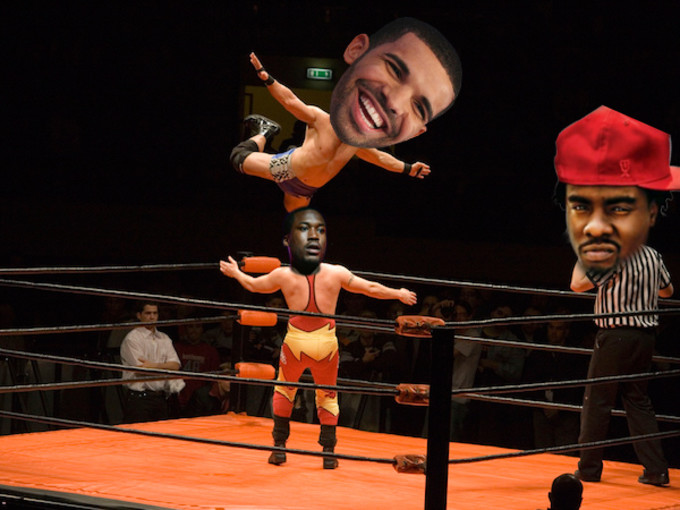 ---
Invest in the future:
NXT is a developmental company for WWE that is currently training the next generation of wrestlers for the company. The legendary trainers who work for the company provide expertise to each new class, giving the youngins a leg up to be successful in the future.
While it would be naive to assume a major record label would do anything in the best interest of its artists, rap as a whole could do better to bridge the gap between generations. That means giving them something equivalent to NXT's training program, a sort of minor-league system that would help prevent exploitation and bad contracts.
Collaborations are one thing, but a dedication to mentorship from the older guard for the young up-and-comers (especially with regard to business dealings) could go a long way.
---
Embrace the fun:
A good wrestling card provides balance. For every hard-hitting main event with tons of drama and excitement, there's a fun comedy match designed to make the kids happy with wacky antics. Rap has been doing the same thing since the Double Dutch Bus, but there still seems to be some stick-in-the-mud "real hip-hop" types who want to begrudge anything that isn't super serious.
From Biz Markie's "Pickin' Boogers" to "Swag Surfin'," rap fans should remember that this stuff is entertainment, so remember to have fun!
---
Bigger and better crews:
Funny enough, strong stables in both rap and wrestling flourished in the '90s and tapered off once people realized they didn't have to sit through a bunch of detritus to get to the good material.
At the risk of being one of those a-holes, *adjusts bifocals* back in my day we had rap crews with clearly defined roles and storylines. Everybody had a job and did it well. Look at peak Roc-A-Fella for example: they WERE The Four Horsemen circa '98.
They had the charismatic main eventer (Jay-Z), the young blue chip prospects (Just Blaze and Kanye West), and the Arn Anderson-style enforcer who would fuck you up if you ever disrespected (Beanie Sigel), not to mention the loudmouth manager (Dame Dash) and the chronically underrepresented female (Amil, Foxy, Tierra Mari, take your pick).
Hell, the feud between Cam'ron and Jay Z is basically a remake of that time the New World Order split into the Wolfpac vs. the Black and White. Since then, we haven't seen a major rap unit that could conceivably wreak havoc along the lines of a pro wrestling stable (save for maybe Odd Future in 2011, who easily could have been a group in Extreme Championship Wrestling back in the '90s and no one would have blinked).
---
The funny thing about all of this: Rap and pro wrestling have been on parallel tracks for some time now. Both got white-hot during the '80s, saw a strong influx of cash, controversy, and worldwide expansion in the '90s, only to find their biggest names losing money and credibility in the 2000s. Fans of both clamor for authenticity, but also enjoy an overinflated character from time to time.
Speaking of character: rappers play characters all the time (not all of them, of course. Please call your local rapper "a fake character" at your own risk). Good wrestling fans appreciate a good performance, rap fans do too. So next time you're about to clown wrestling fans who are live-tweeting a PPV, maybe cut them some slack? We're all more alike than you think.