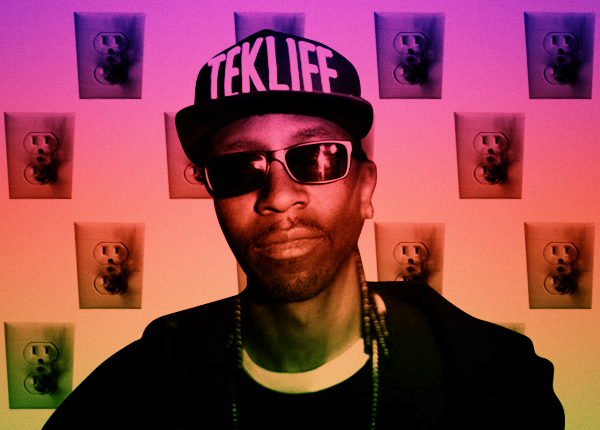 We don't cover dance and electronic music all the time on Pigeons & Planes, but when we do, we bring you the best of the best. Each month, Plugged will take a look at certain aspects of the electronic landscape, filling you in on the artists, scenes, and music that you should be paying attention to, whatever your taste.
---
On October 2, DJ Spinn drops his highly-anticipated EP Off That Loud. Oddly enough, that release date is a week before his partner in TEK DJ Rashad would have turned 36. In the year and a half since Rashad's untimely passing, it's been interesting to see the brand they established—TEKLIFE—stand strong, building on the footwork that they nurtured in Chicago and brought to the world.
Running at 160BPM, footwork (which is a by-product of the Chitown juke scene) can be a daunting sound to wrap your head around; many people aren't used to grooves and beats moving at that speed. The style, which is steeped in everything from throwback acid house to dusty, sample-based hip-hop production, is a gigantic melting pot moving VERY quickly… to the point where everything slows down and everything starts to truly make sense.
Now, if DJ Rashad brought more of the jazzy vibes to footwork, DJ Spinn rocks harder with melodies. There's a reason why he's already knocked out material with Jessy Lanza, and why you get warmer tones from his music than you do from some of the younger TEKLIFE cats like DJ Earl. Basically, if DJ Rashad was the heart of TEKLIFE, DJ Spinn was the soul. As he officially embarks on this new chapter in his career, it's time to cherrypick some of the gems from his back catalog.
---
Rashad and Spinn had been producing tracks for YEARS before the industry actually started paying attention. Their Girl Bust Down EP from 2004 is deeper into the juke side of their sound, with party-ready vocal chops and simpler rhythms. What's intriguing is that around the two-minute mark, they throw in a bassline that turns the entire track on its ear. Yeah, they were trying to take it there even back then.
---
Fast forward seven years, and labels like Planet Mu have picked up on the sound emerging from Chicago. In 2011, DJ Spinn got his solo Man I Do It EP released, a six-track opus that showed off the marked shift between the more club-ready juke joints and the futuristic "tracks" that these footwork denizens were creating. "I Really Feel" showcases how Spinn could ride those heavenly samples effortlessly, allowing the dark rumble of the signature TEKLIFE rhythms to provide a powerful bed for that hypnotic loop to coast over. Add that vocal over it and you've got a memorable banger.
---
Taken from 2012's DJ Spinn-centric TEKLIFE Volume 2 compilation, this brilliant flip of The Weeknd's "What You Need" by Spinn and DJ Manny turned the somber, melancholy track into a gem with a number of different, intriguing patterns. Everyone and their mother has remixed some kind of Weeknd track, but many of those efforts end up being exercises in doing too much. Spinn and Manny took it piece by piece, giving each segment their own distinct feel, allowing the track to swell into this dynamic piece of footwork bliss. One of Spinn's more beautiful tracks, and a reason for him to remix damn near anything.
---
While heads in the know already knew how Rashad, Spinn and the TEKLIFE conglomerate got down, it was Rashad's 2013 opus Double Cup that perfectly blended everything footwork lovers wanted in an album while waking up those on the outside of the movement. Spinn was all over the album, but it's the penultimate cut, which dissects a host of beautifully familiar vocals over some thunderous bass and acid-y melodies. We're talking peak level "chillin' with bae" bliss wrapped with a beautiful bow.
---
All of that brings us to "Dubby," the first single from Spinn's Off That Loud. A jazzy collaboration with DJ Rashad featuring original Danny Brown vocals AND hella jungle vibes? "Dubby" takes everything we've been experiencing from the royal TEKLIFE guard and gives us a glimpse into the future. It's a track that, on paper, probably shouldn't work; there's no way something so jazzy in the intro should be diving so deeply into drum & bass and then have Danny Brown shouting out YOUR SCENE!
Thing is, this is why TEKLIFE is needed; we're a society that is taking in all of the influences all of the time; you need those sonic soundsmiths to filter the best from the rest and present it in their own way. Spinn's the perfect vessel to lead the charge, and it'll be interesting to see how far TEKLIFE continues to go in their next chapter.