We don't cover dance and electronic music all the time on Pigeons & Planes, but when we do, we bring you the best of the best. Each month, Plugged will take a look at certain aspects of the electronic landscape, filling you in on the artists, scenes, and music that you should be paying attention to, whatever your taste.
---
Swindle could be one of my favorite producers at the moment. It's been three years since I've had a proper byline with Pigeons & Planes, and at that time tracks like "Forest Funk" (take from Swindle's Long Live the Jazz, and more than likely recognized from Grand Theft Auto V) were staples of my commute. There's something about the way he can make melodic, bouncy dubstep tunes still matter. That album saw him getting more into a jazz-y state of mind, which manifested itself in a big way on last year's Walter's Call EP. The fusion I fell in love with on those releases has exploded on his forthcoming opus, Peace, Love & Music (which is due out on September 25).
While "London to LA" was the first teaser, the project goes deeper. We're talking collaborations and influences being culled from two years of touring the entire globe—there are shouts out to Denver, Colorado, Tokyo, Los Angeles, Amsterdam, and South Africa, with features from names familiar and as yet undiscovered. Peace, Love & Music is Swindle not just finding his sound, but grabbing hold of what's exciting him and running with it.
During the tail-end of his recent U.S. tour, Swindle stopped in New York City to hole up in a tiny backroom with me to not only discuss his forthcoming project, but chop it up on working with live musicians, the grime boom in America, the plight of the dance music club scene in the U.K., and which artists he's being told to collaborate with.
---
The title, Peace, Love & Music—how did that come about?
It just began to be something I kept saying. It's a way to describe what all these different countries and places that I've visited have in common.
You based the project of two years of touring; was that the original idea, to build an album based off those experiences?
No. I just wanted to make music as much as I could. Before touring, I'd make music every day. That's all I really did before there was any shows. So to go from that to being on the road and not being able to write music, it threw me off a little bit. So I found myself just trying to find [ways to make music] when I was in these places, especially when these places were really inspiring and a completely different environment than what I was used to. I just felt like I had to record there and then I ended up with this music.
The lineup is crazy on the album. You have everyone from TC to JME to Ash Riser from LA. Would you hit a studio and work with whoever was there or were you looking specifically for these people to collaborate with?
None of the collaborations were contrived in any way. I did not target anybody or anything like that. It was literally where I'm at, who's there. Ash Riser recognized me in the street and was like, "Oh, you look like Swindle." Then he heard my accent and was like, "Oh, I make music. Come check me out." The next day we made "London to LA," and that's pretty much how most of these things have happened.
---
You've gone from LA to Tokyo and we're talking about a wide range of cultures. Was it hard to blend your sound with the local sounds but still keep the integrity of both sides?
It's all natural, man. I put every piece of effort into my music that I can, but I don't try too hard, if that makes sense. I just make honest music and then my star will always come through because it's in my bones, it's the rhythm of me. It's the inspiration of other places and working with musicians in all these places that naturally makes that fusion.
For guys working in bass music or dubstep, you don't really hear live instrumentation. Was there an emphasis in trying to make that part of the production of your sound?
I guess it's just now I'm facilitated to do it. I always messed around with sounds that I wanted to sound real. Just because of the music I'm into and the way I grew up. So, after the launch and the live show and having more resources now, I'm just able to do that. And I do it just because it's the sound that I like.
Are you more into using musicians that you know or hiring session players?
Both. All the horn players are my people, and they play in the band with me. So getting in the studio is just the next natural progression after that, I guess. But, things like recording strings, and some of those tracks that have like 60 channels of strings, that was new to me and something I've been learning along the way. And definitely that in particular was session players.
I've heard people talk about how quickly they can knock out a fully formed track; how has your evolution changed your writing process?
You know, I used to do that. At the beginning it was five beats a day. That was my goal, if I didn't make at least five ideas a day… and now recording a string arrangement, writing, scoring, arranging a string arrangement could take weeks. That's new to me.
So you don't have any background in that at all?
No, no. I don't read or write music. I know a lot of people think I do, but I don't. I just grew up with music and keyboards.
The all time great is Quincy Jones, undoubtedly. That to me is the producer, even still now.
Who do you look up to in terms of writing music? Not just making beats, but proper arrangements?
The all time great is Quincy Jones, undoubtedly. That to me is the producer, even still now.
You performed in the Boiler Room with the band and that was awesome. I like seeing people putting that spin on electronic music. Almost like how Roni Size represented, you know what I mean? Would you ever want to do a proper full on tour?
I mean I have been in the UK and in Europe. I haven't been able to bring it to America yet, but I'm dying to. I'm going to find a way to. It's just the set up is six people, which logistically is different to bring to America for various reasons, but that is what I need to do, next thing.
I imagine you can get a festival tour.
I mean every show I do in America, without fail, someone says, "are you playing live?" And I love that people want it but every time I'm like, "how am I going to do it?" I mean, I want to do it, I just have to find a way to make it work. Hopefully, next year.
How does building your sets as a DJ compare to building a live set list? 
I play quite fast when I DJ, so I'll go through 90 tracks. And a lot of times, or most of the nights, I will deviate from whatever my DJ plan was to suit the room that I am in. Whereas playing live is just about translating the message of the music the best possible way. Sometimes between the band, someone gives a nod, and that's their time. That's the freedom that live music gives you, which is fun.
Is it hard, with no formal training, to find yourself in that role where you're directing a full band?
It feels really natural. I really feel like that's what I'm supposed to do. And DJing was warming me up for that. DJing almost help me understand people, what makes them move, and in different places what it means to these people. And if I can use that in my live show, I feel like I've done a good thing.
You've been throughout the states for a couple of weeks. What's the reception been like to the new tracks?
Good, man. Good.
For everything on it?
In a DJ show, in parties on Fridays and Saturdays, there's certain territories on the album that aren't good for that. So I hope that the people will digest those in their own time, if they buy the album. But "Elevator" with TC has been a highlight. "London to LA," people are becoming familiar with. "Tokyo" goes down, and "Global Dance" with Mungo's Hifi and Flowdan has been good.
I really like playing new music. It's part of the reason I wanted to do the tour as a run up to the album, to introduce it to people in the environment of the club while the album is on pre-order and stuff. And just gear people up for what it is.
It's a good move, and it's funny that more people aren't doing it that way. Now you've mentioned "Elevator" and I was surprised that you got down with drum & bass don TC. I love the structure, the build of that track. How every four bars there's always something new coming into the track. How did you guys come up with the idea?
That track was completely different. I wrote the chords on backup guitar, TC actually plays guitar. So I had him replace the guitar on the track. And went and got the horn arrangements and started doing it. Then we had the break at the end. But the intro was like a flute and trumpet line. Like elevator music.
It's just poking fun (at the concept of "elevator music") for a bit. Like, this is elevator music you're going to dance to, you know what I mean? It was right at the end where I had the idea, "let's make this track an elevator going up different floors."
---
Do you listen to a lot of drum & bass?
I mean I grew up with drum & bass for years and years and years. That's what introduced me to this whole thing.
 Now you've been messing with Butterz for a while, but I have to admit that I was surprised when I heard that Peace, Love & Music was coming out on Butterz instead of Deep Medi. What was your mindset in terms of dropping the full album there as opposed to the idea of people putting out singles and EPs on various labels?
Honestly, I had a few options for this album. Some options that if some people hear, they would be shocked I didn't do it that way.
Are there any names you can give…
Well, not in print, because those things might still happen. But, I wanted to do it now. I didn't want to wait, I didn't want to do the traditional thing. I started getting American dates in and was like, now is my chance.
How long was the album completed before you put the pre-order up?
A month?
Wow. Okay so that was a real quick turnover.
Yeah, and labels can't really get with that. Certain things that I've done during this campaign, not many labels would be into. For instance, Denver got that track for free. Anyone that came to see me and bought a ticket has got that track. Or bought a T-shirt that night, has also got a track.
I dropped "London to LA" on the run-up of me coming to LA, and I just wanted to do things this way. I've been speaking with Elijah [at Butterz] everyday throughout this whole thing. Their help with distribution has allowed me to do things the way I want. I wanted it to be from my hand to the people as much as possible. And the Bandcamp is really like that. So outside of a vinyl and iTunes, it really is just from me to everybody else.
Is that how you want to go forward in terms of releasing music? More hands on in terms of the distribution and everything, so you can be more creative?
Perhaps. I keep telling myself let the music direct the business, don't let the business direct the music. And that is what happens when you get in this talk. [The more traditional way] is like "this single at this time and this single at that time, and then you pre-order, and then it will come out." So now you need to make [a certain] kind of single and that kind of single, and I really dislike that. It doesn't work for me, so whatever music tells me to do next is the way I will do it.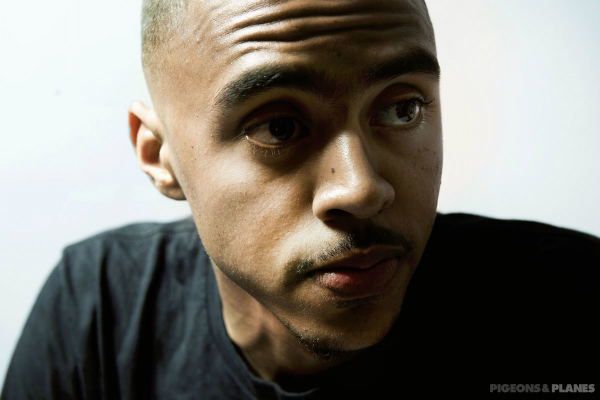 Thinking about that it makes me think about outside of all of this, do you keep up with SoundCloud and artist's tracks being taken down?
They've taken one of my tracks down! Which really shocked me. What kills me is they took down a track called "Ignition," which I made in my mom's house; it was never published, never signed. Completely independent. I uploaded it from my computer to SoundCloud to iTunes. All myself. And they're asking for proof. I'm not even sure what that would be because they aren't specifying anything.
From what I understand—because I've dealt with stuff like that before—I know a lot of it is just they have computers scanning stuff, and I guess if the .wav forms match-up, they're assuming that the one sound is taking from the other person that's got the license or whatever.
You know there's no samples in it, unless someone sampled me, and I don't know about it, I don't know where that comes from. Like I made the bass sound, there should be not copyright on it. I mean, it is what it is.
Exactly, exactly. Now you've already talked about, people already have "Denver", "London to LA" has been out, do you have any plans to drop any other singles?
Yeah, I'm gonna drop a lot before. I know I've only got a month or so. "Elevator" is gonna come, "Global Dance" is gonna come, and "Mad Ting" featuring JME is gonna come.
Nice, that's a hard track. JME also put the album out, you got guys like Skepta, who you know over here—
Killin'!
That's been a thing in the office, people shouting "Shutdown." What are your thoughts coming from the UK and being part of the grime scene?
It is, we're so—all of England is proud of Skepta right now, and just from my perspective, coming over here for the last four years, and playing grime, and only the heads in the room know what's going on, to then playing grime and everybody in the club knows every word, in LA. It's pretty mad.
Are you able to slip more grime into your sets?
Yeah, I always played probably mostly grime in my sets here anyway just because people are unfamiliar with it, it was kind of made easy for me, does that make sense? 'Cause it's like I've always got something new to people that I know is gonna go off too. It helps, it does help.
You've been talking about how the U.S. has been responding to grime more, how have you been seeing the appreciation of electronic music from the U.K. in general when you come over here? Have you noticed a change in terms of stuff that might not ring off a couple years ago now coming up?
Grime is the biggest example of that, but I guess unfortunately that anytime that I come here to play, I'm playing parties where people want UK-centric based music.
So they already know what they're getting.
Yeah. I came here and the first tour was 200 people in a small room. People that already know me, you know. The rooms get bigger and bigger over time and stuff, but the intent is always the same.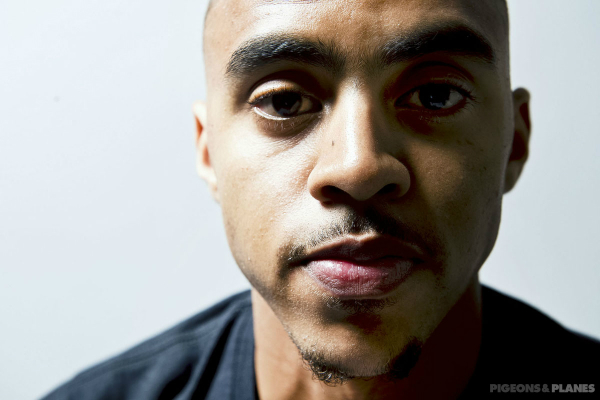 Over the last few years there's been a big electronic music boom here with EDM—how do you compare what's going on with that craze to what's going on in the U.K. now? Are there any similarities?
There are some, some. Sometimes I feel like whatever happens in England will happen in America a year later.
Sounds about right.
It just felt like in London a lot of people had gotten off of house music. And it's weird because I've seen people get bored of house music in the room or in the area of music that I operate. I know that house music is massive here, and has a great history here, but I've seen people get bored of 4×4 music here on the dancefloor and just wait for the dubstep. And now to see thousands of people going mad, it's like, "Cool. This feels like London last year."
What's really ringing off in London this year?
Grime [laughs]. Back to grime, that's definitely been the narrative of this year, and I think next year we'll see that continue.
I know guys like Stormzy and again, Skepta, seem like they've been operating on a level that's actually been breaking into the mainstream, are there any other MCs that you feel are following in their footsteps?
Novelist.
He's a big one. He was just here not too long ago. Young guy, too.
Man, first time I met Novelist, we played in… was it Fabric? Anyway, he wasn't even old enough to get in! He's 17, sharing a stage in Fabric, which is legendary in Europe—the club. You're 17, you're not old enough to get in the club, you're playing room one in Fabric. That is amazing to me, man. I just got so much respect for these kids that are able to do that because that wasn't there to me at 17, so I think that's sick, I think that's sick. The guy's barely, not even out of his teens yet. Yeah, and he's working with the rest of us, that's inspiring.
Music lasts forever. We're always gonna find a way to do this, so they can only take away so much from us.
You've been talking about the U.K., and just by reading Mixmag and others there's been situations with clubs getting shut down, what are your thoughts on that whole situation?
Money rules. They're buying us out. London is a place where foreign investors can make a lot of money with property. Which means that property is getting really expensive. All of the ghettos are becoming the nice spots, and there's less space. Clubs hold big spaces, and are some of the last spaces left, and easiest to target. So it feels like the police and the government put pressure on the clubs because they know at some point they will break. They can use statistics, they can say people take too much drugs, they can say it's too loud, they can say there was a fight on such a night, they can says somebody had their phone stolen. Whatever, they can put pressure and pressure and pressure on the clubs, until at some point, they fold. Which is sad, but man, music lasts forever. We're always gonna find a way to do this, so they can only take away so much from us.
How does that effect you and also people's hunger to go see the music?
I mean, it makes you more hungry. When we started doing the Butterz night, it was because there was nowhere else to play. And then we get to Cable, and they close it down to make it a fire escape for the train station that they're now rebuilding because there's all this money in London Bridge. So then we go to Fabric, and they're knocking on the door at Fabric trying to close that, so we're in New York, we're in SoHo—it doesn't stop. There's no end for us, it will go back to people partying in fields if it has to.
Illegal raves might be all the rage again! And it seems like again, if something's happening in London, the U.K., it'll probably come over here.
It's quite similar that the property is just such like an investment for people, and the prices are rising so high, even if you make a good living, you're not really gonna live anywhere that decent in London—at this point if you haven't already invested all from a family with property.
How do you feel about, London as a creative hub, in terms of making music?
I think London will always churn out new sounds, there's just such a mix of people there that it's impossible for there not to be something new. Everybody's there, everybody's contributing, and that makes for good music. I've actually just moved out of London, and I've been on the road so much that I'm there a lot less than I have been, but it's always with me wherever I go.
Who do you consider some of your peers?
Flava D; she's about to kill it. That's the tip, she's about to kill it. I think a lot of things are gonna open up for her in a different way. She's on like year two, obviously. She's about to break in, man. I'm sure.
---
What's next for you, are you kind of just coasting to see what sticks?
Yeah, I try not to panic too much. When I know some of the people like that, I don't wait on music, it just goes out. What can I say, man, I just let the music direct me and then see what happens. One thing always is that I'm eager to get in the studio, I cannot wait to start on new stuff. I got so many ideas, I'm not sure what it's gonna be just yet, or how it's gonna turn into music, but yeah, I'm desperate, man. I can't wait to get back in the studio.
Are any outside MCs reaching out to you for beats?
Yeah, I've been working with Frisco from Boy Better Know, Ghetts as well. Few people I've been doing some stuff with. There'll be a lot of music on other people's projects coming out over the next six months.
Outside of your particular sound and scene, who are some artists that you would want to collaborate with, or see yourself collaborating with?
I like that guy Thundercat, man. We got something different, we got something in common.
There's something interesting there.
At least once a week, there's somebody on Twitter why don't collaborate with Dam-Funk. I know that's something we've both seen, and haven't spoken about it yet, but when our paths cross at the right time, perhaps. Who knows? Kind of that L.A. scene.
A project with all three of you would be something really interesting. And if you brought in like a Flying Lotus and make it a whole thing.
It's the jazz, man. It's the common thread. It can be pulled in so many different directions, but I know that we all relate to the same thing.
What do you get into outside of making music, what are your hobbies and stuff?
There's an outside the music? I don't have an outside the music. It's my whole life.
---
Swindle's Peace, Love & Music drops on September 25, 2015. Pre-order the album today.