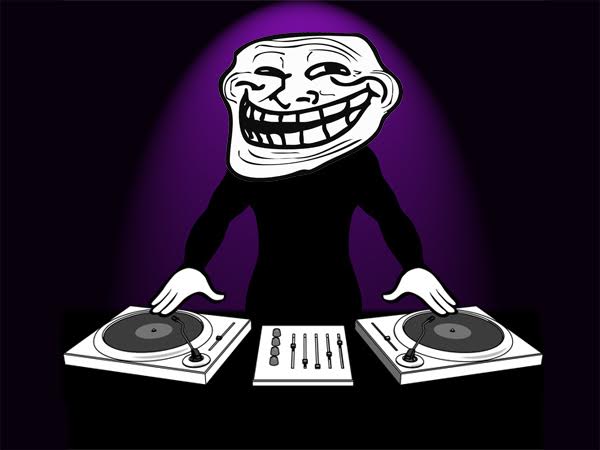 Those of you that hate EDM might guffaw at the headline, thinking something along the lines of "aw, jeez, these DJs are always trolling, THEY'RE JUST PUSHING BUTTONS!" I get it, and don't need to be reminded of the only argument people have against the art of DJing.
There are shit DJs just like there are shit singers and shit guitarists. But there's a difference between not feeling what a DJ does and what an Australian EDM duo by the name of Mashd N Kutcher (get it?) got caught doing to their crowd recently.
If you don't remember, these two played a brilliant troll on a crowd trying to hear DJ Snake and Lil' Jon's "Turn Down For What" by replacing that track's infectious drop with the soothing sounds of Spandau Ballet's "True." The collective groan is comedy GOLD.
The real troll, though, is that this isn't even the first time this happened.
---
Back in October of 2014, video surfaced of Canadian duo (and expert trolls) Adventure Club pulling off the exact same troll, only their version was actually edited so you can hear the "Turn Down For What" wails every four bars. The addition of the steam/mist/whatever at the moment "True" hits is pretty damn important as well, properly mimicking what goes down during massive EDM drops:
---
Surprisingly, "Turn Down For What" can be mashed up with more than "True" for proper trolls, though. Check out what this one DJ did, taking one of the phrases that made Welven Da Great so, um, great and really sticking it to the crowd:
The best part: catching bros with their hands in the air while Welven cracks up, his signature "GOT EEEM!" coming through the speakers.
---
What makes this troll so unique is that it's a hugely popular song, and has a refrain that people can actually chant before the drop. EDM trickster Dillon Francis played a quick troll while touring with Skrillex:
The homie Carnage had a lot of fun with this technique, letting people miss out on catching the drop and giving an audible "awwww" before dropping the record:
---
"Turn Down For What" isn't the only anthem that can be used to troll crowds; Martin Garrix's "Animals" was a huge tune, and the track's simple melody has been flipped to the tune of "Old McDonald Had a Farm." Just watch:
---
That troll from December of 2013 was so epic that deadmau5 (filling in for Avicii during his Ultra Music Festival 2014 set) trolled the crowd by playing a bunch of EDM, including the same "Old McDonald"/"Animals" mash-up:
---
deadmau5 is a professional troll, though, and he's one of the few who can actually make these jokes work musically—like that time he worked a Windows error into his live sets, fucking up the minds of a clueless raver/attendee who has had similar issues with their Windows-based PCs:
---
While you could probably include insanity like Paris Hilton making $347K to DJ for a night in Ibiza, truthfully, Paris Hilton being famous is a troll on the entire world, not a single crowd. Proper DJ trolling can be an art form, and should be embraced by more DJs… at the very least, they should throw these gems out for April Fool's or on Halloween, right?