OVO Fest is unique. It's presented as a festival, but it is really a concert series with a celebratory carnival atmosphere. This year, the 6ixth annual OVO Fest, the show was extended to three nights rather than two, with comedian Kevin Hart on Saturday night, Big Sean and J. Cole on Sunday, and Drake plus special guests on Monday. Most people I spoke to, however, were there for the music, and the music only, with the final night considerably more packed and buzzing with anticipation.
No surprise really; Drake's special guests in previous years have included Lauryn Hill, TLC, a Puff Daddy and Ma$e reunion, Kanye West, and more. Expectations for surprise appearances were sky high (Dr. Dre and Ice Cube, one fan told me, were certain to appear) and this is an interesting conundrum for Drake. In the first few years, each OVO Fest could top the last through expanded lineups and big surprises, but the current crop of rappers who can really blow the crowd away is small, meaning either repeat appearances (Would the crowd be happy if Kanye came every year? Probably.), nostalgia acts, or artists from outside rap.
Mixed in with the anticipation of surprise guests on Monday night was the added subplot of the Meek Mill beef—how would Drake respond, would he drop a brand new diss track, would he "end Meek's career"?
Reporting from the 6, these were the highs and lows of our first OVO Fest experience.
---
Drake didn't let Meek Mill overshadow his big day.
The Drake/Meek feud is petty, minor, and barely deserves the "beef" tag that a rap audience thirsty for conflict wishes to put on it. Meek might like to position himself in the lineage great rap beefs, but for Drake at least, it's all fun and games. He isn't taking himself too seriously, and he's certainly not taking the situation as a threat to his career.
OVO Fest is about Drake, it's about Toronto, and it's about celebration. He wanted to focus on those things, so he dealt swiftly with the Meek Mill situation in the opening minutes of his show, and didn't revisit it until the very end. After "Back to Back" finished, the crowd wasn't sitting wondering when/how Drake would address Meek, they were focused on important things like what filter to use on their Insta video, how they could sneak into a seating section closer to the stage, and whether they should really get that fifth owl tattoo.
Drake understands the internet and how to create a moment, especially on social media. He dealt with this situation in a way that only he could—a unique blend of humor, corniness, and bravado. It was the best of memes, it was the worst of memes.
---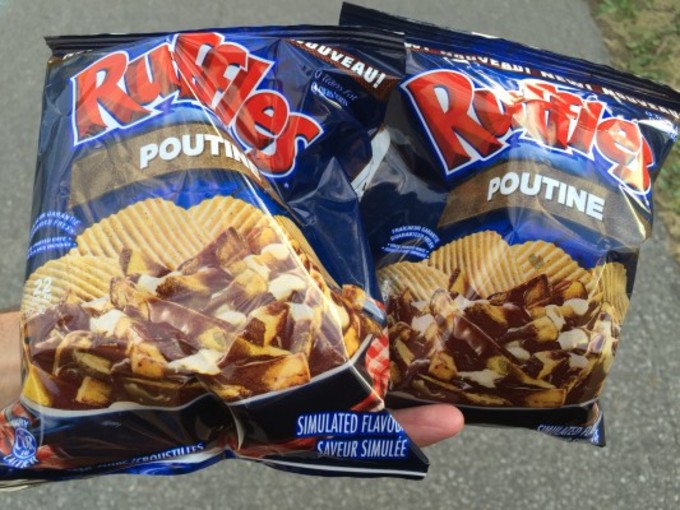 Canada is so Canadian.
Free poutine flavored chips outside the venue? OK then. There were also no lines to get in, a generally very friendly crowd, and the show was utterly punctual. No anxious wait for the music—OVO Fest started and ended exactly when it said it would. Next time I'm waiting in a sweaty club in New York, being elbowed in the ribs and having beer spilled on me I'll be thinking, "This wouldn't happen in Canada."
---
"Mans never been at OVO Fest when it's shutdown aye!"
Skepta's rising stature is beautiful to see, and his North American Shutdown Tour was capped off by an appearance at OVO Fest, plus a sweaty 1 a.m. show later that night in Toronto. Skepta was the first guest Drake brought out, and he rocked his iced out inhaler (!) while he powered through "Shutdown." The crowd's reaction was a marker of how much love Skepta gets outside the UK, and the "Lukey World" backdrop was a powerful tribute to his recently passed friend Lukey Maxwell. 
---
Future got an incredible reaction… Pharrell, not so much.
Toronto loves to get turnt, but the reaction wasn't so strong when talk of police brutality entered the picture. "We having a tough time in America, you get pulled over you might get shot," Pharrell said before playing his new single "Freedom," while "Drop It Like It's Hot," "Frontin'," and "Get Lucky" were largely met with indifference from the crowd. Pharrell was the biggest out and out surprise guest of the evening (rumors had been swirling about Kanye's set all day), but sadly, his set was more of a lull before Drake's final act than anything else.
---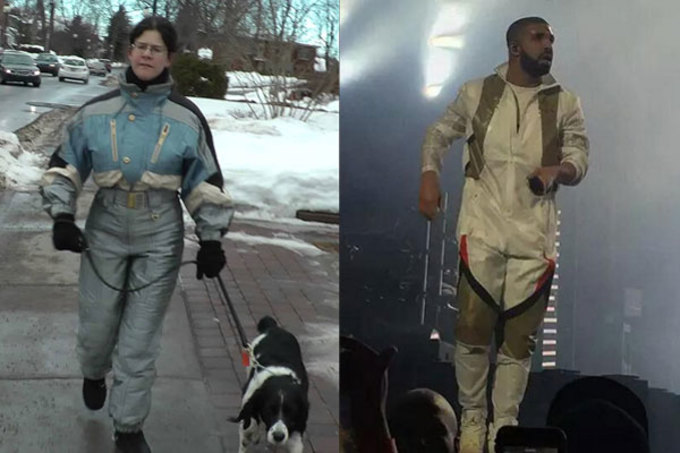 ????!?!??!? ¯\_(ツ)_/¯
Bonus points for the jumpsuit being made by Jordan, negative points for looking like he searched through his Aunt's closet to find something to wear.
---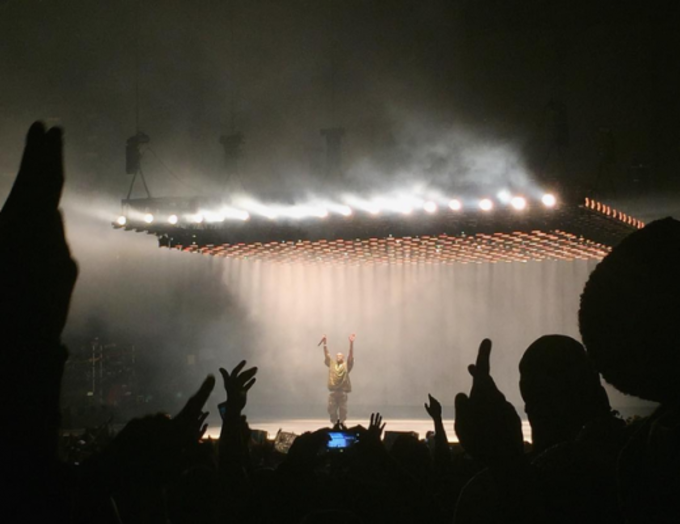 Two Gods for the price of one. 
A full Kanye West set packed with some of his rawest, most aggressive music? Hell yes. Under his current spotlight-filled stage setup, "Black Skinhead," New Slaves," "Power," "Mercy," "All Day," "Niggas In Paris," "Upper Echelon" with Travi$ Scott and live staple "Can't Tell Me Nothing" were all delivered with the energy and passion that makes Kanye one of the most magnetic performers alive. Recently, Drake and Kanye have been effusive in their praise of one another, and this performance felt like a celebration of their place at the top of the rap pyramid.
---
The Boy's got moves.
Drake performed his verse on "Truffle Butter," dedicating it to Nicki, as well as the reggae tinged "Hotline Bling." And damn… he got loose.
---
Where was iLoveMakonnen?
Talking of other people's songs, when the opening notes of both "Tuesday" and "My Way" came through the giant speaker rigs, all eyes were on the side of the stage, waiting for iLoveMakonnen and Fetty Wap respectively to come bounding out. Drake brought out some big guns, but a few more quick one or two song appearances would have taken the energy up another notch.
Regardless, hearing a 15,000 person amphitheater singing "My Way" is a beautiful experience. And to think you called him a one-hit wonder…
---
At his own festival, Drake showed humility.
Prone to child-like excitement around fellow celebrities, Drake's humble host act felt honest at OVO Fest. Where his eagerness to embrace successful artists (or sports teams) has come off as bandwagoning in the past, the words he had for Future, Pharrell, and Kanye could not have been more accurate.
"If anyone got the world on fire right now it's you Future," Drake said, after the Freebandz general had run through "March Madness," the hook from "Real Sisters," "Trap Niggas," "Fuck Up Some Commas" to a rapturous audience. He called Kanye West his idol multiple times, but the highest praise was saved for Pharrell. "We all look up to you," Drake said, going on to explain the extent of Pharrell's influence on music and beyond.
---
Drake is the man in his city, but he's not afraid to pay homage to greatness. He couldn't be more comfortable onstage in front of his home crowd, a crowd that—on the evidence of this age and race spanning, OVO apparel-wearing audience—loves him so much. While the internet was worrying about how the Meek Mill beef would play out at OVO Fest, Drake was more concerned with putting on the best show his city will see… at least until next year.