5 On It is a feature that looks at five of the best under-the-radar rap findings from the past week, highlighting new or recently discovered artists, or interesting obscurities.
---
I've been handed the reins to 5 On It this week and I'm going to take the chance to encourage you to explore outside your bubble. The internet has broken many borders and made music from around the world so much more accessible, and yet so often we end up listening to artists from the same few cities or regions over and over again.
If you make the effort maybe you'll start to love MCs from Egypt or producers from Japan. Through music, you can travel the world from the comfort of your own living room, but make sure you bring an umbrella this time, because we're not going anywhere too exotic. This week we head to London, England, home to so much great music, and home to a rap and MCing culture to rival that of any city, anywhere.
Finally, artists like Skepta, Novelist, Krept & Konan, and Stormzy, are starting to get attention in the U.S., so now is the perfect time to explore a little more. This is just a brief snapshot of five exciting artists—a postcard from London, if you will. Safe travels.
---
Plastician ft. Jammz – "London Living"
The importance of pirate radio to grime (and, in fact, London's musical culture) cannot be overstated. At the core of grime is the art of MCing while a DJ spins record after record, and pirate radio sets are where talented young MCs would prove themselves and develop into seasoned performers before they had even left their teenage years.
With the internet now widely accessible, internet radio is the new proving ground, and Jammz (amongst others) has fully taken advantage, spraying bars whenever and wherever he can, and making his name difficult to avoid through a combination of talent and sheer persistence.
In the past months Jammz has converted that radio presence into memorable releases. First there was the impressively varied Hit Then Run EP (check "128 Bars" for some masterful storytelling), then "Final Warning" over a version of Finn's "Keep Calling" beat, and most recently "London Living" with Plastician. The track (not to mention the video) is exactly what you'd expect it to be with that title, and it's filled with the kind of dry humor and sly references that only a true Londoner could deliver.
---
 K9
Last year, West London MC K9 released Mad In The Cut, a raw, powerful mixtape that was not just one of 2014's best free projects, but one of the year's most impressively cohesive releases. Working with collaborator (and good friend) Dark0 who recorded, mixed, and helped curate the tape, K9 is equally adept at making tracks that demand a reload and tracks that demand you pay attention to the real pain and emotion delivered in the gruff, growled bars. Moody, melodic beats from Visionist, MssingNo, and Pinero Beats provide the base for the more reflective tracks like "Stress" and "Homie," while "Shottas Riddim," "ISPIT," and the huge "Show Stacks" (produced by Dark0 himself) balance the tape out perfectly.
More recently, K9 dropped a a cross-Atlantic collaboration with Baton Rouge, Louisiana producer Suicideyear, showing that his desire to work with forward-thinking producers is as strong as ever. As to what we can look forward to in the future, management tells us to "expect another full body of incredible work, cinematic videos, and high levels of artistry. You can expect one the greatest modern classics since Boy In The Corner."
And who are we to disagree.
---
AJ Tracey – "Spirit Bomb"
Tottenham MC AJ Tracey's SoundCloud has been popping recently, new uploads appearing with pleasing regularity as he leads up to his Rain EP. "Spirit Bomb," which will appear on the upcoming EP, is a grime tune which feels as if it could appeal (or at the very least not feel alien) to someone raised on a diet of contemporary US rap.
Drug dealing and Dragon Ball Z references sit alongside each other comfortably, while the ad-libs and hook are memorable. Once you've cooked up the bomb ting with AJ, check out The Front EP too—there are no weak tracks on there.
---
Cas – "6PM"
Cas is a madman and a badman, and that's not just because of his menacing mask. He's a brilliant lyricist who comes with memorable flows and his music is utterly uncompromising, exploring the most reprehensible corners of the human psyche and London's criminal underbelly with a strange mixture of sneering delight and self-loathing.
His latest track is "6PM," but you also need to check out "Drugs Don't Work" (incredible sample choice, incredibly emotional) and the unbeatable "T.R.O.N." (the second verse especially is flames). There's no one like Cas… and although that might be a good thing for society at large, I'm happy to have his music to accompany the dark times.
---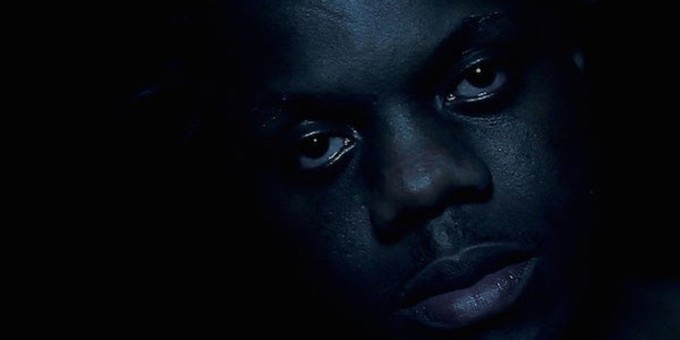 Blue Daisy – "Darker Than Blue"
Switching gears a little, producer/multi-instrumentalist/rapper/singer Blue Daisy is set to release an album that sounds like nothing else out there on September 25. Coming out on R&S, Darker Than Blue sounds as if it was crafted in a swampy dungeon which hasn't seen sunlight for years, with live drums, guitar, and keys piled on top of each other to help create a sound that hangs think and heavy as swamp fog.
It's an album you can get lost in, dragged down by ominous rumbles and mysterious clanks before Blue Daisy leaps out of the shadows, eyes gleaming demon red, to spit a quickfire verse—as quickly as he appears he's gone. The title track should give you some idea, while "Alone" featuring Connie Constance provides some solace amongst the darkness and blueness.