ComplexCon returns to Long Beach Nov. 6 - 7 with hosts J. Balvin and Kristen Noel Crawley, performances by A$AP Rocky and Turnstile, and more shopping and drops.
Secure your spot while tickets last!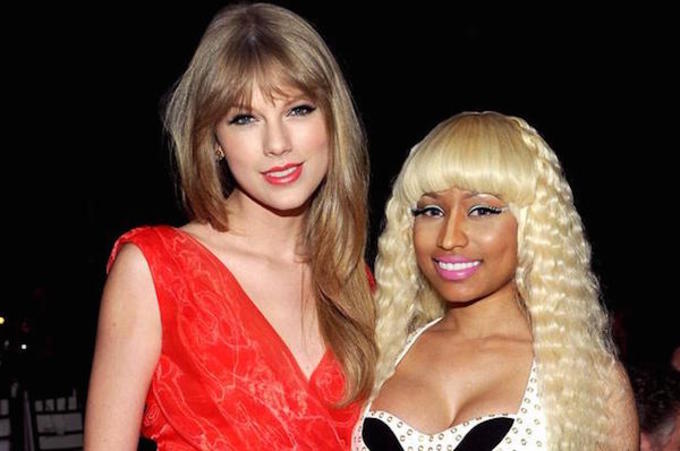 UPDATE: Now Ed Sheeran has decided to chime in with his take on Nicki Minaj's comments, again missing the point, and buying into the idea that Minaj was directly attacking Swift, rather than making valid complaints about racism in the industry. He told The Telegraph:
"I think everyone knows that Taylor has done nothing wrong in that situation. She didn't nominate herself for the awards. It's not her fault, she just made some good videos and people think they're good. And I think the Minaj point is a bit redundant, her point is that you have to be skinny and white to get a video of the year nomination but Beyoncé's '7/11' is in there and that is celebrating the female figure in every form."
UPDATE 2: And now Taylor Swift has done the right thing, admitting she missed the point and apologizing to Nicki Minaj.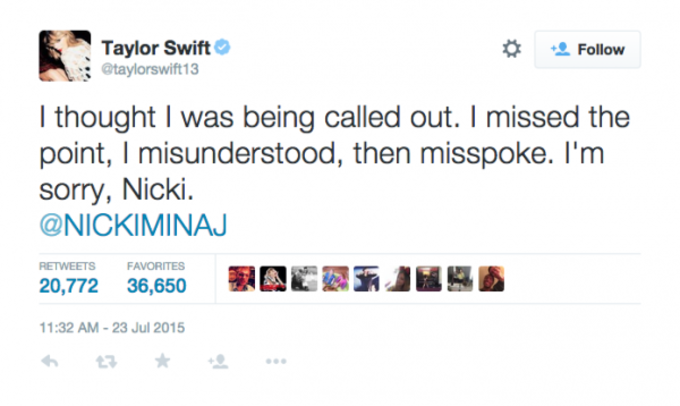 ---
At this moment, Taylor Swift wins everything. She's got the album, the tour, the critical acclaim, the popular acclaim, all the famous friends (you've seen her Instagram, don't front), and the boyfriend—together, they're the world's highest paid celebrity couple. The world's.
But humility has never been Swift's strong suit—her faux surprise face when she's accepting her (at this point) zillionth award being a prominent example. Her ego (generally disguised as gentle humble-bragging) caused her to take a rare misstep this evening, on Twitter of all places. The normally carefully curated Swift decided to respond to Nicki Minaj on Twitter, who was fuming about racism in the industry after having her two (very memorable) videos, "Anaconda" and "Feeling Myself," snubbed in the Video Of The Year category during this morning's VMA nominations. Swift, of course, was nominated for nine awards, including Video Of The Year for "Bad Blood."
For reasons that it is impossible to discern, Swift decided that when Nicki tweeted, "If your video celebrates women with very slim bodies, you will be nominated for vid of the year," Minaj was referring to her (because clearly, she's the only tall, skinny woman in the entertainment industry). Taylor continued "I've done nothing but love & support you. It's unlike you to pit women against each other. Maybe one of the men took your slot.."
---
From there, things got wild—you have to see it to believe it. See the series of tweets below: