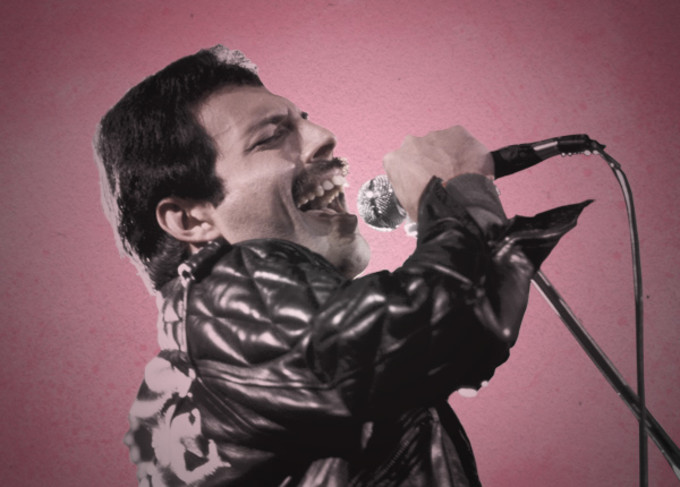 As stupid as it may sound, given that the role generally involves copious amounts of sex and partying, being a lead singer is hard work. While the rest of your bandmates can hide behind guitars, drum kits and keyboards, you have to stand there and sing, which means figuring out something to do with your hands while singing and your whole body when not (good luck if you're not capable of so much as a single dance move). And if you do play an instrument, you've got to do that and remember your lyrics simultaneously, which for some is like patting your head while rubbing your stomach. What's more, if you write songs that mean something to you, every night is not just a gig but a long trip down memory lane, which can be emotionally draining (not much successful rock is built on pleasant life experiences). Some made this list for their skill, some for their style, but all are worthy of going down in history among the best lead singers ever. So here we present the 50 best to step up to a mic stand. Some ground rules: 1. No solo artists. Thus no David Bowie, Elton John, etc. 2. No people from bands in which everyone sings and there is no clear leader. Thus no members of The Beach Boys, The Beatles, The Zombies, The Band… 3. No people who are mainly known for their work on instruments. Thus no Jimi Hendrix, Bill Nelson, etc. By Daniel Margolis Hit "next" or click the picture to read on…
Related: The Best Songs of 2014 (So Far)Related: The Best Albums of 2014 (So Far)
50. Rivers Cuomo
Band: Weezer Weezer's Rivers Cuomo is a top-notch songwriter and an accomplished guitarist, but none of that would matter if it wasn't for his voice. Cuomo's quirky confidence has the listener rooting for him almost instantly; his singing the audio equivalent of Jason Schwartzman's character in Rushmore. Meanwhile, Cuomo is canny enough to utilize his vocals as a key compositional instrument. Listen to the demo of "Buddy Holly" on Alone: The Home Recordings of Rivers Cuomo; he already has every "oooeeeooo," "oh oh" and "ooo ooo" perfectly in place, all obviously essential to the song. Lyrically, Cuomo expertly tosses around key reference points of suburban masculinity like girlfriends, fathers, stepfathers, the garage, surfboards, vacations and unrequited love. After two perfect initial albums, Cuomo disappeared to go to Harvard and watch Friends reruns for five years, finally returning for a half-dozen albums that seem to make Weezer's fans more cultishly devoted or pissed off.
49. H.R.
Band: Bad Brains A lot of lead singers face the challenge of fronting a band that shifts genres, but this generally happens over time, either as a subtle expansion of a band's capabilities or experimentation meant to serve a set of songs or capitalize on a hot musical trend (or both). But D.C. band Bad Brains burst out in the early '80s already set on swerving back and forth between hardcore punk and reggae, requiring lead singer H.R. to sing both convincingly – no easy feat. He did it with no problem; performing the punk songs with an authentic, high-speed yelp and the reggae songs in a soulful voice with just a slight hint of Jamaican Patois. Lyrically, too, H.R. swings both ways, singing about being "Banned in D.C." for his "Attitude" before addressing Jah at length. The late Adam Yauch was a huge fan, and Beastie Boys went on to take stabs at punk and reggae as well, an approach likely informed by Bad Brains.
48. Milo Aukerman
Band: Descendents No, not Malin Akerman; though if she fronted an SST band, the comments section on the A.V. Club Newswire item announcing it would probably crash the site. Descendents' front man Milo Aukerman distinguished himself in the annals of American punk by being an unabashed nerd (to be fair, a lot of punks were nerds but took pains to hide that). This was reflected in the band's music; singing in a gravelly tenor with a bit more charisma than the average punk barker on the band's 22-minute debut Milo Goes To College, Aukerman delivers lyrics skewering stock punk targets like "Parents" but also insists that he's not a loser or a punk. Descendents, it seemed, aspired to a successful middle-class existence, with Aukerman announcing on "Suburban Home," "I don't want no hippie pad. I want a house just like Mom and Dad." Just as the album's title predicted, Aukerman departed to study biology at the University of California, San Diego, eventually earning a Ph.D in biochemistry (blatantly copying him, punk pretenders the Offspring's frontman Dexter Holland was a Ph.D. candidate in molecular biology at the University of Southern California). After a couple years off, Descendents reconvened to continue inventing pop punk during breaks in Aukerman's academic career.
47. Keith Relf
Band: Yardbirds It's difficult for any lead singer to deal with ego clashes with his band's lead guitarist. So it's a testament to the Yardbirds' Keith Relf's level-headedness that he was able to deal with not one, not two, but three of the most famous guitarists in rock history; Eric Clapton, Jeff Beck and Jimmy Page. Relf proved a welcoming tour guide for the band's journey from blues rave-ups through psychedelia and on to the earliest signposts pointing toward hard rock and heavy metal. But his band's star players consistently decamping for more successful bands left Relf up a creek without a paddle; he died while playing an improperly grounded guitar in 1976.
46. Mary Timony
Band: Helium, Autoclave, Wild Flag Courtney Love was supposed to be the disheveled goddess of '90s rock, but the prize actually goes to the superior Mary Timony, who chased Love's rival Mary Lou Lord out of Helium and commandeered it for two classic albums and a handful of EPs. Backed by an all-male band, including Polvo's Ash Bowie on lumbering, melodic bass guitar, Timony tears a hole through indie rock on the band's debut, 1995's The Dirt Of Luck, via steamrolling tracks like "Pat's Trick" and "Medusa." But Helium also had a sublimely soft touch where needed, using this to gorgeous effect on "Honeycomb." Vocally, Timony sticks with an understated, monotone vocal style common to the genre, singing in an upper register only to accent lines here and there. Lyrically, she ranges from personal specifics ("all of my friends in L.A. love me more than you") to ren faire fare like dragons and "Medieval People." Meanwhile, in concert and in particular in Helium's videos, Timony played her sleepy Lolita look to the hilt. She looks more like a cool mom with her current band Wild Flag but her enviable songwriting and heartbreaking voice are not at all diminished.
45. Yamantaka Eye
Band: Boredoms Boredoms isn't really the type of band that has or needs a lead singer, but if it has a frontman, Eye is it. Hailing from Japan, Boredoms started off as a pioneering noise unit in the 1980s, boasting a fluctuating roster of over a dozen members; Eye leading the proceedings with a lot of shouting, screaming, grunting, gargling and fart noises. In the '90s, the band edged closer and closer to tunefulness; starting with Chocolate Synthesizer and moving through the Super Roots series before eventually arriving at Vision Creation Newsun. With the band's newfound sense of sonic purpose, Eye came to sing more, although all with the goal of leading the band through long jams and vocal passages that sounded ceremonial; as if Boredoms was becoming more of a tribe than a band. This culminated with 2005's Seadrum/House of Sun and the band's subsequent tours, which saw it abandon conventional instrumentation in favor of three full drum kits played simultaneously and Eye shouting and banging away on a rack of effects and other props; including a giant stand of seven guitars glued together, each tuned to a different note. It's difficult to imagine the concept of a rock band's frontman, or even music itself, deconstructed more boldly than this.
44. Mike Patton
Band: Faith No More Mike Patton has fronted a number of bands, but the one that had the most impact is Faith No More. FNM labored in relative obscurity for its first couple albums until the video for "Epic," a single from the band's third album, 1989's The Real Thing, came exploding out of television sets. The clip featured some shocking images – a fish flopping to death; an exploding piano; a hand with an eye embedded in it spraying green paint and lightning bolts; etc. – but the thing that stuck with you was Patton himself staring you down to deliver amateurish yet convincingly rapped lyrics and a wailed and grunted chorus of denial: "You want it all but you can't have it." Patton expanded his range on subsequent albums; on Angel Dust he summons up the startling "RV," a waltz-like carousel worthy of Tom Waits that throws in a big rock moment out of nowhere in the middle of the song. In this century, Patton's legacy seems assured; a 2006 episode of All My Children, of all things, saw one character snapping at another, "Mike Patton is not God."
43. Damon Albarn
Band: Blur, Gorillaz, The Good The Bad & The Queen, Rocket Juice & The Moon Damon Albarn is a restlessly creative artist who is as at home belting out witty, observational pop songs to a rapturous Glastonbury crowd as he is writing and scoring an opera about an adventuring monkey. Not content with being one of the foremost proponents of the Britpop movement, the high point being the critically acclaimed and commercially adored Parklife and The Great Escape, Albarn then went on to great success with Gorillaz, and continues to pop up with a new supergroup or project every few years. While a new generation of fans may know Albarn for the funky "Clint Eastwood" or "19-2000" Albarn's best work was as the wry, quintessentially British voice of a bored 90's Britain, and the frenzied reaction to Blur's reunion shows that this singular band and their legendary are as loved today as they ever were.
42. Layne Staley
Band: Alice In Chains In the 2009 movie Terminator Salvation, John Connor's father Kyle Reese whines at his evil robot friend Marcus Wright, "C'mon man, we need to get out of L.A.," and just at that moment Wright fires up a hot-wired jeep and Alice In Chains' Vietnam anthem "Rooster" begins playing from its stereo. The two stare at each other in disbelief for 18 seconds before Reese asks, "What is that?" The cybernetic organism answers, "Something my brother used to listen to." Exactly; Alice In Chains sounded like something your vaguely menacing sibling in the next room would listen to, and it had a great frontman in Layne Staley. He harmonized perfectly with Chains guitarist and songwriter Jerry Cantrell – surely a prerequisite for success in this band – and dug down deeper into a song while singing on his own. When the band softened its sound on the Jar Of Flies EP, Staley shined on the roomier material and AIC scored MTV hits with "No Excuses" and "I Stay Away." After a third album with Alice In Chains, he disappeared in 1996 and died of a drug overdose in 2002.
41. Chrissie Hynde
Band: The Pretenders It'd be an insult to say Chrissie Hynde sings like a guy, but she's sure no shrinking violet. The Pretenders – a quartet of three English guys and a girl from Akron, Ohio – got its start as part of the '70s U.K. punk scene. Hynde fronted the band singing in an assertive croon that sounded killer over guitar workouts like "Tattooed Love Boys" and a great cover of the Kinks "Stop Your Sobbing" (Hynde had a kid with Ray Davies the following decade) on the band's self-titled debut. And when the Pretenders softened its sound on "Brass In Pocket" it scored a top 40 hit; Hynde's tomboy vocals perfectly expressed the perspective of a working class girl who feels, "I'm special, got to have some of your attention" (to underscore this, the accompanying video had her playing a little-noticed waitress). By the band's third album, 1984's Learning To Crawl, Hynde had the balance between rock rebel girl and every-woman appeal down to a science, scoring back-to-back hits with "Middle Of The Road" and "Back On The Chain Gang."
40. Julian Casablancas
Band: The Strokes With a casually assured nasal delivery, rock-star good looks and a hedonistic outlook on life, Julian Casablancas and The Strokes, along with his British equivalent Pete Doherty, dominated the early 2000's with their fuzzy garage rock revival. Albert Hammond Jr, Fab Moretti and Nikolai Fraiture are no doubt excellent musicians, but the focal point of The Strokes has, and always will be Julian Casablancas, the perfect modern frontman, who can give off an air of disinterest in the music industry one moment, and un-ironically proclaim that his legacy will be as one "who leave clues for the next generation…clues that help feed the human race" the next.
39. Ian Gillan
Band: Deep Purple In 1969, Deep Purple fired its original lead singer Rod Evans and replaced him with Ian Gillan, who brought with him a new bassist, Roger Glover, so the band's old one, Nick Simper, was sacked as well. The overall personnel change was a good move; it allowed Deep Purple to transform itself from a second-tier psych-rock band into a heavy metal behemoth just as the market was moving in this direction. The band's first Gillan-led LP was Deep Purple In Rock; the cover of which depicted the band's members on Mount Rushmore. The music inside was monumental enough to match; particularly Gillan's contributions. He belted out uptempo rock numbers and thrillingly veered into an upper register whenever he needed to punctuate a line. The album's chilling centerpiece is "Child in Time" – a 10-minute protest of the Vietnam War that sees Gillan singing, "Sweet child in time you'll see the line … I wanna hear you scream!" (Axl must have been taking notes.) Deep Purple wisely soldiered on with this galvanized line-up; Gillan leading the band on massive hits like "Highway Star" and "Smoke On The Water." He and Glover pulled out of DP in 1973 over tensions with guitarist Ritchie Blackmore. Deep Purple soldiered on with David Coverdale as its frontman but it was never the same; it was Gillan who had shaken it out of the hippie dream as it retooled itself as a competitive band.
38. Rob Halford
Band: Judas Priest Judas Priest's lead singer Rob Halford spent the first quarter-century of his career in the closet, officially anyway, something he has said caused him sufficient depression to fuel his addiction to drugs and alcohol. But repressed or not, Halford still projected his homosexuality on the customarily macho heavy metal community and fan base. In fronting Priest, he dressed like a leather-clad S&M gay sex fantasy, and the massive success of his band ensured this look became fashionable. In an amusing twist, a peer group that likely would not have accepted Halford's sexual orientation eagerly accepted, in some cases even appropriated, a look that expressed same. But this never would have come about if not for Halford's fantastic vocals; he barked, stretched and screamed notes across a four-octave range over Priest's frenetic, constantly shifting rock anthems. The result was one of the most successful – both critically and commercially – British heavy metal bands of the 1970s and '80s, guiding the genre from clubs to stadiums and onto MTV's airwaves.
37. Steve Malkmus
Band: Pavement Pavement's Steve Malkmus is one of indie rock's few true alpha males (in speaking to Pitchfork in 2010, he dismissed this as "not much of a burden, 'cause it's a pretty benign culture, 'cause nobody's gunning for me. Lou Barlow's not over there going, 'Oh, man'), but makes it look easy by projecting a relaxed relatability in his singing. Simply put, he doesn't try too hard (Pavement's first drummer once complained that Malkmus can actually play guitar a lot better than he does on its albums), which served to disguise his brilliant songs enough to eschew any resentments that ambition might have invited and ensure the band sounded fun. He generally sings like he just woke up from a nap; only working his way up to a shout in order to honor his influences (the Fall on "Two States") or mock his peers (Nirvana on "Flux = Rad"). Malkmus is even capable of reaching deep within himself for gorgeous ballads like "Stare" or "Strings Of Nashville" (of course he buried those on the B-sides of singles). His lyrics, meanwhile, are extremely oblique – Malkmus has said that even if he sits down and looks at them typed out he still has no idea what they mean – but they sure sound cool.
36. Steve Marriott
Band: Small Faces, Humble Pie Not as well known as many of his peers in '60s and '70s English rock, Steve Marriott is something of a musician's musician. No less an authority than Keith Richards once said, "Probably, really, my favorite other bands ever, Steve Marriott's, very much from the English point of view," going on to specify his bands were better than Led Zeppelin, the Who and Black Sabbath – rather esteemed company. He got his start as a child actor before quitting to pursue music (this caused a rather large rift with his parents), presently founding the Small Faces with himself on guitar, Ronnie Lane on bass, Kenney Jones on drums and Ian McLagan on keyboards. The Small Faces were together from 1965 to 1968, making a progression more or less typical of the period; they start off with songs about girls and dancing and quickly work their way up to a psychedelic concept album. But the band sounded crisp and fantastic; particularly Marriott, who inhabits these songs singing at times like a mod dandy but elsewhere stretching out into the rocking rasp that he'd fully explore with his next band. Marriott quit the Small Faces at the end of 1968, frustrated with its pop image and inability to handle his increasingly sophisticated material. Lane, Jones and McLagan snatched Rod Stewart and Ron Wood from the Jeff Beck Group and ditched the "Small" to form the Faces. Marriott, then, formed Humble Pie with guitarist Peter Frampton, who'd been considered as a member of the Small Faces the previous year. Humble Pie fixed all Marriott's problems with the Small Faces – it was a hard rock band. Here, he was free to do nothing but rock and sing songs like he meant it; nothing required a softer touch. That was the only problem with Humble Pie; the abject lack of pop moves meant it was quite earnest in its rockingness; a turn-off for some. Marriott probably never saw quite the success his talent deserved, but his downfall was largely his own doing. Touring America didn't suit him; he drank too much, did too many drugs and started to exhibit signs of schizophrenia. He alienated his wife, who left him 1973, and his band, which broke up in 1975. He died in 1991 after passing out drunk and alone with a lit cigarette, which set his house ablaze.
35. John Fogerty
Band: Creedence Clearwater Revival Creedence Clearwater Revival's John Fogerty hails from California, specifically the Bay Area, but listening to his singing you'd never know it. A lot of white musicians who got started in the '60s affectedly mimicked black bluesmen, but Fogerty came disturbingly close; he nails most everything about the style, singing in a voice that almost always sounded torn to shreds and even pronouncing every single word – right down to the syllables – such that you'd think he was from the American south. As contrived as that might seem, Fogerty had the confidence to pull it off; listening to any CCR album, you never find yourself questioning his authenticity. The band's earliest albums were very direct, raw blues-rock records, until Fogerty began to experiment with the form; bending it into anthems like "Born On The Bayou" and "Green River." He even got political with "Fortunate Son," the best anti-Vietnam song anywhere in an era full of them, and "Run Through The Jungle," which captured Fogerty's thoughts on gun control.
34. Ronnie James Dio
Band: Elf, Rainbow, Black Sabbath, Heaven & Hell, Dio In 1979, Black Sabbath fired Ozzy Osbourne, fed up with his rampant alcoholism. It's a little surprising that after eight albums, Black Sabbath was willing and able to replace a member as central as its lead singer, but that it did. What's more, the replacement came from an unlikely source; Ozzy's future wife Sharon suggested the band hire former Rainbow frontman Ronnie James Dio. It was revitalized as a result. Sabbath's last three or four albums with Ozzy had seen the band more and more bogged down in studio perfectionism and technique with equal amounts of drug and alcohol abuse and fatigue thrown in. The results were frequently not good; few people are technically in ecstasy while listening to Technical Ecstasy. But with Dio, the band sounded fresh. In the book The Story of Black Sabbath: Wheels of Confusion, Tommy Iommi explains why: "Dio would sing across the riff, whereas Ozzy would follow the riff, like in 'Iron Man.' Ronnie came in and gave us another angle on writing." After two brilliant albums – Heaven And Hell and Mob Rules – Dio left in a dispute over mixing a live album. For the next three decades, Dio and Ozzy circled each other as the on-again, off-again lead singers of Black Sabbath, until 2010 when Dio once again thwarted expectations by dying before Ozzy.
33. James Hetfield
Band: Metallica In the earliest days of Metallica, James Hetfield just barked his lyrics; you get the sense that he sang only because someone had to and he was the natural choice as he concentrated on his fretboard a little less. The main thing you notice is how young Hetfield sounds; he was just 19 years old when the band recorded Kill 'Em All. As Metallica pounded out more albums, his voice grew deeper and more terrifying, particularly on Master Of Puppets, with Hetfield shining on classics like "The Thing That Should Not Be" (if you want to hear true evil, buy the 45 RPM pressing of this album and listen to it at 33 1/3 – Hetfield sounds like a foul demon crawled up out of hell and formed a rock band). Against all odds, Metallica scored an MTV hit with "One" in 1988; Hetfield really sings and it turned out he was very good at it, slowly building to the frenzied shouting that previously would have served as his starting point. Metallica continued to court commercial success with its self-titled 1991 release, then lost the plot in the latter half of the decade before making a comeback with 2003's St. Anger, an album largely built around Hetfield's struggles to come to terms with himself. Lyrically, Hetfield's previous best work had addressed topics like "nuclear winter and shape-shifting," to quote Chuck Klosterman, but it turned out self-reflection suited him.
32. Noddy Holder
Band: Slade Despite singing in a voice that generally sounded like he was shouting at the top of his lungs, Noddy Holder led Slade to massive success – the band even cut a Christmas song fit for the ages. Slade was possessed of a terrific if somewhat rudimentary level of musicianship, and Holder jumped on top of this and punched his fist through every song it recorded; upping the volume on his vocals until it was guaranteed the band's songs would be bellowed along with in every pub from Wolverhampton to London and well beyond. The key was that Holder was as musical as he was loud; ensuring his high-octane vocals delivered infectious melodies. It helped that his party-anthem lyrics drew a generational line in the sand; witness, he starts "Mama Weer All Crazee Now" by sneering the line "I don't want to drink my whiskey like you do." And despite all the noize, Holder was able to tone it down when he needed to, like on Slade's hit ballad, "How Does It Feel," which Oasis' Noel Gallagher called "one of the best songs written, in the history of pop, ever." He could even act; in the band's 1975 movie Slade In Flame, Holder's charisma goes further than the other members in depicting the compromises involved in a well-promoted rock band's success.
31. Robin Zander
Band: Cheap Trick To truly excel as a frontman, a lead singer needs to be a bit of a pretty boy, and in this arena few can outmatch Cheap Trick's Robin Zander. Just check out cover of the band's debut; the other three members look forced into their suits, while Zander looks like he was born in his. His glamorous looks would have been annoying if he didn't match them with a voice perfectly suited to everything about Cheap Trick; he sings with a sugar-coated sheen where required and then ramps up to raging, yet still note-perfect, boom on short notice. All in all he was a perfect canvas for oddball guitarist and primary songwriter Rick Nielsen's fixation on sex and romance and heavy bent toward English power pop. And on At Budokan, Zander set the standard for any rock band attempting to communicate with Japanese schoolgirls: "This next one … is the first song … on our new album."
30. Pete Doherty
Band: The Libertines, Babyshambles Though Pete Doherty may be known for his many run-ins with the law, his crucial role as the former frontman of The Libertines and Babyshambles shouldn't be overlooked. The singer/songwriter first lent his talents to The Libertines and created a massive fanbase thanks to Doherty's inexplicably alluring aura, partly created through his uncaring attitude, and his natural ability to craft catchy songs laced with that reckless, punk edge. Unfortunately, as with many rock stars, Doherty succumbed to and became heavily involved with drugs, which led to the breaking up of The Libertines. Eventually, Pete Doherty resurrected his raucous sound with the birth of Babyshambles. Lyrically, Doherty provided for his bands the modus operandi of the punk culture, channelling its very riotous heart and nihilistic soul. While romantic ventures were often cited in his lyrics, mentions of drugs and partying never far behind, and Doherty masterfully ties it all together. Present in his lyrics is a level of sophistication, verging on poetic, but this would often be detracted by show cancellations and Doherty's trouble with the law. It's this interesting combination of a creative, intelligent mind and a life marred by drugs that makes Doherty and his music so interesting. Hell, even Kate Moss thought so.
29. Bono
Band: U2 While Queen's 1985 Live Aid performance was the biggest highlight of the charity concert, a small band from Dublin got a press for the lead singer's slow dancing with a member of the audience in the middle of their set. Apparently she was having trouble breathing which Bono noticed and pulled her out from the crowd. Whether debating if that is true or not, that moment made U2 rock stars and was a small glimpse at the rock messiah personality that Bono would later embrace, for better or worse. Initially angry and politically charged Bono's lyrics matured into a more passionate, often spiritual and deeply personal tone. Bono's energy and emotive voice, when paired with Edge's unique sound made U2, a hugely popular band who continue to play for massive crowds in cities all around the world. Pretty impressive for a band that's been together since 1976.
28. Thom Yorke
Band: Radiohead For the first decade of Radiohead's career, Thom Yorke was famous as the Incredible Sulk; a difficult interview subject and a seemingly mostly unhappy person. But in the past decade a funny thing happened; he's started to enjoy himself; his performances with Radiohead characterized by goofy grinning and funny dancing. Maybe it's because in 2006 he finally cut a solo album and then formed a second band – Atoms For Peace – with Flea in 2009 and came to realize he'd already been fronting a great band for years. Whatever the reason, Yorke has grown in fits and starts over Radiohead's quarter-century together, going from a first-class singer-songwriter hiding within a very capable quintet to an irrepressible character in absolute control of his talent. There's nothing that can be said about his voice or creative prowess that hasn't already been said. Really, fans of Yorke and his various projects should just be glad he's beaten back his various states of loathing and settled into a relatively prolific mid-career hot streak.
27. Peter Gabriel
Band: Genesis Prog rock didn't produce a lot of great lead singers. It was a musical genre so consumed with music theory, technique and equipment that the human voice was treated like a comparatively pedestrian element; just a chore to be attended to. For example, it's difficult to name anyone who fronted King Crimson, while Pink Floyd cared so little about vocals it let Roger Waters sing entire songs. But Genesis was the exception. It had a perfect lead singer in Peter Gabriel, who boasted an expressive voice and searching intellect. Gabriel even worked costume changes into Genesis' concerts; dressing up as a fox, a bat, a flower and other characters drawn from his lyrics, which became more and more theatrical as the band proceeded through six albums from 1969 to '74. All of this grated on the other band members (would you want to play guitar next to a guy covered in inflatable genitalia?) but they were still devastated when Gabriel announced his intention to leave the band (in Genesis' VH1 Behind the Music, he says "It was a bit like telling someone 'I've decided to kill your child'"). Gabriel and Genesis survived without each other but neither was ever as cool or weird again.
26. Axl Rose
Band: Guns N' Roses In a 1999 Spin cover story on Guns N' Roses, Poison's Brett Michaels described seeing the band in its earliest days, "There were maybe 15 people in the club and Axl was playing as if he were in front of a million people." This nicely sums up the drive and determination that make Axl undeniable. Watch any song on GNR's two-part concert video World Tour 1992 In Tokyo for proof; few people could get onstage wearing nothing but a pair of biker shorts, a leather jacket and a cowboy hat (just one of an array of daringly horrifying outfits Axl sports here) and sell two dozen songs betraying not an ounce of self-doubt. Axl, when performing, clearly believes in himself, and gives audiences no choice but to follow suit. And then there's his voice. Axl's mostly associated with his trademark Janis Joplin-esque screech, but his singing is actually much more elastic than that; he ranges from a calm, measured baritone to those high-pitched tones, often in a single song. Lyrically, no one mines personal melodrama better – any Guns album doubles as a therapy session for Axl, making it all the more impressive that he's able to rip through these songs in concert night after night. He may be "fucking crazy" but there's a method to his madness.
25. Morrissey
Band: The Smiths The unmistakeable baritone. The haircut. The lyrics that make you realize, "gee, my day wasn't so bad after all," or help you find solace if you have been down. As the lead singer of the Smiths, iconic British vocalist Morrissey built a feverishly loyal fan base and a reputation as one of heartbreak's greatest troubadours, reshaping the sound of British pop and rock with a vision often as bleak as it was catchy. With an eye for topics often ignored in straightforward pop (child molestation, homosexuality, class, British politics, murder), a great handle on relationship woes, and a tremendously literate wit, Morrissey transformed songs like "Heaven Knows I'm Miserable Now" with black humor, unusual imagery, and the sort of specificity that breathes life into lyrics with the spark of detail. Morrissey's impact, both as a lead singer and solo artist, wouldn't likely be as great without his deep, clarion voice, adding weight and subtext to every line. Throughout his career, Morrissey would come to be known beyond the bounds of his music, embroiled in musical feuds, accused of racism, outspoken in politics, and embattled in his quest to keep his private life private.
24. Henry Rollins
Band: Black Flag Confrontational L.A. punk band Black Flag had three lead singers before Henry Rollins joined and fronted the band for its six actual albums. Was he its best frontman? Not according to Rollins himself; he has said The First Four Years, which compiles everything the band did before he joined, is his favorite record by the band. But Rollins had a certain something that was hard to put your finger on. He sure seemed like a jock asshole, but listen to how his vocals on Damaged sound like a man on the verge of leading an aimless civil disturbance. As Flag grew as a band, so did Rollins; his lyrics became increasingly disturbing as the band slowed its tempo, allowing him to be more clearly heard. Rollins' finest hour with the band was probably Family Man, which was programmed as spoken word on the A-side, instrumental jams on the B-side. Rollins took full advantage of this showcase; delivering brilliant monologues on domesticity, slugs, rats, the telephone book and other aspects of life in the slums of Hollywood. In the process, he set up a second career for himself as a public speaker, a sideline Rollins continues to profit from to this day, making speaking engagements at universities and clubs.
23. Ozzy Osbourne
Band: Black Sabbath Before he was scourge of the Christian right for God knows whatever reason; further before he was sued by the parents of suicidal teenagers; and way before he was a pill-addled reality show dad, Ozzy Osbourne was, quite simply, one of the greatest lead singers of any English band of the 1970s. For whatever reason, critics and audiences viewed Black Sabbath as more extreme – and the band was therefore more vilified – than contemporaries like Led Zeppelin, Deep Purple, etc. The fact is they mined similar territory, Sabbath was just more in your face about it, and as a result Ozzy's vocals came across as a shot in the dark, a desperate man striking out across a void. If you listen to him closely on any Sabbath track, he doesn't sound demonic; far from it, he sounds all too human, he even struggles to nail a note here and there. Further, Ozzy seems less frightening than frightened; check out how after every verse on "Black Sabbath," the first track on the band's first album, Ozzy cries out "Oh no!" as if absolutely petrified. What made Sabbath seem evil, really, was its sincerely – it didn't bother to couch dark subject matter in any kind of mysticism, instead addressing it head on.
22. Bryan Ferry
Band: Roxy Music Even in the glammed-out rock climate of early-'70s England, it must have taken balls to sing like Bryan Ferry; he boldly wears an affected vibrato that makes you want to climb onstage and punch him in the face. But somehow it worked, and over eight albums released in a decade, it was unimaginable to picture the pioneering Roxy Music fronted by anyone but him. Even having lost Brian Eno after its first two albums, Ferry's vision ensured the band continued at full strength (Eno later called Roxy Music's first LP without him, Stranded, his favorite). And like any great lead singer, Ferry demonstrated amazing range; for proof, check out "If There Is Something" on Roxy's debut. The song starts in the mode of a breezy country rock number and Ferry follows suit; he sounds casual and happy. Then, at 1:38, the song transitions into a somber, epic mood and Ferry makes a jarring shift in tone, singing "I would do anything for you! I would climb mountains! I would swim on the ocean floor," sounding like a man in the midst of an emotional meltdown. That predilection for romantic melodrama carried over to the band's album covers, all of eight of which featured women worth fawning over – and most of the time they were Ferry's girlfriends.
21. Jeff Mangum
Band: Neutral Milk Hotel Neutral Milk Hotel hasn't released a proper full-length since 1998's classic, In the Aeroplane Over the Sea, and Jeff Mangum's public appearances over the past decade have been impossible to predict, but the man with the instantly recognizable voice has a following forever secured by his contribution to indie music. Off stage he's an enigmatic, reserved man who keeps his personal life to himself, but he's got the kind of voice that fills a room and draws attention like a siren, straining itself to that point that sits perfectly on the border of a breaking point. Maybe it's because of his cult following and enigmatic ways, or maybe it's despite it, but there's something magical about Mangum's delivery that flirts with the stuff folklore is made of.
20. Jack White
Band: The White Stripes, The Raconteurs Over the course of six White Stripes studio albums Jack White cemented his place as one of the most iconic frontmen of the 21st Century. With an instantly recognizable shock of unruly black hair and a raw, strangled delivery, White understood the importance of image and myth, creating an aura of mystery for himself with obfuscatory interview answers, and setting the band apart by only appearing in red, white or black clothing for official duties. But of course you need more than an image to be a great frontman, and  Jack White's frenzied stage presence, incredible guitar skills, and a knack for writing simple but direct lyrics focussing on love, life, and the women in it, mean he is as vital now he's gone solo as he was when he was ripping through the weighty riffs of "Dead Leaves And The Dirty Ground."
19. Roger Daltrey
Band: The Who At the start of the Who, Roger Daltrey's role was fairly simple; he stood in front of the band and sang Pete Townshend's songs, something Townshend himself was too timid to do. In his just published memoirs, Townshend speaks of the confidence the far tougher Daltrey lent him in the band's earliest days: "Just the fact of Roger speaking to me meant that my life could very well change." As the '60s progressed, Townshend came to sing some of his songs for himself, but Daltrey's role in the band evolved as well. Townshend describes the singer's stage presence at Woodstock: "His long, curly hair looked like golden fire. He was mostly singing with his eyes firmly closed. … His whirling microphone and mythical poses suggested frustration and pain, his sweat an angelic sheen that evoked an old-master painting." No one could better describe how Daltrey transformed himself from a mod with a close-cropped haircut to a triumphant golden god whose look Robert Plant closely copied. Daltrey has fronted the Who for five decades now, taking it from maximum R&B though the birth of the concept album and on to hard rock, all the while working with (or around) the whims of the iconoclastic Townshend.
18. David Lee Roth
Band: Van Halen Despite employing a revolving door of lead singers in over three decades as a band, Van Halen's definitive frontman is David Lee Roth. He may be written off for his clownish antics, but Roth actually sings soulfully when it serves the song (check out how he bends up to a high note on the first line of "Hot For Teacher") and, quite honestly, this band absolutely requires a singer with an outsized personality to command any attention surrounded by Eddie Van Halen's dazzling guitar playing. Besides, without someone ensuring Van Halen was infused with a lot of fun, the band risked getting bogged down in music theory and might have seen much less success. Whether singing about girls, sex, partying, cars or jumping, DLR always sounds like he's having the time of his life, a level of energy that's infectious. And Roth's spoken banter is often as memorable as any other moment on a Van Halen album; how many singers would use a post-guitar-solo pause in the middle of a song to ask, "Have you seen junior's grades?"
17. David Byrne
Band: Talking Heads Most lead singers who have the advantage of being brilliant songwriters stack the deck in their favor, writing songs for themselves to sing perfectly suited to their vocal range. But Talking Heads frontman David Byrne wasn't interested in doing himself such favors, instead writing songs that were mostly just a bit above his range so he'd have to strain and yelp to sing them, creating an audible counterpart for the discomfort his music sought to express. In Talking Heads, Byrne sang about love, as all singers do, but primarily how uneasy it made him and how alien it seemed ("Love → Building On Fire"). Once he found a girl, she wasn't conquered but rather placed on a pedestal ("Thank You For Sending Me An Angel"). He mostly concerned himself with larger topics – the government, employment, housing, cities, etc. – but always maintained a detachment such that they seemed entirely new. In concert, Byrne was always kind of goofy (witness his lamp dance in Stop Making Sense), which translated better in the band's music videos; its clips for hits like "Burning Down the House" and "Wild Wild Life" were staples of the then-nascent MTV.
16. Steven Tyler
Band: Aerosmith Steven Tyler has long been accused of imitating Mick Jagger, who recently responded with an imitation of Tyler when he hosted Saturday Night Live this past May. This is bullshit; Tyler may have copped some of Jagger's stage moves and outfits in the early days of Aerosmith, but he sounds nothing like him, in fact he sometimes sounds better (it's difficult to imagine Jagger pulling off the vocal theatrics at the end of "Dream On"). Over the course of Aerosmith's classic six-album run of the 1970s, Tyler handles everything – scummy slice-of-life recitals, big choruses, ethereal harmonies (check out the bridge on "Uncle Salty") – with aplomb. He can spit out verbose verbal passages without breaking a sweat; there's a reason Run-D.M.C. was able to just rap his verses on "Walk This Way." When Tyler lost his Toxic Twin, guitarist Joe Perry, for five years in the early '80s, he was able to keep Aerosmith going without him. But when Tyler left Aerosmith in late 2009 and the band considered continuing without him (even going so far as to audition other singers), it was difficult to imagine how this could possibly work. Tyler was back in the band within four months, demonstrating how essential he is to its identity.
15. Iggy Stooge
Band: The Stooges True, he wasn't a frontman for long; the Stooges were the Stooges for just two albums before Iggy took over, rechristening the band Iggy and the Stooges for its third and final outing and then launching a long solo career later in the decade. But in the late 1960s and early '70s, the Stooges were one of the greatest bands around and Iggy its perfect frontman, stripping away all of the pompousness that had infiltrated (and would continue to infiltrate) rock at that time and replacing it with a primitive language that pointedly restored all of rock's strengths. Iggy didn't have the greatest voice in the world, but over a steadily grooving rhythm section and a lot of wah guitar he sounded terrific, singing deceptively simple songs about girls, partying, degradation, boredom, sex and death with refreshing sincerity. Iggy was capable of holding listeners' attention even without lyrics; some of the most memorable passages of Stooges albums just see him grunting and howling. And despite how it may have seemed, this wasn't music that was arrived at casually; in the studio, the Stooges labored over songs until they were note perfect, requiring Iggy to sing with his trademark conviction again and again and again (disbelievers should head to The Complete Fun House Sessions for 28 takes of "Loose"). Iggy enjoyed considerable success on his own but it's fortunate the Stooges have earned some reunion tours so modern audiences can see him in his native habitat.
14. David Yow
Band: The Jesus Lizard The Jesus Lizard's 2009 reunion tour took audiences back to its 1990s heyday via more than just music; at the band's performances in clubs and at outdoor music festivals, there was considerable moshing. But in the middle of all the chaos you'd see a funny thing; most of the rapidly aging hipsters slamming into each other were also singing along with every word. Such is the nature of David Yow's work; it may seem like he's just rambling and shouting rants, but his vocals and lyrics eventually get buried deep in your brain (this can prove disconcerting; after seeing or listening to the Jesus Lizard, you may find yourself thinking "I CAN'T SWIM! I CAN'T SWIM!" for days on end). He spaces out the insanity when the band is rumbling along at a slow tempo and when it starts to work up a head of steam he rides it sure-footedly, raging right along with it. He never sounds out of breath or control; more like he's marshalling one of the sharpest, most terrifying bands in existence. He may gain more attention for onstage antics like taking his clothes off and wrapping his penis around the microphone stand (a move called the "tight and shiny") but Yow is actually one of the finest frontman the '90s spit out.
13. Rod Stewart
Band: The Kinks, The Jeff Beck Group, The Faces Hypothetically, you could move Rod Stewart in as frontman for almost any other similar English band of the late 1960s and early 1970s – the Rolling Stones, the Who, Led Zeppelin, etc. – and the results, while varying wildly artistically, would be the same commercially. He's just that good; the quintessential lead singer. He started off in an early version of the Kinks before eventually hooking up with Jeff Beck, freshly sacked by the Yardbirds, to front the imaginatively named Jeff Beck Group. Once this fell apart (Beck and Stewart's egos proved too big for one band), Stewart snapped up guitarist Ronnie Wood to form the Faces with musicians culled from another freshly disintegrated band; the Small Faces. It was here that Stewart came into his own as a lead singer, fronting the famously disheveled Faces for four albums, his vocals always a nuanced mix of grit and gravitas. Stewart sounds at once fabulous and entirely relatable; he always projects a sense of fraternity. As such, it's no surprise that the other Faces played on his first four solo albums, recorded concurrent to its existence, creating a shadow history of the band that got Stewart's solo career off on firm footing.
12. Eric Burdon
Band: The Animals In the 1960s, England produced every imitation of American blues imaginable, but only one man nailed the role of blues shouter, a singer so loud he could be heard over a band without a mic: Eric Burdon. He hit notes, sure, at times even crooned them, but over the course of the Animals' five albums, his work is typified by singing with equal parts soul and sheer force. His take on "The House Of The Rising Sun" is so full-throated and wrenching it makes Bob Dylan's earlier version seem like a mere real estate listing. When the Animals became Eric Burdon and the Animals from 1967 on, Burdon led an entirely new band into the depths of psychedelia. The effects of his continual abuse of LSD are evident, but the voice remains, now expressing the thoughts and feelings of a man slowly losing his grip on reality. The results are fascinating, at times even more harrowing than Syd Barrett at the end of his rope. Burdon pulled it back together for three albums as frontman for the awesome L.A. funk band War before disappearing. In 2000, Burdon told Mojo magazine, "Every time I get into a London taxi, it's like, you get in, slam the door, he adjusts the mirror and the next line out of his mouth is, 'Fuck me, I thought you were dead!'"
11. Eddie Vedder
Band: Pearl Jam The angry and powerful baritone growls from Eddie Vedder were perfect for the punk-inspired sound of the early 90s grunge movement which was a stark contrast to the overblown and dramatic sound of late 80s mainstream rock music. He brought a raw energy and sense of recklessness to their early live shows often interacting with the crowd (mainly through stage diving and crowd surfing). Their loyal fan base still come out in support of the band's shows, despite the band's beef with Ticketmaster. Eddie Vedder is an accomplished songwriter and musician, who tackled social and political issues within his lyrics. He has also collaborated with various other artists on different projects including producing and composing movie soundtracks. He is known to jam with many other bands and artists, most recently seen rocking out with Jay-Z at the Made in America show.
10. Jim Morrison
Band: The Doors As the lead singer of the Doors, Jim Morrison ascended to near deified status, a poet and mystic with a dangerous image and a voice that oozed sexuality, spirituality, and and rock excess. The Doors exploded in 1967, with singles "Break on Through" (initially a flop), "Light My Fire" (which reached #1 on the Billboard Hot 100 and sold over a million copies), and "The End" (the Doors' stunning epic that would become synonymous with the ambiguity and violence of the Vietnam War, due in large part to Francis Ford Coppola's masterpiece Apocalypse Now). Morrison's remarkable charisma and striking stage presence made him one of rock's great pioneers, a writhing, possessed poet dominating the stage to the delight of listeners. A little controversy didn't hurt either: performing "Light My Fire" on The Ed Sullivan Show, Morrison was asked to change the lyric "you know we couldn't get much higher" to "you know we couldn't get much better." Initially agreeing, the singer sang the original lyric during the performance, prompting an enraged Sullivan to cancel six more Doors performances on the show. When the show's producer told the Doors they would "never do the Ed Sullivan show again," legend has it Jim Morrison said: "Hey man. We just did the Sullivan Show." The anecdote humorously encapsulates a life as typified by devotion to the purity of art as the decadence of rock stardom. Morrison often found himself in trouble with the law (often for profanity and indecent exposure) during his all too brief career. At age 27, he died in Paris of a heroin overdose, a tragic seal solidifying his legendary image.
9. Don Van Vliet
Band: The Magic Band When he began his recording career fronting the Magic Band in the mid-1960s, Don Van Vliet aka Captain Beefheart initially presented himself as a bluesman, singing in a voice that called to mind the full-throated roar of Howlin' Wolf over edgy psych rock typical of the era. Soon, though, Van Vliet flipped this on its ass; he kept the blues element but began to explore more of his five-octave range and use the Magic Band's songs as vehicles for increasingly bizarre lyrics and spoken word passages. Beefheart couldn't write music or even really play an instrument, instead dictating his material to patient band members via recorded piano ramblings, whistling or even a looped recording of a bird chirping (one legend has him giving the Magic Band's members LSD in a field and climbing a tree to teach them songs by improvising on a saxophone). By all accounts he was a tyrannical, even abusive band leader, but if he gets faulted for running the Magic Band like an acid cult he must claim the bulk of the praise for what it accomplished. Over 12 albums released from 1967 to 1982, Captain Beefheart's work grows restlessly from garage rock nuggets through challenging, jagged music that skirted the edges of jazz to arty, modern rock that hinted at new wave. In 1982, Van Vliet retired to a comfortable career as an abstract expressionist painter before dying in 2010. He never returned to performing again, which is unfortunate, as one suspects he could have been one of the rare '60s and '70s rockers able to transition through later decades still able to make good music.
8. Black Francis
Band: The Pixies Black Francis' singing is just fine, but it's his bone-chilling, primal scream that gave him an edge sharp enough to cut through the noise on the Pixies' excellent 1988 and 1989 albums Surfer Rosa and Doolittle. He may not have had the off-stage charisma, spotlight, and timing to become an icon of the generation, but he inspired some who did. Kurt Cobain cited the Pixies as a major influence, and without Francis' over-the-top but perfectly executed yells, shrieks, and screams, that next wave of alternative rock in the '90s wouldn't have been quite the same.
7. Debbie Harry
Band: Blondie There aren't a lot of high-profile examples of female singers fronting all-male bands in rock history. Janis Joplin held down Big Brother and the Holding Company for just a couple albums before splitting for an obvious solo career, while Grace Slick was only one of the lead singers in Jefferson Airplane. But Debbie Harry was not fucking around; it's not surprising that it took the punk/new wave era to find a true female lead singer. Check out the cover of Blondie's landmark Parallel Lines; the five male members of the band goof around in suits and ties in the background while Harry stands in front of them looking fierce in a white dress, clenched fists on her hips, staring straight into the camera with a serious look on her face, daring anyone to question her authority. Vocally, Harry expressed a lot within a limited range; making beautiful and bored sound almost transcendental (Madonna surely took note). In particular, Harry excelled at stepping through the genre-blend of Blondie; going from punk to pop to jazz to disco, even flirting with world music and hip-hop. Her long, loose rap on "Rapture" proved an unlikely landmark; the contemporary documentary Style Wars observed that the earliest graffiti artists were obsessed with her.
6. Chris Cornell
Band: Soundgarden The so-called alternative era of the early '90s produced no frontman as perfect as Soundgarden's Chris Cornell. With his giant voice and massive stage presence, he was everything every legendary lead singer who had preceded him embodied in one package. His early work with the band in the late 1980s can be described as somewhat-base hard rock yelps, shouts and screams, but by the time of the band's massive-selling three-album run of the '90s, Cornell had honed all this down to a voice that veered from a mature tenor to a full-throated roar, sometimes simultaneously (check out how he layers the chorus of "Black Hole Sun" by screaming it back at himself). Lyrically, meanwhile, Cornell was one of the most thoughtful men to ever bound around a stage with long hair and no shirt on, rushing headlong at topics like the futility of existence, abject depression, murder, suicide, messianic behavior, etc. And the very first time Cornell ventured out by himself with the one-off track "Seasons" on the soundtrack to the 1992 film Singles, he accidentally arrived at perhaps the best solo acoustic song of the decade.
5. Bon Scott
Band: AC/DC Over seven albums released in just four years, AC/DC's original frontman Bon Scott proved himself as one of the dirtiest frontmen in rock, leading the band's churning guitar duo and thudding rhythm section through an unrelenting run of party anthems and odes to the band's hard lifestyle, all with a fair amount of good humor (while the other members of the band sneer at the camera on the cover of Highway To Hell, Scott characteristically stands off to the side laughing). Unlike most lead singers hailing from the U.K. during the same era, who did everything they could to sound American, Scott sang with at least a hint of his accent (he was born in Scotland and raised in Australia), lending his vocals further authenticity. He also demonstrates impressive range; AC/DC never bothered with ballads, instead opting for an air of menace when it needed to slow down the tempo ("What's Next To The Moon" is a prime example), and Scott sounds perfectly at home with both those songs and the more high-energy stuff. Scott's life was tragically cut short – he died of alcohol poisoning in February 1980; just 33 years old – but his legacy looms large over the band. His replacement Brian Johnson has served AC/DC well for 35 years now, but it seems clear he was hired because he sings so much like Scott.
4. Kurt Cobain
Band: Nirvana It's not like there would have ever been a different lead singer of Nirvana; Kurt Cobain wrote almost all the band's songs and beyond that carefully chose covers perfect for his range and temperament. But the depth of what he accomplished is staggering; he started a band, planted himself in front of it and over three proper albums – just 35 tracks total – changed the landscape of modern rock. Lyrically, Cobain painted a vivid picture of what it was like to be a miserable teenager in the '80s ("About a Girl," "School"), then a fledgling musician in his 20s ("In Bloom," "Lounge Act") and then suddenly, uncomfortably, a rock star wondering what happened ("Serve the Servants," "Radio Friendly Unit Shifter"). In between all that, he sang about abuse, alienation, murder, homelessness and the complexities of human emotion. His voice itself sounded punished: Cobain was known for his anguished scream, but he was also capable of deep, ruminative vocals; measured melodies; harmonizing with Dave Grohl; basically whatever a song required. He was an accomplished guitarist but more importantly he knew how to best serve his songs there as well; check out how his solo on "Come As You Are" just repeats the line he's been singing the whole time – his standard move (either that or just strangle his guitar and make a lot of noise). And for all the attention paid to his dark side (which, in fairness, his suicide certainly underlined), he had a good sense of humor. See Nirvana's 1991 appearance on Top Of The Pops, on which Cobain, forced to perform "Smells Like Teen Spirit" yet again, sings the entire thing in a handsome croon that surely had the show's producers tearing their hair out.
20 THINGS YOU DIDN'T KNOW ABOUT KURT COBAIN
3. Robert Plant
Band: Led Zeppelin According to the 1985 book Hammer of the Gods: The Led Zeppelin Saga, the band's guitarist Jimmy Page and manager Peter Grant considered replacing lead singer Robert Plant in the initial years of the band's existence. Oh, what a difference a half-century makes; the band wanted to reform for a tour following a 2007 reunion concert but Plant refused and the entire idea was scrapped. Over the course of eight albums, Plant's vocals were as integral a part of the band's sonic identity as Page's stellar guitar work; whether Zeppelin was playing epic blues covers, massive rock anthems or beautiful acoustic ballads, he sang it all note-perfect. Sure, he got a little annoying in concert – moaning, mocking orgasms, scat-singing and inserting ad-libs into the lyrics (like asking "doesn't anyone remember laughter?" during "Stairway To Heaven") – but audiences of the era didn't care; instead they were magnetized by Plant's long golden locks and stuffed tight jeans. Furthermore, John Bonham is considered perhaps the most important element of Led Zeppelin and it was Plant who placed him there, recommending the then-unknown drummer to Page as the band formed.
2. Freddie Mercury
Band: Queen Much is made of Freddie Mercury's prowess as a live performer and visual icon; the image of him stalking the stage during Queen's legendary, short set at Live Aid in 1985 comes to mind – this is frequently cited as one of the greatest live performances ever. But listening to Queen's early albums, what you're struck by is how musical Mercury was; he harmonizes with and weaves in and out of Brian May's fluid, melodic guitar playing. No one else in Queen really needed to sing; in the studio at least, the band was armed with a chorus of Freddies as he layered his vocals over multiple tracks – standard practice for a lot of singers, but no one did it better. Lyrically, Queen mined territory similar to other contemporary English bands; mythologizing its homeland and mixing in plenty of odes to sex and fun. As the '70s proceeded, the band tended toward theatricality, making use of its instrumental prowess and, in particular, Mercury's dynamic range to create operatic masterpieces; "Bohemian Rhapsody" served as a landmark here. As the '80s dawned, Queen even scored a country hit with "Crazy Little Thing Called Love," which Mercury boasted to Melody Maker that he wrote in under 10 minutes. Mercury's life was tragically cut short – he died of AIDS in 1991 – but the world never let go; over 20 years later, the Queen still reigns.
1. Mick Jagger
Band: The Rolling Stones The Beatles and the Rolling Stones are endlessly compared to one another in mostly idiotic debates that miss a huge difference between the two bands; all four members of the Beatles sang, whereas in the Rolling Stones, vocal duties fell squarely on one man, Mick Jagger. Sure, from 1969 on, Keith Richards sang a song per album, but it was up to Jagger to master all manner of blues, soul and R&B covers in the earliest days of the band and then proceed to convincingly pull off psychedelia, country, hard rock, reggae, punk, disco – basically any genre the Stones have experimented with in their 50-year evolution as a band – without even possessing a particularly strong voice. Jagger consistently executes anything the Stones attempt and does it with a mix of charisma and conviction such that he's become a mystical figure over the years – the biggest complaint about him is that he's largely unknowable beyond being really into sex and money (perhaps that's all we really need to know). Despite this, Jagger is a brilliant subject in interviews; a studied contrast to his partner Richards' smoker's lung chuckling and rambling drunken stories, he's always affable, intelligent and articulate – you can tell he went to the London School of Economics. All in all, he's a perfect focal point for one of the best, most fascinating bands in rock history.
Related: The Best Songs of 2014 (So Far)Related: The Best Albums of 2014 (So Far)